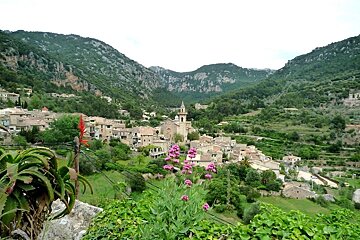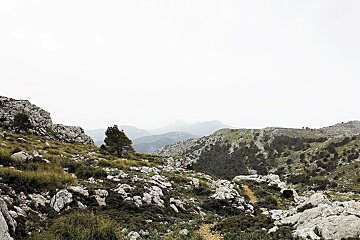 © http://mestelrich2.blogspot.fr/2015/04/puig-des-teix.html
The Archduke's Bridlepath, Valldemossa
Mountain hike with great west coast views
Valldemossa is located near the west coast of Mallorca. This walk was mapped out by Archduke Ludwig Salvatr during tours of his estates by mule.
As well as spectacular coastal views, it gives an introduction to traditional mountain industries. You pass sifjas (round charcoal ovens), casas de neu (snow pits where winter snows were stored beneath a layer of ash), forns de Calc (lime kilns) and cacas a coll (thrush nets slung between the trees).
Directions
Begin by walking through the car park opposite Bar Sa Mata on the main road through Valldemossa. Turn right into Carrer Joan Fuster, then first left and onto a rough track at the top of the hill. You climb gently at first, towards a group of pines, then more steeply, following red waymarks to a clearing. From here it is a short, tough climb to a mirador and the start of the Cami de S'Arxiduc, marked by a ruined stone refuge. Follow the waymarks onto a high plateau and continue for about two hours. For the best views of all, a one-hour diversion (just as the main path bears round to the right to begin its descent) takes you to the summit of the Teix, from where most of Mallorca is visible on a clear day. The path drops back down to Valldemossa through a wooded valley, passing a shelter where you can camp in summer.
This walk is for experienced walkers only. Or of you prefer, take a guide with you. Take food and water, a map, compass and whistle, and protection from sun, wind and rain. The weather on the mountains can change very quickly. For a shorter walk to the foot of the Teix, you can simply do the final section in reverse. Leave Valldemossa by walking past Son Gual, the large old house with a tower, and turn left after 10 minutes onto a wide track, signposted 'refugi'. The climb through the valley to the shelter and back will take a couple of hours if you walk briskly.
Location