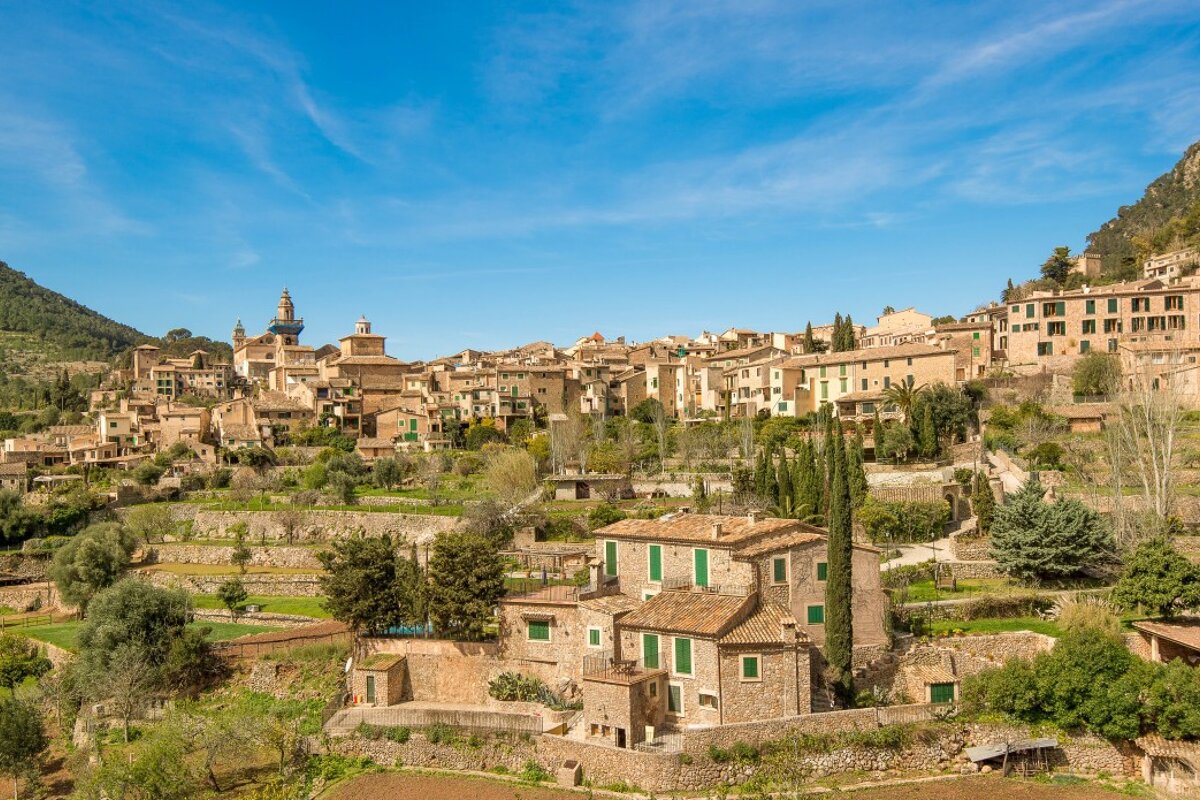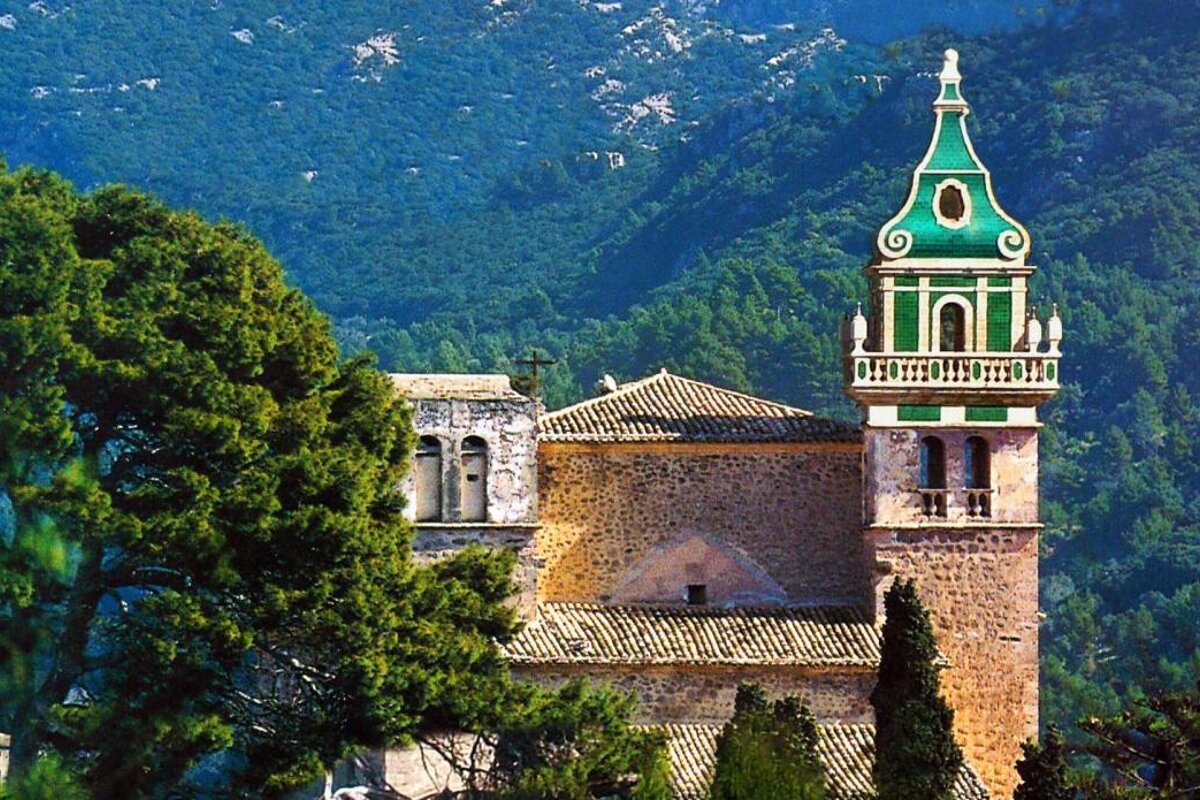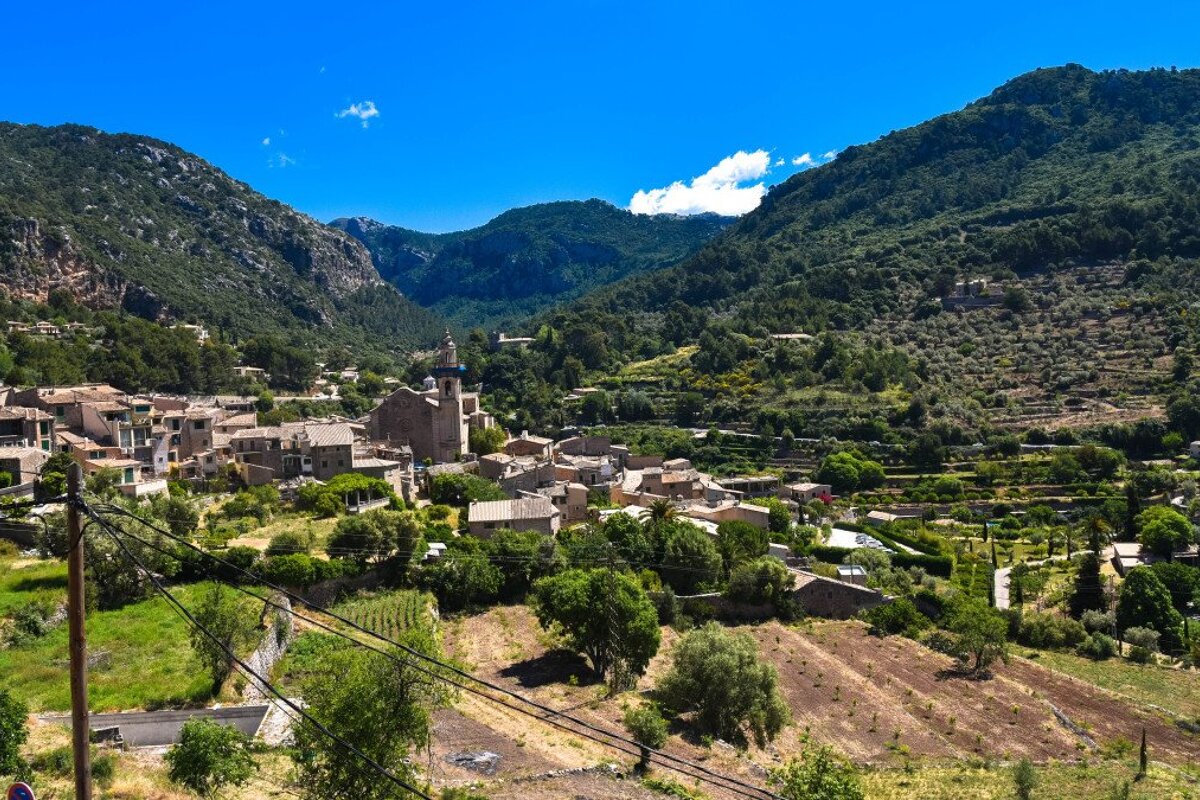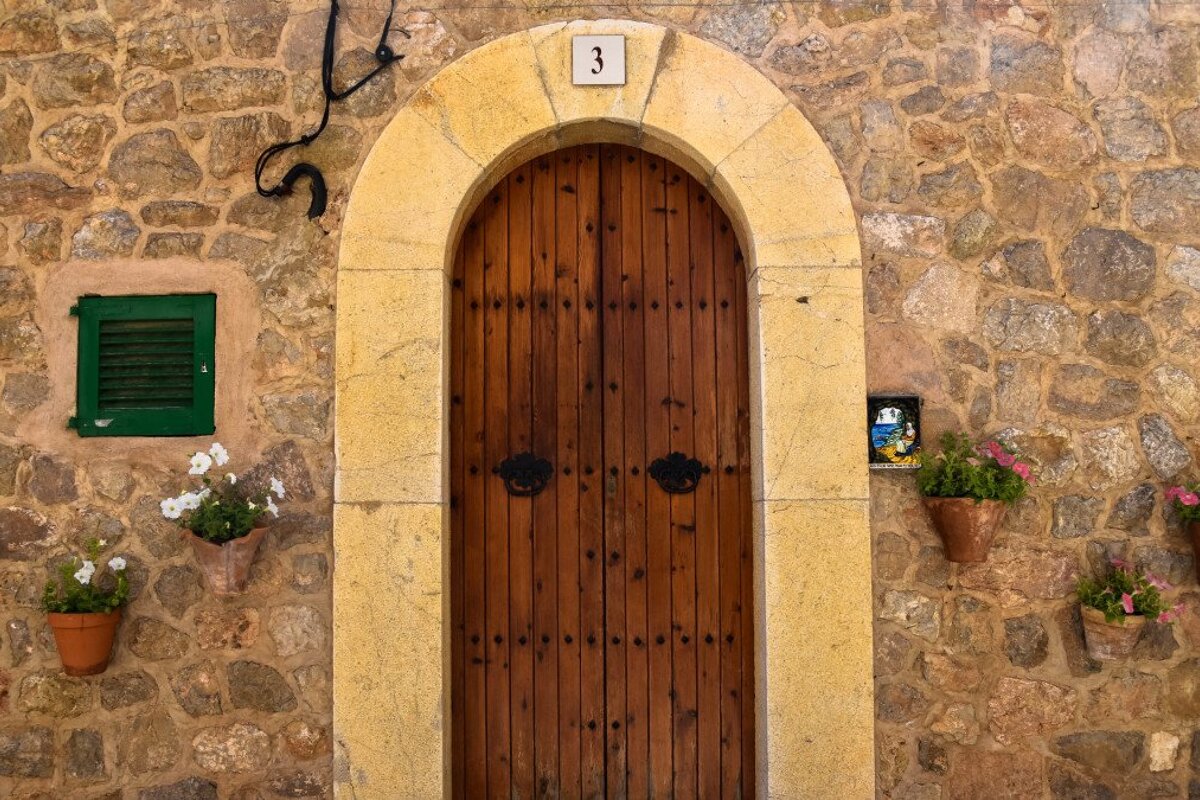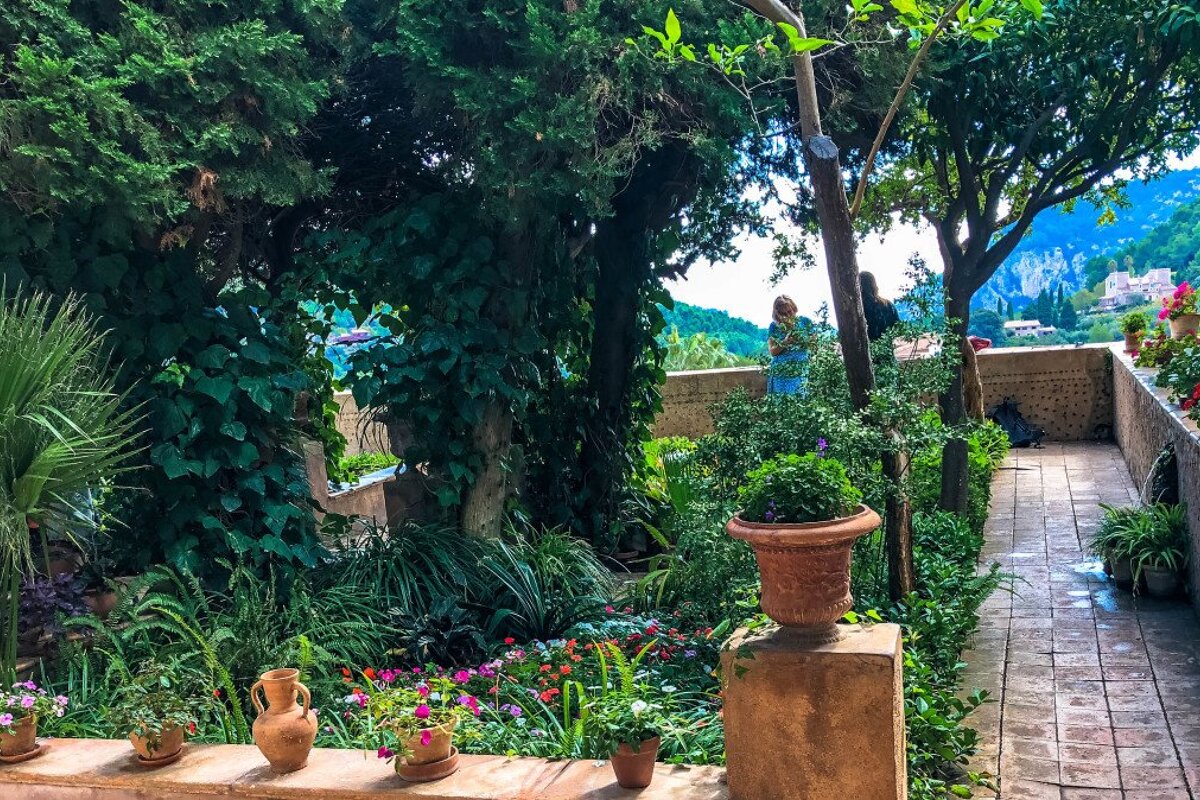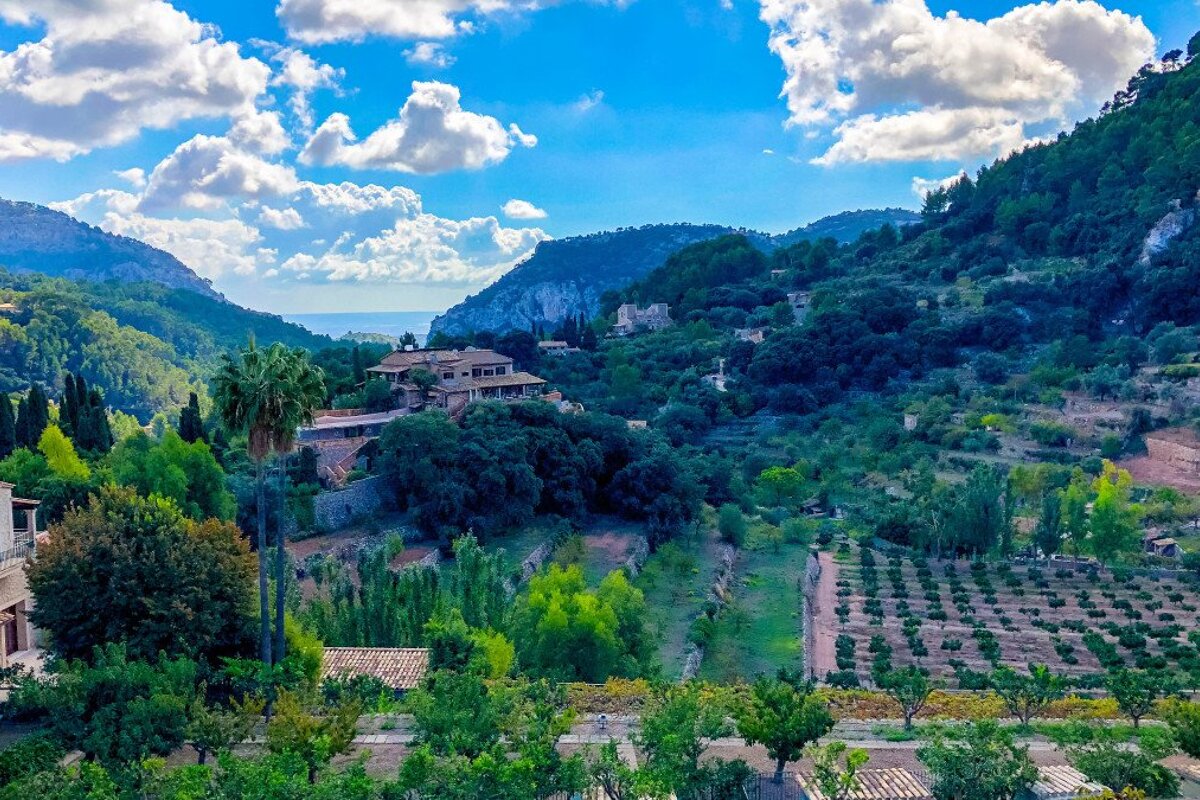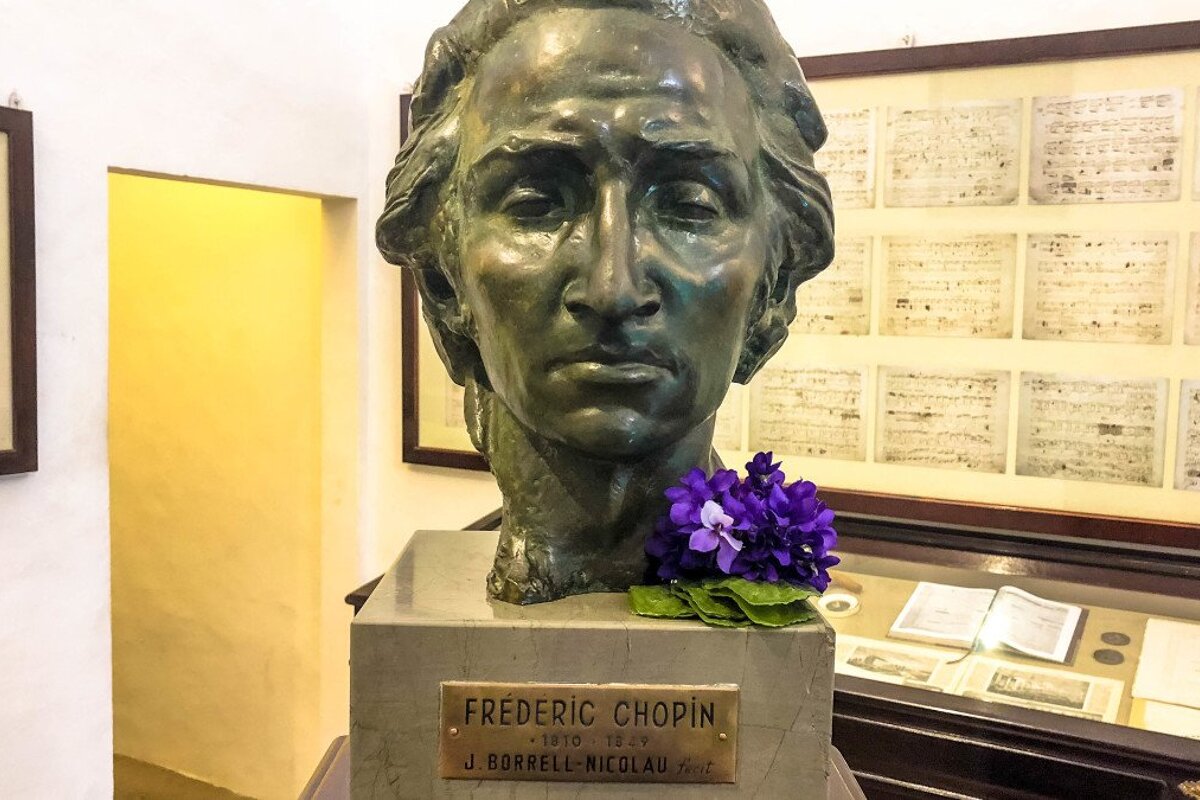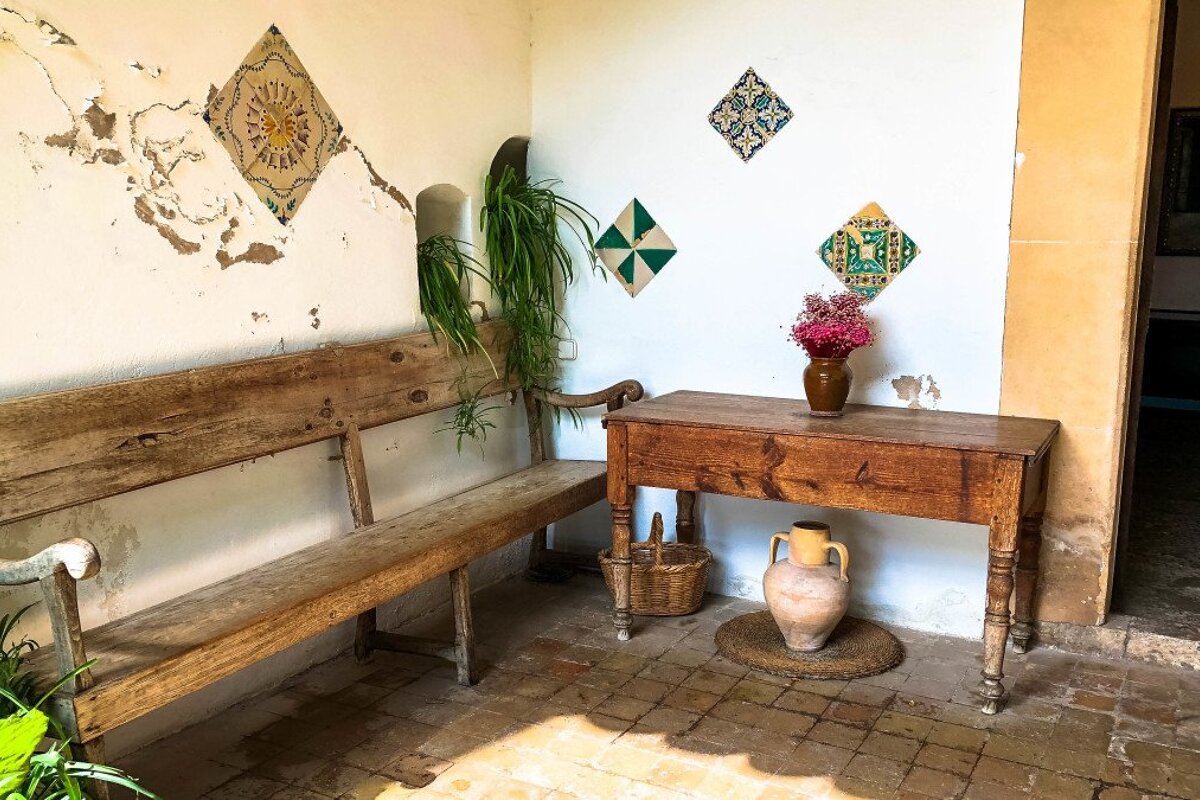 Valldemossa, Mallorca
Pretty rural town in the mountains of west Mallorca
A village steeped in old-world charm, Valldemossa lies in an idyllic valley in the midst of the Tramuntana mountains. Its ancient blonde stone houses contrast vividly against the surrounding green forests of olive, oak and almond trees, and the blue sky above.
With a population of around 2,000 people, Valldemossa's quiet and picturesque streets are sprinkled with shops, art galleries, cafes and restaurants. Doorways are lined with beautiful plants and flowers, and many houses feature a portrait of Saint Catalina Thomàs, the first saint to be born in Mallorca.
The natural beauty of the countryside makes Valldemossa a popular place for hikers and nature lovers to base themselves. There is a myriad of trails that wind their way up through the wooded hillsides before reaching the summits where hikers are rewarded with panoramic views over Mallorca and the Mediterranean. It's also a favourite destination for those looking to escape the more touristy beach resorts on the island in favour of a tranquil holiday. There are a couple of charming hotels within the village, with several more boutique-styled fincas and old manor house hotels in the surrounding countryside. It's the kind of place you want to sit back and soak up the scenery with a warm drink and pastry in the winter and a cold glass of wine and nibbles in the summer.
Most tourists come to Valldemossa on day trips to see the Real Cartuja, the Carthusian Monastery where Chopin and George Sand once spent a winter. Visitors tend to stay for a few hours before continuing on towards Deia, another mountain village on the west coast that overlooks the sea and the setting sun.
History & Culture in Valldemossa
The name Valldemossa comes from the Moorish name for the town: Musa Valley. The Arabs were rulers of Mallorca for 300 years from the 10th century and introduced irrigated terracing to the island, allowing for the cultivation of the hilly landscape.
A few decades after the Arabs were driven out of Mallorca by Jaume I in 1229, the local philosopher Ramon Llull founded a monastery just outside Valldemossa on the current site of the Miramar Estate in 1276. The monastery became a centre of learning for Franciscan monks and led to the first printing press on Mallorca being introduced here in 1485.
Tourism began in this small village in the mountains thanks to one cold, damp winter in 1838. When composer Frederic Chopin arrived in Valldemossa with his lover, George Sand, they rented a former monk's cell planning to carry on their affair away from the gossip of Paris and hoping that the climate would benefit Chopin's health (he had tuberculosis). Nothing worked out as planned. The weather was wet and windy, the couple were shunned by the locals and Chopin's piano was late to arrive. Sand took out her anger on Valldemossa in a spiteful book, 'Winter in Mallorca', which the locals, labelled as thieves and savages, still gleefully sell to visitors. It is said however that Chopin worked on some of his finest pieces during this very winter in Mallorca.
Valldemossa is also the birthplace of Santa Catalina Thomas, Mallorca's patron saint. A peasant girl born in 1531, she became a nun in Palma and was renowned for her humility. Catalina died in 1574, was beatified in 1792 and achieved sainthood in 1935. Almost every home in Valldemossa has a plaque imploring her prayers and her birthplace at Carrer Rectoria 5 has been turned into a shrine.
Sights & Attractions in Valldemossa
Real Cartuja de Valldemossa
This 13th-century monastery is a tourist hot spot thanks to its link to the internationally famous Polish composer Frederic Chopin. Known as the 'Real Cartuja de Valldemossa' this old Carthusian monastery was originally founded as a royal residence until it became a monastery in 1399. Writers, artists and composers have famously found inspiration in Valldemossa, and Chopin who lived in Valldemossa during the winter of 1838-39, is probably the most famous. It was in 'cell' number four at the Real Cartuja that Chopin spent the winter with French writer Aurore Dupin, who was better known as her alias George Sand. This room, still in its original state, is now something of a shrine to the lovers and even has Chopin's music and piano on display.
A visit to the Cartuja takes you through white-arched corridors leading to rooms containing mini-museums on various themes. Visit the old pharmacy where you can almost smell the herbs, then look into the library where the monks would meet for half an hour a week, the only time they were allowed to speak to each other. There is also a fine modern art museum with works by Picasso, Miro and Juli Ramis. The Palau del Rei Sanç (Palace of King Sancho) is located right next to the Cartuja and was originally built in the 14th century.
Centre Cultural Costa Nord
The Centre Cultural Costa Nord de Valldemossa acts as the headquarters for the Foundation for Sustainable Development of the Balearic Islands. It should be your first stop if you want to learn more about Valldemossa. It includes a 15-minute portrayal of the history of Valldemossa narrated by Hollywood actor Michael Douglas who owns a property a few kilometres from the village.
Jardins Rei Joan Carles
The Jardins Rei Joan Carles are lovely gardens well worth visiting for a stroll or a moment of relaxation. They can be found near the Chopin Festival Association.
Near Valldemossa
The agricultural estate of Son Moragues, just outside of Valldemossa, has been described as the epicentre of the area's agricultural scene. This 14-century estate can be found in the foothills on the north side of the village and claims more than 100 hectares of olive groves, specializing in the production of organic olive oil. Visits can be arranged if booked in advance and they also sell olives, olive oils and preserves.
Beaches
Although close to the coast, Valldemossa is not a beachside town. There is a small mooring harbour for a couple of fishing boats at Port de Valldemossa which is about seven kilometres away. There is a pretty little restaurant here, 'Es Port', and a small pebble beach, 'Cala Sa Marina'.
A word of warning, the unchanging residential streets of Valldemossa can be quite slippery as years of wear have caused some paving stones to become polished and difficult to grip. Many steep streets have mats on the ground to walk on, making it easier to get up and down the street without falling over, especially when it rains.
Events in Valldemossa
Traditional events
The celebration of patron saints has traditionally been very important to the Catholic culture in Spain. Valldemossa is no exception to this custom and celebrates two important days. Firstly, the 'Festes de la Beata' on the 28th July honour Santa Catalina Thomàs, originally from Valldemossa who then became the first saint of Mallorca. This is the most important fiesta for the Valldemossins and hundreds of people flock to the streets to watch and take part in parades where the statue of the saint takes centre stage.
The second important fiesta is that of Sant Bartomeu, the patron saint of Valldemossa, on the 24th August. Festivities such as music events, sports and concerts all take place in the town at this time including performances in the cloisters of the Real Cartuja.
Cultural Events
For the culture vultures, the annual Artdemossa Fair, which takes place in July is an absolute must. The event entails an evening of art, performances, exhibitions and concerts. In August, Valldemossa hosts the Chopin Music Festival and with it brings the opportunity to listen to a variety of international musicians playing the music of the famous composer.
Things to Do in Valldemossa
Outdoor Activities
Valldemossa is one of the most popular areas for hiking in the Serra de Tramuntana mountains, and there are many well-signed trails in the hills surrounding the village. Take a look at our Hiking Guide for ideas or visit the tourist office near the main car parks for maps and advice on routes. It is a good idea to arrange a guided hike with a local adventure company to benefit from their expert knowledge of the area. Cycling, horse riding and rock climbing are also popular activities, and there are several golf courses within a short drive.
Shopping
Valldemossa might only be a small village but there are gorgeous boutiques, interior design shops, arts & crafts, and handmade jewellery to be discovered along the cobbled streets. Being a tourist hot spot, you won't have to travel too far to find souvenir and gift shops either. Don't miss Valldemossa's weekly market which takes place on Sunday mornings throughout the year when the whole village comes to life.
Tours
There are various companies offering half-day and full-day tours of Valldemossa. These are ideal for those keen to learn more about the history of the village, its key landmarks and the surrounding area.
Dining in Valldemossa
Mallorcan cuisine
Traditional cafes and family bakeries can be found all around Valldemossa, serving up the local delight of 'coca de patata' or 'potato cake'. This sweet cake is made with boiled potatoes which are then formed into small, soft bread/sponge-textured buns. They are commonly eaten with a coffee or a thick hot chocolate.
If something more substantial is needed then fear not, there's plenty of opportunities to enjoy traditional Mallorcan cuisine in the village of Valldemossa. For an established family-run restaurant try Ca'n Mario, its hearty menu is popular amongst the locals. Otherwise, Es Roquissar possesses a beautiful courtyard and serves up some of the finest food in the village, from cake through to gourmet Mallorcan dishes. Travelling away from Valldemossa, the charming restaurant Ca'n Costa serves local rustic food in an old converted mill, the perfect end to a hike in the surrounding countryside.
Other cuisines
A bit of a household name in Mallorca, Grand Café Cappuccino is worth a mention. It takes prime position at the end of one of the cobbled streets and serves up international dishes, great coffee and cocktails. For something more contemporary, try the critically-acclaimed restaurant in the Valldemossa Hotel, offering beautifully presented local dishes with a modern twist. Or, if seafood is on your agenda, head to Es Port Restaurant in Port de Valldemossa for fresh seafood, about seven kilometres from Valldemossa on the coast (the access road is rather narrow and steep so take care when driving down to the port). Here you can eat on the terrace overlooking the sea.
Villas in Valldemossa
The rustic fincas made from traditional blonde stone are a popular choice for a rural retreat and can be found in the valleys around Valldemossa. Some are more traditionally furnished, whilst others are kitted out with all the latest mods and cons, but most have their own swimming pool and gardens. This style of accommodation is perfect for a group getaway keen for a quiet and private Mallorcan holiday.
Hotels in Valldemossa
Valldemossa is home to a fabulous selection of rustic-style boutique hotels. One of the most famous is Relais & Chateau Valldemossa Hotel which also claims to be one of the most beautiful historic buildings in the village. It is also one of the biggest hotels in Valldemossa and has a highly regarded restaurant. Expect exposed beams, stone arches, four-poster beds, pretty grounds, an outdoor pool and a small wellness centre. A smaller hotel in the village, Es Petit Hotel oozes character and offers more of a home-away-from-home vibe. People will travel far and wide to visit this hotel thanks to its traditionally styled rooms and views to die for.
Finca and boutique hotels can be found dotted in the surrounding hills, within close proximity to the village. These are small, intimate and idyllic for those seeking some rest and rehabilitation on the island. On the outskirts of Valldemossa is the firm favourite, Hotel Sa Vall, a traditional country finca which claims seven individually furnished bedrooms with lush gardens that encompass a swimming pool.
Set in the hills above Valldemossa, Hotel Mirabo de Valldemossa is probably the most romantic place to stay in the area. This 16th-century manor house turned boutique hotel offers eight stylishly designed rooms and a terrific restaurant, not to mention the swimming pool with panoramic views. Last but not least, just outside Valldemossa is where you will find ancient manor house Finca Son Brondo. The house has four traditional bedrooms, and can also be rented out as a whole for groups up to 15 persons. A similarly styled finca is the larger Cases de Ca's Garriguer which has 10 large bedrooms and comes complete with a 'bodega' (wine cellar) which will appeal to wine lovers.
How to get to Valldemossa
By car
Valldemossa is easily accessible from the island's capital of Palma (about a 20-minute drive) but is also within easy reach of Deià, Sóller and other western towns and villages in the Serra de Tramuntana. There are two large car parks in Valldemossa that are controlled by parking metres and getting around on foot is the easiest option once there.
Public transport
There is a direct TIB bus from Palma, number 210, which travels frequently all year round and also connects Valldemossa to Deia, Soller and Port de Soller.
Location