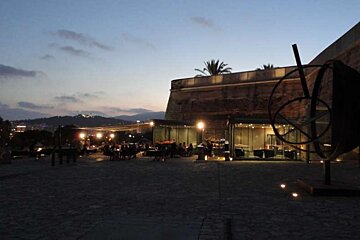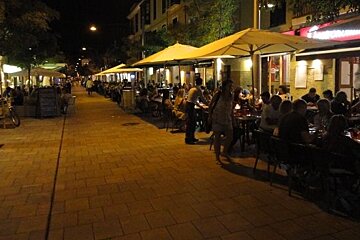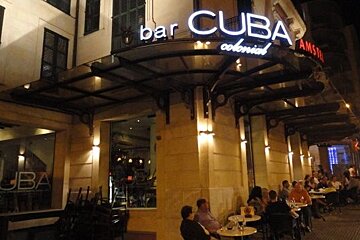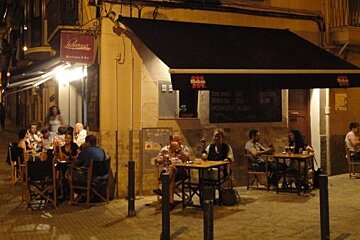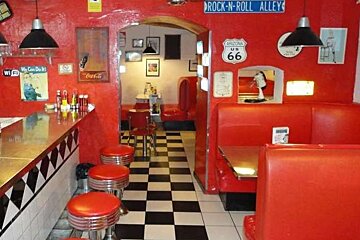 Tried & Tested: Cocktails to Clubs in Santa Catalina
My favourite route through Santa Catalina's nightlife
There are so many different spots for a good night out in Palma de Mallorca. One of my favourite this summer was in Santa Catalina.
Palma de Mallorca is very popular with the yachty crowd and they can often be found in Santa Catalina in the evenings. This means you get a good mix of bars and restaurants, from the swanky cocktails spots to keep multi millionaire owners happy to the more low key night spots where deck-hands and day-workers can enjoy a cool beer.
I like to start my night off on the terrace outside Es Baluard. I love the open space here with it's views of the Cathedral, Bellver castle and the sculptures that sit in amongst the old defensive city walls. It's the perfect place to enjoy a drink as the sun begins to set and as it's a little higher and more exposed there's usually a bit of a breeze here.
From the art gallery make your way to Carrera de la Fabrica. This street has been pedestrianised and is lined on both sides with restaurants. There are all types of cuisine available here from Indian and Asian to more local and Mediterranean dishes. For good pizza and Italian food try Tanto Amore, for Mediterranean cooking I like Horreo but my favourite restaurant in Santa Catalina is Duke. It has a surf shack vibe to it with relaxed and friendly staff. Despite it's chilled out beach hut look it has some great dishes, the terriakyi steak is excellent and the duck and mango salad is fresh and fruity.
After dinner I like to take a stroll back along Carrera de la Fabrica and head down to Cuba and Havanna. The two bars sit opposite each other and are probably the best examples of the two ends of the yachty world. Cuba is a grand building with table serving waiters in white shirts that harks back to the colonial days when the sun never set on the British Empire. It's a great spot for sitting out and watching the world pass by with a fresh, minty mojito and there's a club downstairs if you want to carry on until the early hours.
Across the road Havanna is a grungier affair with purple lighting and heavily tattooed bar maids. Good cocktails can be found here too as well as all the usual beers, wines and spirits and you can enjoy them on the terrace outside too. It's an altogether more lively bar than it's neighbour so your mood will dictate which one you choose to spend more time in.
By now it's time for a club and so you can either head downstairs in Cuba or down the the Avinguda d'Argentina towards the harbour to one of the clubs on the corner.
The last club on the right is one of my favourites. It's underground and the curved ceiling makes it feel a bit like a station on the Picadilly line but with a DJ and bar. Just think how much better that would make commuting around London. It's a fun and friendly place, more poppy than a serious clubber would be into and the drinks prices do step up a little here but not too drastically and the bar staff and DJ always have a welcoming smile.
Probably my favourite thing about having a night out in Santa Catalina is The Diner. This little slice of Americana always makes for a good end to the night, or start to the day, and as the sun comes up it's the perfect place to go for some breakfast before you head home as it's open twenty fours hours a day.
Santa Catalina can cater for all aspects of a night out from pre-dinner cocktails, to dinner and then drinks and even clubs. There are lots of other bars in this neighbourhood that are worth visiting to find out about them visit our Mallorca Bar Guide, you're sure to find something to your taste.
Location