© Portals Hills Boutique Hotel
© Portals Hills Boutique Hotel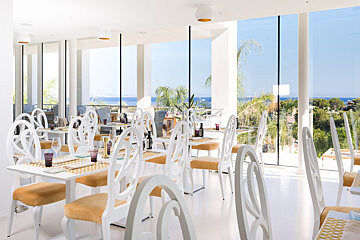 © Portals Hills Boutique Hotel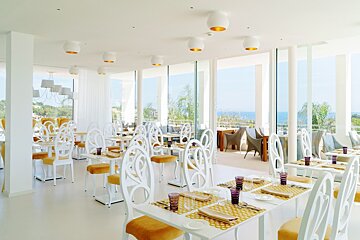 © Portals Hills Boutique Hotel
Collins Restaurant, Portals Nous
Gourmet restaurant within a stunning boutique hotel
This is an exclusive fine dining experience within the Luxury Portals Hills Boutique Hotel.
This restaurant guarantees to wow even the most discerning gourmet connoisseurs with their ever changing seasonal menus and flawless service. Their menu has a modern take on fusion Mediterranean and international cuisine. All their fresh ingredients are organic and sourced from local farmers' markets where possible.
The interior of the restaurant is designed to be impress, with a chic yet relaxed atmosphere. It has custom-made furnishings, golden art deco touches and a stunning terrace for al-fresco dining where you can soak up the sun as well as the panoramic Mediterranean views.
A private dining experience is also offered for up to 10 people in a secluded curtained-off area of the dining room. The chef will tailor make menus to take into account individual tastes and wishes.
Open Friday - Sunday 19:30-22:30.
Watch this
The Bar
The pool side bar, La Cabana, is a calm light and airy space providing the prefect chill-out atmosphere.
Visitor comments
"Fantastic food, fantastic hotel! We are staying here for a few nights and we love it! Beautifully balanced menu, exquisite tastes, and really friendly service!" - Trip Advisor
"If you like modern design, delicious food and probably the best wine selection this is the place. Service is impeccable and very friendly. Terrace offers spectacular views of the Bay of Palma de Mallorca. The poolbar offers great atmosphere, funky design and amazing cocktails. One of the best dinner experiences we had on this island, back soon." - Trip Advisor
"Posh location in the 5-star-luxury Portals Hills Boutique Hotel, Collins Restaurant sets high standards: food is always fresh and often organic. We were there for the Cuban night. Dinner was amazing. Great atmosphere, excellent wines and perfect service." - Trip Advisor
"Had the Thursday fish evening the food was out of this world the service was exceptional the wine good this is certainly a Restaurant we will be returning to.The balcony was lovely but we chose to sit inside the very elegant Restaurant after having drinks in the swish bar with a great outlook and a barman who really knew his cocktails price wise we thought for the exceptional food worth every penny." - Trip Advisor
"My wife and I had a lovely experience at Collins restaurant, Portals Hills Hotel, Mallorca. We went for lunch on a Monday and ate in the la cabana lounge bar. My rib eye steak was absolutely delicious, accompanied by my choice of 2 sides and a sauce - I opted for grilled asparagus, French fries and the chimichanga sauce, very happy with my choice! My wife really enjoyed her slow cooked lamb shoulder with sweet potato mash and char-grilled leeks. Everything from the ambience, stunning views, friendly staff, wine and coffee was absolutely perfect, we can't wait to go back." - Trip Advisor
Location