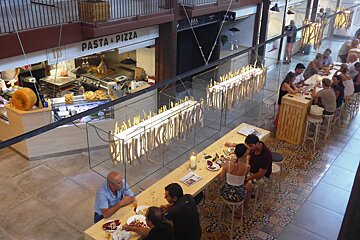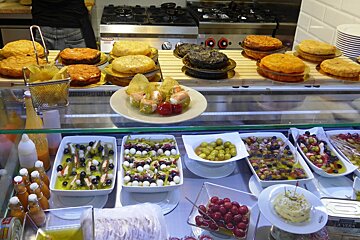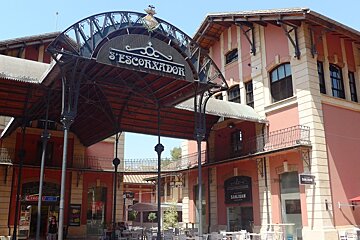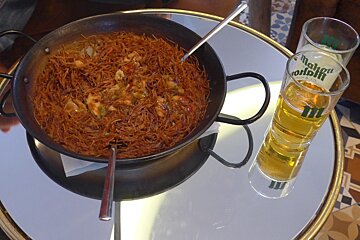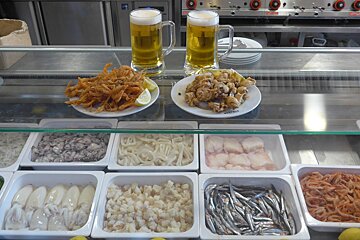 Visit to San Juan Gastronomic Market, Palma de Mallorca
Taking a look around Palma's hottest new foodie spot
San Juan Gastronomic market opened two weeks ago, and after visiting, I have no doubt it will soon become one of the top places to see in Palma.
It is housed in the attractive modernist complex of S'Escorxador. Designed by Gaspar Bennazar, it won first prize is the National Exhibition of Fine Arts in 1906. Originally it was built as a slaughterhouse but was refurbished in the 80's and 90's. Now it is a light and airy space, sensitively merging materials used a century ago while adding a contemporary twist.
The market offers a mouthwatering array of food from around the world. There are seventeen food stalls, plenty of wine to choose from and also a cocktail bar. Everything looks so delicious your only problem will be choosing what to select. Japanese, Thai, Italian, Mallorcan, Spanish, Seafoods, Grilled meats... I recommend solving the problem of indecision by trying a little bit of everything! San Juan may look like an expensive place to eat, but the prices are incredibly reasonable.
I couldn't resist the fideua with teriyaki chicken (6€). The noodles were al dente and deliciously garlicky, the chicken succulent. Next, we shared a plate of fried prawns (6€) and squid (6€), which were prepared in front of us in the lightest of batters and had us licking our fingers. My companion moaned with pleasure over a fresh slice of mozzarella pizza, while another treated herself to a Dulce de Leche and strawberry gelato.
This week (7th - 12th July) the market is celebrating San Fermín, with special offers and recipe twists which play to the festival heartland of Pamplona. There will be more events to come both in the cocktail bar and on the second floor of the market. Cooking4People have designed a space for cooking workshops, wine tasting and parties. Keep an eye on their calendar for details.
The market promises to be open 365 days a year, from 10:00 to midnight, and until 02:00 on weekends. It can be enjoyed in so many ways at any time of the day. Enjoy a relaxing breakfast in the area of comfy armchairs next to the exquisite patisserie. Or sit at the tables running through the centre of the market and treat yourself to an aperitif, or a lunch of international tapas and wine. The evening is when it gets busiest and there's nothing better than eating al fresco on a warm summer's night. Lucky then that the market boast 300 square metres of terrace. And for those who love to digest while watching a good film, there's also a small cinema, Cine Ciutat, in the same S'Escorxador complex, which shows international films in their original language.
San Juan is a must-visit for all the foodies out there. I can't recommend it enough.
San Juan Gastronomic Market is a 10-minute walk from Plaça Espanya and is accessible by bike and by car. There is underground parking on Calle Emperatriu Eugenia as well as a street parking.
---
Read about other Markets in Palma.
Location