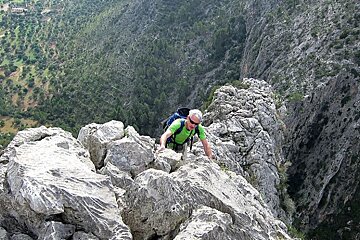 © rockandride-mallorca.com/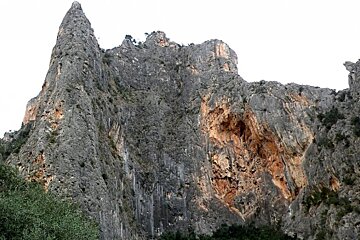 © rockandride-mallorca.com/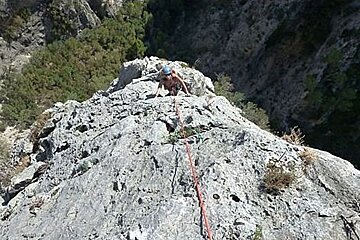 © rockandride-mallorca.com/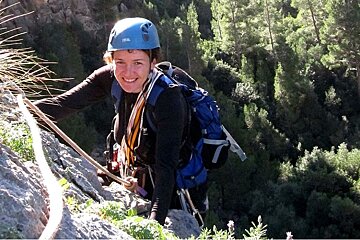 © rockandride-mallorca.com/
Climbing the Albahida Ridge with Rock and Ride Mallorca
Climbed & Written by Stuart Warwick from Rock & Ride Mallorca
Rock climbing long multi-pitch routes in Mallorca in the middle of August isn't most people's idea of a holiday but I have had the Albahida Ridge on my tick list for a number of years.
So when I ended up in Mallorca with my family this summer I knew if I played my cards right I would finally have my chance.
I had spied this spire like ridge from the Palma to Soller bus years ago and it looked like a massive undertaking. At the time I had neither the climbing skills nor a compliant climbing partner to give it a go. This year after three days on the beach I could take relaxation no longer. I knew it was adventure that I needed and I could think of no bigger adventure on the island. So after an internet search I found Sam from Rock and Ride Mallorca and asked if she would guide me up the ridge. I was half expecting her to say, "In August!...are you crazy" , but she explained as long as I was willing to meet at 6am and had no problem abseiling off ( to avoid the usual walk out in the sun) then why not!
So there we were the next day in a pitch black deserted car park checking gear; luckily Sam had remembered to bring a head torch. I detest early starts but on this occasion the sheer relief of walking in the fresh morning air made up for it. By the time we were gearing up at the bottom of the route it was starting to get light and I was able to get a feel for the size of the days undertaking.
The ridge consists of 7 pitches of grade 3-4+ climbing using traditional gear. Luckily for me, Sam was going to be on the sharp end all day and I just had to concentrate on pulling myself up afterwards. I had naively assumed that as we were abseiling off, that if I wasn't quite up to the climb then we could bail at any point. However, it soon became clear that even the getting down would be quite a challenge unless we were able to get high enough on the route to abseil down the other face of the ridge.
The route twisted around, always seeming to head for the more exposed ridge like sections. Suddenly I wished I had spent longer at the climbing wall. Even the first pitch of grade 3 had me wide awake and the next two pitch of grade 4 had me wondering if I had bitten of more than I could chew. But every time I reached Sam she seemed as cool as a cucumber, offered a few technique improving pointers, and off she skipped.
By pitch 4 I had relaxed back into climbing and was thoroughly delighted with the outstanding views and the sheer exposure that comes with hanging from ropes on tiny ledges. We watched a few other climbers arrive, obviously after a leisurely breakfast, and truly felt like kings of the castle. The other bonus of our ridiculously early start was that no other groups followed us up the ridge ("In August! Are you crazy"). Sam departed again with a few more words of technical wisdom that I acknowledged and quickly forgot.
And then the fun started. Pitch 5 is the crux pitch (apparently 4+.....but that must be a Mallorca 4+). Man, I wished I had listened to what Sam had said. The rope seemed to lead off into nowhere on nothing; surely she couldn't have gone that way? By the time I had tried every possible other way my arms were as much use as a chocolate fire guard. Then there was no other option left. I had to climb around that corner where there were no conceivable holds. It came to me that Sam's favourite saying was "trust your feet" but there didn't seem much for the feet either. So I just trusted....and sure enough before I knew it I was clambering up Sam's ankles.
Apparently now we were on the homeward straight and it wasn't even 11 0'clock yet! The final pitches were no push over but I suspected the main reason for that was that I had used up my arm muscle quota for the day.
We arrived at the top of the technical climbing at the same time as the sun. The heat made me so grateful for the early start and the abseil option. It seemed like a good spot for lunch but we decided to hurry before the sun really gave us a toasting. Cold beer had been mentioned at some point during the preceding 7 pitches and by this point I had a one track mind. As with all mountaineering, it is never over till it is over, and the abseil had its own delights in store. It was by no means the easy option with full rope length pitches (long rope required), hanging belays, a weaving route and the unrelenting sun.
By the time we reached our bags I knew that I truly deserved that cold beer and maybe a few more days of relaxation.
I would like to thank Sam for a truly epic and memorable day out. I promise to trust my feet next time!
Sam Shelley is a MIA qualified rock climbing instructor with Rock and Ride - Mallorca. To find out more about guided multi-pitch climbing adventures, visit Rock and Ride - Mallorca

Location