Las Bovedas Restaurant Review, Llucmajor
The upmarket restaurant uncovers its summer menu for 2018
About
On a warm spring evening, we arrived at the 5-star Son Julia Country House Hotel and admired the 15th-century mansion standing in the glowing sunlight. Although it was only March, the car park was full, which led us to believe the season had well and truly started for this hotel on the island.
Having eaten at Las Bovedas Restaurant at the end of last summer, I was extremely excited to be making a return trip to the hotel's award-winning eatery. The chef takes pride in using seasonal local ingredients and inspiration from international lands to create innovative gourmet dishes.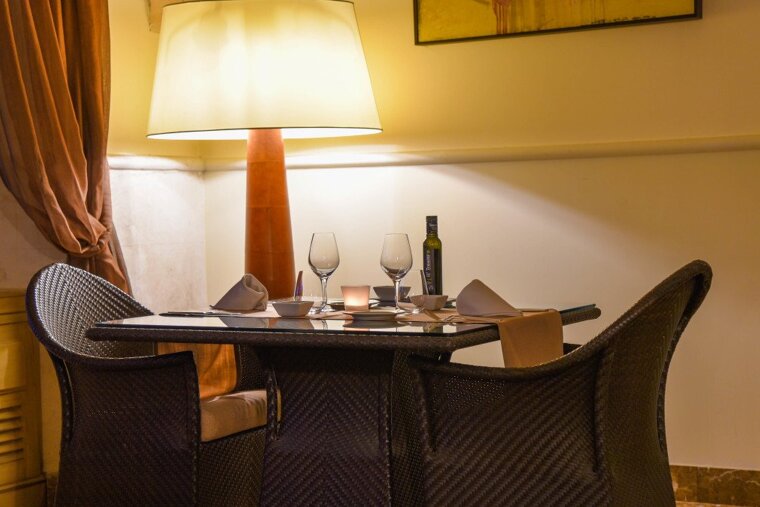 Whilst last time we had dined on the restaurant's terrace, al fresco style, this time we would be eating inside due to it being a bit chilly outside. From reception, we were directed towards the dining room and greeted with an equally charming setting thanks to the exposed sandstone arched ceilings, and a romantic ambiance created by the simmering glow of warm lighting and candles. The dark rattan tables and chairs were the perfect contrast to the light neutral colouring of the rest of the room.
---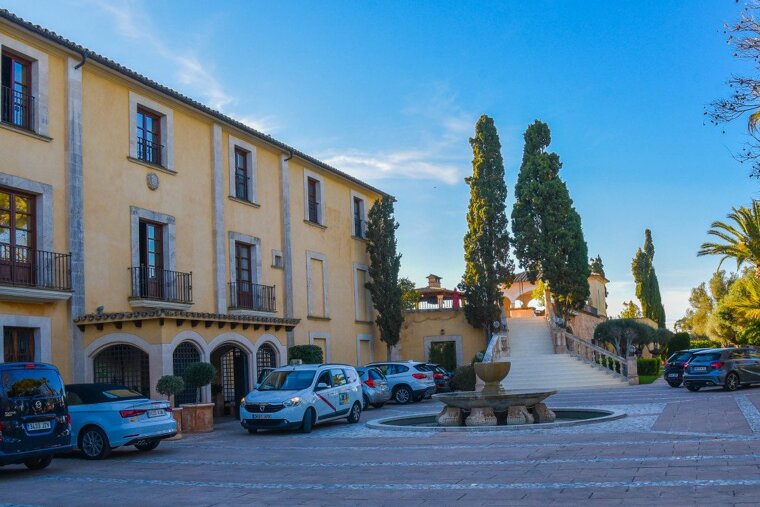 Stepping down into the restaurant, we received a friendly welcome from the restaurant manager who had immediately recognized us from our last visit. She escorted us to our table for two and handed us our food and wine menus. The wine list here is extensive, heavily focused on Spanish wine from both mainland Spain and some local Mallorcan potions. Although my rule is 'never have the same thing twice' at a restaurant, I had tried the wine produced from the hotel's vineyard on my last trip and was more than willing to break this rule and go in for round two on this occasion. Upon asking the waitress for the wine, I was advised it was no longer called 'Chapren' but 'Son Julia', after the hotel, this year.
---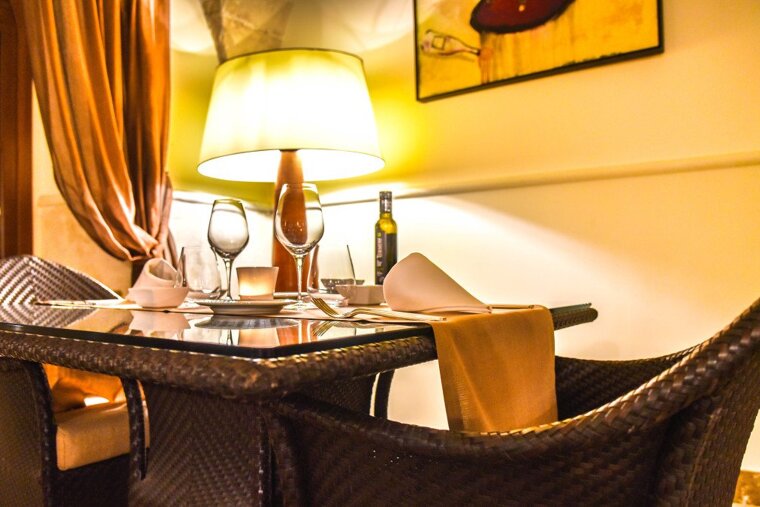 Quickly after placing our orders, the 'Son Julia' wine arrived at the table along with a bottle of sparkling mineral water. As expected, it was light and fruity owing to the native Prensal Blanc and Chardonnay grapes. Very easy to drink! A waiter offered us a piece of fresh bread from a choice of white, olive and granary. I opted for the granary and we were well catered for when it came to extras for the bread, I mixed the coarse pink salt and olive oil in my own small trinket bowl and started dipping away.
---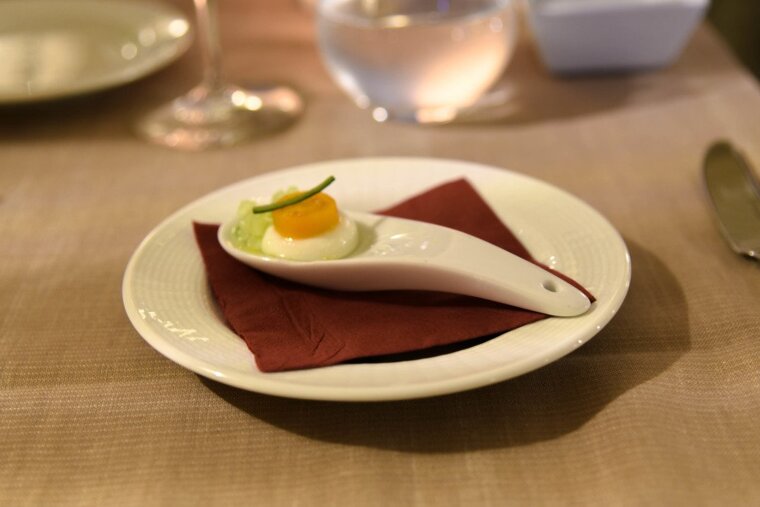 We began our gastronomic journey with an aperitif, which arrived at the table elegantly presented on a small white canape spoon. A 'Yoghurt sphere with cucumber tartare' an incredibly clever taste combination, it felt creamy but light with a sensationally fresh element afforded by the cucumber and tomato.
---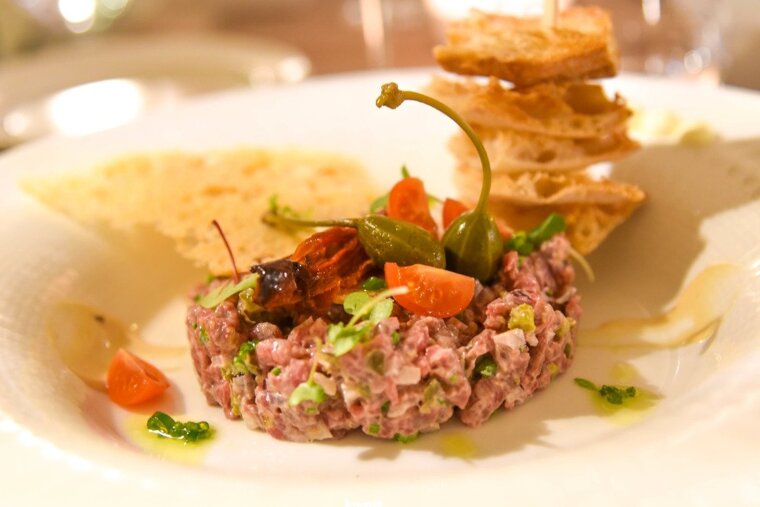 Scanning the menu, it was difficult to separate stand-out dishes! I was tempted by the 'Burrata with Raf tomatoes, watercress and fresh basil' and the 'Majorcan pork Dim Sum with shitake mushrooms and an apple soy sauce', both right up my street. But I ended up going for the special for the evening which was 'Classic steak tartare with tomatoes, capers and crystal bread' which was a lovely combination. When it arrived, I was pleasantly surprised at the portion size of this dish. I was ravenous! I haven't had steak tartare in while and forgot how much I loved it until I tried my first bite. Of course, you have to like your meat red-raw but, if you are down with this, then this steak tartare will be one of the best you have ever tasted. It was well seasoned and the capers cut through the raw meat perfectly, offering a fresh zingy flavour as well as a wholesome crunch. The parmesan wafer complimented it perfectly.
---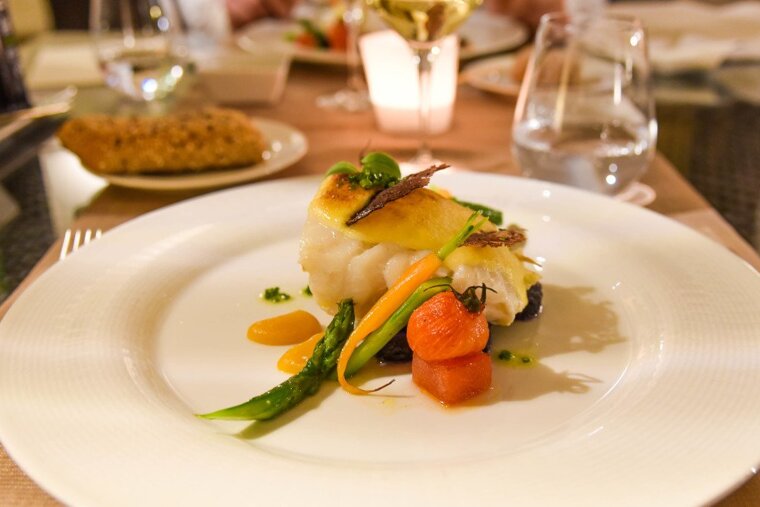 For the main course, the 'Beef sirloin steak with truffle potatoes, green asparagus and red Oporto gravy' jumped out at me on the menu but, knowing I was having a meat feast to start, I decided to select fish. So the 'Cod gratin, served with grilled vegetables' was to be my next culinary indulgence. The mild flavour of the chunky but tender piece of cod worked well with its creamy garlic counterpart. The bland colour of the fish was livened up by the colourful accompaniments on the side. Purple potato, green asparagus, red tomatoes, orange carrots and pink grilled watermelon all worked together to create a vibrant and tasty dish. The flavours were not easily forgotten, particularly the grilled watermelon, a unique addition which worked well to tone down the rich creamy sauce, as did the dashes of apricot coulis.
---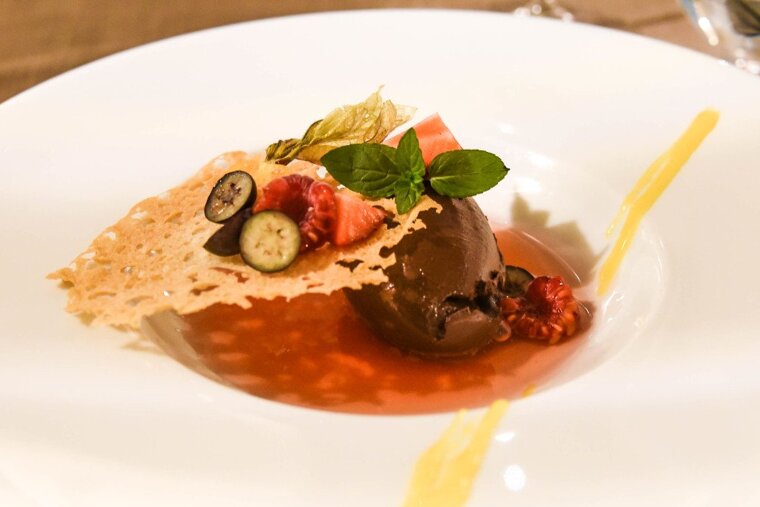 For the finale, a deeply satisfying chocolate treat, the 'Chocolate Ganache' provided an elegant ending to our meal. A ganache is halfway between a chocolate truffle and chocolate mousse, so it could be described as the ultimate chocolate treat for chocoholics. It was served with a delicious strawberry sauce, fresh berries and some sprigs of mint which topped it off nicely and acted as the perfect palate cleanser.
---
If you like friendly, old-fashioned service, artistically presented fresh food and a captivating setting, then Las Bovedas Restaurant delivers time and time again!
---