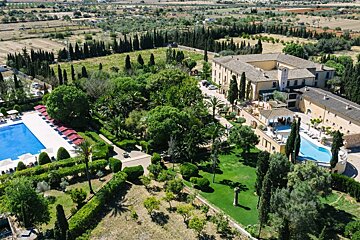 © Son Julia Country House & Spa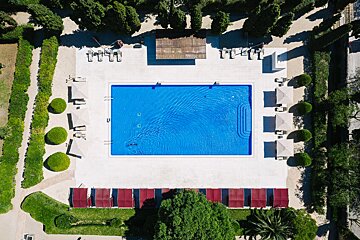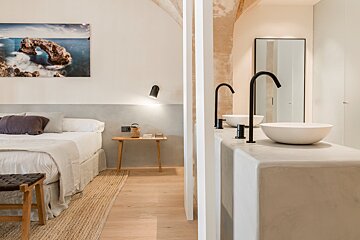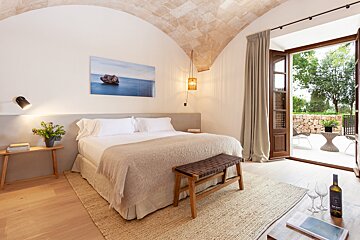 © Son Julia Country House & Spa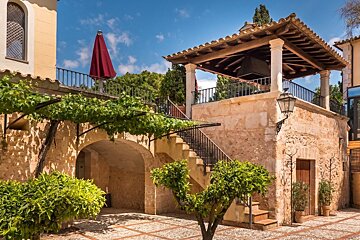 © Son Julia Country House & Spa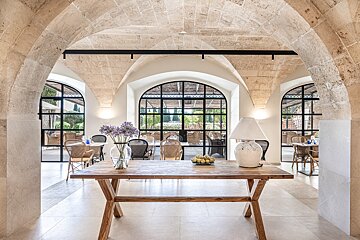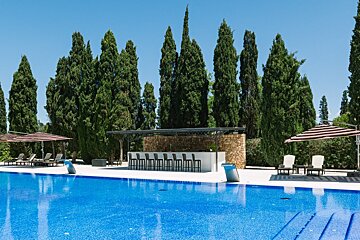 © Son Julia Country House & Spa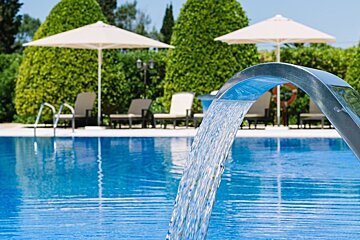 © Son Julia Country House & Spa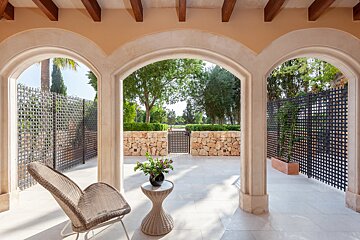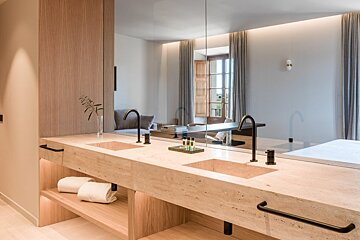 © Son Julia Country House & Spa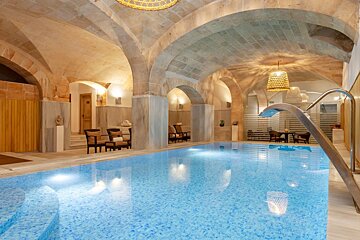 © Son Julia Country House & Spa
Son Julia Country House Hotel, Llucmajor
A stunning boutique hotel set in tranquil 300 year old gardens with fantastic facilities
If you are looking for a perfect hideaway from your usual routine, then this lovely 15th century Mallorcan manor is the place to escape to.
Only a few minutes from Palma, this unique boutique hotel pairs Mallorcan style and serenity with modern design and state of the art facilities. Here you can explore and relax in its beautiful 300 year old rambling gardens, inviting terraces and patio or indulge in spa treatments or keep active with various sports on offer.
There are just 32 spacious rooms and suites all individually styled and decorated with elegant furnishings, yet retain period aspects of its 500 year old heritage. All rooms include the latest technology and are equipped with Flat-screen TV, high-speed WiFi, air-conditioning, mini-bar, safe and hair-dryer. Some of the rooms also have terraces and private gardens.
If you're interested in activities to keep your mind and body active while you're on holiday, then the hotel offers a range of sporting activities from yachting, hot air ballooning, cycling and tennis, or you can make use of the fitness room. They also rent professional carbon race bicycles and offer a variety of cycling opportunities and guides. You can ride fully serviced, top of the line carbon bikes that can be rented per day or by week.
Facilities include a private tennis court and private lessons in tennis can be arranged, so that you can practice your backhand with one of the hotel's great coaches. Tennis rackets and balls are available at the reception.
For those of you looking to unwind and be pampered the hotel includes a spa and wellness area, which includes a heated indoor swimming, hydro massage Jacuzzi and Finnish sauna. Enjoy body and facial treatments such as Osteopathy, reflexology and body scrubs as well as relaxing massages in the hotel's well-equipped treatment room.
Finally, Son Julia´s vineyards produce a light, fruity white wine made from local Prensal blanc and Chardonnay grapes. Matured in cement egg shaped tanks by a local wine producer, it is currently sold exclusively at the hotel.
Reviews
218 verified reviews by
"Excellent"
Good to know
"Bathroom could be optimized"
"Excellent"
Good to know
"Wellness & sports facilities could be improved"
Watch this
Worth knowing
The manor has its own private chapel which is a fantastic space to hold magical Mediterranean wedding.
This estate includes its own vineyard where they produce a local white wine.
There are live music nights every Thursday night from second week of June
The pool
Son Julia´s Gardens are over 300 years old, and are in the Arabic style with maze-like hedges and winding paths that lead you finally to the large 25 metre pool at the end of the gardens. Walk through agapanthus, roses and palm trees to the pond below the pyramid feature.
The two outdoor pools are areas of pure relaxation, chill out in one of the poolside cabañas at the large pool and be served your drinks from the Agapanto Pool Bar in luxury. At their small pool you can enjoy the quiet and calm of an adult-only area.
The Restaurant
There are three restaurants to choose from. The award-winning Las Bovedas Restaurant serves affordable gourmet dishes created with fresh local produce. The cuisine is international, taking inspiration from both Eastern and Western foods. Las Bovedas has also been completely renovated for 2020.
During the summer months, lunch is served al fresco at the Mandarina Bistro.
While you relax on your sunbed or in your private poolside hut you can order drinks from the Agapanto Pool Bar. In the afternoons they serve different cocktails, mojitos and smoothies.
Visitor comments
"I have travelled all over the world and besides this hotel being a fantastic getaway the massage therapy I had was out of this world- I rate it better than my therapies I had in the Maldives at Soneva Gili and Fushi. Staff was accommodating and friendly." - Trip Advisor
"We wanted : A beautiful, very clean swimming pool , that was big enough to be worth swimming in. A quiet environment, with very comfortable sun loungers that were not crammed together. A decent poolside bar and grill. A nice restaurant for dinner, and the option to eat out if we chose. A comfortable, air conditioned bedroom with plenty of towels and amenities. Staff that were pleasant and happy to go the extra mile. The San Julia provided all of this and more!" - Trip Advisor
"Stayed here for 3 days and wished we could have been there longer. The quality of accommodation was excellent, fantastic staff that were a joy to have around, excellent breakfasts and high quality evening meal and wine list, with many excellent local wines. The hotel was close to the airport and only a short trip away from Palma which was a great place to visit for both cultural and shopping. We hope to be back soon." - Trip Advisor
Location