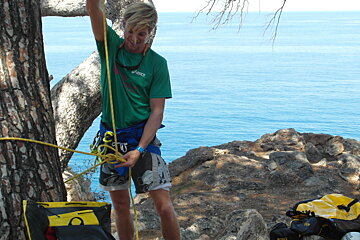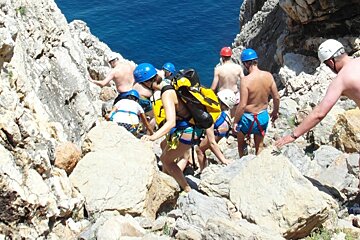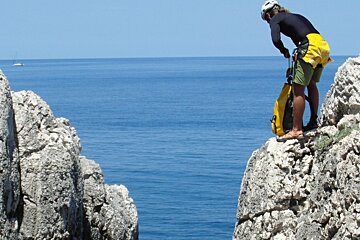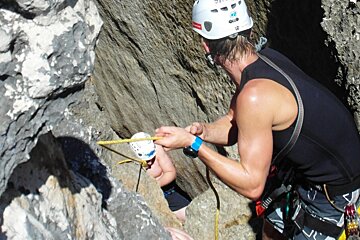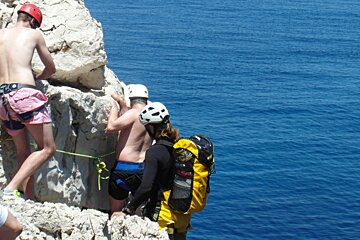 Mallorca Coasteering Review
Clambering, climbing, diving and swimming around the coastline
In a secret location, not far from Soller, I climbed like a crab, leapt like a salmon and swam like a dolphin to navigate the natural beauty of the Tramuntana coastline.
Coasteering is a relatively new and alternative summer sport in Mallorca. 'Canyoning' is its closest relative but whilst the canyons inland dry up through the hotter months, the sea warms up and the rugged coastline comes to life. Via ferrata, abseiling, cliff jumping and gorge swimming all lead me to a thrilling three hours.
Through responsive e-mail contact with Andy of Tramuntana Tours, I was told of the secret meeting point. Discretion here the key, as each guide has their own unique routes that they wish to retain undisclosed. This not only adds to the exclusivity of the sport but it also deters "pirates," described by our guide Jeremy as those guides who don't have the right qualifications, if any at all.
I pitched up at the furtive car park where Jeremy and his best friend and mentor Joan were unloading the van. Jeremy was bright, upbeat and excited as he sorted through piles of luminous rope, safety helmets and giant rucksacks that smothered the tarmac. Joan was helpful and friendly having already offered me a lift back to Palma at the end of the day.
The rest of the group arrived - fifteen Germans no less. Jeremy gave us an introduction to what we'd be doing - it turns out he's a language chameleon thanks to his mixed English and German heritage, on top of his Mallorquin and Spanish upbringing. Languages are a necessary trait in tourism on an Island overtaken by Brits and Germans in the summer.
After a beautiful and surprisingly leisurely walk to the starting point we were shown the ropes… After a run through of how a harness works, how to clip yourself on and off the rope, how to abseil correctly, how best to fit the helmet, how to take your t-shirt off... Soon enough we were in our swim suits, harness carefully attached and helmets on. My German is limited but I can recognise jokes around the incongruity and discomfort of where the harness cuddles the male body..
Eager to get going, we scrambled down the rugged rocks to get closer to the water. Our first challenge – the via ferrata. A rope wrapped around a rocky outcrop was to be our route. Sat five metres above the brilliant blue sea, this non-existent path took twenty minutes to navigate. Taking on the crab position, I worked my way slowly along the rock, securely attached by my tightening harness. The water looked so tranquil and inviting, and offered a comforting safety net beyond the harness and rope. I found foot holes where there weren't any and grappled insignificant ledges to work my way to the end.
Finishing the via ferrata, we started on an exercise unique to coasteering as we tousled through a tight gully, negotiating giant boulders hung in mid-air, held only by the sides of the canyon. The book/film "127 hours" unfortunately sprang to mind as I crawled under the boulder..
Next up was abseiling. I caught up with Jeremy who was preparing the gear. He's been doing this sport for seven years, or a similar sport at least. He explained that only in the last couple of years had they started taking the public along routes they had previously kept to themselves. Fully qualified, Jeremy and Joan have spent time and money to get professional qualifications in the Pyrenees before returning to the Island they know and love. They are obviously frustrated by the lack of control by Mallorquin authorities over the sport. Jeremy explains that "pirate" guides steal their business, their routes and worst of all are not qualified or insured. There appears to be no movement by the government to regulate the sport and so it is currently seen to come with the territory. They keep their routes a secret and continue in their proficiency, fighting for change.
Meanwhile, Joan has disappeared. I'm sure he knows what he is doing.
I regained my breath and Jeremy started to guide me through an abseiling gap not much wider than the average person, lowering me on a rope into the sea ten metres below. So concentrated was I on the rock in front of me, that the water came as a big surprise and so did my embarrassing yelp! Jeremy shouted down instructions on where to swim and I weirdly doggy paddled through a narrow and eerie gorge to finally escape into the sea. Adrenaline pumping, I looked up to see a flailing Joan leap from the cliff high above. That's where he was.
Joan directed me out of the water and, back in the crab position once again, I wound my way up the ten metres above the turquoise sea. I took my helmet off and leapt in like a salmon, tucking myself into the pencil position, and crashed into the sea. Resurfacing with a head full of water I was directed through a tiny gap in the rocks, and holding my breath, swam under the surface to reach the other side. Amazing!
After a final gentle swim we scrambled our way to the top and back to the starting point.
Coasteering really is a fantastic experience and suitable for all the family, ten years of age and upwards and the guides will only do a route that suits your group. It is also more accessible than canyoning because of the nature of the coastline, as there is always an alternative and easier course if you want to sit a section out.
Tramuntana Tours only employ fully qualified and insured guides who, like Jeremy and Joan, have a true understanding of the sport, its limits and a passion for its authentic charm. Just keep their routes a secret!
Coasteering with Tramuntana Tours costs 55 EUR per person for a group of 4 or more and includes all the equipment required: shorty wetsuits, harnesses, helmets, etc. It does not include food, drinks or transport.
For specific and booking information e-mail Andy using the 'make an enquiry button' or call them on (+34) 971 632 423 (Soller) or (+34) 971 632 799 (Port Soller).
Visit their website to see a range of other acitivities they offer.
Location