Nikki Beach Champagne Brunch 2019 Review
Luxury bottomless brunch with champagne
About
Mallorca's fun-seekers, foodies and fashionistas gather at Nikki Beach's world-famous champagne brunch every Sunday. This brunch bonanza is an all-you-can-eat feast with two hours' worth of unlimited champagne.
Caught your attention, have I? Read on to find out more about my experience.
Walking in at midday, we were greeted by friendly staff who escorted us to our table while informing us that someone would be with us shortly to kick-off the brunch. And, right on cue, within seconds a waitress came over, presented us with some turquoise wrist bands and explained exactly how brunch plays out at Nikki Beach. "You will be topped up with unlimited champagne, mimosas and Bellinis from midday until 14:00, and you can help yourself to as much food as you like. The main food will be available until 15:00 and the desserts are available until around 16:00." A fresh fruit platter and basket of pastries were hand-delivered to the table, along with a waitress serving drinks. The service was slick here, like a well-oiled machine I thought to myself.
---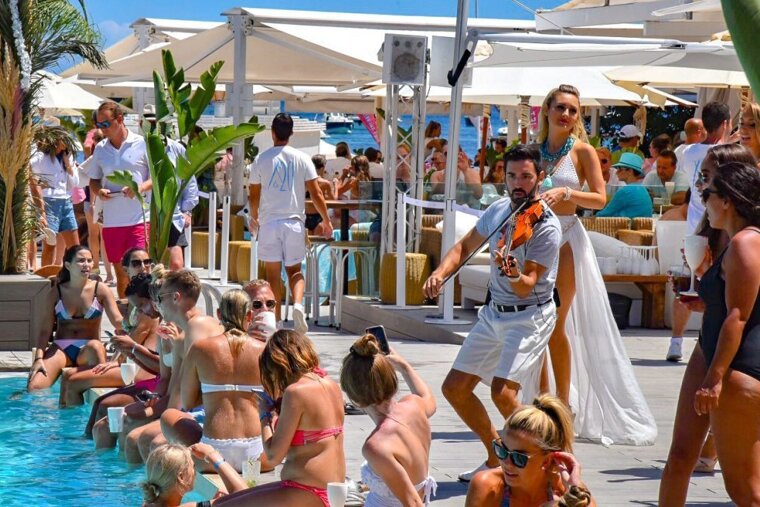 I started off with a mimosa while nibbling on fruit and croissants and soaking up the surroundings. We watched on as people sat down at their tables. Families, large groups, couples, friends, a real mish-mash but many were dripping in designer which did not go unnoticed. Nor did the number of yachts that had anchored in front of the beach club that day.
---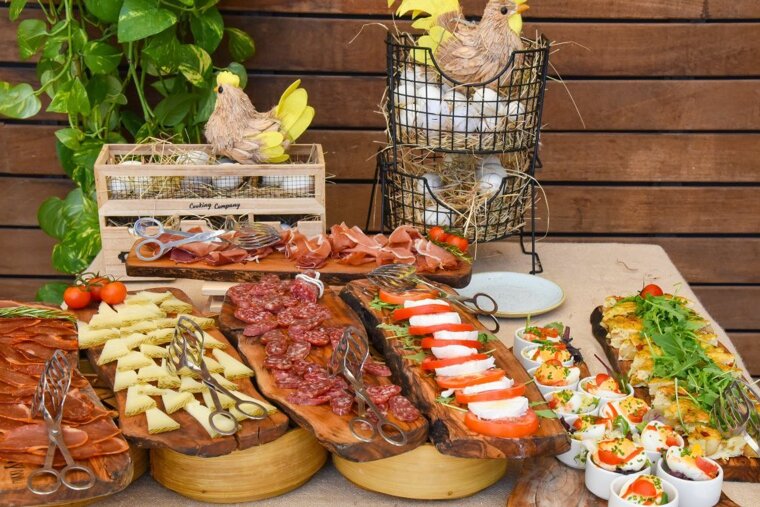 On the east side of the restaurant, the live cooking stations take up residence. Different cuisines are on offer on buffet stalls where you can help yourself and stations where someone prepares the food for you upon request. If continental breakfasts are your thing, then the selection of jams and a real-life honeycomb would tickle your taste buds. There also resides some cereals and yoghurt. Various hams, chorizo, cheese, giant tomatoes with mozzarella and Spanish tortilla are, of course, also on offer.
---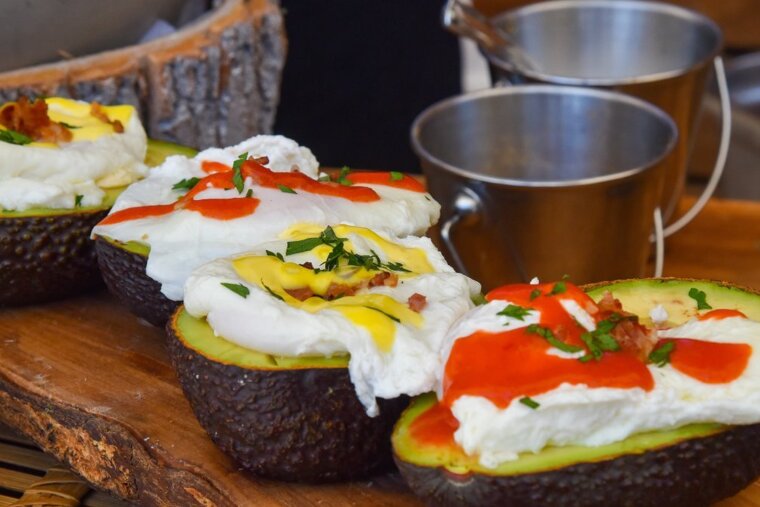 A Mexican station offering up nachos and avocados filled with eggs caught my eye due to the colourful display. This was first on my agenda. Followed by the large grilled salmon served on a bed of salt. Carnivores would be attracted to the BBQ station, where the chorizo and steak were drool-worthy.
Next to this were the "huevos rotos" or broken eggs, fried eggs on a bed of potato chips and other delicacies, a nice little reminder that we were in Spain. Vegetarian options included potatoes, onions and mushrooms while the meaty ones featured chorizo. On a separate BBQ which was clearly dedicated to vegetarians, you could sample delicious-looking artichokes and mushrooms. In the middle, a selection of tasty salads acted as the perfect accompaniment. Every box appeared to have been ticked.
---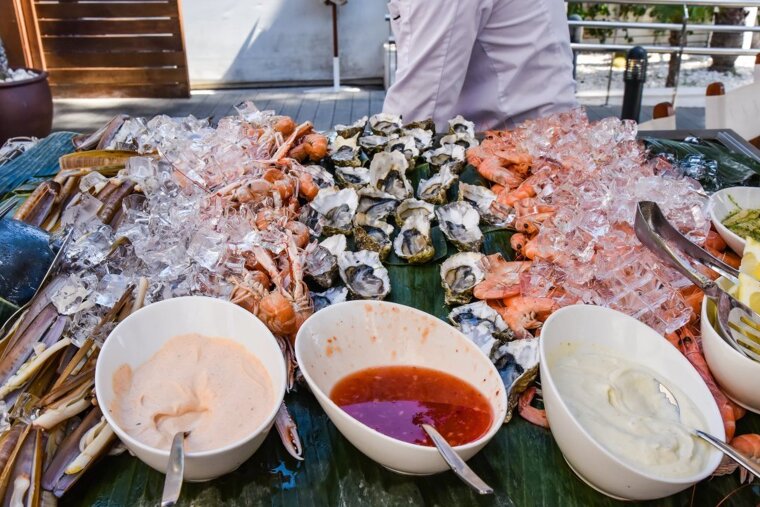 For me the salty sea fare made the brunch feel extra special. After all, what beats a champagne and fresh oysters pairing? Prawns and oysters were presented on a bed of ice, along with some tasty anchovies in vinegar. In the fish corner, the sushi seemed to receive the most attention. There was a large boat with an array of sushi, from the ever-popular California rolls to vegetable options, which seemed to be equally popular.
At the end of the savoury circuit, there were piles of fresh fruit and vegetables. Upon closer inspection, I realised they were there for the waitress to make fresh juices available upon request. These guys hadn't missed a thing, had they?
---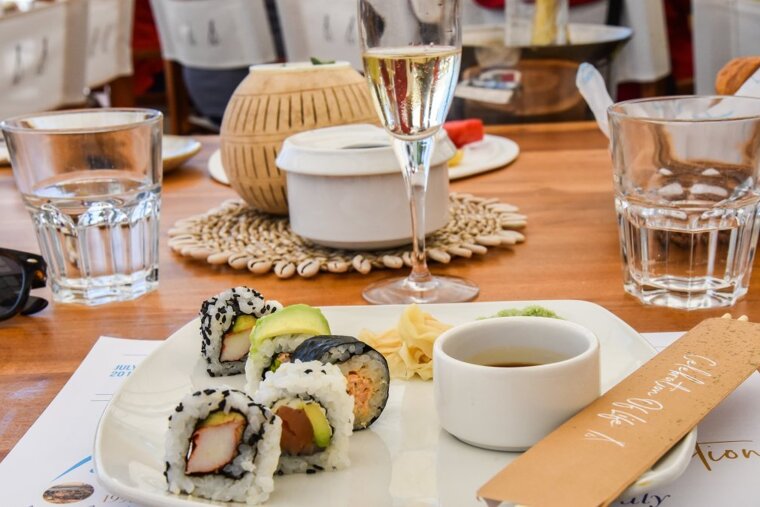 On my first visit to the food, I came back with a small plate to start. The service was five stars – soon after my plate was finished, the waitress came and cleared it. After my second mimosa, I requested to move onto the champagne. At this point, the waitress brought over a bottle of Tattinger, filled up a new glass and popped it in an ice bucket next to the table. From here on in, our glasses were never empty. A bottomless brunch as it should be!
I returned with a new plate three times with a complete mish-mash of food. It was a challenge when loading them up myself so I was relieved to have made them look half presentable. If I had to recommend three top things to try, I would suggest the sushi, the fresh prawns and the steak with Bearnaise sauce.
---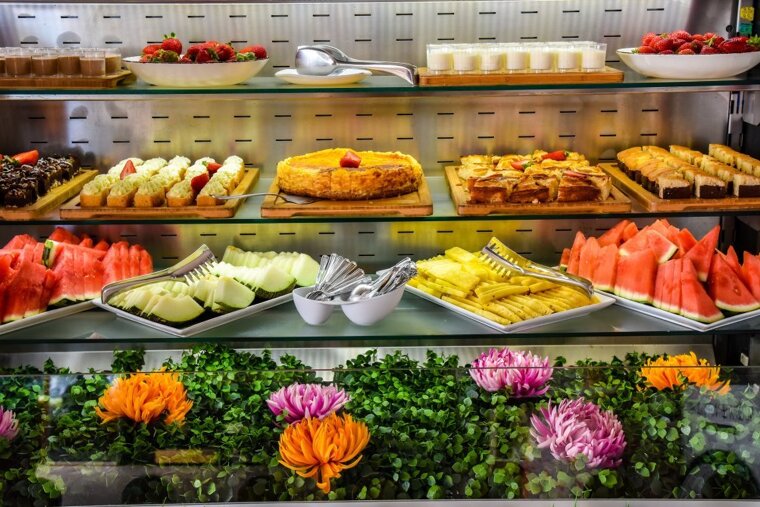 The desserts were inside, and what brunch would be complete without a chocolate fountain? Strawberries and marshmallows surrounded it ready for dipping. This was the point where I noticed the many children also attending the brunch as they surrounded and watched the lady making fresh waffles, with a choice of sauces to douse their sweet treats.
A large fridge showcased the main desserts comprising of cakes, chocolate mousses and fresh fruits. An ice-cream freezer also featured with a good selection of flavours. There was so much choice I didn't know where to start. They were at least relatively small in size so you could try a few things... every sweet-toothed person's dream.
---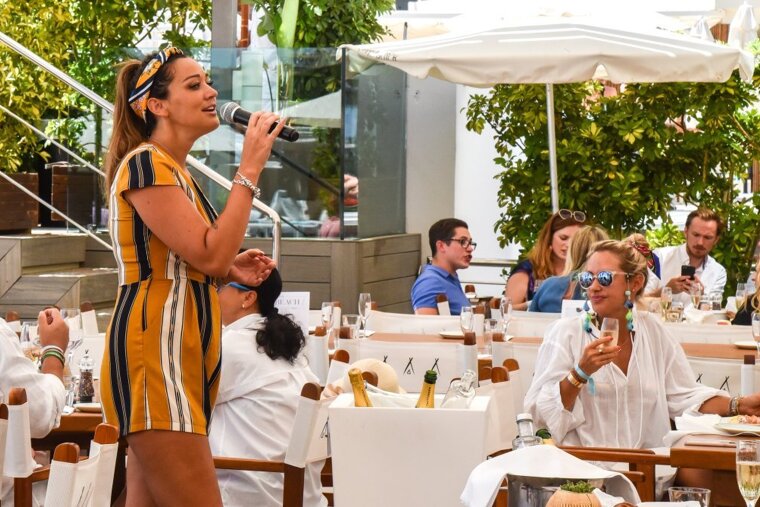 If you like to be entertained while you brunch, then you will be pleased to hear that in true Nikki-Beach style saxophonists, violinists, singers and dancers are all on hand to add to the party atmosphere. Bottle shows going out to the sun loungers by the pool were a theatrical affair – all eyes were on those bottles, that's for sure. It doesn't get boring either, as staff dressed up as Minions, the Mario Brothers and other quirky characters popped up throughout the afternoon as they delivered oversized bottles of champagne to different loungers.
---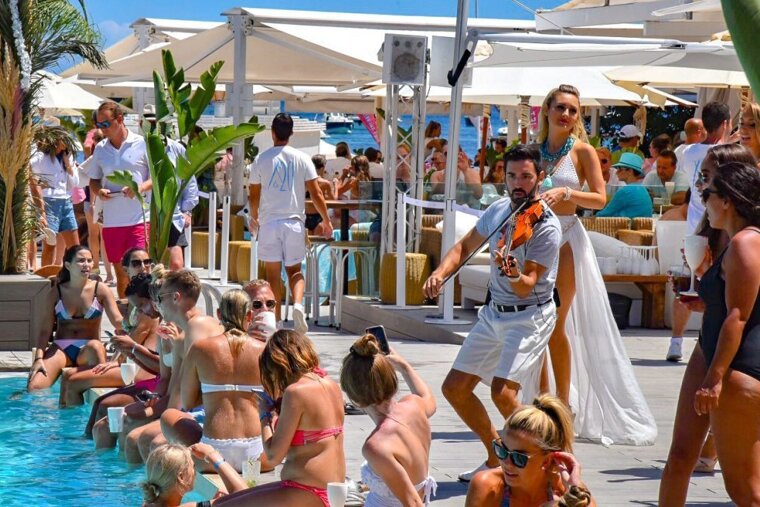 Inevitably, after eating and drinking to our heart's content we decided to join in the legendary Nikki Beach pool party. Nikki Beach doesn't do things half-heartedly and this brunch extravaganza is a memorable experience. Renowned for its great energy, fun crowd and delicious food, it's the perfect way to spend a Sunday. Booking your table in advance is an absolute must and do make sure you arrive hungry and ready for a brunch blow out.
---