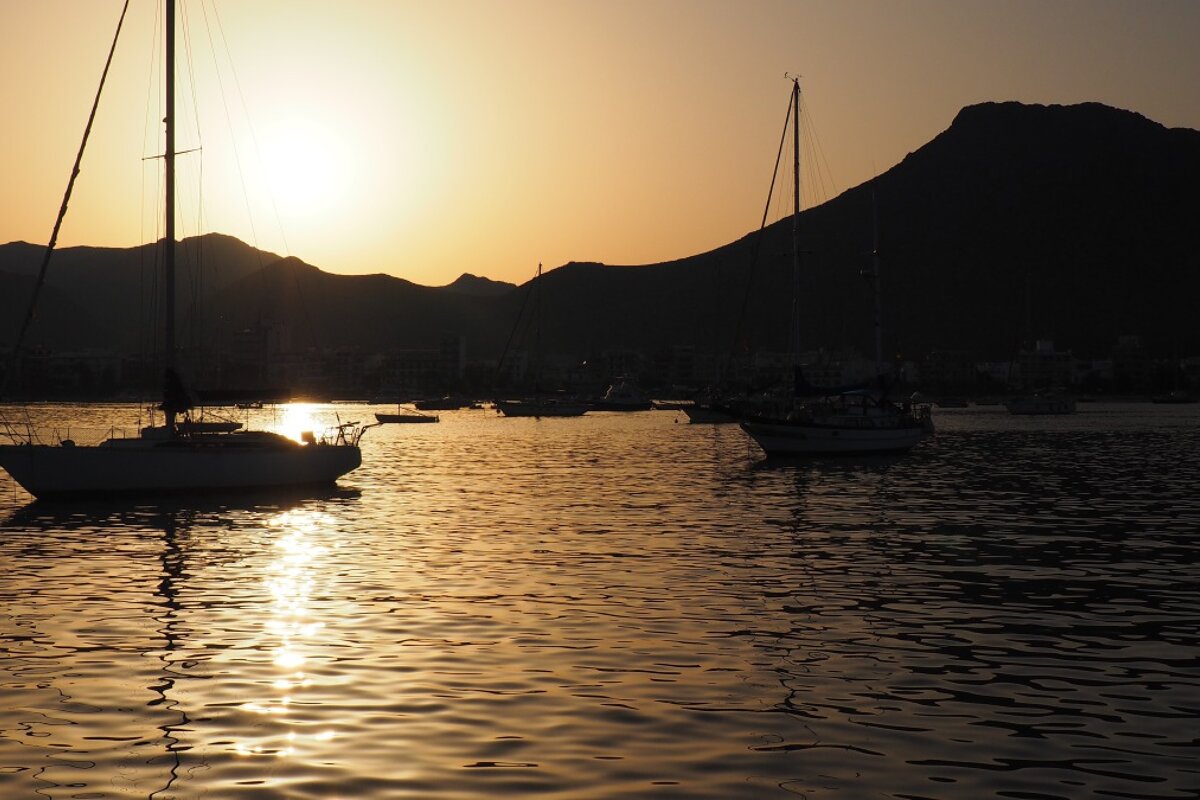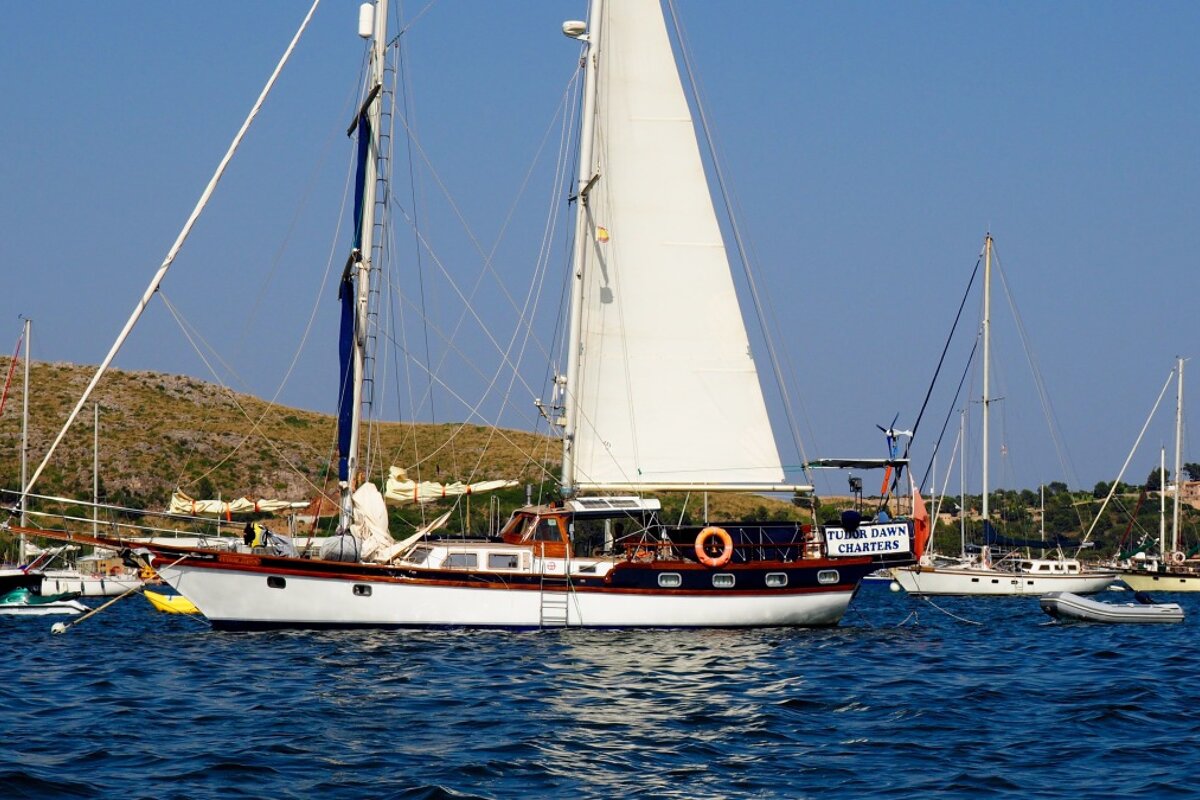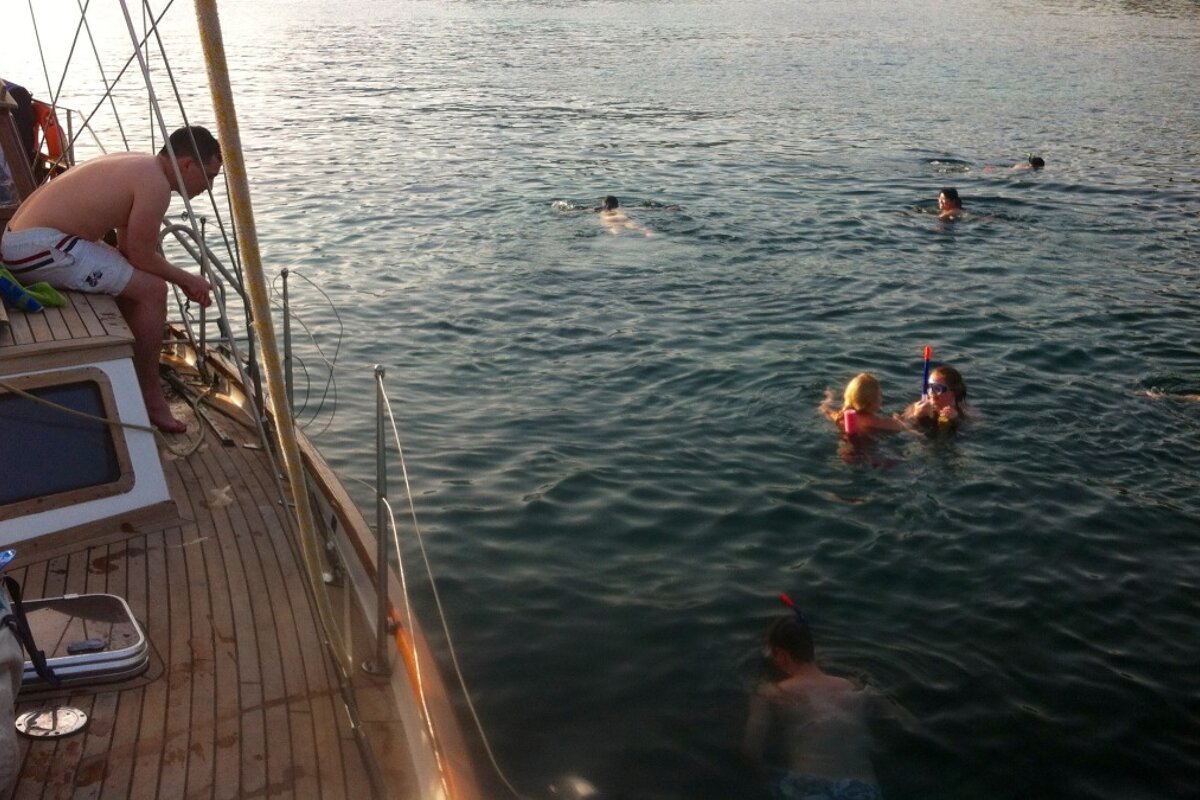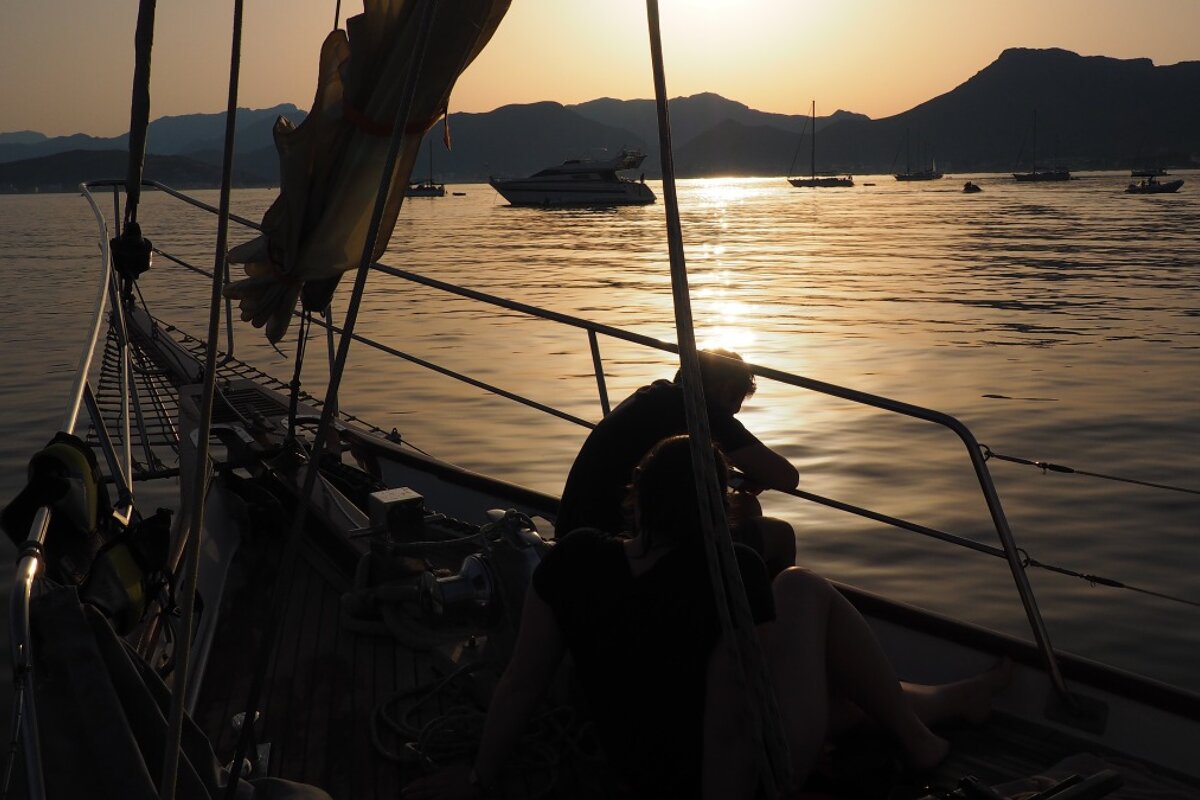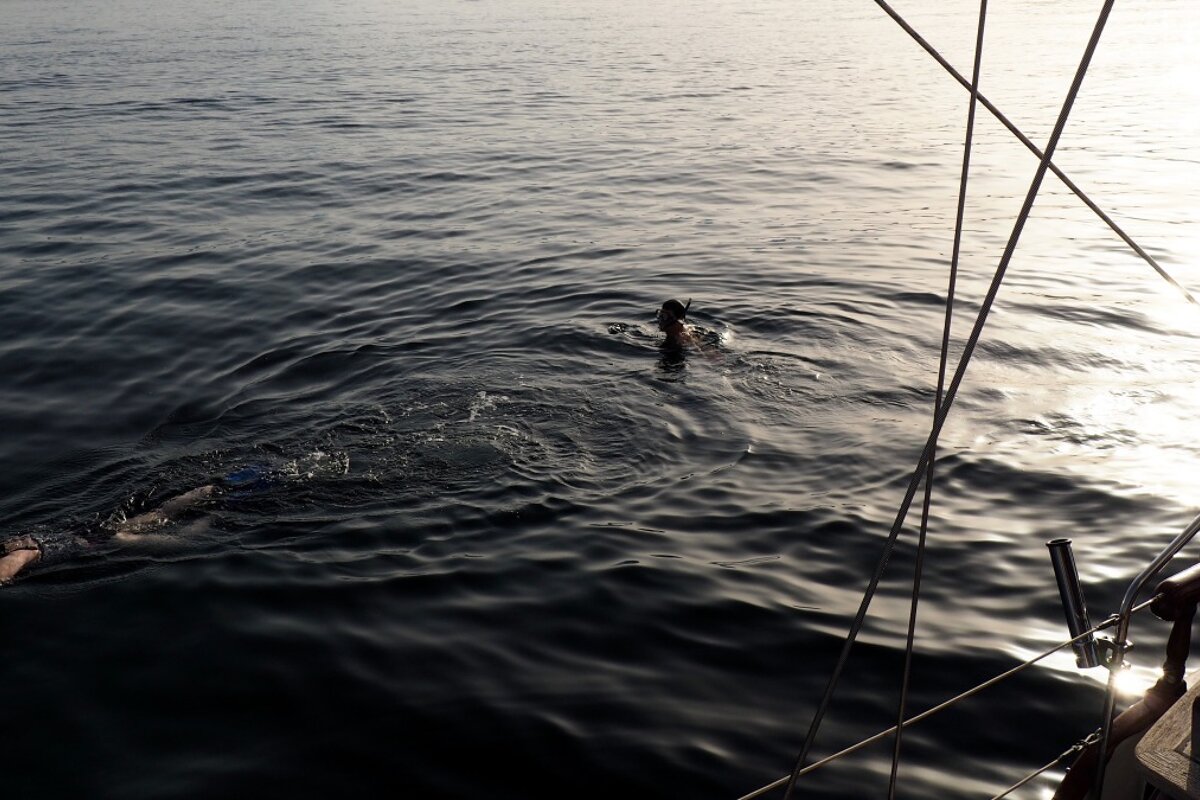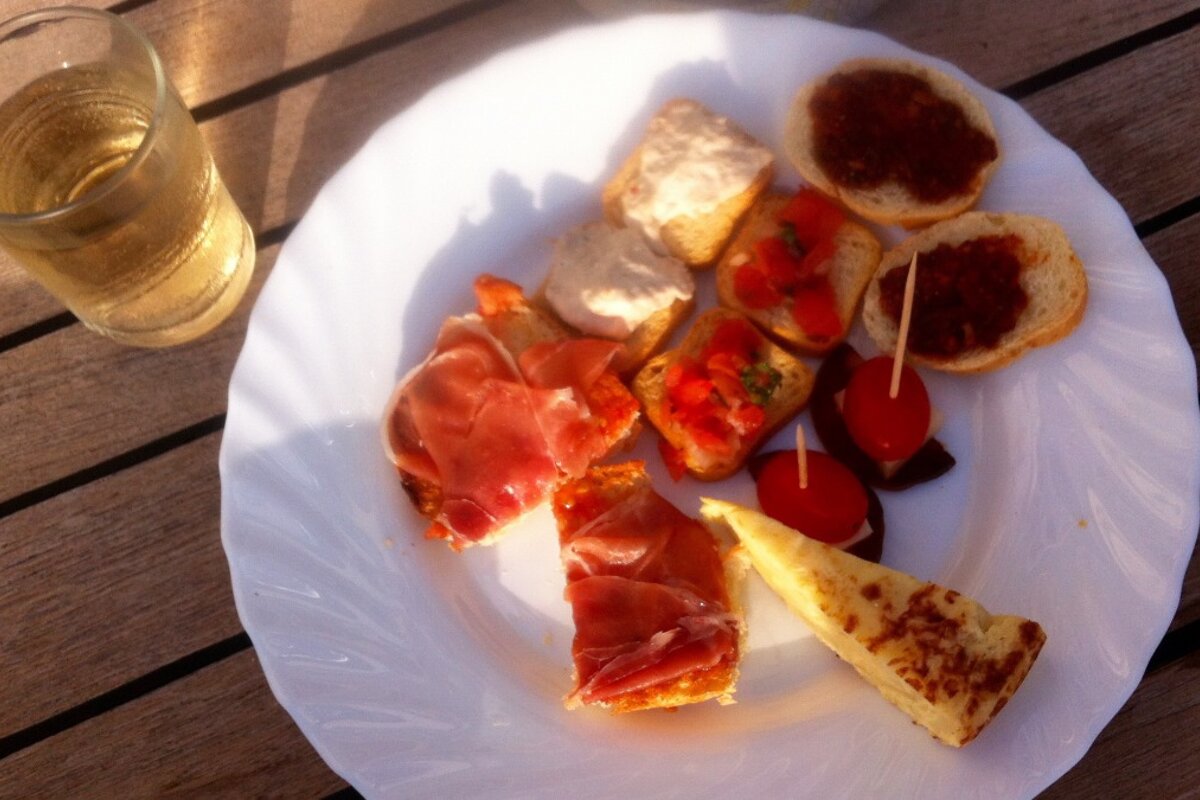 Sunset Cruise in the Bay of Pollenca
Sailing at sunset with snorkelling, tapas & a chilled glass of wine
If you're after a truly relaxing and peaceful experience then this might be the trip for you. Tudor Dawn is a 50ft sailing yacht that comfortably accommodates 12 people plus the two-person crew - English couple and experienced sailors Simon and Susie. I was lucky enough to take this trip recently and found it simply blissful.
We were collected from the port at 5.30 pm by Simon who loaded us in to the tender and gently motored out to our awaiting yacht. Susie greeted us as we came aboard and we settled ourselves onto large and extremely comfortable deck cushions. We were given a very brief introductory talk, where they pointed out where to get fresh water, how to safely walk around the yacht and a request to respect the beautiful boat, which mainly involved keeping to the wet area up the front when wet from swimming. Anyone who wanted to could help to raise the sails and a few minutes after being on board we were off sailing out into the bay where a beautiful breeze awaited us - a welcome change from the still and humid air of the port.
No geographical plan was laid out for us as the plan changes on each tour dependant upon the wind. Our hosts explained that they sail as much as they can on each tour, using the motor as little as possible and picking directions and locations to anchor depending upon the conditions in each spot. Nobody was bothered by a lack of definite goal, we were just content to lounge in the sun and watch the water go by.
After a while I took myself up to the bow and found a sunny spot to sit on the beautifully finished deck, watch the other boats come and go and the hazy blue mountains in the distance. Being the only person who had come onto the tour alone Susie to was quick to make sure I was happy introducing me to people and chatting with me whenever she could, she and Simon have been out in Mallorca for 20 years and are a wealth of local information which she was happy to share as she pointed out interesting spots on the coastline.
We sailed across the bay and up close to the beaches of Manressa where we would have stopped to snorkel but finding the water rather choppy when we arrived, Simon voted instead to sail back to a pretty spot by the astoundingly beautiful private property that is La Fortaleza. We dropped anchor in the crystal clear water there and the swimming and snorkelling began.
Tudor Dawn provides snorkels, masks and flippers and also buoyancy jackets for any nervous swimmers. There was absolutely no pressure to participate, a few people were happiest staying dry and chilling on the deck, one guy was enjoying repeatedly diving off the bow, several girls snorkelled for as long as they could marvelling at the fish, whilst some of us just floated and relaxed in the refreshing water.
As and when we made our way back on deck Simon greeted us with our choice of beverage; beer, wine or soft drink and bowls of peanuts and olives. The sun had begun its decent behind the Tramuntana Mountains casting a mellow light, and I relaxed on a comfy deck cushion with a chilled glass of wine, as happy as could be.
People chatted and moved gently around deck taking pictures of the sunset until we were served plates of tapas which Susie had been busy making down below, involving cured meat, cheese, cherry tomatoes, bruschetta with various toppings and my favourite a Mallorcan spice mix something like a tapenade on soft bread. Simon moved around offering more drinks and anecdotes, and in that state of relaxation we remained, glasses in hand, gentle conversation and a sunset to watch until all too soon it was time to sail back to the port and rejoin the world.
The tour runs for three hours, 17:30 – 20:30 and drinks and tapas are included in the €55 price as is the snorkel gear. You're encouraged to be as active (or not) as you like and to talk as much or as little as you like. The boat was beautiful and comfortable, the sail and the swim wonderfully refreshing, the sunset stunning, the people relaxed and mellow, the food lovely and all topped off with a chilled glass of local Mallorca white wine. What a perfect way to spend an evening. Be warned you will leave wanting to buy a boat and live aboard!
If you're short on time or have a large party, book early to avoid disappointment as the tours only take 12 people. Check out their website for details of this and other tours they offer.
Location
Port de Pollenca (Puerto Pollensa), Mallorca