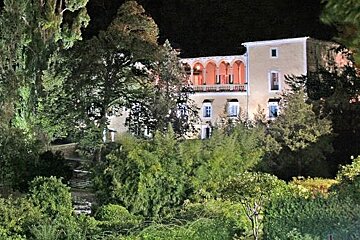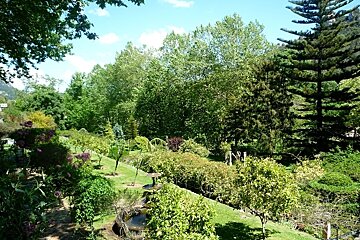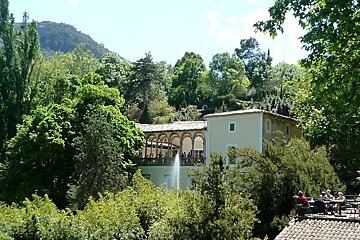 La Granja, Esporles
Country house & museum in the Tramuntana mountains
This country house, just west of Esporles, is on a site known since Roman times for its natural spring. Since 1447 it has been a private house owned by various noble families; most of what you see today dates from the 17th century.
When Jaume conquered Mallorca he divided the island into four feudal estates, giving one to Count Nuno Sanc, who settled at La Granja. In 1239 the Count handed the estate to Cistercian monks to found Mallorca's first monastery.
Highlights of the tour include an aristocratic drawingroom with its own theatre, the family Chapel and a dungeon with a torture chamber, but the real reason for visiting La Granja is to learn about rural Mallorcan traditions. Workshops, cellars and kitchens contain displays of everyday objects. On Wednesday and Friday afternoons, women in traditional costume give demonstrations of lacemaking, embroidery and spinning, donkeys turn threshing wheels and there are tastings of cheese, wine, sausages, doughnuts and fig cake. Look carefully and you just might see a tray of coca (Mallorcan pizza) being removed from the restaurant oven and carried to the medieval kitchens to be served beside a log fire. There are also displays of bagpipe music and folk dancing, which are entertaining although perhaps not terribly authentic.
Escape from the tour groups by walking in the grounds, which contain botanical gardens, waterfalls and a thousand-year-old yew - there is a 1.2 km signed walk. Look out for the exhibit listed in the guide as 'dog' - it is just that, a ca de bestair, or black-coated Mallorcan guard dog on a chain.
If you have not gorged yourself on free samples, the restaurant serves good Mallorcan staples like pa amb oli, arros brut and sopas mallorquinas.
Visitor comments
"We travelled from S'Illot to La Granja, and wasn't disappointed. This is the Mallorcan equivalent of a stately home. Although seemingly pricey to view, as well as the house, grounds, animals and numerous commensurate artefacts throughout the house, showing how the various generations of keepers lived. There is also free wine tasting, as well as preserves and perfumes, all manufactured from this site. There are guides in traditional dress and a cafe on site and all in all a great Mallorcan experience." - Trip Advisor
"La Granja is very interesting place. It has a museum where you can see how the family lived in the past. You also can taste wine from different grapes. We enjoyed very much the visit." - Trip Advisor
"We read about this place in one of the guide books so paid a visit and had a great time. You start off in the gardens and see all the lovely water features and then move on to the house its self. The house is very interesting with the tour taking you through various rooms which tell you about its varied history. The house has a stuck in a time warp feel to it which is great and gives a real feel for what life was like not so long ago. We spent about 3 hours here so thought it was good value for money and well worth a visit." - Trip Advisor
When to come
La Granja is open every day of the year from 10:00 to 19:00 (closes at 18:00 in winter). From February to October there is a craft and horse show on Wednesday and Friday afternoons at 16:00, and regional dances on Thursdays from 16:00.
How to get passes
You can get a ticket for the visit and tasting tour for 15€ (children 8€). Visit and Mallorcan menu, costs 25€ (14€ for children).
Location