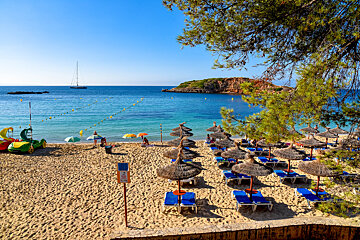 Most popular destinations in Mallorca
As voted by Tripadvisor's users
The popular travel reviews website TripAdvisor have compiled their Travellers' Choice Best of the Best list for 2020. Once more, Mallorca features prominently in many categories, including being hailed as the 8th most popular destination in the world.
The most popular destinations list features, according to TripAdvisor "the spots that travellers raved about most on Tripadvisor this year" and includes cities like London and Paris, as well as beach destinations like Crete, Bali or our beloved Mallorca. But it's not only its long stretches of golden sand and crystalline waters that the reviewers have raved about but also the myriad of things to do, from waterparks, aquariums and theme parks (like Katmandu Park which has been selected as the 9th best amusement park in Spain) to sights like Palma Cathedral or the vintage Sóller train.
However, there's no denying that Mallorca's popularity stems from its world-renowned beaches. And, among the over 200 beaches the island has, TripAdvisor users have chosen Playa de Muro as their favourite, standing as the 14th best in Europe. On the other hand, among all the towns and villages in Mallorca, one stands out: Cala d'Or. This popular beach resort has been acknowledged as the 18th best emerging destination in the world. This new category honours "the off-the-radar destinations that smart travellers are already saving on Tripadvisor (and that everyone will be talking about next year)."
Mallorcan hotels are also among TripAdvisor users' favourites in Spain. Pollentia Hotel in Port de Pollença has reached the podium as the second-best in the country, followed by Illa d'Or, also in Port de Pollença in the 10th position, Astoria Playa in Port d'Alcúdia on number 16 and Nakar in Palma as the 21st most beloved hotel in Spain.