Fancy being your own Captain?
Getting a license to drive a boat in Mallorca in a day
Did you know that you could get your own ICC (International Certificate of Competence) to skipper a boat in the Med?
An (ICC) is actually the only international evidence of competence that exists for pleasure boaters in Europe, thus making it a widely respected and much coveted certificate. In order to understand a bit more about what's entailed in getting this license I accompanied Julian Milatz from Princess Motor Yacht Sales, on his one-to-one course. A course that was conducted in and around Port Adriano and organised by Aigua Sea School.
Julian's main motive for getting his ICC was so he could conduct sea trials with prospective buyers as part of the sales process, however this license is for anyone who would like to use a boat for private/ pleasure purposes. It's worth mentioning at this point, the ICC is not commercially endorsed so cannot be used as evidence of competence for commercial activities.
On a beautiful Friday morning at 9am, I arrived in Port Adriano and was directed to one of the impressive looking motor yachts in the harbour, where I was greeted by Julian. We were joined by a friendly instructor called Sam from Aigua Sea School, and within minutes we were all sitting at the very comfortable outdoor dining area on the boat.
Sam went on to reveal that the day would start off with some theory, to make sure Julian knew the rules and regulations when out at sea. He would then follow up with some verbal 'what would you do in this situation?' questions, similar to the kind you might have experienced in the 'Theory Test' of a UK driving license. Then finally finishing off with a practical test, where the Julian would take the boat out to be assessed on his ability and particularly to make sure he could handle some of the difficult situations you can experience out at sea.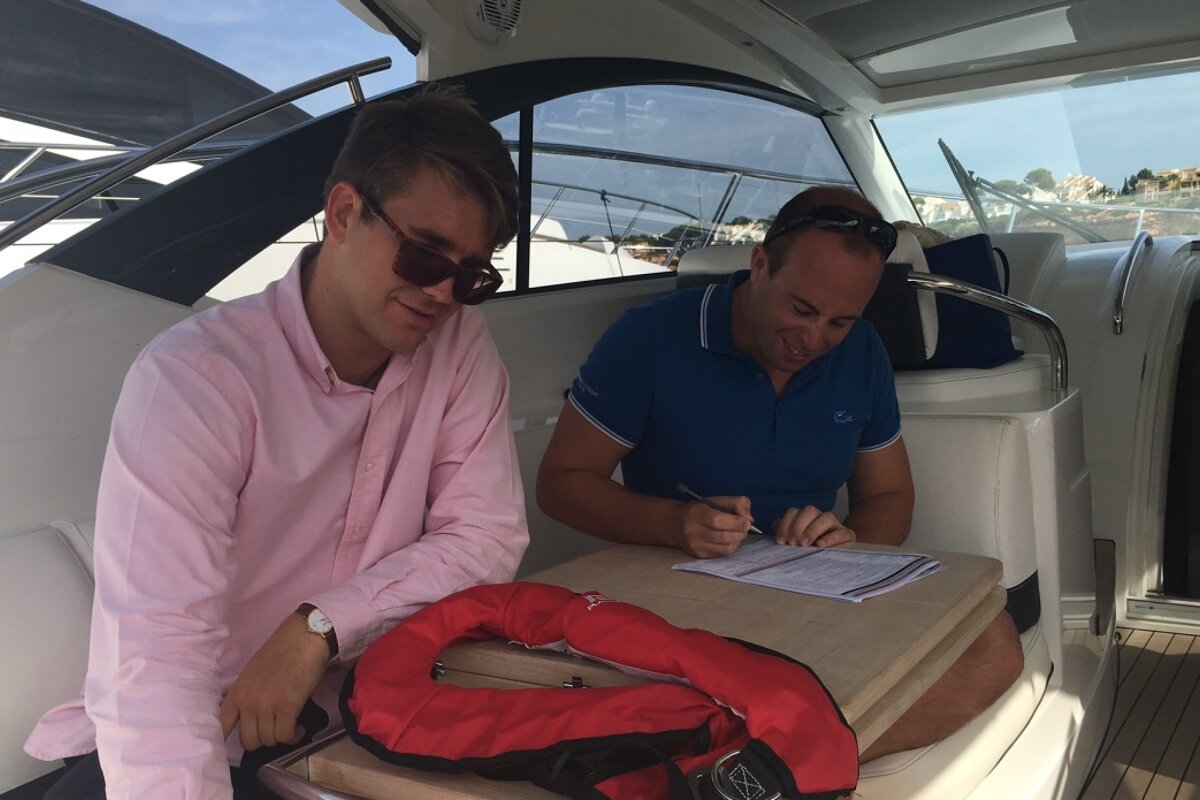 ---
Before long, the assessment had started and Sam worked through a form that looked similar to a school syllabus which he used as a tick-list of his talking points, making sure Julian understood each point along the way.
The types of things they discussed ranged from what different colours of buoys mean, to what should you do in emergency situations including the different distress signals that can be used and the situations in which they should be applied.
Whilst some aspects seemed like common sense, I would recommend reading up on The International Regulations for Preventing Collisions at Sea 1972. Did you know that no vessel ever has absolute "right of way" over other vessels? Rather, there can be a "give way" (burdened) vessel and a "stand on" (privileged) vessel? Also yachting jargon like 'starboard' and 'portside' were used a lot...
Once Sam felt confident that Julian understood the rules and regulations of being out at sea, the theory part of the course was complete and we were able to move onto the more exciting part of the day; the practical test.
To start, he asked Julian 'what checks must you conduct before starting the engines?' and just minutes later Julian was firing up this impressive piece of kit which I was later informed was a Princess V39 Motor Yacht. Soon the fenders were in, the lines were released and we were moving away from the mooring spot. Before long the port was getting further and further away from us as we sped off into the ocean and towards the neighbouring town of Santa Ponsa.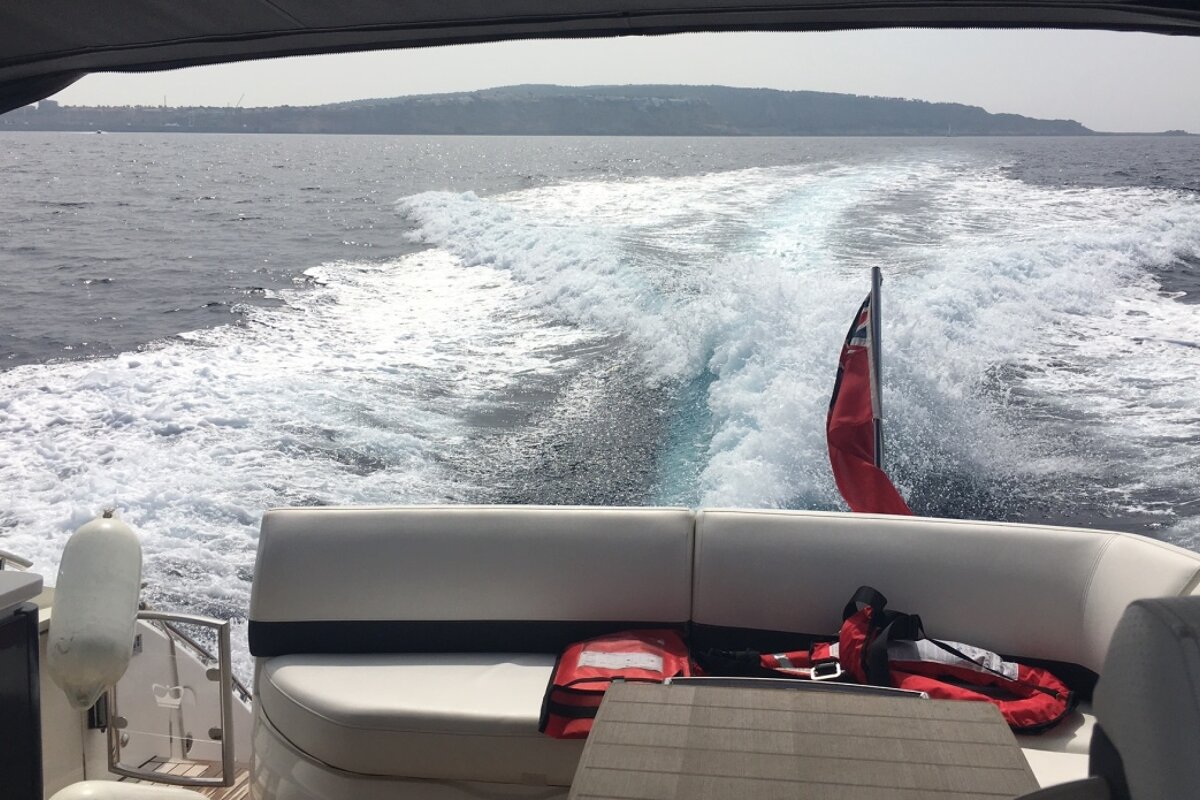 ---
Julian was tested first on his ability to stop quickly when he was travelling at 36 knots (I was pleasantly surprised at how quickly the boat stopped simply by putting it into neutral). He was also assessed on his ability to park in a bay and let down the anchor, how quickly he could carefully rescue a 'man over board' (luckily they used a fender and not me in this exercise, I didn't fancy a fully clothed swim!) and turning the boat 360 degrees in a confined space.
Sam explained in a relaxed but professional tone anything that Julian didn't understand, emphasising the importance of it and would repeat the explanation or exercise until he knew it perfectly. This is where it is very unlike a UK (car) driving test, where you would fail instantly if you did something wrong. Sam's role is to make sure his pupils understand everything they need to before signing off the ICC.
Within the hour we were back in port and Julian was parking the boat in its mooring, where Sam then signed the form to say he had passed the assessment and let Julian know he would soon receive his certificate in the post. We were fortunate as Julian was already pretty experienced with boats so passed the assessment within 3 hours, however, it is normal for people to take all day to complete the assessment.
---
NB. The ICC is only guaranteed to be accepted in countries that have adopted the relevant UN Resolution, the ICC is a useful document to carry and will generally be accepted where proof of competence is required.
If you are interested in getting your ICC or any other certificates please check out the courses available at Aigua Sea School.
Location