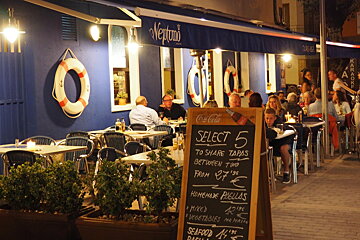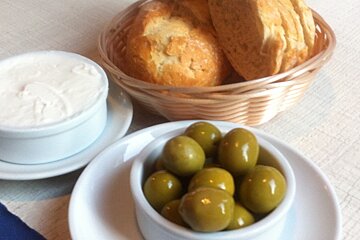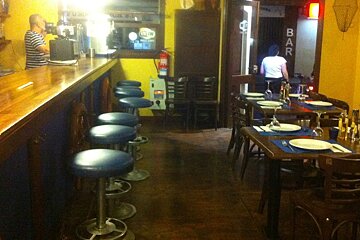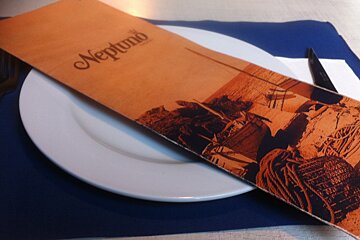 Neptuno Restaurant Review, Puerto Pollensa
Nautical themed tapas and paella restaurant with great customer service, perfect for families
Set just down a side road off the busy square of restaurants in central Puerto Pollensa, Neptuno will catch your eye with its deep blue walls and life buoy decorations, it'll keep your attention with its special boards and tapas deals and by the time you've read those a friendly waiter will have drawn you in and found you a table.
The 5 tapas dishes for €27.95 deal is what attracts most people to this restaurant and indeed their tapas menu is extensive, affordable and easy, broken up into meat, fish, veggie and potato sections ranging roughly from €5-€9 in price.
They also offer good-sized salads, a selection of larger meal option as well as their paellas at €12.95 per person, which receive rave reviews on trip advisor. Made fresh when ordered, the paellas take 20-25 minutes to arrive and are (alas) only available for 2 or more persons, several were served when I dined here and they looked stunning, brought out in the pan artfully displaying giant prawns and mussels, and then plated up at the table, always with a little left over in the pan for anyone who wanted seconds. They also do a mixed Fideua which the menu describes as 'noodle paella' for something a little different.
Dining alone and therefore being denied this signature dish I instead dove into the tapas menu, naturally starting with a large portion of bread and olives. On this note its worth reading the menu as ordered together they cost €1.10 but individually are €1.10 and €1.95 respectively, I was also brought Aioli which I thoroughly enjoyed but hadn't ordered at €1.75. I then ordered 'brave' potatoes and the seafood frito. Service was fast and very friendly, the waiters being free with their smiles and good humor, however they seemed a little confused as to who's responsibility I was as I was asked for my order by each of them in turn and then brought a menu once I had already ordered.
The patatas bravas when it came was unfortunately rather disappointing, plain fried potatoes covered in a thick layer of very mayonnaise-y Marie-rose and then bolognaise sauce, not spicy and not what I'd been expecting. The frito however was great, a generous portion of white fish, calamari, baby octopus, mussels and prawns fried together with a few vegetables and herbs. I finished my meal amidst a little more confusion from the wait staff as I was offered dessert several times but when my bill was brought it was with a smile and complimentary glass of frozen 'gin lemon' which was very good and very refreshing.
Amongst the other diners there was a noticeable amount of children and indeed this restaurant is perfectly suited to families, the waiters were excellent with the children and high chairs were on hand where needed. The children's menu is limited to four options but the tapas dishes were all of a size which would suit as a child's meal should you wish to and paellas aside the dishes all seemed rather on the plain side and so easy to please picky eaters. The quirky décor of the place should amuse also with the nautical theme stretching to the waiters all clad in stripy sailor t-shirts and one waitress even accessorizing with a large starfish necklace, possibly uniform or possibly just impressive brand loyalty.
I enjoyed my dinner at Neptuno, more so for the service and atmosphere than the food itself, if I was to return, which I happily would, it would definitely be with a friend in tow to sample the paella and some more 'gin lemon'. Open daily for lunch from 12.00 until 3pm and for dinner from 8.30 till 11.30pm.
Go if you want great, entertaining customer service and an affordable, family friendly intro to Spanish cuisine, avoid if you enjoy a more elegant style of cuisine.
Cuisine: Spanish, Tapas
Style: Relaxed, family friendly
Open: 12-15.30, 20.30-23.30
Location