Wine tasting in a picture postcard setting
Award winning Bodegas Angel winery in Santa Maria del Cami
Arriving at Bodegas Angel is like stepping into a postcard. Only 20 kilometres from Palma and yet a world away, the scenery bids you slow down and unwind.
The bodega is built in the traditional Mallorcan style, reddish stone walls echoing the rich clay soil which nourishes the vines surrounding it. Bright red roses add a pretty splash of colour at the end of the rows and also provide the wine growers with an indicator of insect activity. The smoky blue silhouette of the Tramuntana mountain range rises up in the distance, beyond the church spires and terracotta coloured buildings of Santa Maria del Cami, completing this image of rural charm.
The shop is open Monday to Friday from 10.00 to 17.00, where you can sample the wines for free before you buy. Wine tasting and guided tours take place on Mondays and Wednesdays at 11.00 and 13.00. I booked a 13.00 slot and joined a mixed party of fifteen, some of which had booked via their hotel and others independently. It was a busy morning for the bodega as the previous tour had arrived late, however our guide and the founder of Angel Bodegas, Andres Gelabert, didn't let that influence the pace of the tour.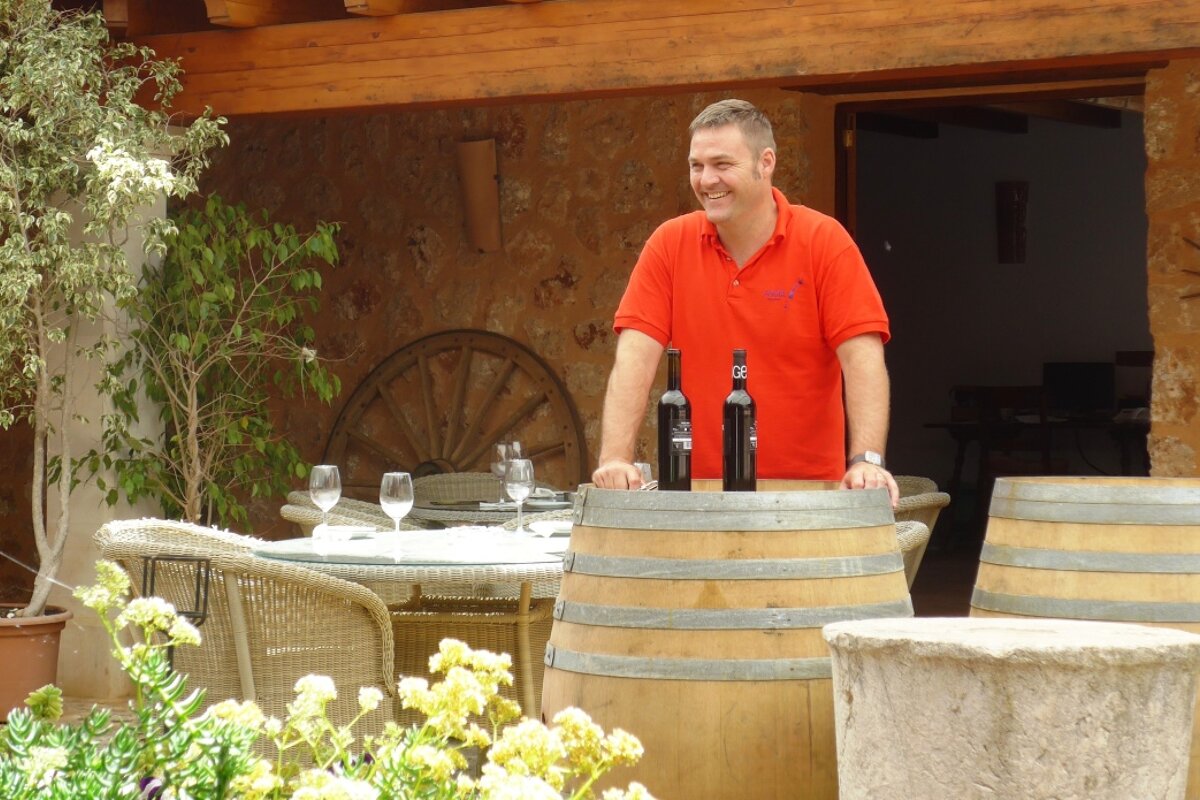 ---
Gelabert's passion for wine making began in California where he spent many of his formative years. His smooth American accent is the give away and English speakers will appreciate his clear and comprehensive delivery during the tour. Having been to a number of bodegas in the past, I looked forward to learning something new. Standing in the cellar, amid the 180 identical looking barrels listening to Andres, I soon found my interest for the process reignite.
I was intrigued to learn about the oak barrels' role in the development of a wine's flavour. The American oak, of which they use 20%, produces a vanilla taste, while the 80% of French oak, will steer the wine towards flavours of coffee, chocolate and toffee. The depth of taste and texture varies according to the age of the barrel, which is anywhere from one to five years, and the length of time the wine is in contact with the wood.
---
There are so many factors influencing the quality and taste of a wine, and a tour like this makes you stop and really appreciate a product that you might otherwise take for granted. This is the only bodega where they collect the grapes at night. This is because if the grapes break at a temperature of more than 16 centigrade, they will start to ferment. Gathering them in the cool of the night reduces the risk.
Following on from the cellar, we passed through to a production area where bottles were being prepared and packed. It looked like a small operation, however the bodega produces 200,000 bottles of wine a year, and intends to increase that to 300,000 in the coming years.
For the wine tasting itself, we sat in a pretty, sheltered courtyard. Pink and purple petunias spilled out of terracotta pots and old wooden cart wheels hung from the stone walls. There were long wooden tables, comfortable wicker chairs and sofas. The atmosphere was relaxed and companionable, our fellow visitors a mix of Swedish, German and British.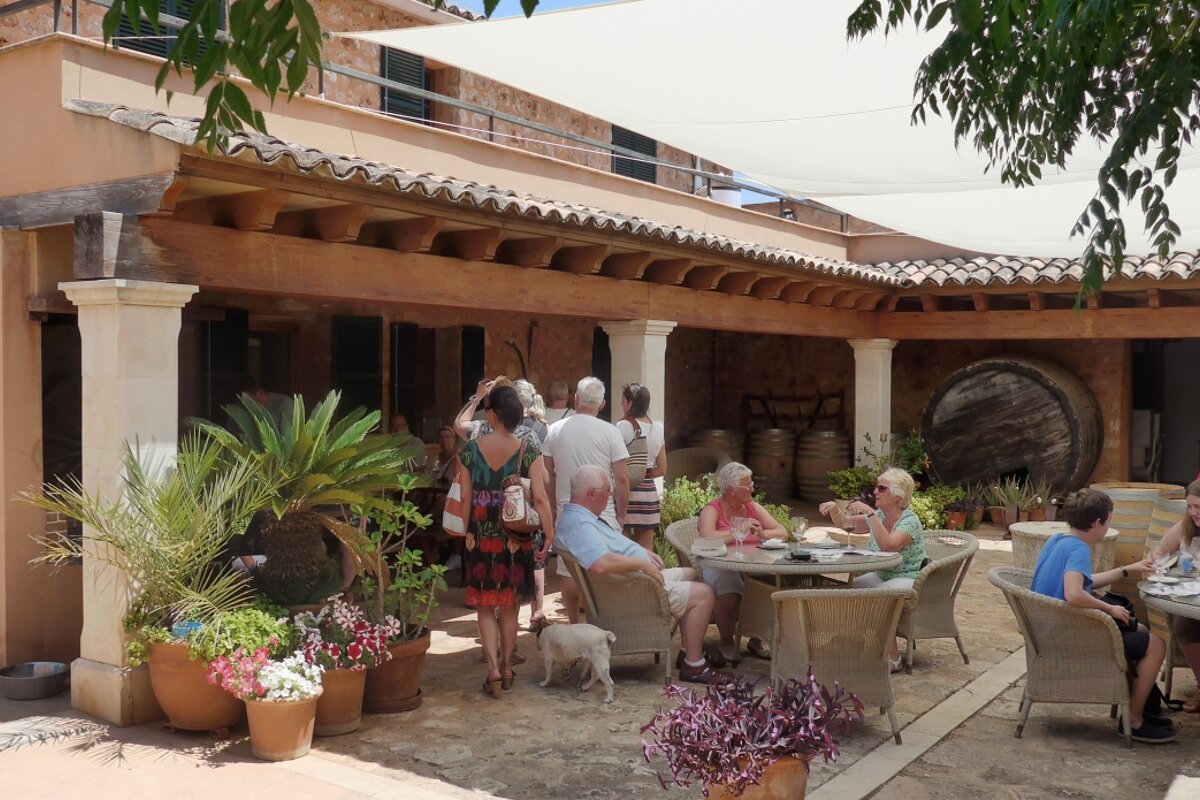 ---
The vines in Bodegas Angel include Mallorca Prensal Blanc, Manto Negro, French Voignier and Chardonnay for the white, and Merlot and Cabernet Sauvingnon for the reds. The tasting includes four wines and costs €15 per person.
We began with Blanc de Blanca (€10) a fresh, fruity white wine with tropical fruit flavours. After that we proceeded to some award-winning reds. Their silver medal winning Syrah (€13) was particularly delicious with its aromas of spiced cassis and flavours of wild berries. Sometimes wine tastings can feel hurried, but our guide gave us plenty of time to savour and enjoy the wines. Andres was generous with his time answering my questions and very down to earth when talking about the ups and downs of wine making.
We were invited to accompany our wine with bread drizzled in olive oil and sea salt, and traditional Mallorcan coca bread topped with sweet peppers. For parties of ten and over, the bodega can arrange special lunches of Paella, Tapas or even suckling pig roasted in a wood oven. Only last week a party of 125 had taken over the grounds, and I can only imagine a wedding here would be stunning.
The tour and wine tasting took about an hour and a half, and the end was natural rather than announced. Everyone from our group seemed keen to purchase a bottle or three, proving the wines had gone down well. Before I left, I couldn't resist one more stroll around the grounds to commit such beauty to memory. I came away from my visit feeling upbeat in the knowledge I'd learned something new and my senses experienced something truly delicious.
...
For more more Emily, follow her blog.
Location