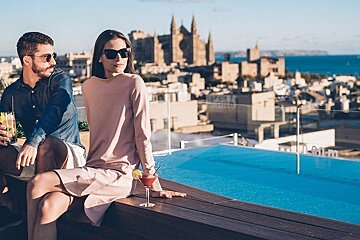 Top rooftop bars in Palma de Mallorca
Take to the skies and enjoy drinks with a view
Palma offers a great variety of rooftop bars, perfect for enjoying some spectacular scenery with a sundowner in hand.
Palma is a great city-break destination, not only because of its world-renowned monuments and museums, charming old town and gourmet restaurants, but also because it offers plenty of elevated spaces in which to soak up the sunshine.
Palma's bars and restaurants offer a huge variety of delicious tipples to sip on, with everything from divine, local and organic wines, imaginative and seasonal cocktails, enormous fish-bowl gin and tonics, and of course, a simple but deliciously cold, thirst- quenching beer. With a wide range of elevated venues to choose from, here's our guide on how to perfectly pair your drinks with Palma's best rooftop haunts, upon trendy terraces, amidst glorious architecture and usually with knockout sunset views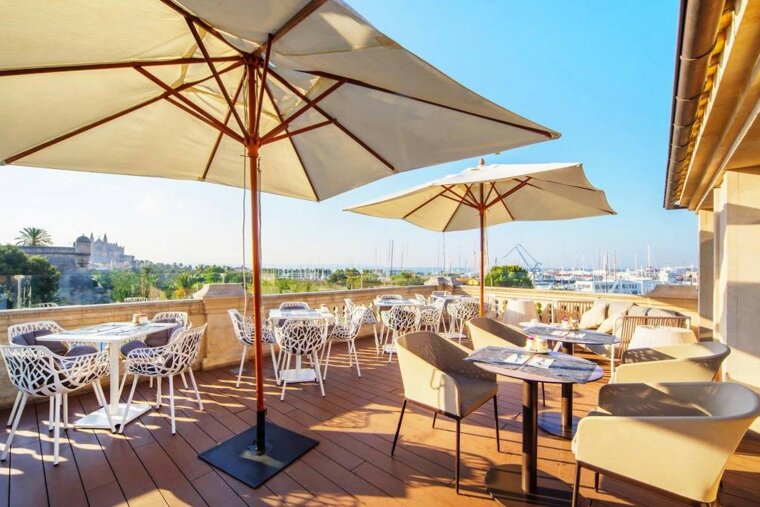 Hostal Cuba Sky Bar
Located at the edge of the trendy area of Santa Catalina, the Hostal Cuba Sky Bar is a trusty favourite for many. Having made its mark in recent years, as one of the more sophisticated venues within the hip city district, its undoubtedly a great choice in which to start your night. Take the lift up from the ground floor level of Hostal Cuba and make sure you grab your table early. You'll be attentively served by dapper waiters, whilst marvelling out at the sensational panoramic views of the harbour, old town and cathedral.
Treehouse by UM
In an idyllic situation on a roof terrace along Port de Moll Vell, Tree House has become a city favourite for the trendy crowd seeking the best mix of vibes and views. A popular after work spot, but great for anyone who wants to meet up with friends over refreshing drinks with a view.
Hotel Almudaina Sky Bar
Seeking the ultimate city views? Hotel Almudaina hits the spot! A hidden treasure – you'll more than likely walk straight past this hotel's tiny entrance on the busy street of favourite shopping haunt, Avenida de Jaume III. Once inside and upstairs, you'll be rewarded with knockout views of the cathedral, the city's best historical architecture and of course the glittering port. Less poncy and pretentious than Palma's other rooftop terraces, you'll be pleased to know that the drinks here are much more affordable allowing you to leave without having broken the bank.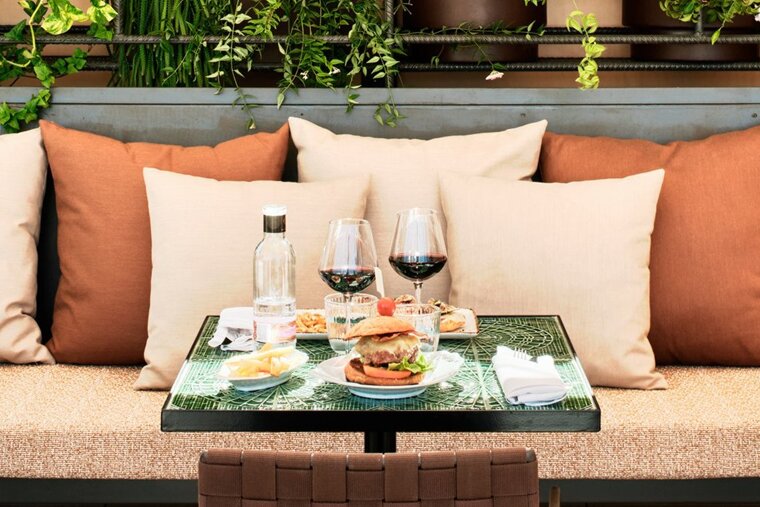 Terracotta at Hotel Antigua Palma
Set in the medieval Jewish corner of Palma, in a renovated 17th century noble house, the luxury, boutique Hotel Antigua Palma has an authentic Mallorcan style 180sqm rooftop terrace named, Terracotta. Fitted with artisanal furniture and Mediterranean plants, this beautiful terrace is surrounded by lovely views over Palma's historic centre and Placa de Sant Francesc. Their superb selection of gastronomic offerings changes by the hour, depending on where the sun is sat in the sky and can be easily paired with their fine array of wines, vermouth and cocktails.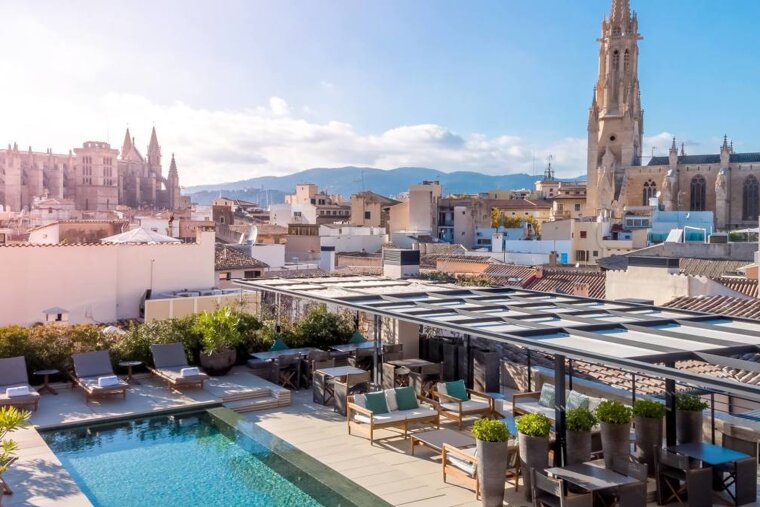 Singular Rooftop Terrace - Sant Francesc Hotel
The rooftop terrace at Sant Francesc Hotel Singular offers breath-taking views of the Sant Francesc basilica as well as many other iconic city landmarks. Between the months of May and October, its 200m2 terrace opens to non-hotel guests between 19:00 and 22:30. Make sure you drop in for a classy evening of champagne and cocktails, alongside freshly made sushi, perfect for Palma's balmy summer evenings.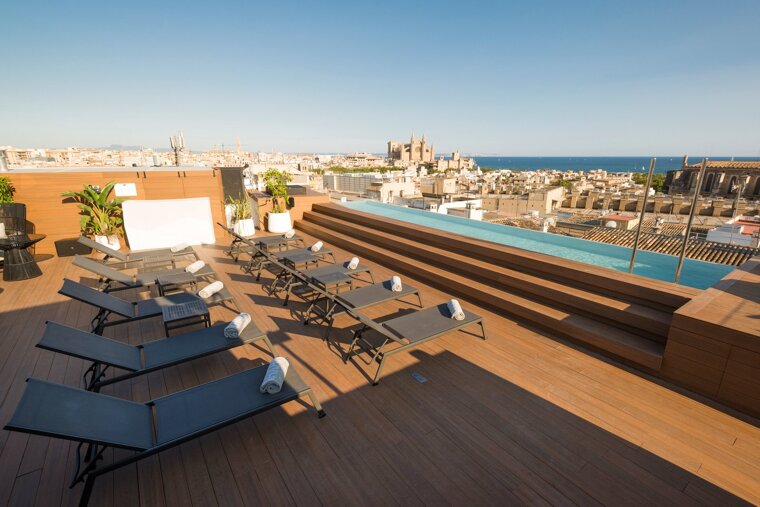 Nakar Hotel's Cuit Bar & Restaurant
A trendy hotel, famous for its legendary Sunday brunches in Nakar Hotel's CUIT Bar & Restaurant, accompanied by a live DJ up on the 8th floor. Offering a stylish mix of indoor and outdoor seating, their 9th floor roof-terrace bar opens to the public from 20:00 with chill-out beats. Nakar ticks all the boxes with good music, great drinks, spectacular views and fun vibes.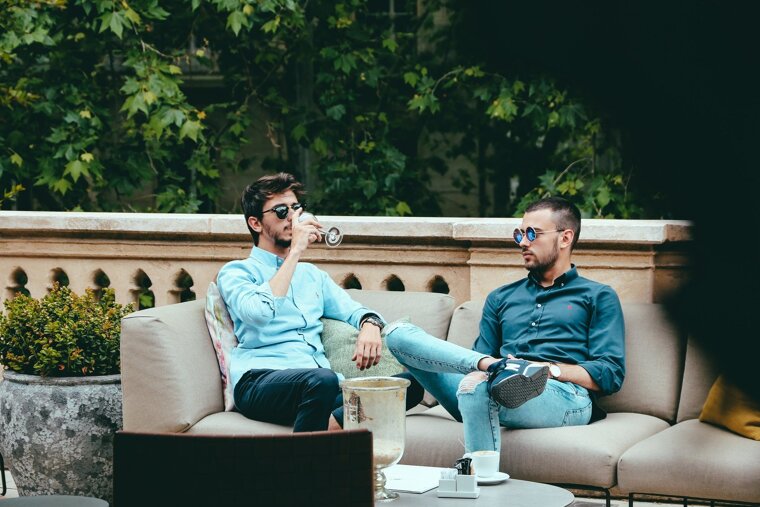 De Tokio a Lima Restaurant
If you're after a swanky start to your night, head to the terrace of De Tokio a Lima Restaurant at the Boutique Hotel Can Alomar. Here, you can expect an exclusive ambiance full of glamorous clientele, a stylish drinks menu to choose from and 5-star service. A truly romantic setting amongst the treetops of Palma's iconic Passeig des Born, perfect for sipping on high quality cocktails.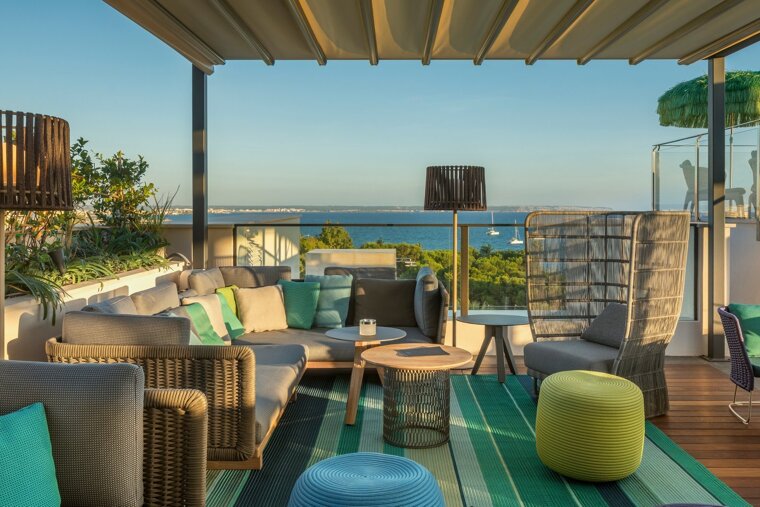 El Llorenç Hotel Rooftop Bar
Set in Palma's historic quarter known as Calatrava, away from the hustle and bustle of Palma's city centre is where you will find hidden treasure El Llorenç Hotel and its dazzling rooftop bar. We guarantee you will be blown away not only by the breathtaking views over Palma Bay but the cocktails and snacks available here too. From 11:00 in the morning, this rooftop bar opens to non-hotel guests but we do recommend calling in advance.
Almaq Rooftop at Hotel Es Princep
Located above the Baluard del Princep in a stunning location looking out at the sea is the spacious and luxurious rooftop bar, Almaq. Full of comfy sun loungers and a stylish rooftop swimming pool with views of Palma's sparkling bay and historic old town, you can spend a tranquil morning basking in the sun or kick start your night on the town with their award-winning mixologists, in Almaq's buzzing evening atmosphere which is open until late. The authentic Mallorcan design of Hotel Princep, combined with boutique style luxury is a pleasure to indulge in.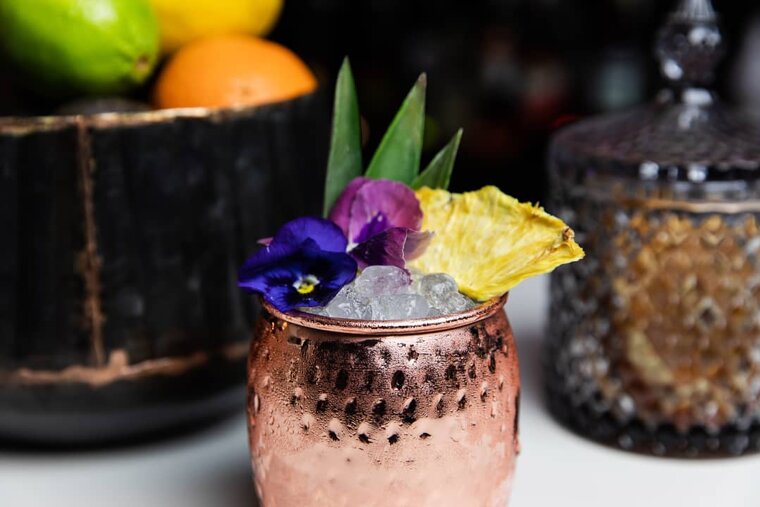 Beatnik Roof Terrace at Puro Oasis Urbano Boutique Hotel
Situated in the heart of La Lonja, you couldn't be better located for visiting Palma's finest boutiques, galleries, restaurants and nightlife. Puro Hotel Oasis Urbano sports a chic, boutique design, with its contemporary style continuing all the way up to their urban rooftop oasis. Dressed in white parasols, the modern, cosmopolitan, fresh and quite unique décor is paired with creative, tasty dishes and cocktails, alongside great music and a vibrant atmosphere. The indoor parts of the Beatnik Bar & Restaurant are open all year round, whereas the cool, multi-level rooftop terrace is only open during the summer months, offering awesome views over the old town rooftops. Availability is limited and so prior booking or enquiries are strongly advisable.
More inspiration...
Be prepared to get to your roof terrace of choice early to avoid disappointment, as these hot spots do tend to get busy. And don't forget to bring your camera!