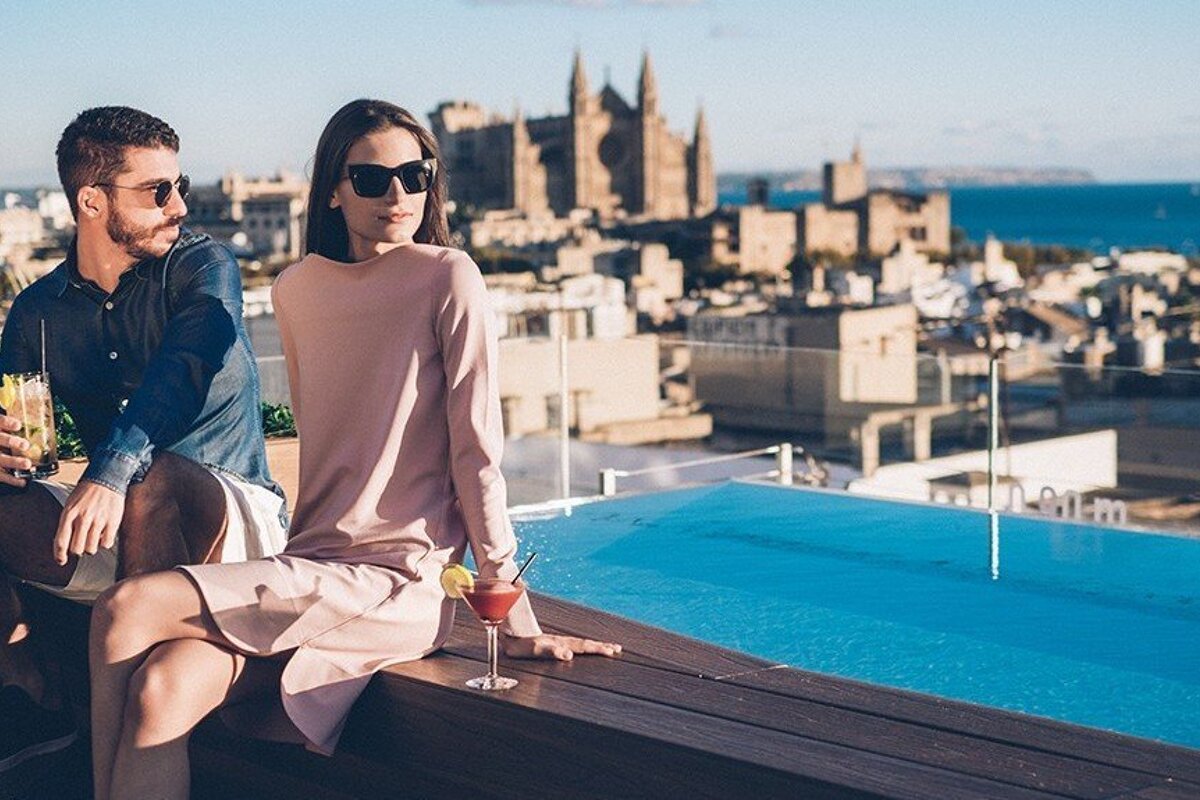 Top 10 rooftop bars in Palma de Mallorca
Take to the skies and enjoy drinks with a view
Palma's a great city-break destination, not only because of its world-renowned monuments and museums, charming old town and gourmet restaurants but also because it offers plenty of opportunities to soak up the sunshine thanks to a variety of rooftop bars scattered around the city. These are perfect to enjoy some pretty spectacular scenery with the sun beaming down on your face and your favourite cocktail in hand.
There's a wide range of tipples up for grabs in most bars and restaurants around the island's capital city: divine wines, imaginative cocktails, fish-bowl gin and tonics and, of course, thirst-quenching beer. Here's our guide to the best rooftop terraces to appreciate Palma's glorious architecture, stunning views and epic sunsets.
El Llorenç Hotel
Almaq Rooftop at Hotel Es Princep
Beatnik at Puro Hotel Palma
1. Hostal Cuba Sky Bar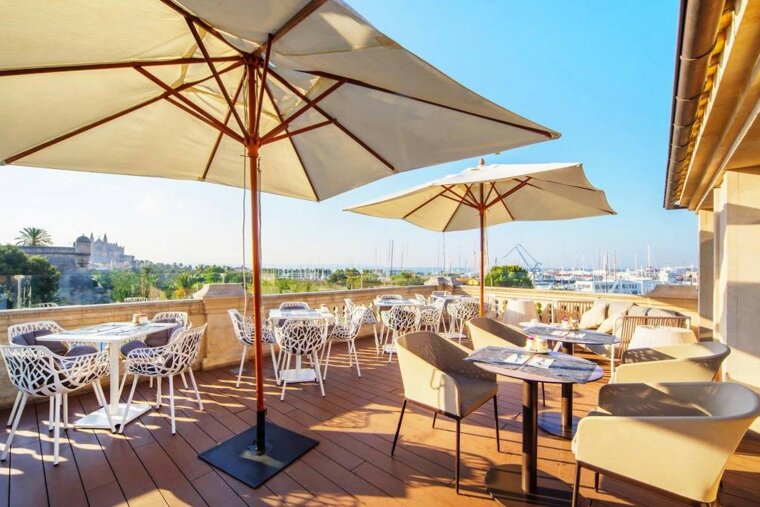 Located at the edge of the trendy area of Santa Catalina, the Hostal Cuba Sky Bar is a trusty favourite for many. Over the years, it has made its mark as the place to go for a more sophisticated evening of inebriation in the hip district. Hop in the lift to the right-hand side of Bar Cuba and grab a table early to enjoy table service by some handsomely dressed waiters whilst embracing the sensational panoramic views of the harbour, old town and cathedral.
2. 49 Steps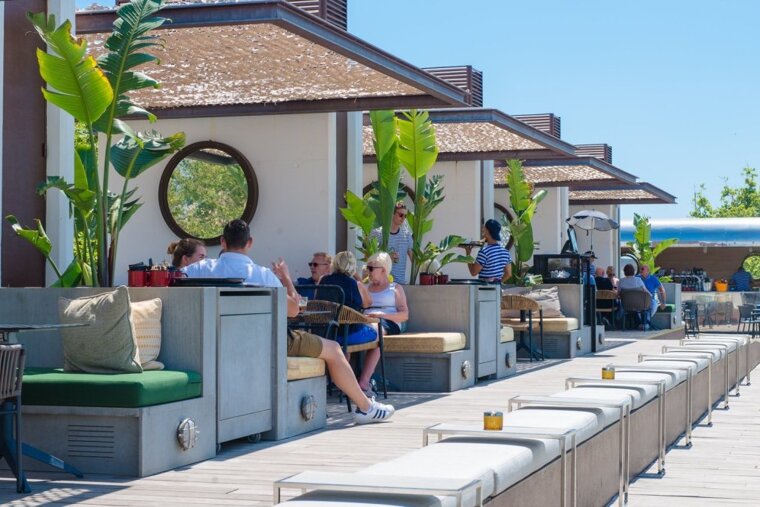 In an idyllic situation on a roof terrace along Port de Moll Vell, 49 Steps claims the best position to watch the sun go down, as well as some of the best views over Palma's harbour – you simply can't beat this location. Its trendy vibe is created by chill-out music and a cool crowd sipping on cocktails all throughout the day and into the evening.
3. Hotel Almudaina Sky Bar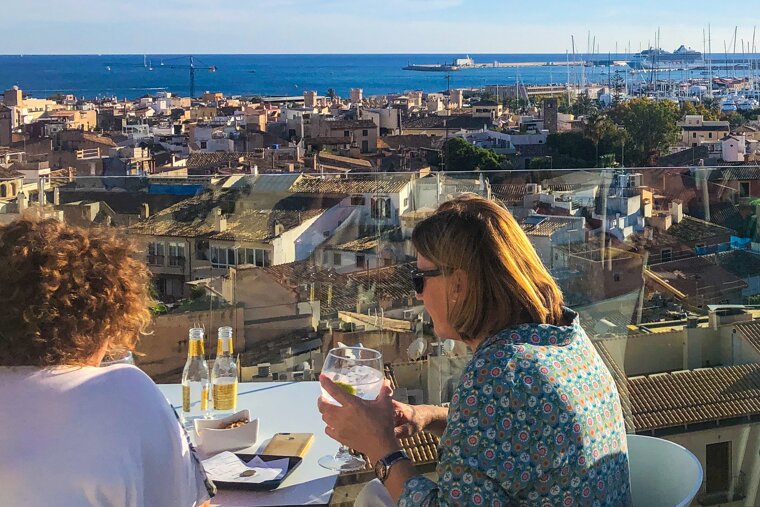 Seeking the ultimate city views? Hotel Almudaina hits the spot! This place is a hidden treasure – if you are distracted by all the fabulous shops along Avenida de Jaume III, you might just walk past its tiny entrance without realising. But if you manage to find it, you'll be rewarded with some of the best views of Palma's spectacular cathedral, the city's historical architecture and the port. Being a more laid-back roof terrace, prices are especially reasonable here in comparison to other rooftops around Palma.
4. Es Baluard Lounge Bar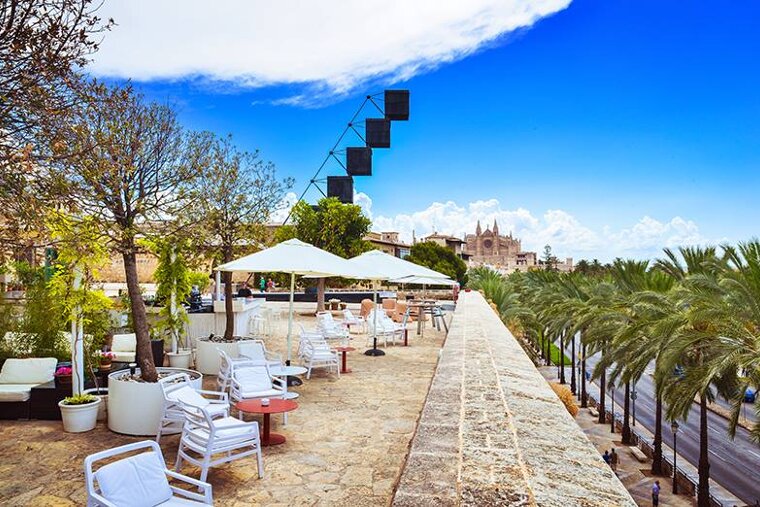 Who knew a museum bar could be one of the most happening terraces in the city? Well, the lounge bar at Es Baluard Museum certainly proves a point by being one of the trendiest watering holes in town. This is the place to kick back and relax on some comfortable seating with a fresh cocktail in hand. It has become a high-class haunt for locals and tourists alike. Come here to enjoy the vibrant atmosphere and excellent views of the city throughout the day and into the evening.
5. Sant Francesc Hotel Singular's Rooftop Terrace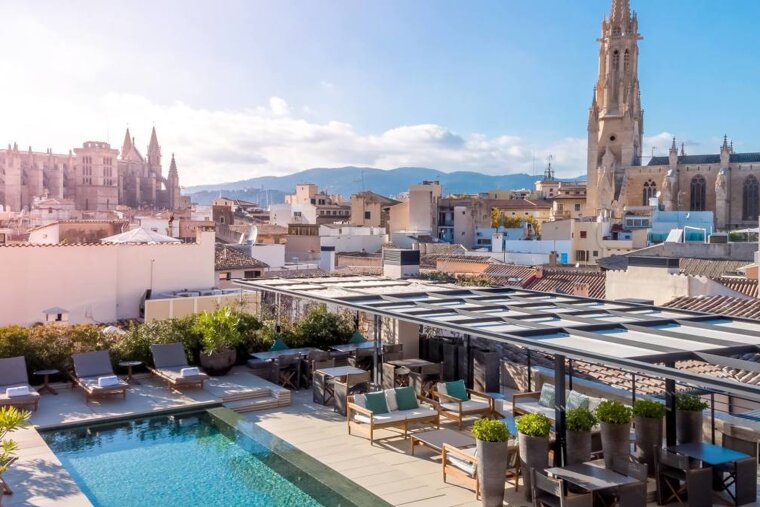 The rooftop terrace at Sant Francesc Hotel Singular offers breathtaking views of the Sant Francesc basilica and other important landmarks in the city. Between May and October, its 200m2 terrace opens to non-hotel guests between 19:00 and 22:30. Come here for a classy evening of champagne and cocktails alongside some freshly made sushi in Palma's balmy summer evenings.
6. Nakar Hotel's Cuit Bar & Restaurant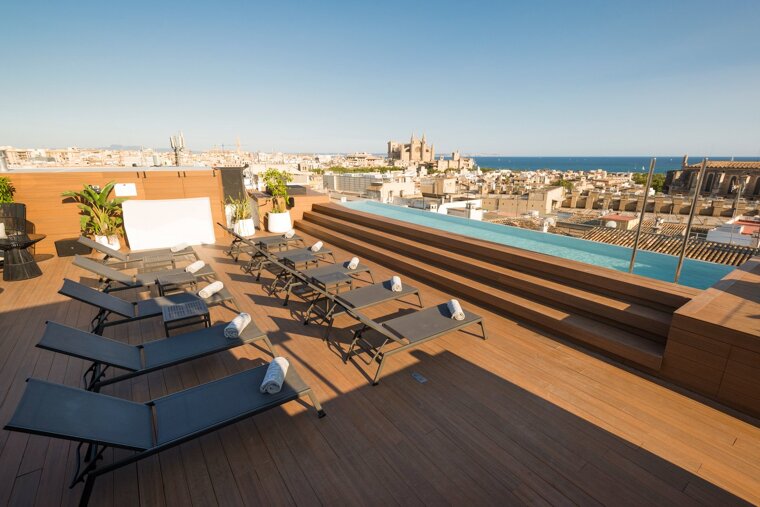 A trendy hotel, which has become famous for its legendary brunches with live DJ sets on Sundays taking place on the 8th floor, as well as their stylish roof-terrace bar which opens to the public from 20:00. Nakar Hotel is a great place to enjoy views over Palma and its cathedral with a cocktail in hand whilst listening to some chill-out beats.
7. De Tokio a Lima Restaurant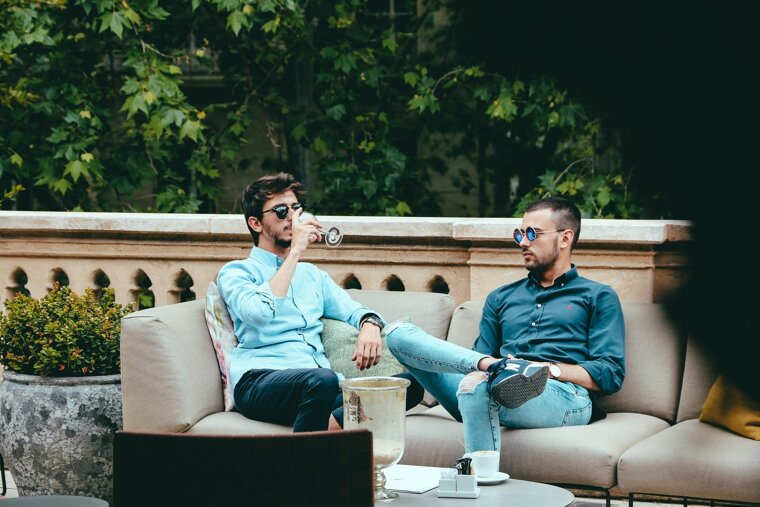 To sip cocktails in a wildly romantic setting amongst the treetops of Palma's iconic Passeig des Born, head to the terrace of De Tokio a Lima Restaurant at the Boutique Hotel Can Alomar. Here you can expect a timelessly exclusive ambiance, glamorous clientele, a stylish drinks menu and 5-star service.
8. El Llorenç Hotel Rooftop Bar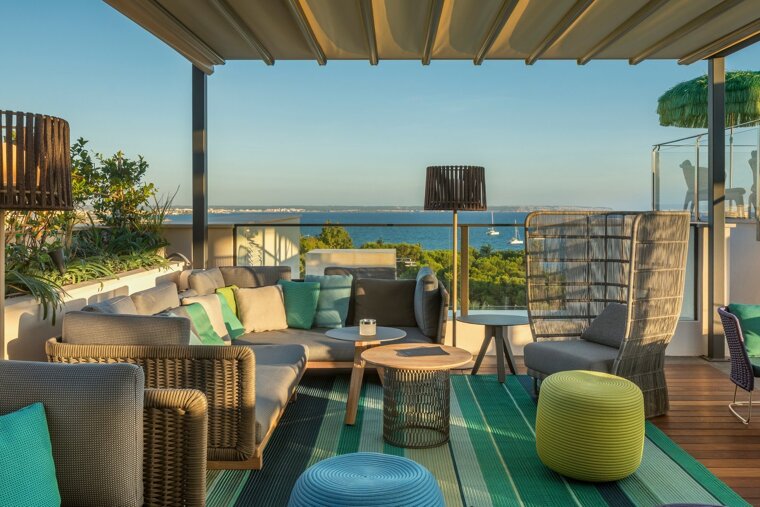 Set in Palma's historic quarter known as Calatrava, away from the hustle and bustle of Palma's city centre is where you will find hidden treasure El Llorenç Hotel and its dazzling rooftop bar. We guarantee you will be blown away not only by the breathtaking views over Palma Bay but the cocktails and snacks available here too. From 11:00 in the morning, this rooftop bar opens to non-hotel guests but we do recommend calling in advance.
9. Almaq Rooftop at Hotel Es Princep
Located above the Baluard del Princep in a stunning location facing the sea, Rooftop Almaq is all about relaxing, and what better way than with Palma's sparkling bay surrounding you. Open until late, spend a tranquil morning basking in the sun or kick start a night on the town in style with Almaq's lively atmosphere and award-winning mixologists. The music is turned up a notch and local cocktail connoisseurs come and join the fun. The authentic Mallorcan design of Hotel Princep, combined with boutique style luxury is a pleasure to indulge in.
10. Beatnik Roof Terrace at Puro Oasis Urbano Boutique Hotel
Situated in the heart of La Lonja, you couldn't be better located for Palma's finest boutiques, galleries, restaurants and nightlife. Puro Hotel Oasis Urbano sports a chic boutique design and its rooftop terrace provides an oasis with white parasols, where you can relax to the rhythm of Beatnik Music, enjoying the view with fabulous food and drinks. Availability is limited and so prior booking or enquiries are strongly advisable.
More inspiration...
Be prepared to get to your roof terrace of choice early to avoid disappointment, as these hot spots do tend to get busy. And don't forget to bring your camera!
Location
Palma de Mallorca, Mallorca