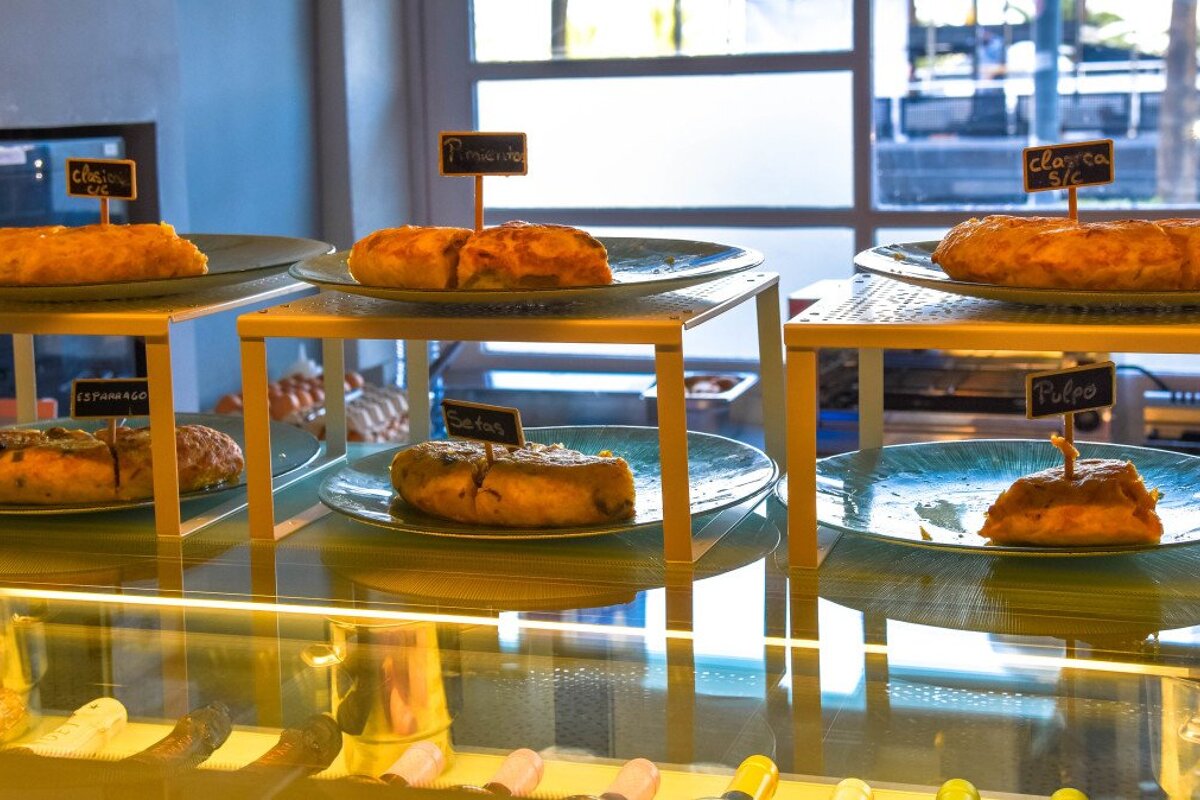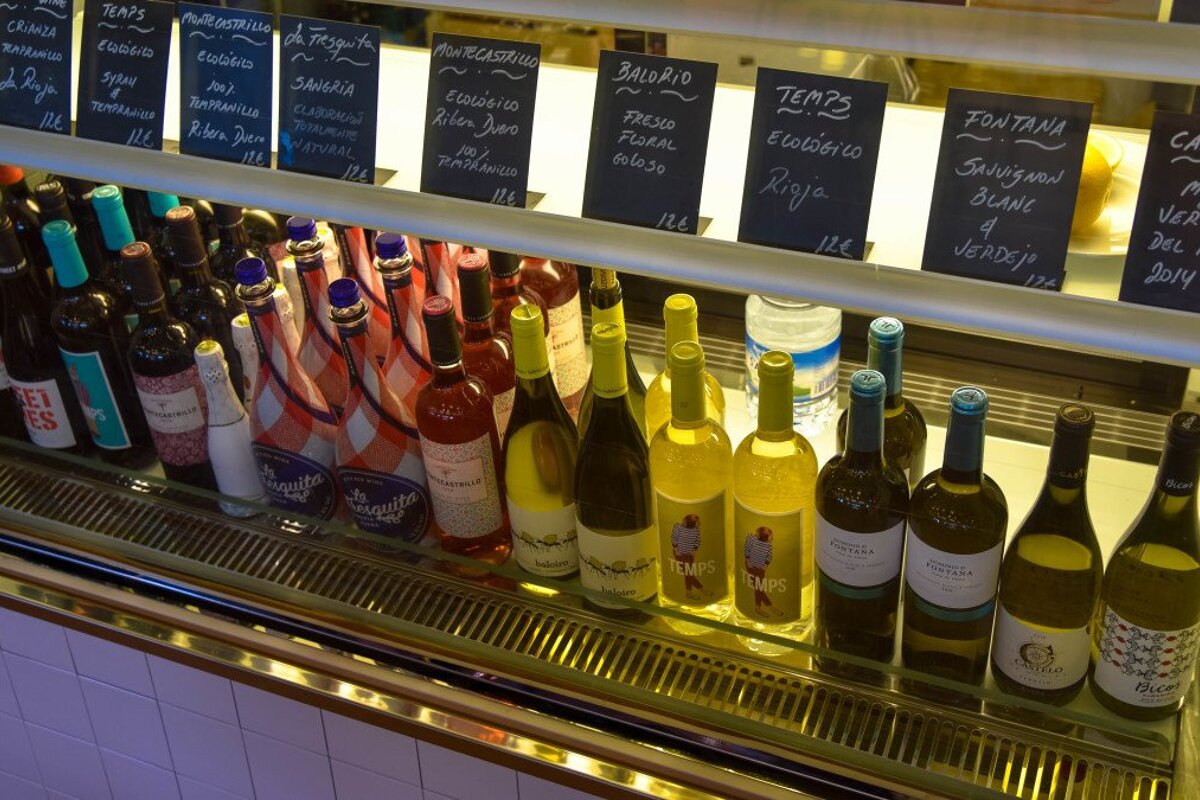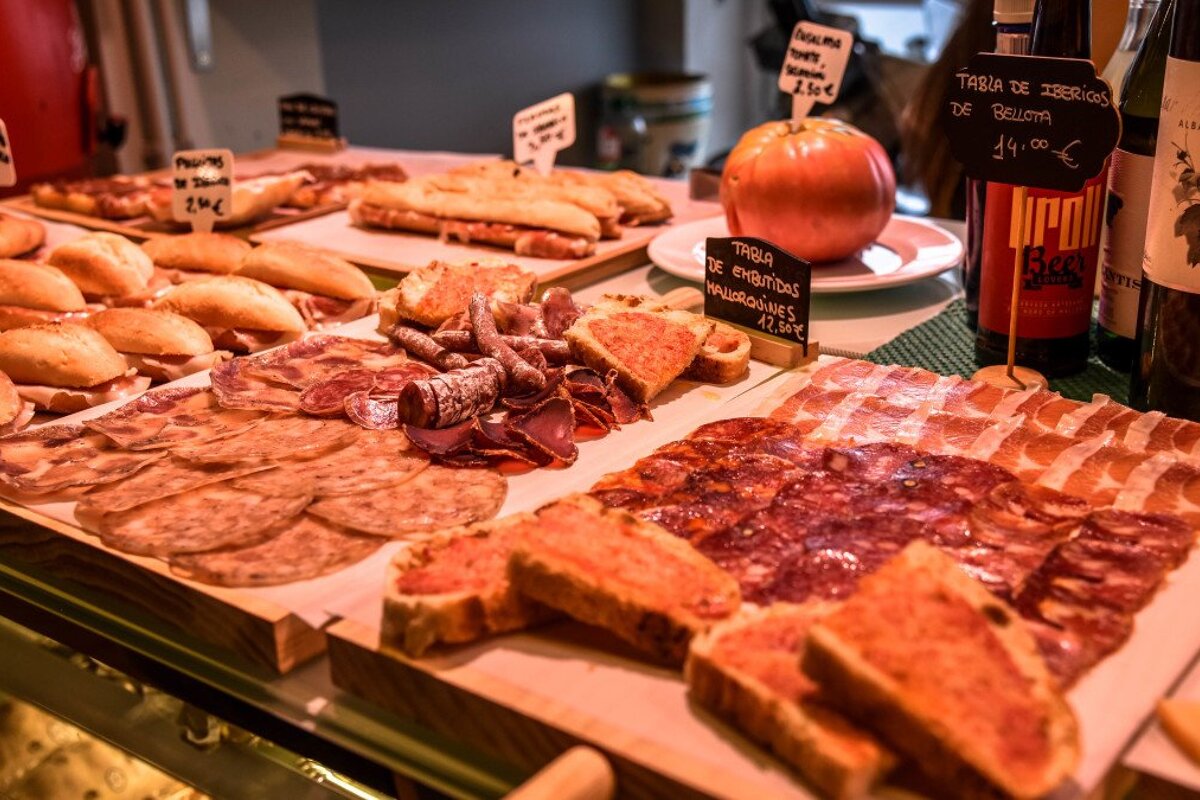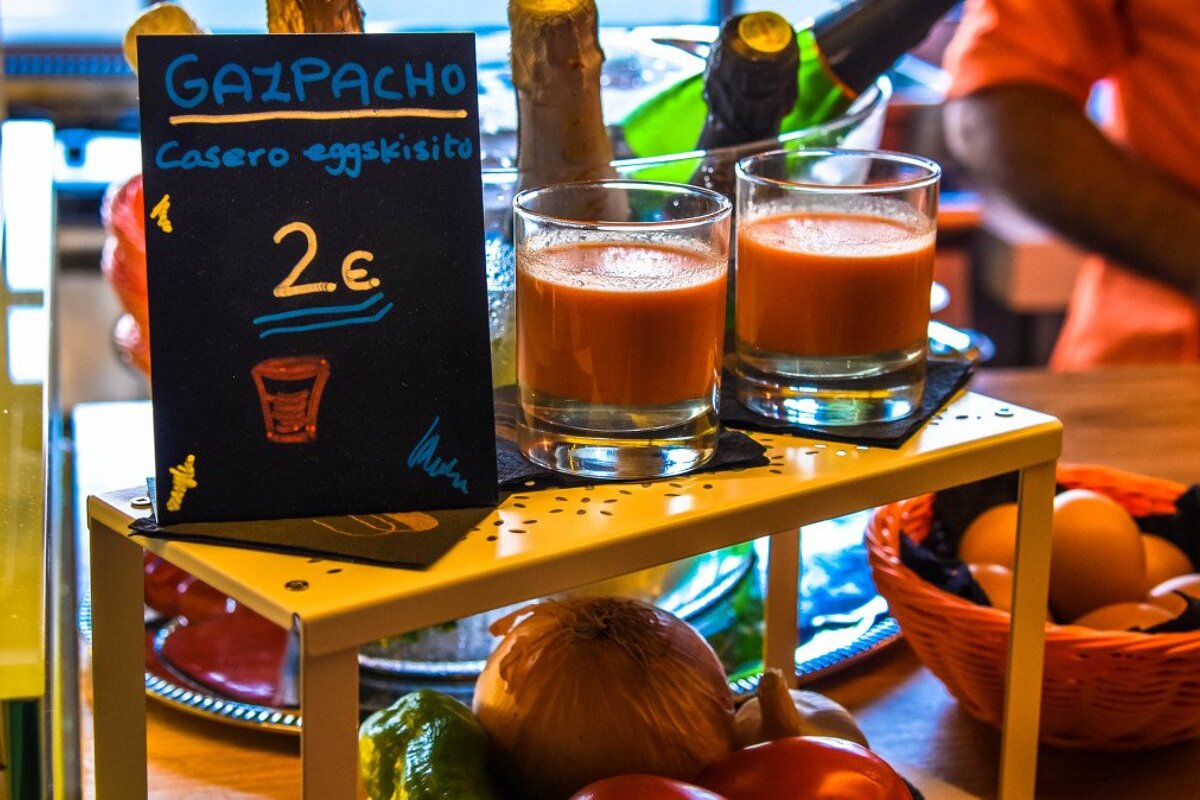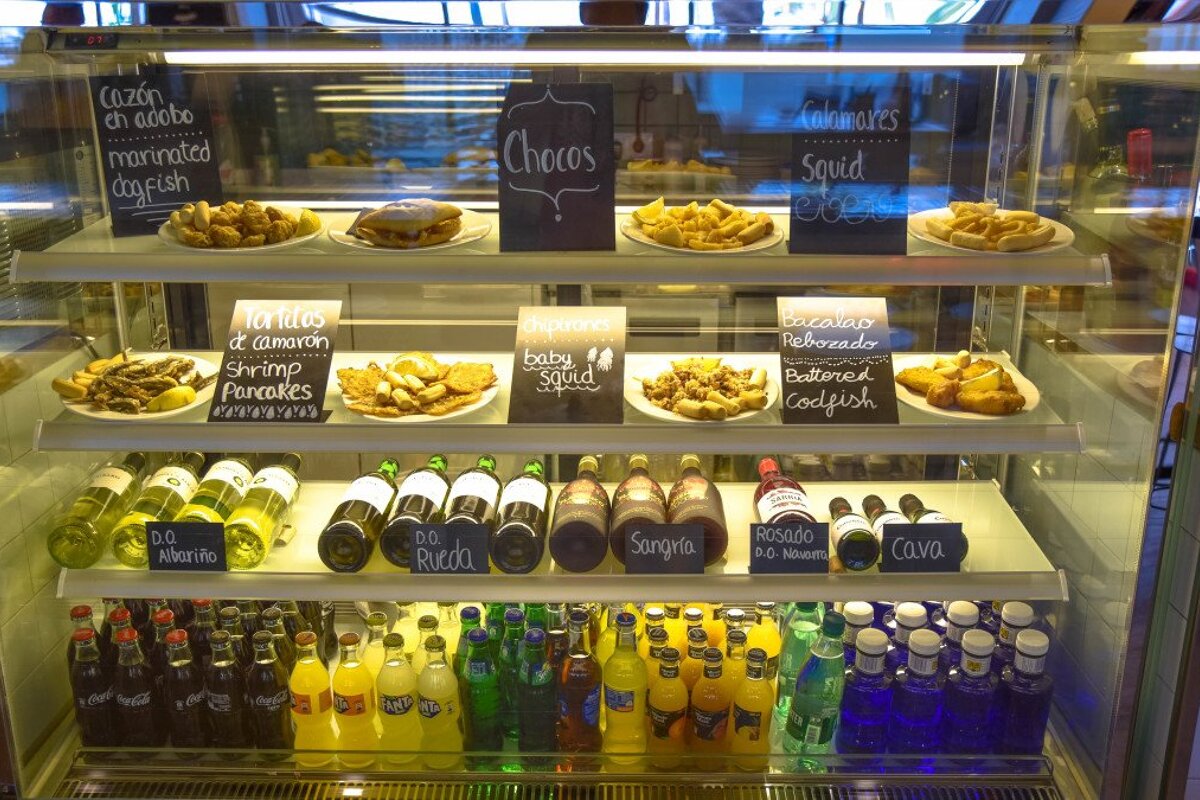 Mercat 1930 Gastronomic Market Review, Palma Centre & Marina
Palma's new gastronomic meeting point tried & tested
August 2017 saw the launch of Palma's newest gastronomic meeting point, Mercat 1930. Conveniently located along Palma's Paseo Maritimo, this space comprises of 13 stands serving up the latest gastro trends, offering something for everyone, whether they be a foodie, or not.
Palma's first gastromarket, San Juan, opened its doors in 2015 and has since become known as a gastronomic paradise. As soon as I walked through the doors of the brand spanking new Mercat 1930, I couldn't help but notice the similarities. Like its predecessor, the market combines industrially inspired decoration, contemporary modern features and art deco tiles. There was a chic ambiance, which could be attributed to an assortment of factors but I feel the stylish waiters and waitresses with bow ties, dressed up in braces and shirts, really stepped up the tone of the place. Small details like shiny black tiled tables, elegant background music and the articulate presentation of the stalls were complimentary features.
There's an impressive selection of food and Mercat 1930's counterpart had clearly influenced its offering. Cultural foodies who are keen to eat traditionally Spanish food will be pleased to know there's a good range of local favourites on offer. On a quick stroll around the market, you will feast your eyes on Spanish meats, cheeses, gazpacho, pintxos, tortilla, calamari and so much more. International favourites like Thai, sushi and the infamous mini burgers also have a dwelling in the market. It's clear from the get-go that this is the kind of dining experience where it is essential that you turn up hungry!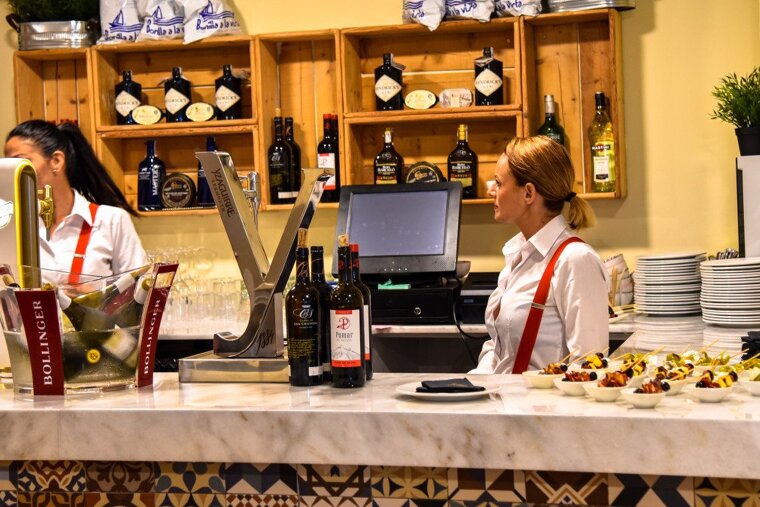 Drinks wise, wine lovers will be pleased to know there is plenty of vintages to choose from. They're mainly Spanish and at reasonable prices, with bottles starting around the 12€ mark and glasses starting at 3€. One bar specialises in beer from all over the world, whilst another bar focusses on vermouths. There is also sangria, cava and champagne on offer along with a selection of non-alcoholic drinks and juices.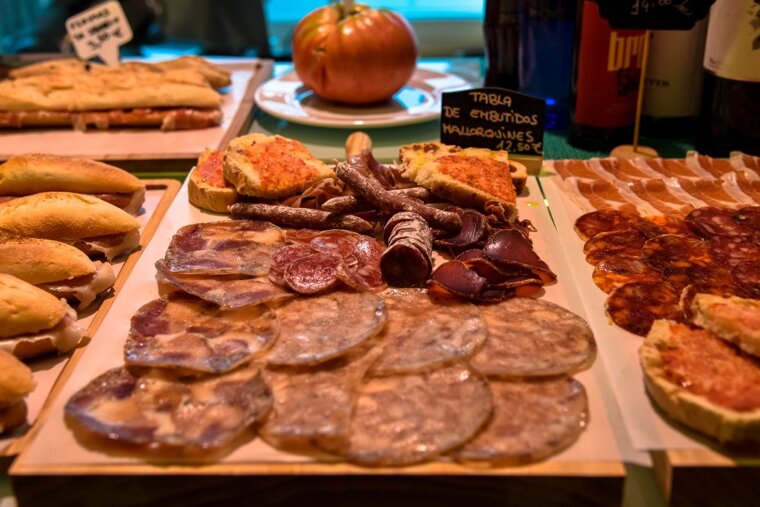 After wandering around and checking out each of the displays of food, I decided on a platter of cured meats (12,50€) which was perfect for sharing with my partner. There were various meat platter options available but I was more than pleased with my range of chorizo, salami and ham which were accompanied by pan con tomate (bread rubbed with tomato).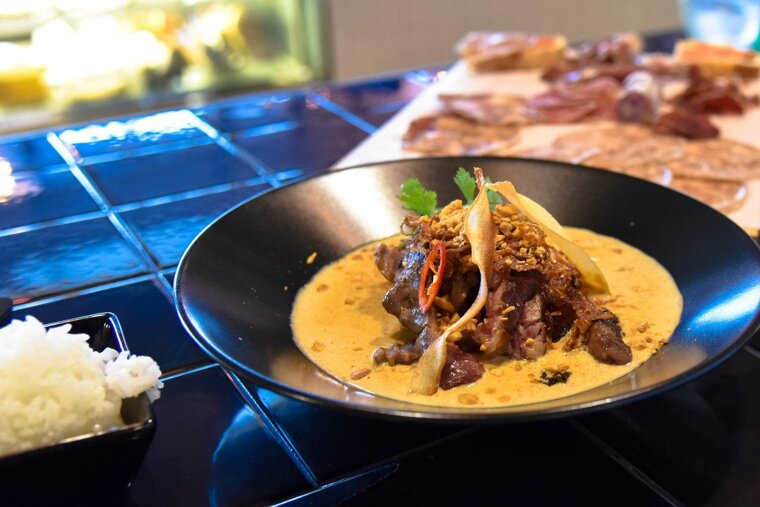 If this meat feast wasn't enough, on my second tour of the market on the hunt for my next course I felt obliged to try the Massamam Entrecote curry (13€). I am a huge fan of exotic flavours, so this grilled beef with coconut Massamam curry, roasted potatoes and crispy onion accompanied by rice was simply divine. The beef was tender and the curry sauce sufficiently moreish owing to an explosion of flavours with every mouthful.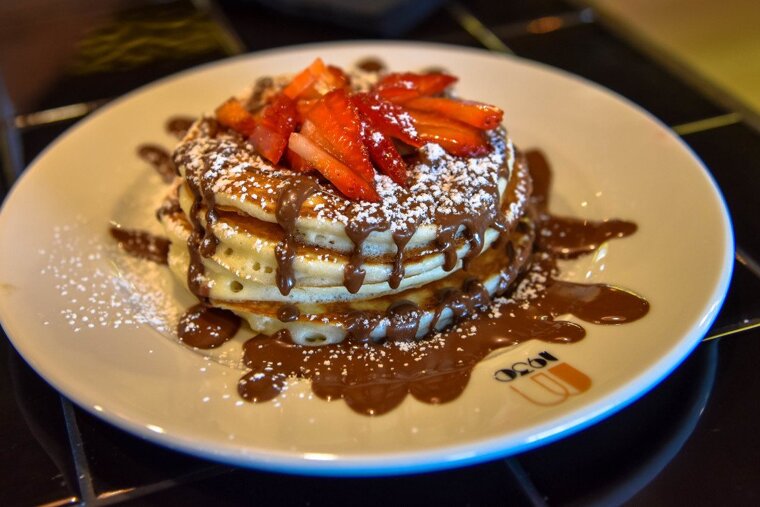 The dessert counter is one of the biggest highlights of Mercat 1930. They serve a whole range of puddings to satisfy any sweet tooth craving. Ice cream, cakes, crepes and epic pancakes. There is something mesmerising about watching the chef cook the pancakes and, having watched some Spanish youngsters ordering a batch, I couldn't resist ordering some of my own. There were various toppings available like white chocolate sauce, blueberries, banana, kit kat, Oreos and so much more. But for me, nothing could be beat pancakes with Nutella and strawberries (5€). The presentation was so pristine, I almost felt guilty diving into them. They were light and fluffy, with just enough Nutella to keep even the most devoted chocoholics happy.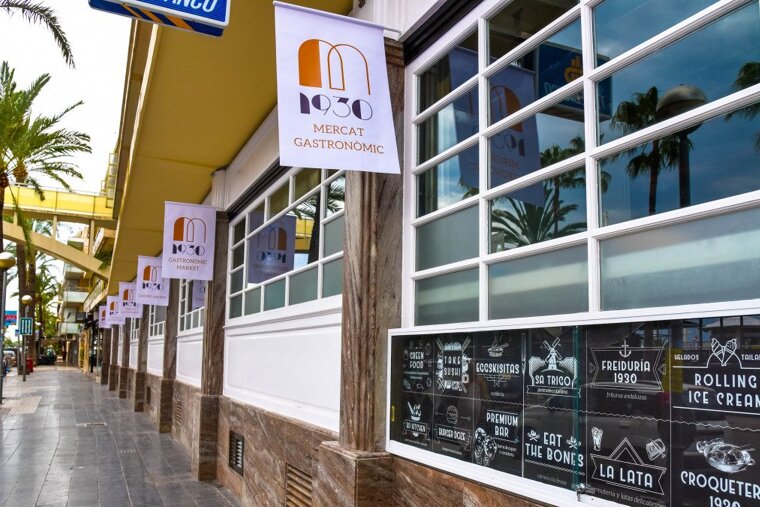 Mercat 1930 is open 12:00 to midnight, 365 days per year, so there's no excuse not to visit! For the most dedicated good food lovers, you might be interested to know the markets creators have promised to fill the calendar with culinary events from tastings, product presentations through to thematic weeks. There's on-street parking available in the area but Marqués de la Sénia is a 24-hour car park located 700 metres away. If you prefer to take public transport, the number 1 and 41 buses are the closest stops and there's a taxi rank close by.
More inspiration...
Continue your gastronomic experience in the foodie heaven of Palma and try one of the amazing restaurants in town.
Location
Palma Centre & Marina, Mallorca