Riding a horse into the Mallorcan wild
A profound immersion into Mallorca's natural landscape
We are twelve riders setting off across a landscape which epitomises Mallorca. To our left, fields dedicated to agriculture and the odd crumbling farmhouse. To our right, the smoky blue silhouette of the Tramuntana peaks. A team of cyclists on the other side of the road draw near and can't resist taking pictures of us. I sit up straighter in my saddle. If it's uplifting to see a group on horseback, believe me, it's even better when you're one of the riders.
I'm taking part in Hipica Formentor's full day riding experience from Sa Pobla to the Monastery of Lluc. It's a six to seven-hour ride including a stop for lunch in the village of Caimari and costs €139. This particular trail is advertised as being suitable for experienced riders, though don't be put off from visiting as there are trails for all levels.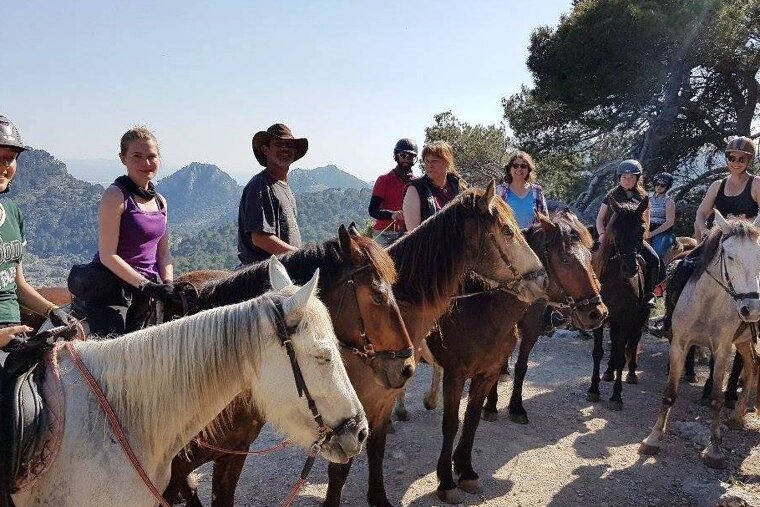 I get the sense my companions are more experienced than me. It's their jodhpurs and boots that give it away, so much more elegant than jeans and fluorescent pink trainers. I may have exaggerated my expertise a little. Primary school was a long time ago! Perhaps because I've joined the experienced riders, there is little hand-holding. If you need a helmet or boots, don't be shy. Just grab one from the display before you mount your horse. Neither are compulsory.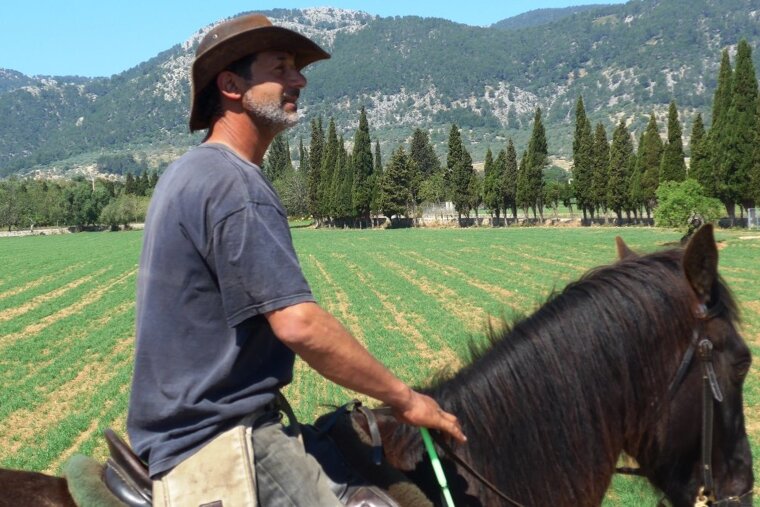 Instructions are kept to a minimum, but that's not to say we aren't cared for. Lorenzo Crespi, the owner in the beaten leather cowboy hat, had clearly sensed my level and chosen my horse accordingly. Safira is a steady mare who responds readily to my timid instruction and I feel at ease in no time. During the trek, both guides, Gabi and Lorenzo, check up on me regularly, making sure I'm comfortable. I really am. I had anticipated being in pain after an hour, but my saddle is proving to be very accommodating. Safira is happy too, thanks to Lorenzo's bitless bridal. She's also barefoot. Hipica Formentor's philosophy centres on natural horse care. For Lorenzo, the horses are family.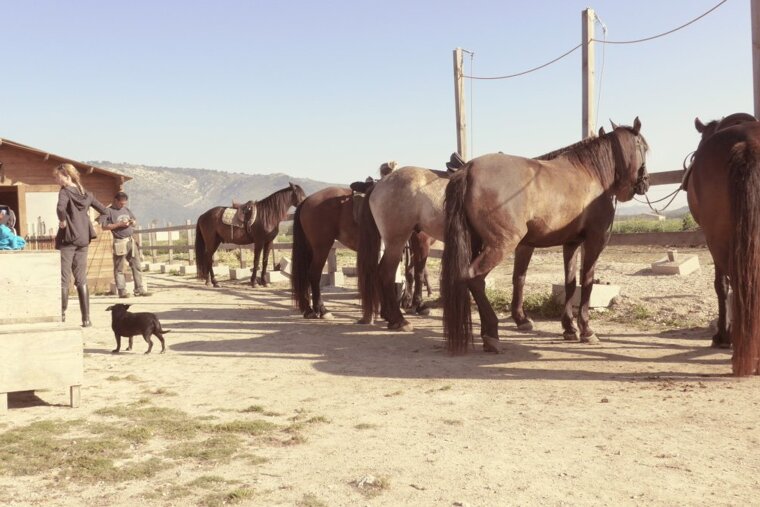 The Mallorcan countryside is a feast for the senses. We ride between rambling fincas with walls covered with sprawling bougainvillaea and fragrant honeysuckle. Backyards present a Mediterranean medley of lemon trees, stubby palms and cactuses in terracotta pots. The horses are unperturbed by the excited dogs that race along the fences trying to get a glimpse of us. Only one canine is coming along and that's Pusa, Lorenzo's adoring dog. She might be small but she's got stamina and will accompany us on the 35-kilometre hike, taking advantage of muddy puddles and fountains to cool off along the way.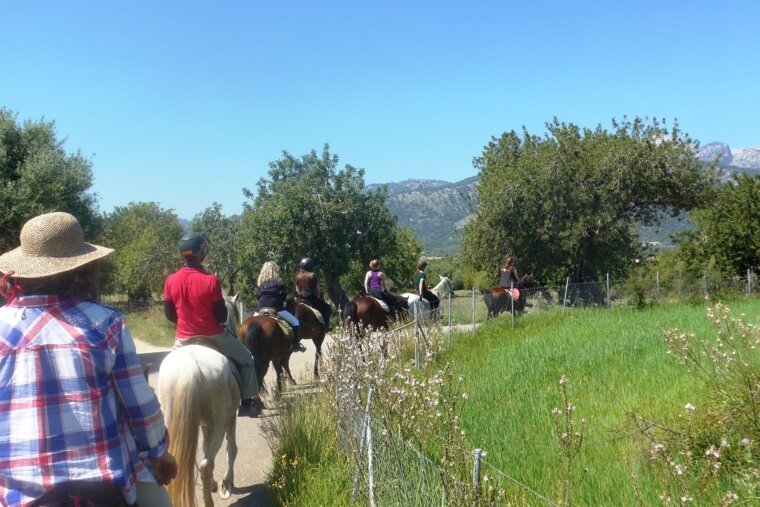 We continue past fields of gnarled almond trees. It's spring and everywhere I look, flowers are in bloom. It's quite a contrast with the arid mountains, so solemn and majestic, and ever present in the distance. The clip-clop of our hooves on the road draws people to their windows as we arrive in the pretty village of Campanet. Cars and cyclists give way for us. I feel happy. I trust our guides and I trust my horse.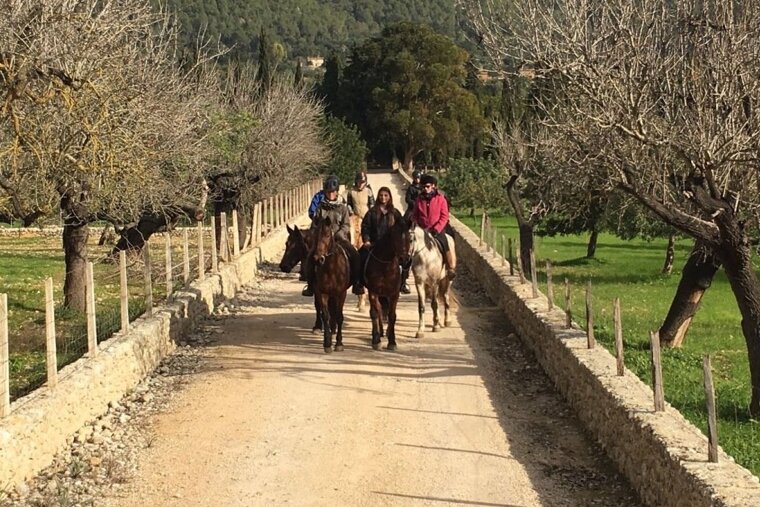 Lorenzo and Gabi know that the riders of this trail want to experience more than a walk. Even I, inexperienced as I am, want to feel the rhythm of a canter. As the leader starts to trot, the other riders follow suit. I loosen the reigns and, remembering my primary school training, move up and down in my saddle, going from a trot into a canter. It's fast and exhilarating and there is a moment of real connection. As the wind blows through my hair and my heart beats to the sound of those thunderous hooves, I understand how horse riding can become a full-blown passion.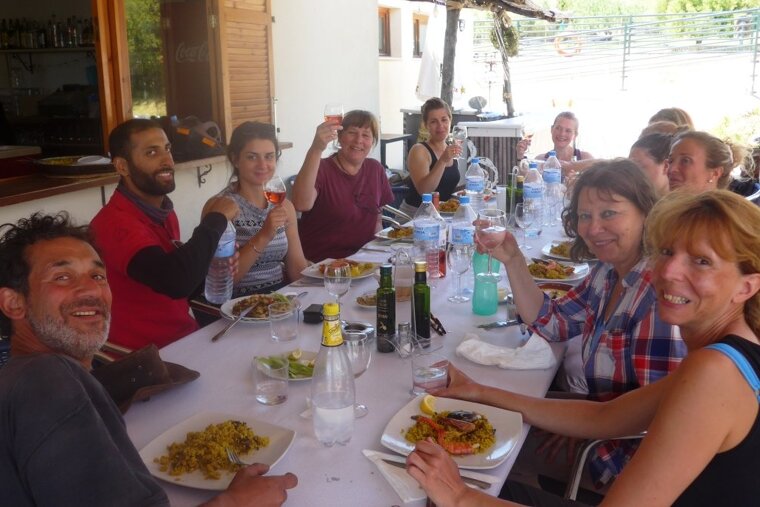 Three hours of riding fly by and we break for lunch at the pretty town of Caimari, famed for its olive oil. While the horses have a well-earned rest, we tuck into a delicious paella and rehydrate with water and wine. Lorenzo knows the owners well and service is efficient and friendly. Good job because the ride has left me hungry and wobbly-legged. I recover quickly though and perk up by the time I've had my coffee and almond cake.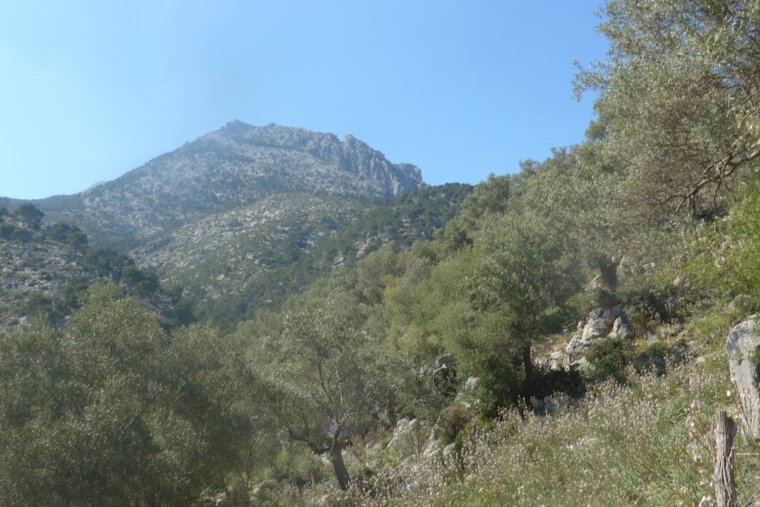 The next part of the trek is slower and takes us into the mountains. The horses are incredibly powerful, climbing the old stone walk, with energy to spare. The views, which were already stunning, become even more breathtaking. The towns are reduced to terracotta specks between the sweeping grey peaks.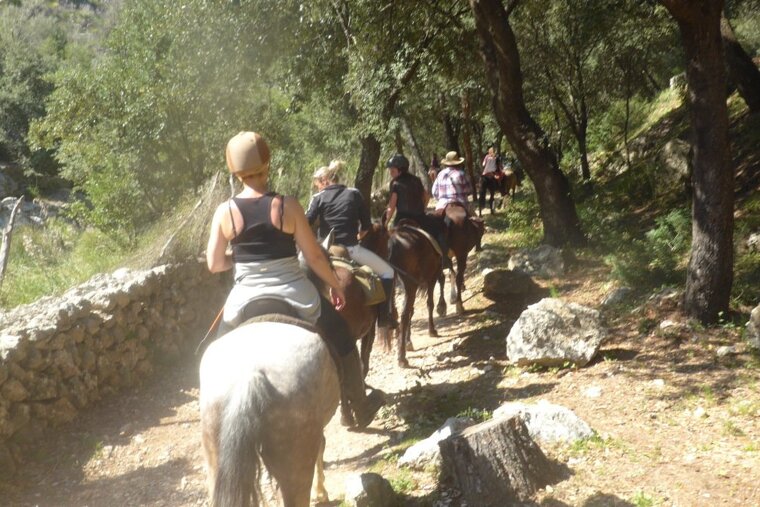 The paths are narrow and I'm grateful for my helmet as we duck under low hanging branches and bushes. All is going well until some lush grass calls to Safira. Problem is the lush grass is beneath a thorny tree and, as I fail to react, I end up tangled up in the middle of it doing the limbo. Lorenzo dismounts in seconds and leads me back to open space with only my ego slightly wounded!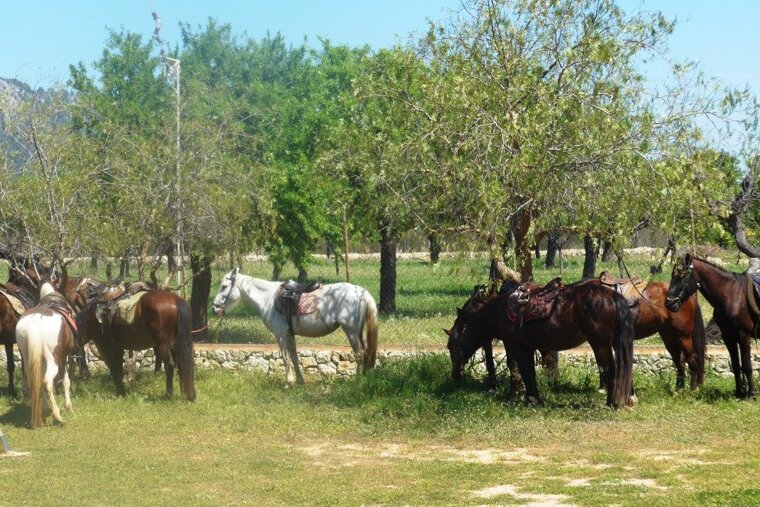 Our journey ends at Lluc Sanctuary. For those really enthusiastic, Hipica Formentor offer longer trails which involve an overnight stay at the beautiful monastery. However, six hours is enough for an inexperienced rider like me. Not that I'm in pain. No, the aches come later! But it's worth it. At the end of the day, I feel a great sense of achievement and feeling of wellbeing.
There is something magical about being on horseback. The sounds of the hooves, the smell of the horse's body mingling with the leather of the saddle, the rhythm and power of your silent teammate. It's something that can't be replicated on foot or on a bike. I recommend you try it, at least once
---
Location