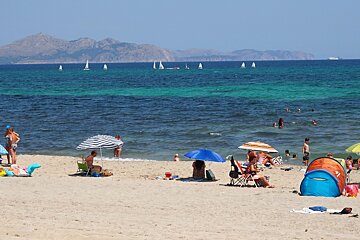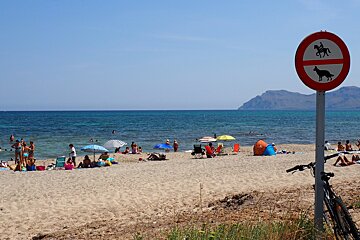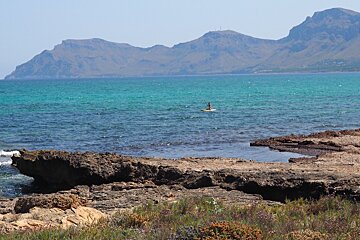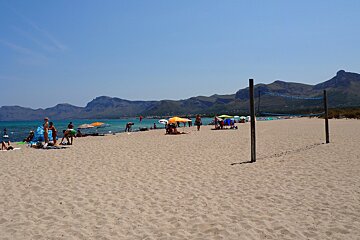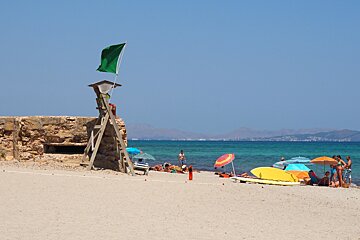 Son Serra de Marina Beach Review
A beach of two halves popular with horse riders, surfers & kite boarders
Son Serra de Marina is a quite little coastal town in North Mallorca. Laid back and sprawling it covers a 5km stretch of coast and is made up of houses initially built as weekend getaways for city dwelling Mallorcans.
There are no large hotels to speak of here but plenty of private holiday lets and villas. There is not very much going on in this town and it's a good spot for a quiet break away from the livelier tourist areas. The beach attached to this town is split into two sections due to the bank of rock that juts out half way along the waterfront.
If you enter Son Serra de Marina from the northern end you'll find the smaller section first, unmanned with no lifeguard or amenities on offer. It's not very long but is wide enough and covered in soft deep sand and with a nice sandy sea entry. Easily accessible, it backs straight on to a quiet road where there is free parking. This beach is dog and horse friendly and you will see many equestrian convoys heading along to the hiking trails from Rancho Grande horse ranch just outside of town. This beach is enclosed by rocky shelves, making it a popular spot for snorkellers and fishermen in the evenings. There is a café/restaurant attached to the nearby yacht club, which will service your refreshment needs, but for anything else you'll need to head to the larger half of the beach down the coast.
To get to the second section is a 10-15 minute walk, you can make your way around the rocky coastline or along the quiet streets of the town. The easiest access is at the far edge of town where the road leads right up to the beach and there is a small wooden walkway onto the sand, the beach's few shady trees are clustered here also. A long, wide beach covered in soft sand and backed by protected dunes this is a beautiful spot. The larger of the two sections, with more amenities to offer, this part of the beach has a lifeguard service from May to October, a designated swimming zone, a shower but no toilets, occasional market stalls, paddle board rental at €10 an hour and the beach front bar El Sol which is the food, beverage and nightlife highlight of son Serra de Marina.
The sea at both sections of Son Serra de Marina beach is often prone to swarms of the sea grass prevalent in Mallorca, sections of the sea are black with it and it washes up on the beach in thick mounds that dry out on the shore. Without much effort however you can find a spot to enter the sea that is weed free and then the water has an easy shallow entry all along.
These beaches are not as sheltered as those in the bays of Alcudia or Pollenca and so the sea gets much rougher here and when the wind picks up this is a favoured spot for surfers, windsurfers and especially kite boarders who take over the beach with their neon kites and fly up and down the coastline at high speed; great fun to do and very impressive to watch.
To find Son Serra de Marina just take the MA12 from Alcudia to Arta and follow the signs, there's plenty of free street parking available. If you're on public transport you can get the bus from Ca'n Picafort for €1.70, it only runs 4 or 5 times a day so be sure to the check the return times before you head out for the day.
Read more about Son Serra de Marina
Location