Cafe culture in Palma
Soak up the atmosphere and sip on a cup of coffee
Is there a better way to spend a summer afternoon than on a terrace, soaking up the sun and feeling the Mediterranean breeze on your face? Or a wintery evening inside a warm and cosy café sipping on a hot drink?
Cafés popped up all across Spain in the late 19th and early 20th century. They rapidly became the place for social meetings, where philosophers, writers and politicians gathered to chat for hours. Some of these places still exist, like the famous Café Gijón in Madrid, which regularly hosted intellectuals like García Lorca, Valle-Inclán or Ramón y Cajal.
However, good coffee is quite a recent thing in Spain. Up until the 1980s, coffee was a watery and bitter beverage that Spaniards drank in a crystal glass, almost always with milk. But espresso machines arrived and we learnt how to make proper coffee, which you can now find at any café in Mallorca. Most of the cafés in Palma have seating indoors and out, where locals and tourists flock to soak up the atmosphere and sip on a coffee.
The right coffee for you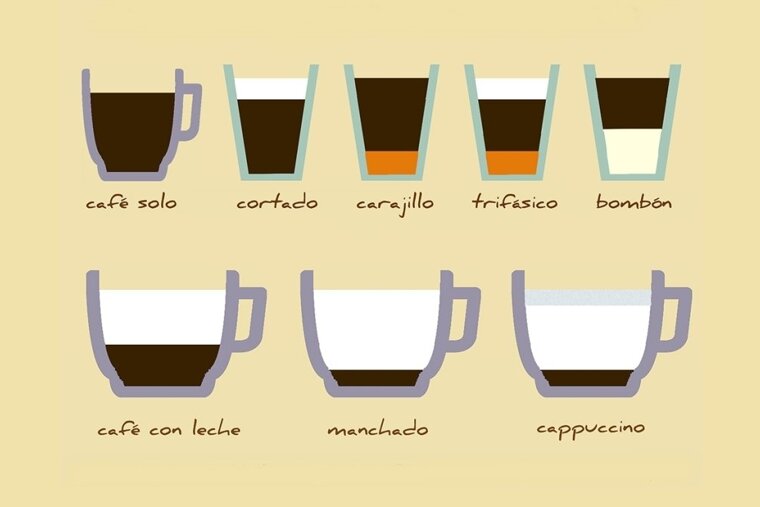 There are as many types of coffee as there are people in Spain. Order a solo if you want an espresso, cortado if it is a macchiato you're after, and café con leche for a latte. To this, you can add descafeinado if you don't want caffeine (they might ask if you want it de máquina or made on the espresso machine, or de sobre, a sachet). You can also include the mention con hielo if you want an iced coffee and they'll bring a separate glass with ice where you can pour your coffee in. A manchado means milk with just a dash of coffee and carajillo is an espresso with a drop of brandy or whichever liqueur you specify (Amazonas is a local Mallorcan rum which is quite popular). Bombón comes with sweet condensed milk... and these are only the basics.
Coffee & shopping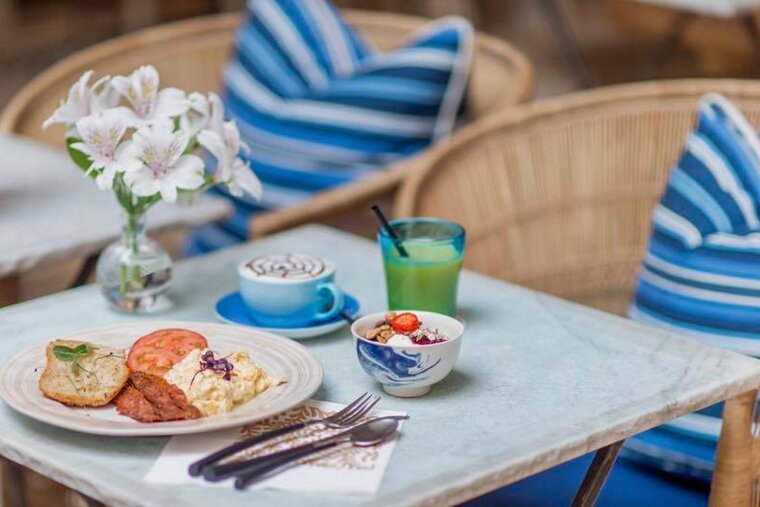 A day out browsing around the boutiques and quaint shops in the centre of Palma would not be complete without a coffee or lunch break. Rialto Cafe, on a quaint old street just off Passeig del Born, is the perfect option for doing just that. Located inside a beautiful store selling top fashion and homeware, they serve hot and cold drinks, snacks, delicious light lunches, cakes and cookies.
Coffee with culture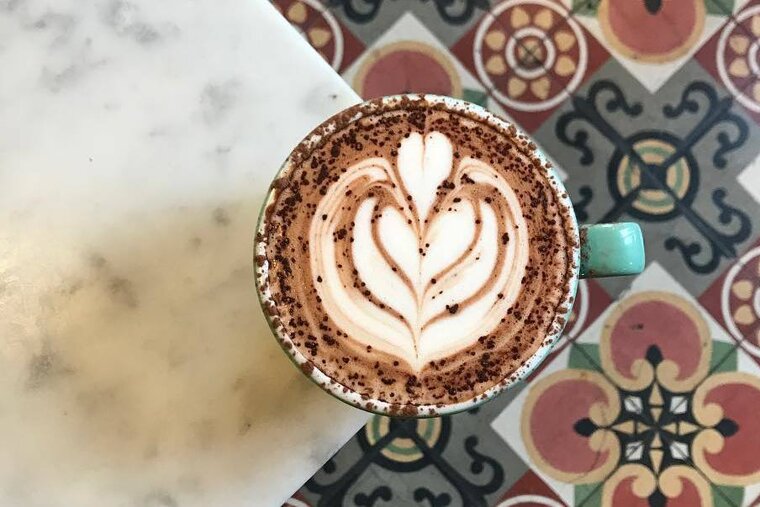 Getting your caffeine fix is all very well but, in a town like Palma, a coffee with a good view is essential. Not only for people watching but to truly appreciate the beauty of the city in all its glory. You might want to try the Cappuccino Grand Café in Plaza Cort which is surrounded by some of the city's most stunning architecture along with a legendary olive tree. This chain also has cafés located in beautiful historical buildings in Palma's old town, such as the one in San Miguel, with a stunning patio, or at Palau March, near the cathedral. If you prefer to try a less touristy spot, head into town where there are plenty of options. Santina by the heart of the trendy 'Mercat de Santa Catalina' offers brunch and a selection of delicious healthy food. Otherwise, La Molienda boasting their own speciality coffee brand, can be found just north of the old town in a casual but bustling square. Also still tucked inside the 'Avingudas' towards Placa Major and Mercat de l'Olivar, be sure to look out for Arabay Coffee points and Surrey Hills Coffee, both offering their own delicious roasted coffee worth trying.
Coffee & cake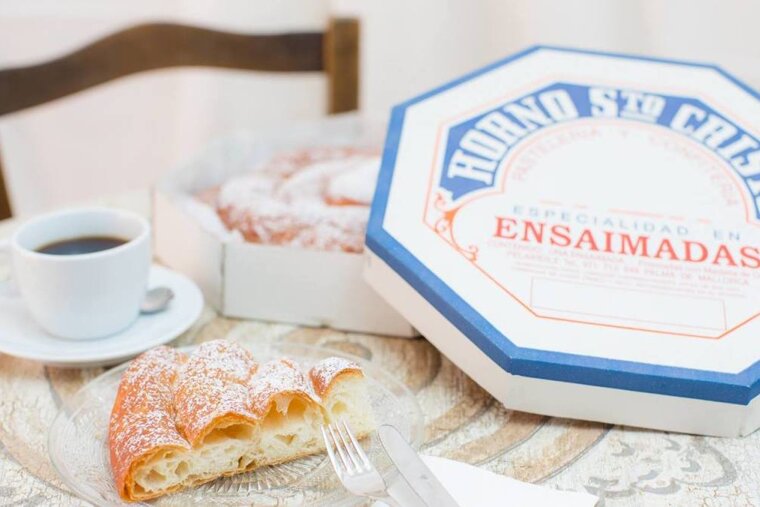 After a morning wandering the streets of Palma, checking out the local markets and enjoying the sights, you'll be in need of a coffee and most likely that all essential sugary fix to accompany it. Palma offers a variety of cafés and bakeries serving local and international treats. From the traditional ensaimada to buttery French croissants, fluffy cakes and even gluten-free options, you'll be spoilt for choice. Don't forget to try classic Mallorcan sweets such as rubiols, filled with cottage cheese, jam or sweet pumpkin and typically made during Easter, and the moist coca de cuarto, perfect with a "café con leche". There are bakeries found on almost every street in the capital but, if you get stuck, a favourite amongst the locals is Horno Santo Cristo who have been in business for over 100 years and have a few different locations around the island.
In the creative area of Santa Catalina, you're spoilt for choice with a large variety of traditional and international bakeries. Some to note are Swedish owned - Palma Bread for their notorious cinnamon rolls and the wholesome Mama Carmen's offering locally sourced vegan and gluten free delights. For a less traditional slice of cake, Rosevelvet Bakery located between La Rambla and Placa d'Espanya offers daily sweet treats and comforting lunch options.
Being courteous doesn't cost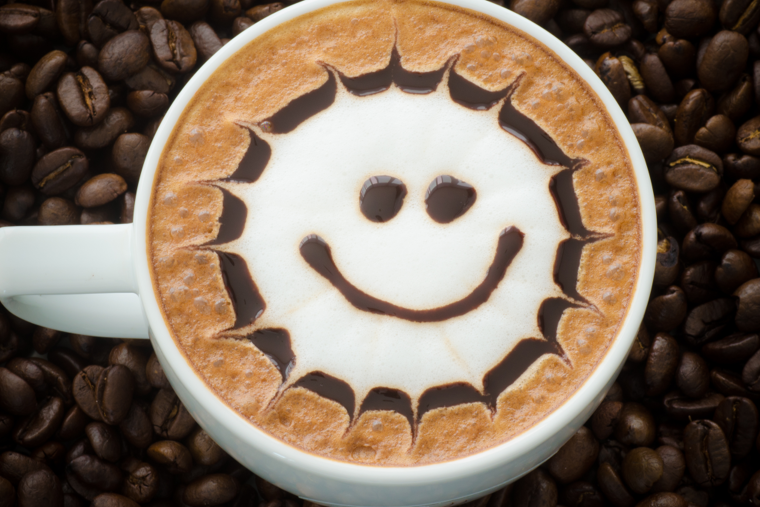 We have all experienced the rude waiter or waitress, been tempted to shout 'hey' just to annoy them and even considered clicking our finger to gain attention. However, a post on Reddit (a social media channel) went viral a few years ago and it turns out that café staff are just as disgruntled as we are. Fed up with customers forgetting their manners some cafés have even decided to change their menus and encourage a more courteous customer. Be warned, the Spanish way is more relaxed and that is something you will just have to get used to.
More inspiration...
Whether you are a visitor looking for a quiet corner to read a book, a couple wanting a romantic moment, a businessman having a meeting or a group of friends sharing a bottle of wine, there will always be room for you in a café in Mallorca. There are also tonnes of great restaurants and bars on the island if you prefer a longer or later break from sightseeing.
Location