Healthy & organic eating in Mallorca
Make your holidays in Mallorca healthier this year
As the world embraces the cult of healthy eating, you'll be pleased to hear that Mallorca hasn't been left behind. The island offers a wide range of places to sink your teeth into some nutritious organic produce.
Here are our top picks for where to shop and eat all things healthy on the sunny island of Mallorca.
Organic markets
---
Organic food is becoming easier to get a hold of and the best place to pick up organic produce on the island is at some of Mallorca's most popular markets which tend to have dedicated organic sections.
Organic markets in Palma
The capital city of Palma is the easiest place to find organic produce. Mercat de l'Olivar and Mercat de Santa Catalina, with their specialist organic stalls, are open Monday to Saturday so you're likely to find everything you might need. If you prefer the idea of an exclusively organic market, then the Mercat Ecologic de Palma is worth a trip. It was the first organic market in Mallorca to open and is held on Saturday mornings between 08:00 and 14:00 in Plaça Bisbe Berenguer de Palou. This particular market started up a few years ago and has around 15 stalls selling fresh fruit and vegetables, wine, bread, olives oil and cheese.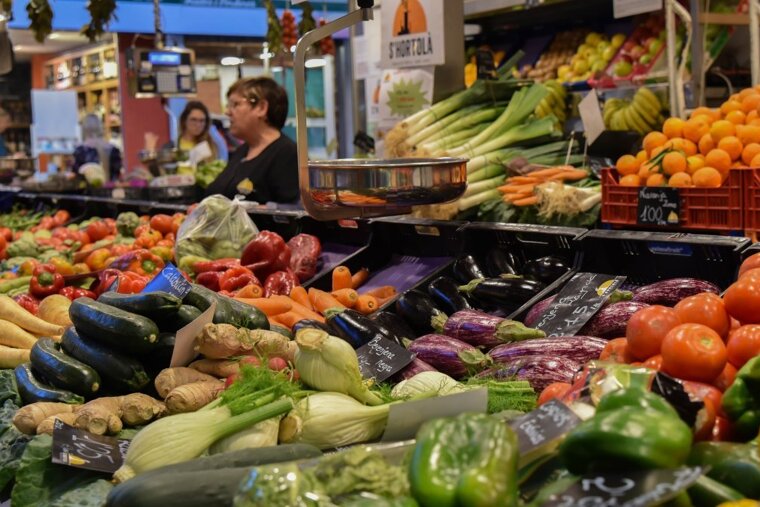 ---
Organic markets outside Palma
There are plenty of markets taking place across the island each day which will be selling organic produce at some of their stalls. Check out our markets page to find out more. Santa Maria del Camí, for example, hosts an organic produce section in its huge Sunday morning market. Go to Plaça de la Vila, right in front of the town hall, for fruits, vegetables, meats and conserves.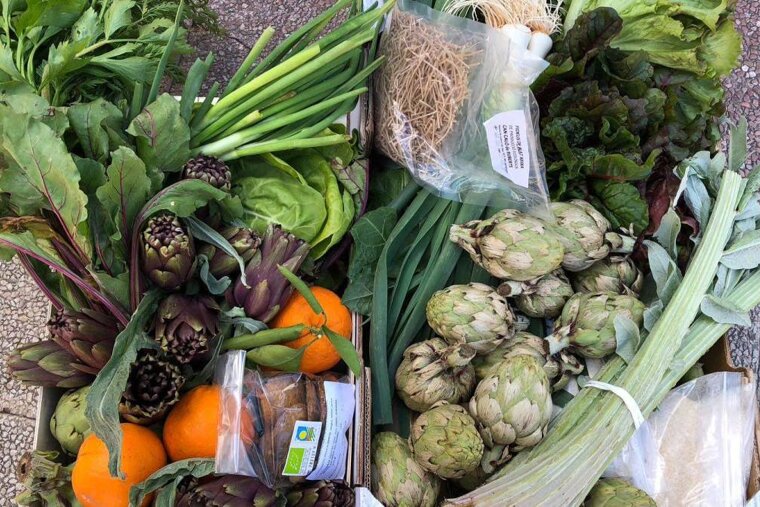 Eco supermarkets & bio shops
---
If you don't want to wait for market days for your organic food supply, fear not, various health food shops are also popping up all over the island in the form of eco supermarkets, bio shops and organic farm shops.
Bio shops in Palma
Try Yerbabuena, which is now one of the biggest shops in the Balearics dedicated to organic food, natural medicine and a sustainable lifestyle. Veritas is also a high-ranking ecological store in Spain, so it shouldn't come as a surprise that they have two stores in Palma. Loveeat! and Beyond Organics in Palma's Santa Catalina neighbourhood are also hot picks amongst health food fanatics on the island.
If you want to take sustainable living to the next level, check out NU Market Zero Waste in Santa Catalina. This store offers package-free local products, and zero waste alternatives for cleaning and personal hygiene. Not to mention a great little coffee corner with delicious coffee and tea to try – do sample their vegan treats too!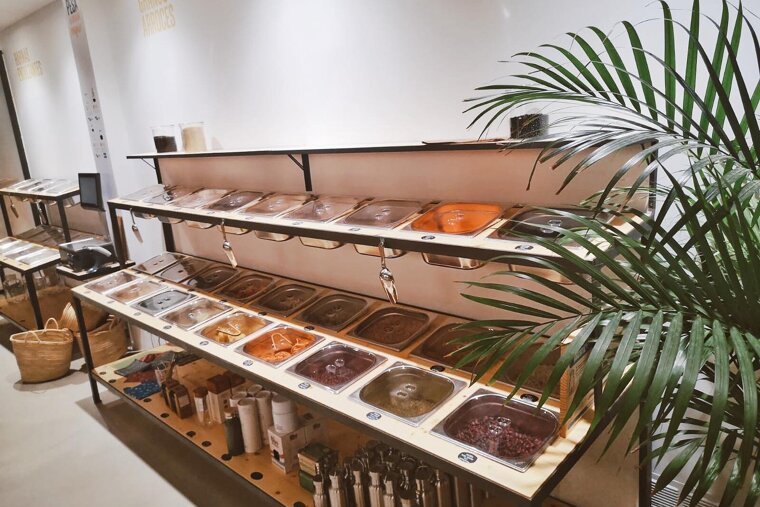 ---
Bio shops outside Palma
If you are after the best quality meat, then Angus Son Mayol is an agricultural and poultry farm selling 100% sustainable meat. The Veritas chain also opened a store in Andratx in 2018 which has proved to be very popular with residents on the west coast.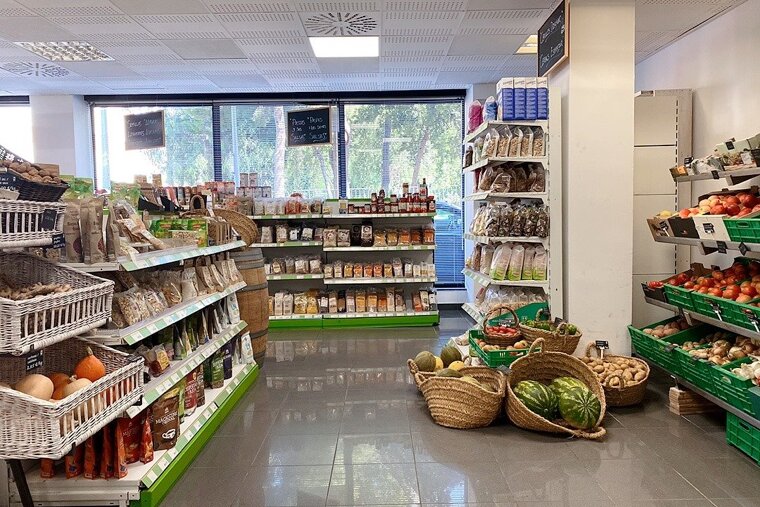 ---
Farm to table
The old tradition of buying directly from the farm has come back into fashion. In Mallorca, you can get your hands on seasonal fresh fruit and vegetables, eggs, and organic meat. There's the option of visiting the farm or having baskets delivered straight to your door.
Finca Binifela is located in the northeast of the island, near Capdepera, and is especially famous for its organic poultry farming. They also sell vegetable garden products both in Binifela and in the main organic produce stores on the island, so keep your eyes peeled for their name. Eco Sa Teulera is a family farm based between Petra and Manacor dedicated to the production, transformation and distribution of organic products. There's a shop on-site as well as shops in Manacor and Palma for convenience.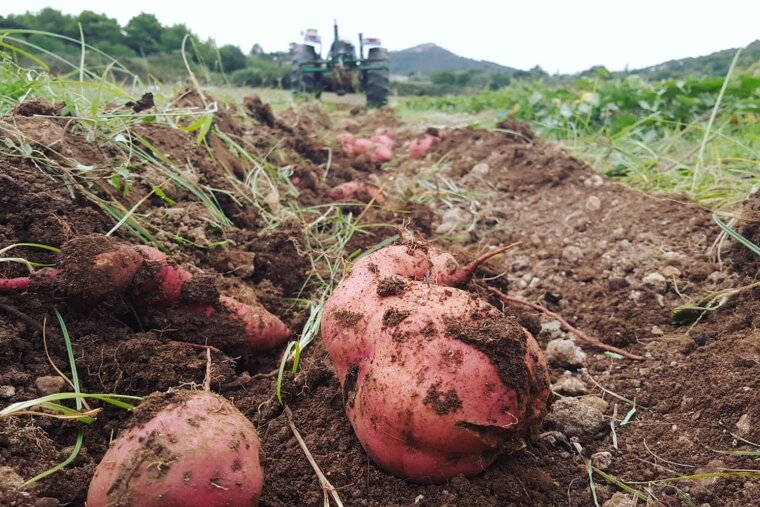 Healthy food to go
---
Healthy takeaways in Palma
Ziva is a funky cafe located in Palma and Santa Ponça. It's the place to go for raw, organic breakfast, lunch, Saturday brunch, snacks, smoothies and cold-pressed juices. All their dishes are made with 100% plant-based ingredients, without processed sugars, dairy, preservatives or colouring, and cooked at temperatures below 46ºC. And, if you want to use your holiday break to detox, they can put together a tailored three-step cleansing programme using raw food and juice fasting so that you go back home rid of toxins.
Simple Smart Food can be found in Palma's Santa Catalina as well as Plaça Mercat. These health food bars tend to attract the yummy mummies looking for something nutritious for a healthy family breakfast or lunch. Juices, smoothies, healthy breakfasts, soups and salads all feature on the menu here.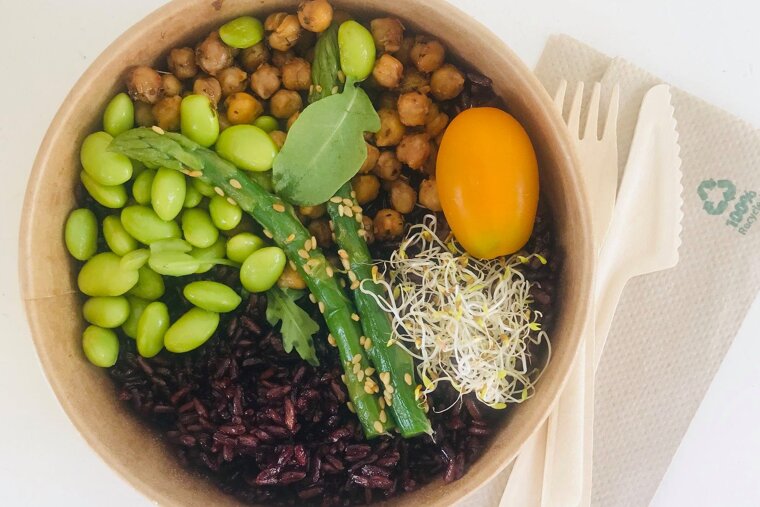 ---
Healthy takeaways outside Palma
Coco's Deli has become a trendy spot for healthy eaters in Portals Nous. Their philosophy is to create natural, healthy food using the highest quality produce available. They specialise in colourful salads, gluten-free products, raw cakes, smoothies and juices to have in or take away.
Opposite Port Calanova, just outside Palma, you will find trendy health food cafe Elefante. They serve up some tasty breakfast options, juices and salads for lunch. Lily's Healthy Food & Coffee can be found in the picturesque setting of Puigpunyent. You can expect juices, breakfast bowls, salads, wraps and so much more.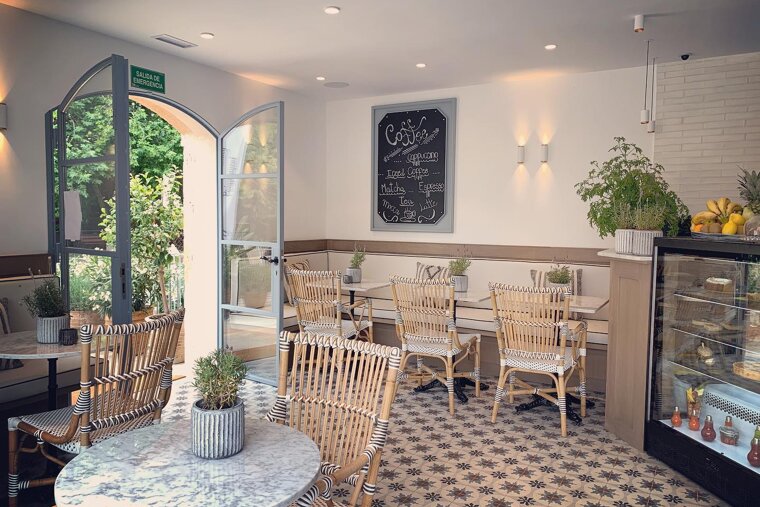 Vegetarian & vegan restaurants
---
The island has a nice selection of vegetarian and vegan cafes and restaurants that take advantage of the delicious local produce.
Vegetarian restaurants in Palma
Bon Lloc in Palma was the first vegetarian restaurant to open in Mallorca and is a favourite amongst vegetarians and vegans visiting the city. Serving juices, breakfast, lunch and dinner, we recommend trying this place out. EcoVegetaria is also a bit of a veteran when it comes to vegetarian cuisine. It was the first restaurant in Palma with ecological options certified by CBPAE in 2002 and continues to impress today. The 'menu del día' is particularly popular here – at €10.95 you can enjoy a starter, main course and dessert.
Finally, Temple Natura Café Garden is an urban oasis serving tasty vegan treats in a courtyard setting. A place where you can disconnect and relax enjoying healthy food or drinking fruit smoothies, cocktails, infusions, delicious "Chai", refreshing cold teas or a revitalising fresh lemonade.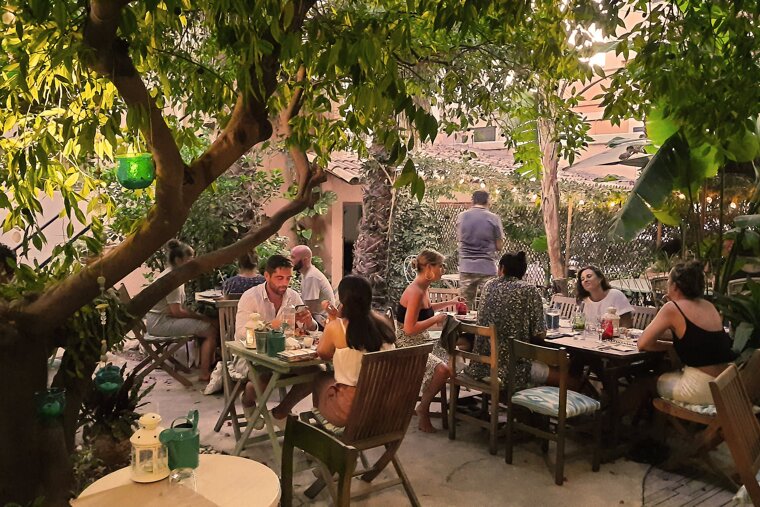 ---
Vegetarian restaurants outside Palma
Bellaverde Restaurant in Port de Pollença is one of Mallorca's most famous vegetarian eateries and attracts visitors from far and wide. Vegetarian or not, we guarantee you will be blown away by the food and the stunning courtyard setting. Inca, located in the middle of the island, hosts a number of innovative vegetarian and vegan restaurants. Perhaps Es Ginebro's fixed tasting menu could be the vegetarian feast you are looking for.