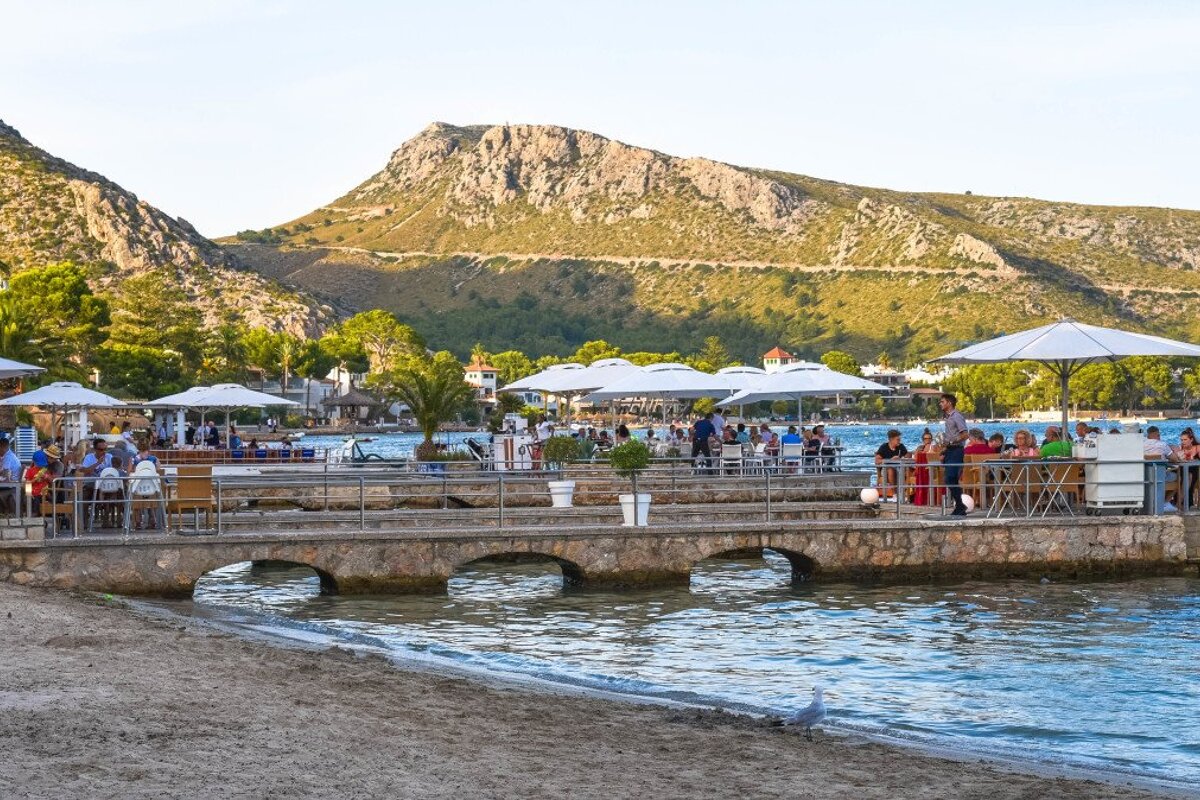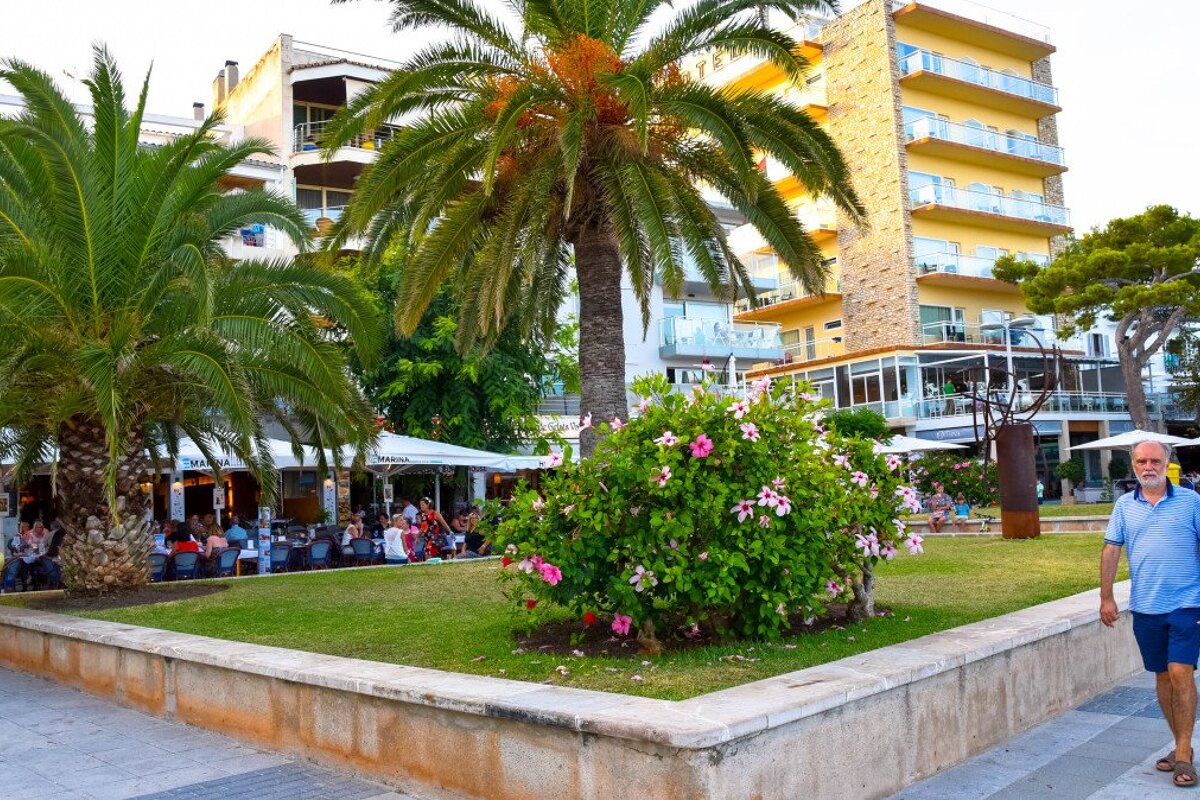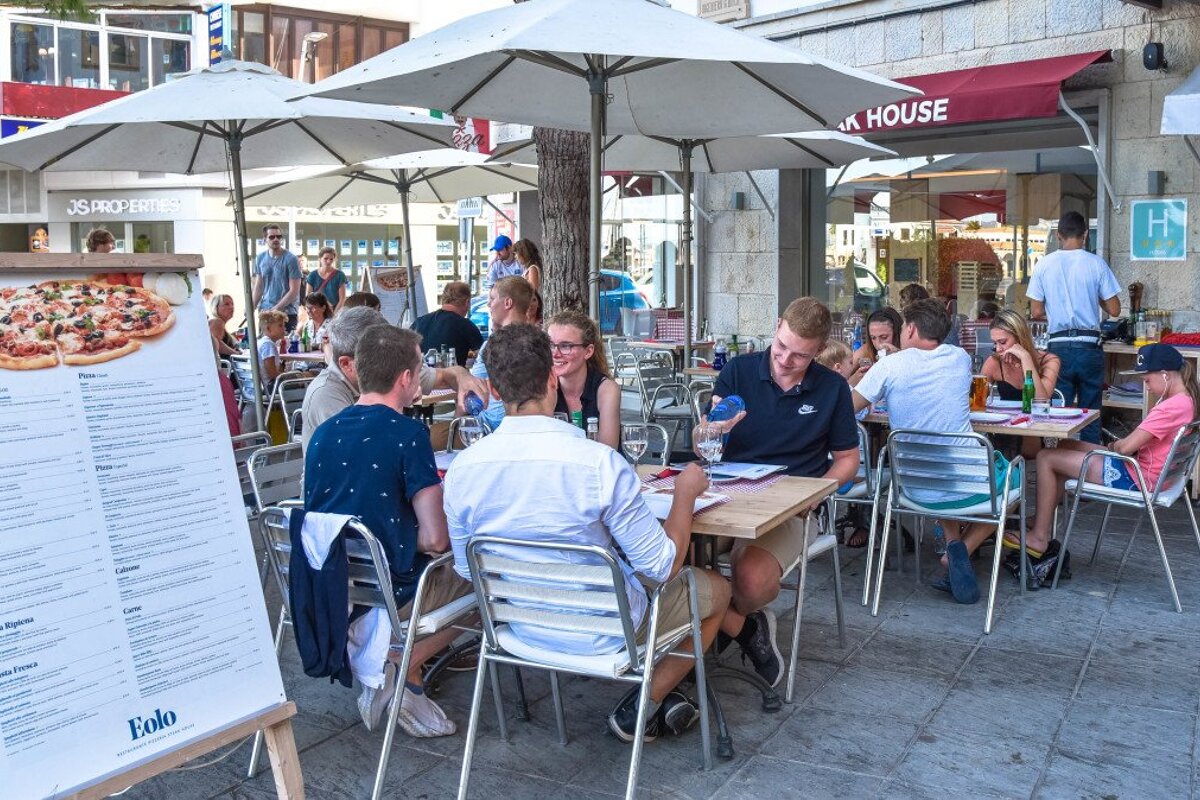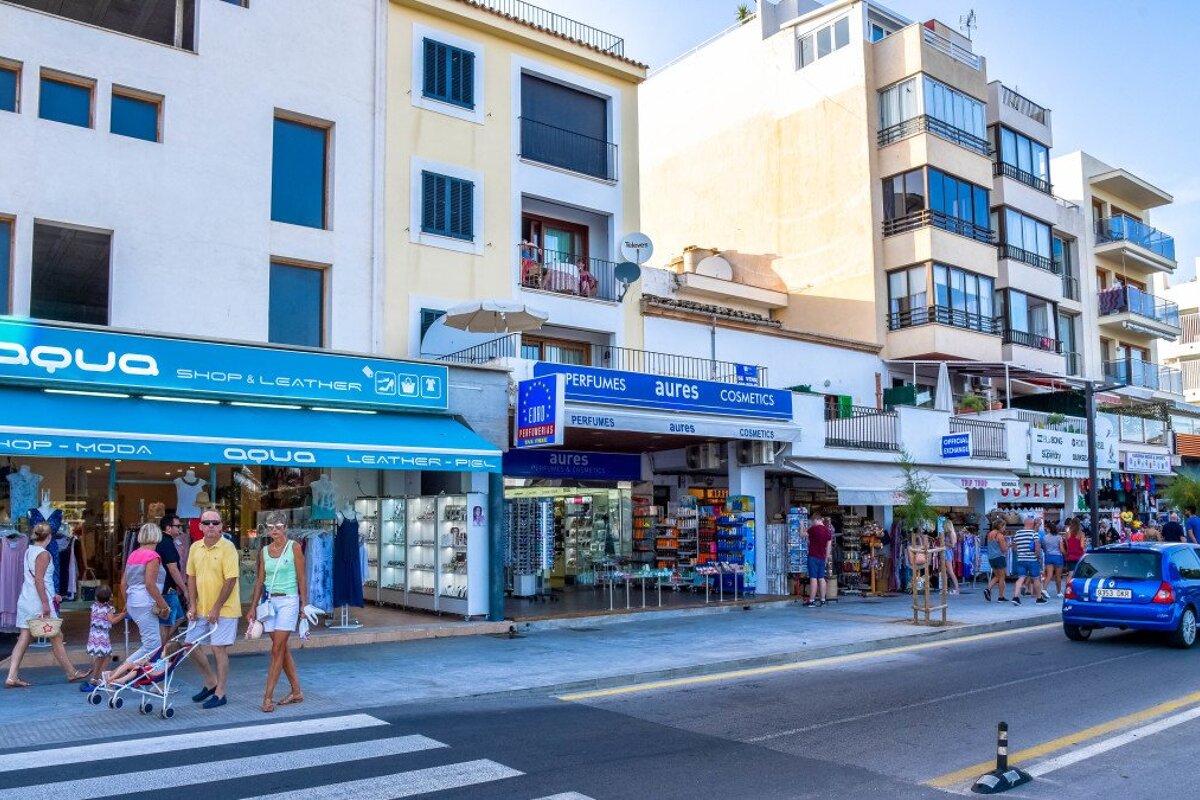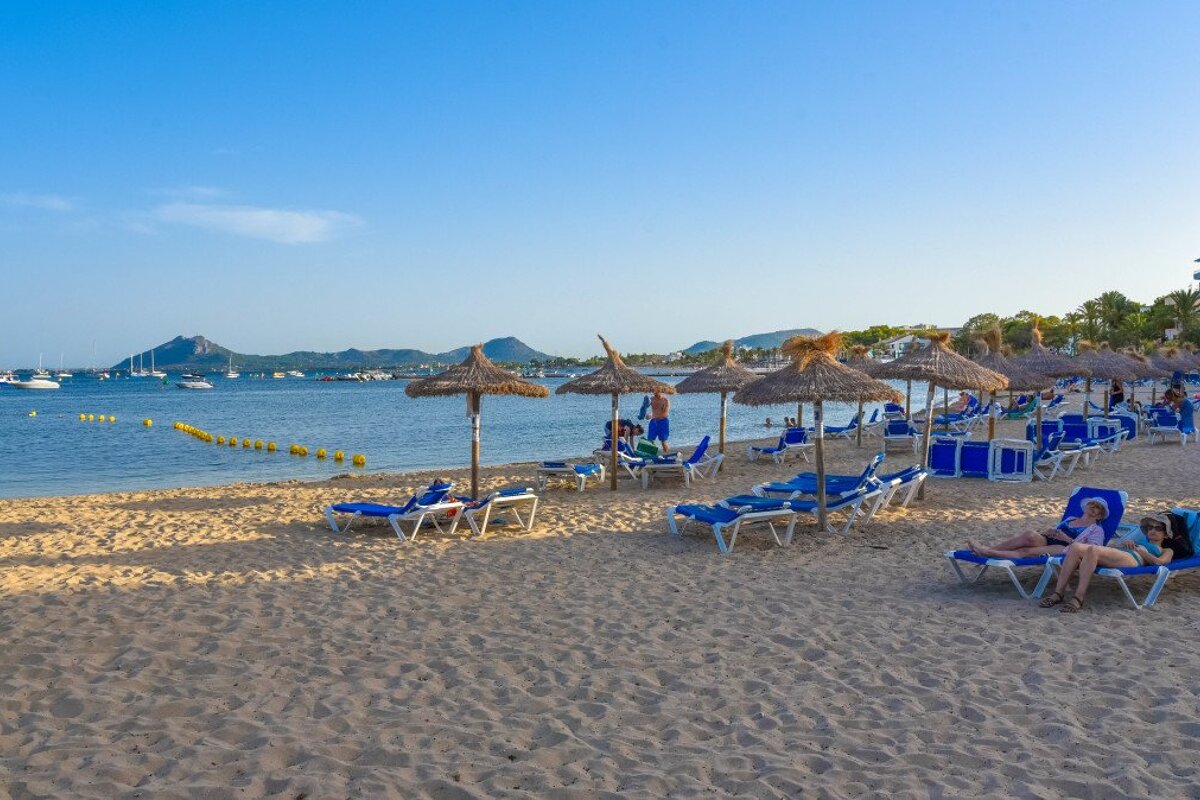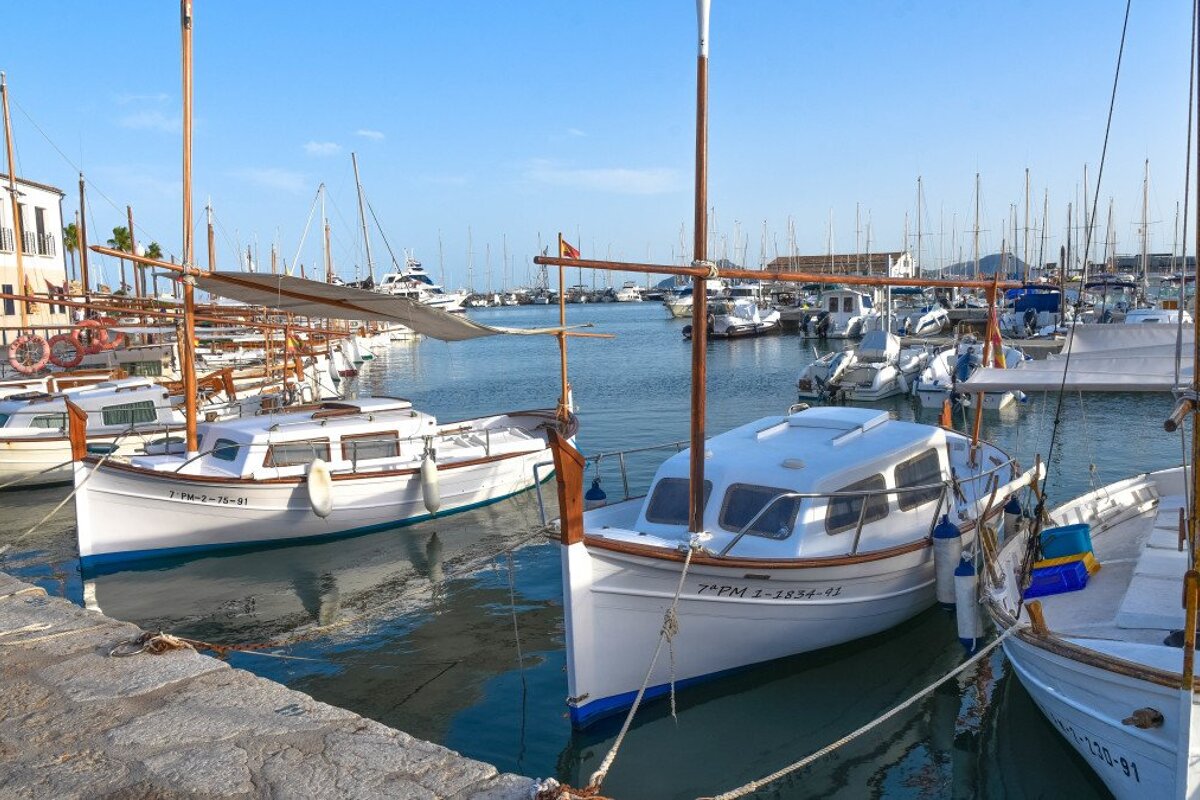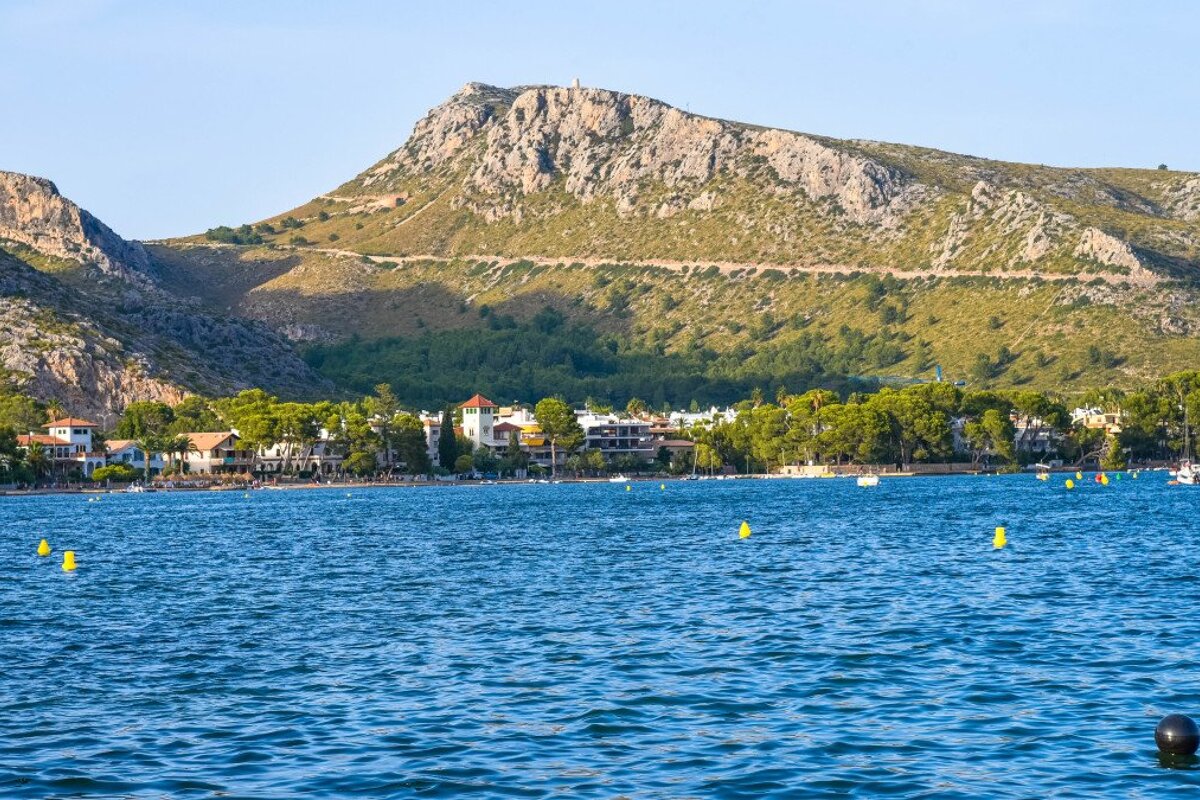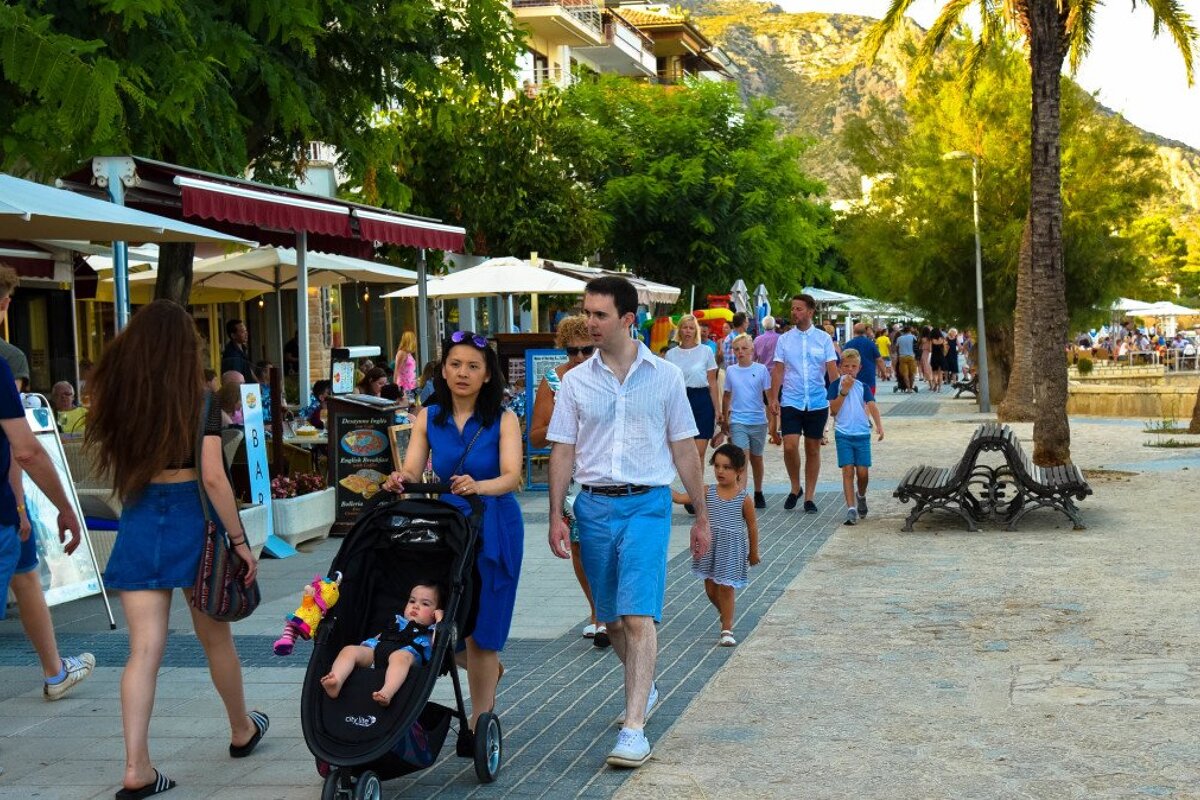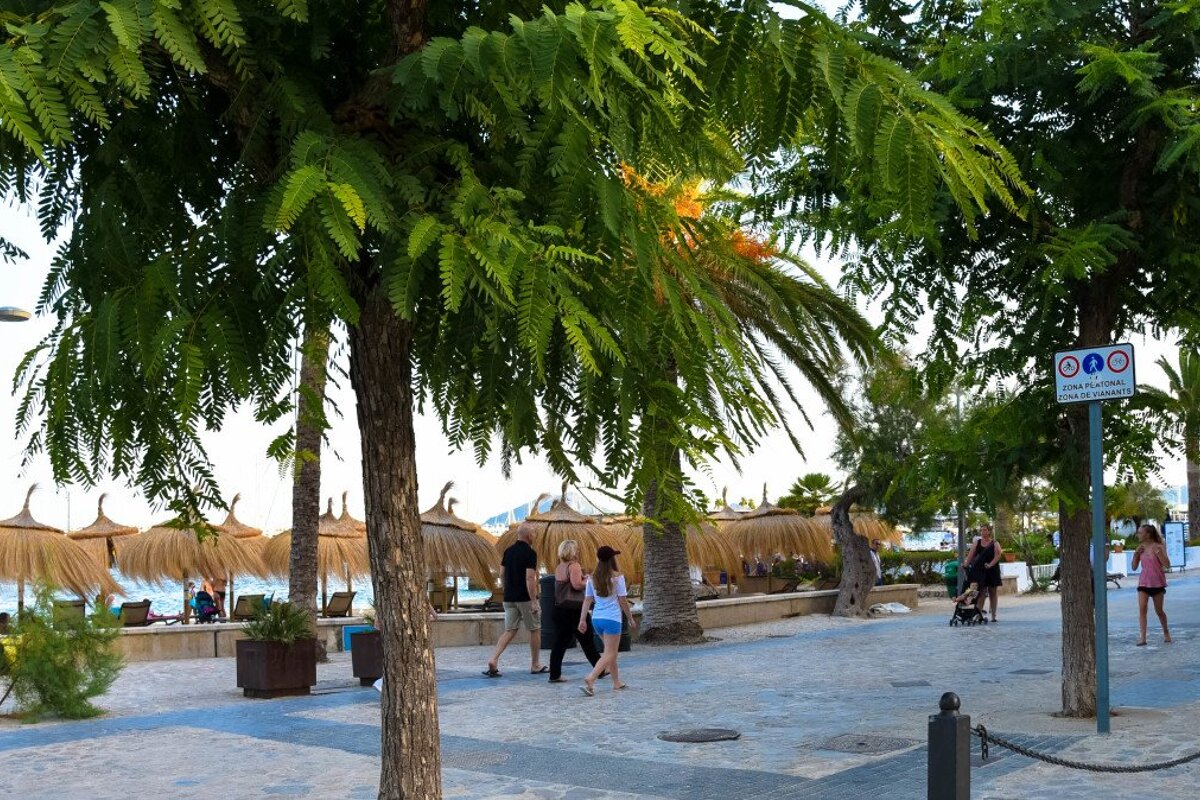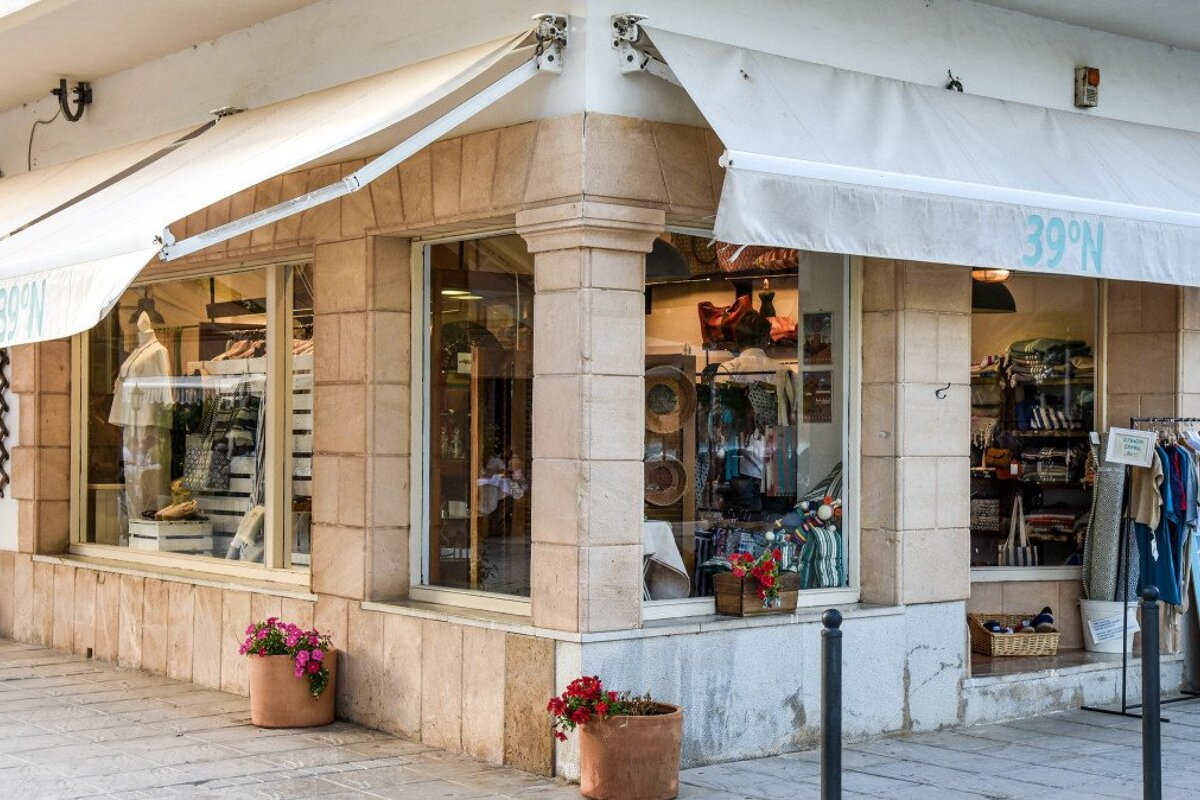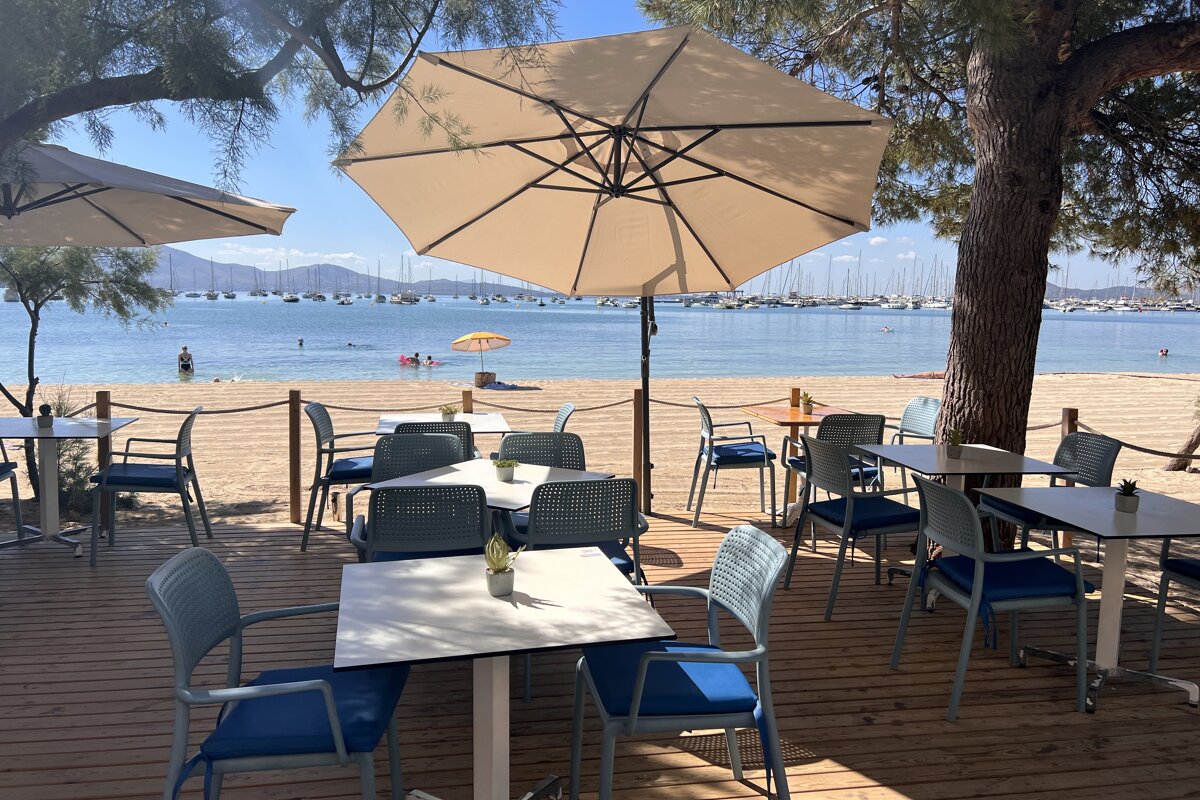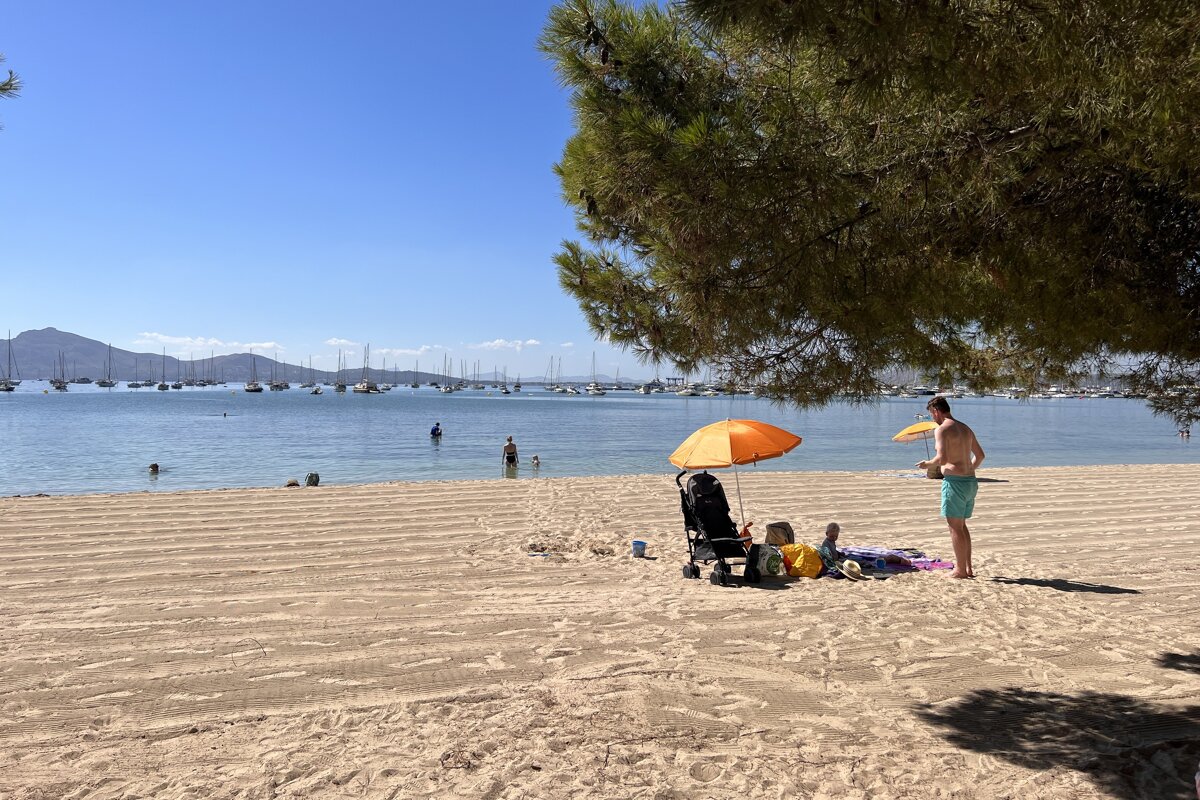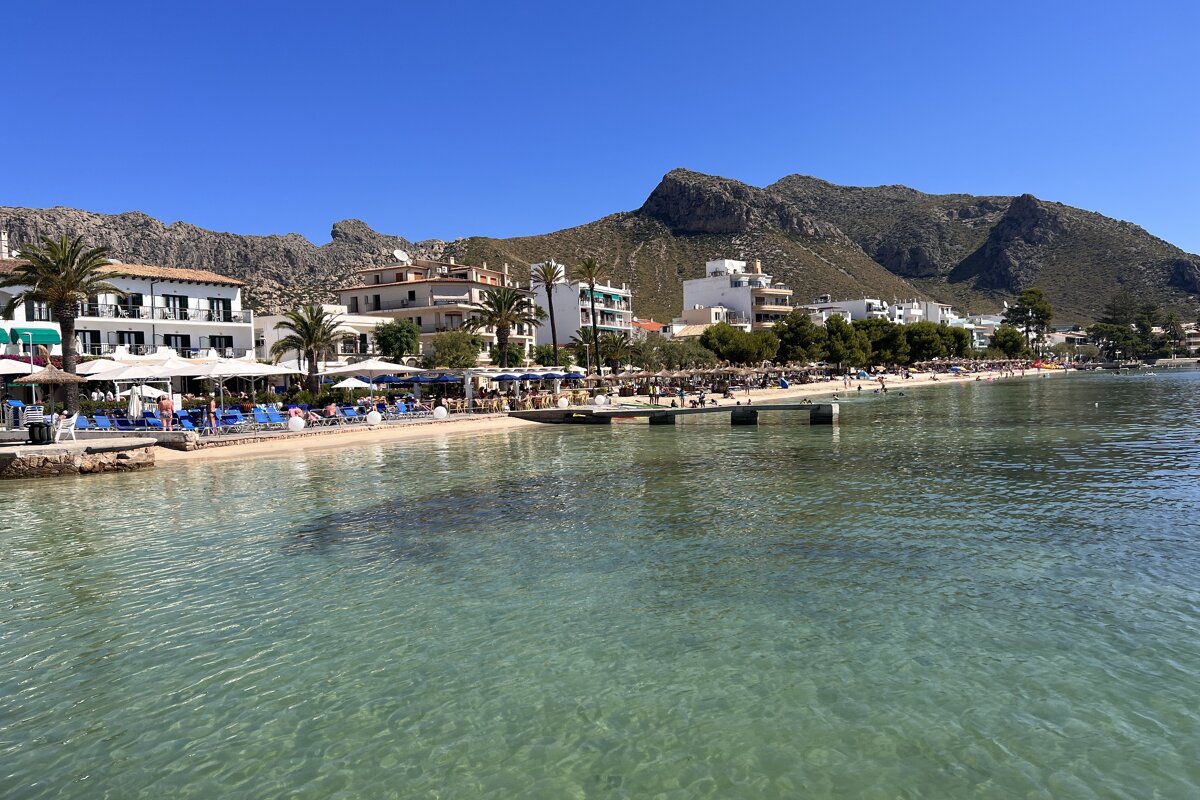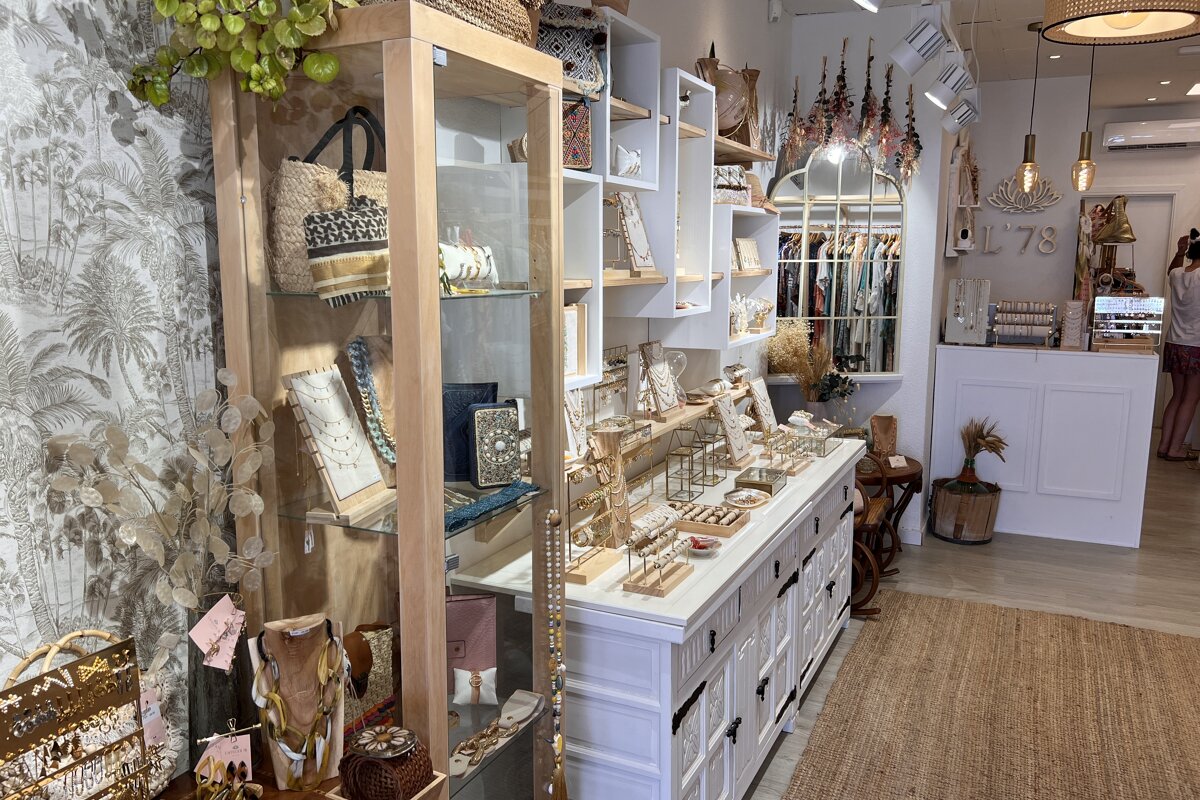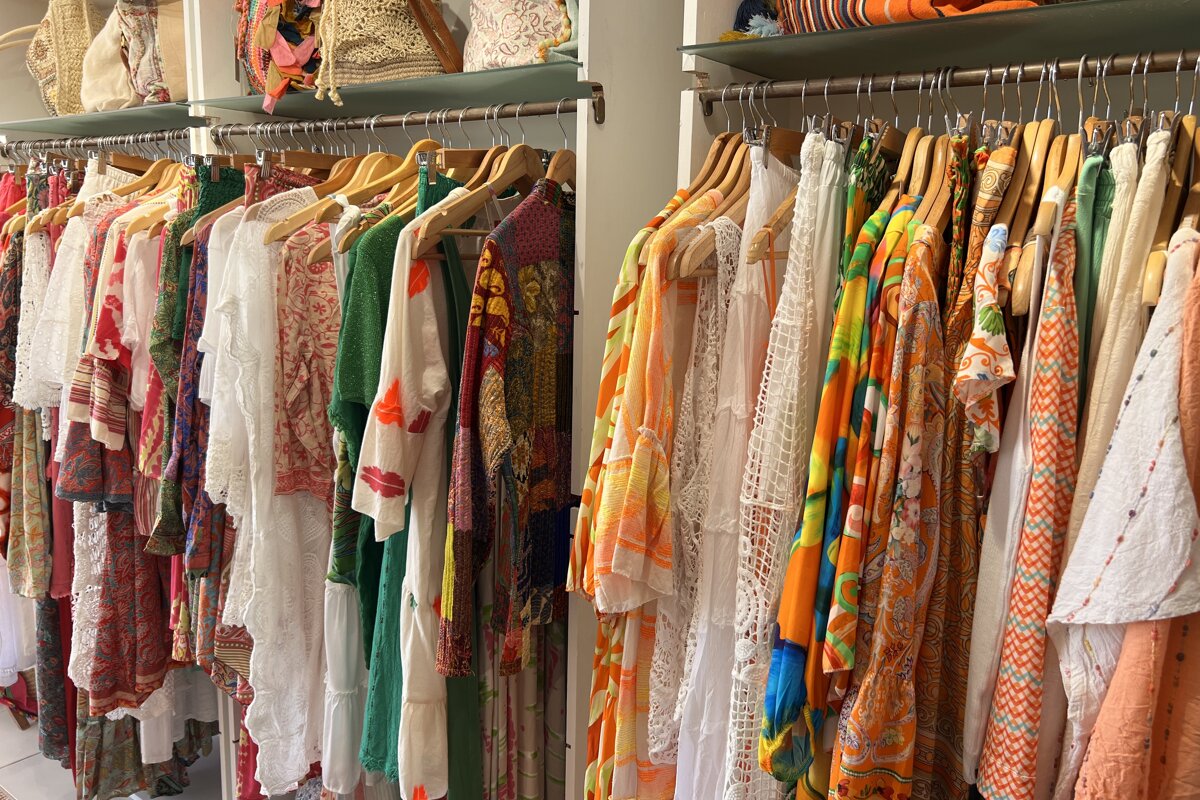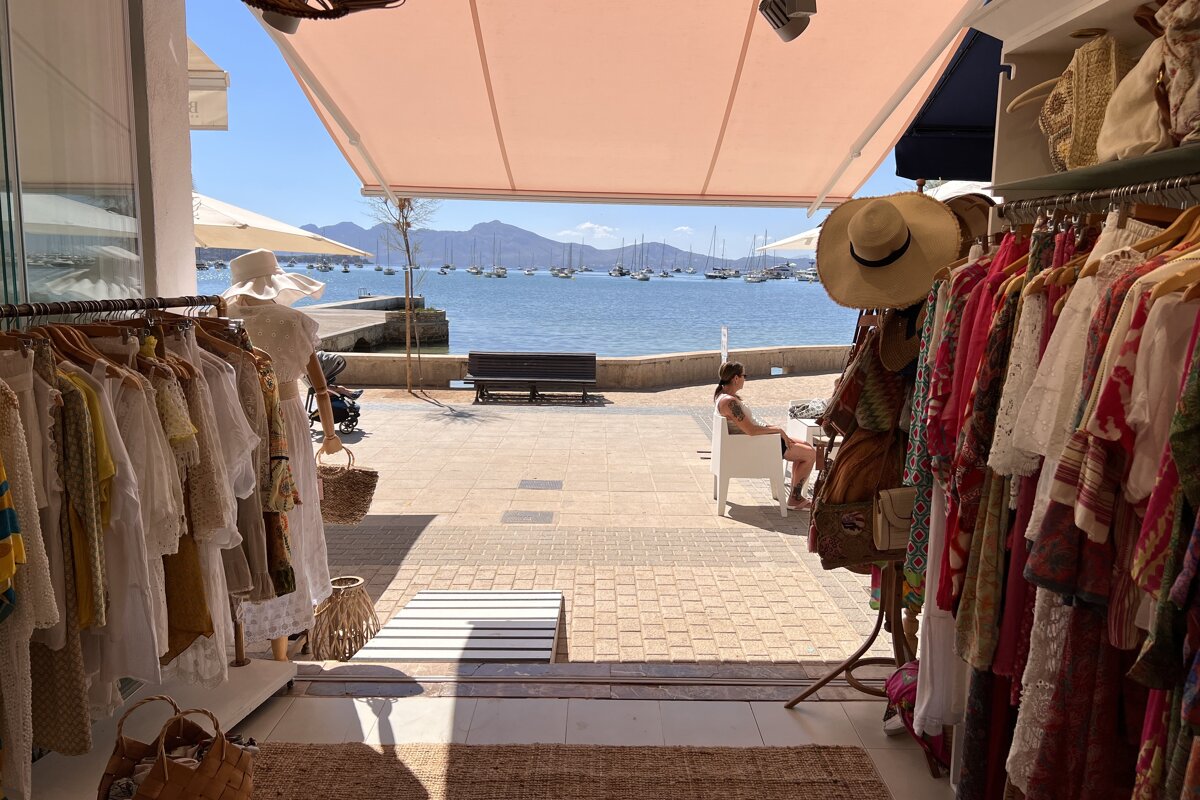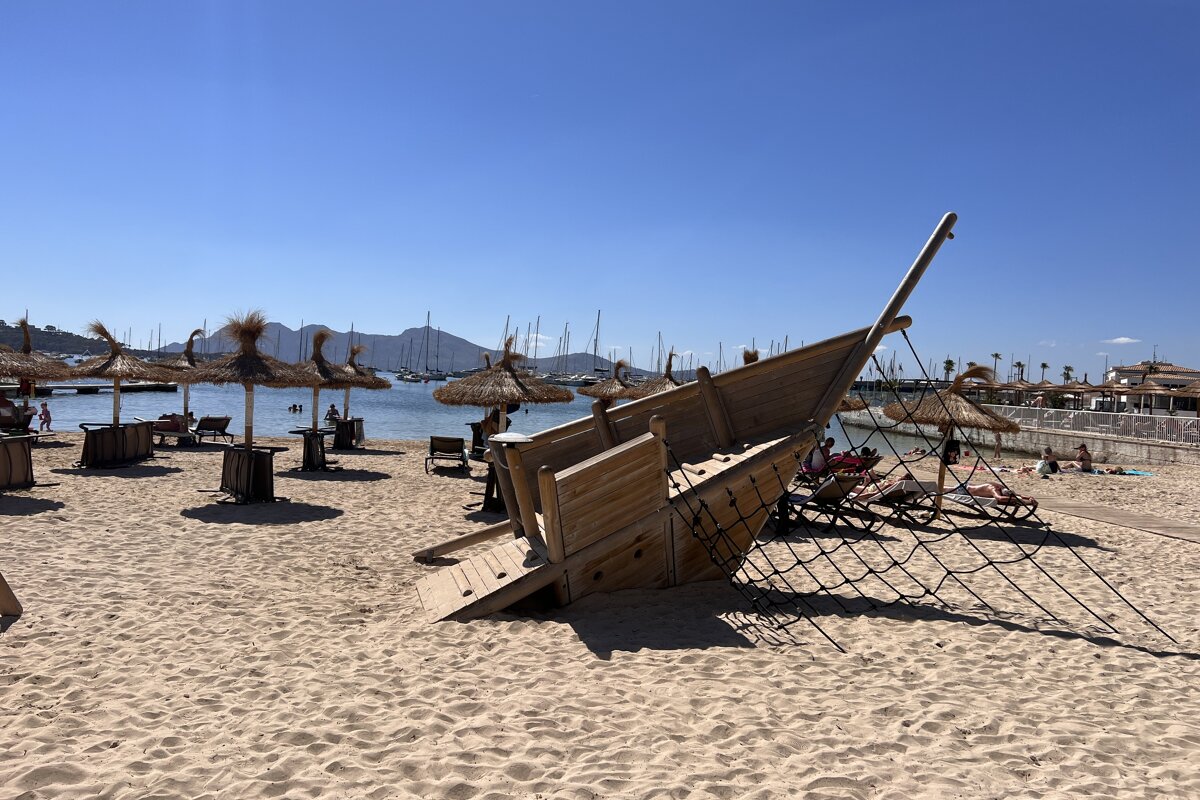 Port de Pollenca (Puerto Pollensa), Mallorca
A popular family resort in the north-west of Mallorca
Port de Pollença, also known as Puerto Pollensa, is an established, family-friendly tourist resort in the north of Mallorca. Like many Majorcan coastal towns, the resort was formerly a fishing village servicing the local area. It still features a large marina which nowadays harbours leisure boats more than fishing boats, but you can still see many traditional 'llaüts' used by the Mallorcans for catching fish.
Sitting in a large horseshoe bay, Puerto Pollensa affords splendid sea views and a picture-perfect mountain backdrop. It is well protected from strong winds, making it an ideal location for a seaside retreat. As you might imagine from an established resort, the town offers a wide range of restaurants, bars and hotels. But the surrounding area is scattered with holiday villas of all different shapes and sizes, a popular accommodation choice in this part of the island.
The beachfront is the main attraction and has two completely different dimensions. South of the port you will find a long commercial beach known as Port de Pollença Beach, where purpose-built holiday apartments, restaurants and tourist shops line the road opposite the pedrianised promenade. Travelling further north of the port, the coastline just gets more beautiful as more of its traditional roots penetrate the area. The Pine Walk promenade (Passeig Voramar) provides a more tranquil and narrow beach, lined with traditional style Mallorcan chalets complete with pine trees leaning into the sea - it really is an idyllic setting.
This genteel resort has been a popular family holiday destination for decades and, in the summer months, the town really blossoms. However, its close proximity to Mallorca's Serra de Tramuntana mountains means that it also attracts keen hikers and cyclists between the months of October and April. Over the years, Puerto Pollensa has captured many hearts, with a high volume of return visitors. In present times, there's also a large community of expats, mostly retired British, dwelling in the area.
There's the opportunity to immerse yourself in more authentic Mallorcan culture in the neighbouring inland town of Pollença. Here you will find a quaint town with stunning architecture and ancient landmarks; its traditional market is also worth a trip on a Sunday morning.
History & Culture in Port de Pollenca (Puerto Pollensa)
Puerto Pollensa is an old fishing town, and whilst it isn't as rich in history and culture as the inland historic town of Pollença, it has made its way into the history books. During the Spanish Civil War, under the orders of General Franco, Port de Pollença's lighthouse was turned into a military base. It was used in a big attack on Guernica in Northern Spain in 1937. Making history as one of the first raids on civilian population by modern air force, sending shockwaves internationally and inspiring an anti-war painting by Pablo Picasso.
On a brighter note, many artists and writers have been known to spend time in the area before the tourist boom. Agatha Christie stayed at a hotel in the Pine Walk, which features in in her book 'Problem at Pollensa Bay and Other Stories'. Famous painters including Argentinian Atilio Boveri and Hermenegildo Anglada Camarasa also lived in Port de Pollença for a time.
History lovers should visit the ancient historic town of Pollensa, a few kilometres inland. Here is where you will find quaint cobbled street with architecture representing hundreds of years of history, including the 14th-century Gothic church of Sant Jordi, the convent of Santo Domingo. There's even a bridge crossing the Torrente de Sant Jordi dating back to Roman times.
Beaches in Port de Pollenca (Puerto Pollensa)
The main beach in Puerto Pollensa is Port de Pollença Beach, which you will find as you head away from the centre of town and towards Llenaire. The beach is long and wide, made of soft golden sand and is well stocked with sun loungers and parasols ready for sun worshippers between March and October. To keep its patrons replenished, there are a couple of beach bars serving snacks and beverages throughout the day on the beach. If travelling by car, then free parking is available on the road parallel to the beach, but in peak season you might have to venture toward the paid parking in the car parks nearer the port.
On the north side of the port, D'Albercuix Beach runs alongside a 1km promenade, the Passeig Voramar, otherwise known as the Pine Walk. It is lined with tall pine trees (hence the name) and is paved with rustic paving stones. The beach is narrower but prettier, with soft sand and still water, making it a particularly popular spot for families with young children. Other small coves in the bay of Pollenca are Cala San Vicenç, Cala Barques and Cala Molins. They are well worth a visit, the waters are a vibrant turquoise and snorkel masks are an absolute must, but you will either have to hike or drive to these serene locations.
Events in Port de Pollenca (Puerto Pollensa)
Port de Pollença takes part in many of the island's traditional festivals throughout the year. It also has some of its own unique celebrations, many of which are marine-based, including regattas and seafood festivals.
Sant Pere Fiesta, held on 29th June, celebrates the local fishermen with traditions such as regional dances, concerts, tributes to old fisherman, a marine fair as well as some children's entertainment to keep the little ones happy. These celebrations continue into the second week in July, when the Verge del Carme Fiesta takes place featuring a mass at the Church of the Virgin of Carmen followed by the traditional parade of St Peter and the Virgin through the streets to the port, where the procession board boats and continue out on the water. The evening finishes with even more entertainment, followed by some traditional demon and fire running!
The historic town of Pollença, a few kilometres inland also hosts some brilliant events. La Patrona is one of the most significant, typically held at the end of July and beginning of August when locals re-enact a mock battle between the Moors and the Christians.
Things to Do in Port de Pollenca (Puerto Pollensa)
There's certainly a leisurely, slow-paced way of life in Port de Pollenca, which is one of the many reasons why it is a favourite amongst families, it's an ideal holiday destination for just kicking back and relaxing on the beach with your favourite book. But for those who can't sit still on holiday, fear not, the town and the surrounding area has much more to offer than lying hanging around on a sun lounger.
Watersports
Port de Pollença offers a good range of watersports in the summer months between Easter and October. Pedaloes, kayaking or paddle boarding are great activities for the whole family to get involved in. Thrill seekers might prefer a banana boat ride or a parasailing experience to get their adrenaline rush. You won't have to travel too far to find these activities, just take a stroll along the main beach south of the harbour and you will spot them lying on the beach. Kitesurfing is an exceptionally popular sport in this part of the island, travel to the southern point of Pollença Bay to catch some waves. It's worth noting there's a kitesurfing and stand up paddle school – Mallorca Kiteboarding & SUP, within close proximity to the surf too!
If you'd like to get up close and personal with some of the underwater attractions of Mallorca, scuba diving could be for you. There are two scuba schools near the marina, Actionsport Dive Centre and Scuba Mallorca, both of which offer PADI scuba training.
Boat Trips
You can take various boat trips from Port de Pollenca. Some sail around the large bay visiting some of the small coves, whilst others venture a little further travelling round to the famous Cap de Formentor. Hop on board two splendid old-school sailing yachts like Tudor Dawn and Rozamar for a truly unique and intimate experience. This kind of boat trips can be booked for either a half day, a full day or a sunset cruise on a shared or private charter. They usually come complete with snorkelling equipment and other inflatable toys.
Yacht Charters
It's possible to charter your own private yacht from Port de Pollença harbour, best for a more exclusive sailing experience around the Mallorcan coastline. Trusted companies like Llamprell-Marine and Blue Water Yachting, give you the chance to explore the many hidden coves along the coastline at your own pace. Whether you want to charter a motor or sailing yacht for a day, week or longer, there will be something here for you to enjoy. Deep sea fishing trips can also be arranged in this area with Fishing in Mallorca.
Hiking
Hiking provides the perfect opportunity to explore some of the wonderful countryside around Puerto Pollensa in the cooler months. There's an assortment of hiking routes available for all levels of ability within close range of the port. Hiking through the Tramuntana valleys to Cala Boquer or to neighbouring Cala Sant Vicenç are popular options. Although the 3km hike across the Formentor peninsula through the Boquer valley is especially popular for ornithologists and lovers of wildflowers.
Cycling
Cycling is very popular here as there is a great variety of terrain that will suit almost every level of cyclist. There's a designated cycle path to the south of Pollença for a gentle flat route around the bay. Otherwise, head into the mountains for thigh-bursting climbs. You can expect great views either way! If you don't fancy lugging your bike to the island, then there are plenty of places to rent a bike. Amongst some of the best cycle hire centres in this area are Bike Experience who can deliver the bikes to your doorstep.
Golf
There are some outstanding golf courses in Mallorca and two within close proximity to Puerto Pollensa. Golf Pollensa is a 9-hole golf course and possesses two of Mallorca's longest holes. Its rolling fairways, protected by trees and other obstacles can be categorized as medium level in difficulty. Just up the road in Alcudia, Alcanada Golf Course is one of the best 18-hole golf courses in Mallorca. Designed by renowned architect Robert Trent Jones, it is recognised by a number of well-known golf magazines and golf guides as one of the finest courses in Spain and Europe.
Shopping
The shops in Puerto Pollensa are mainly tourist gift shops but there are a couple of clothing boutiques and charcuterie dwellings for foodies to enjoy. For artisan crafts and Mallorcan products, it is best to go to nearby Pollença where there is a beautiful ceramics shop two minutes away from the square called Monti-Sion on Carrer Monti-Sion. The market in Puerto Pollensa is on every Wednesday morning and sells fruit, vegetables and souvenirs; we also recommend travelling to the old town of Pollenca for its more traditional Mallorcan market every Sunday.
Dining in Port de Pollenca (Puerto Pollensa)
During the evenings, the town square in Puerto Pollensa turns into a hive of activity as restaurants fill with people. There are so many different good restaurants to choose from, you will find you are spoilt for choice. So here are a few recommendations to help you on your way!
Mediterranean cuisine & seafood
Located in the town's harbour, La Llonja offers the finest fresh fish and seasonal dishes. This sophisticated restaurant overlooking the marina has an outdoor terrace in the summer months and an indoor restaurant during the winter. Prices are on the more expensive side but their set menu is very modestly priced 34.80€ including wine. A more modern establishment in the marina is Restaurant Stay, it also offers a fantastic 'Menu del Dia' for 37.50€ while a Mediterranean theme clearly runs through the menu but there is a contemporary flair to the dishes and their presentation.
Argos Restaurant is a Michelin-starred eatery, serving up traditional local food with a contemporary twist. Bellaverde has made a bit of a name for itself, although it is vegetarian it has become the talk of the town and even managed to sway the most avid meat lovers to try it out! Further away from the port, towards Llenaire, you will find Swing which serves up a mixture of traditional Mallorcan cuisine and more popular international dishes. Paella is always a good shout here.
To escape the hustle and bustle of Port de Pollenca in the evenings, it is worth venturing just outside of town to Cavall Bernat which resides in Hotel Cala Saint Vicenç. It serves up fresh local food in a more polished atmosphere.
Tapas
The 'Ruta del Tapeo' was introduced to Puerto Pollensa to entice hungry tapas lovers to restaurants they had never tried before. A selection of restaurants participate in the tapas crawl each month, offering a small tapas and glass of wine or beer for a bargain 2.00€. The route is held every Thursday evening from 19:00 to 23:00 and you can get more information at the tourist office or participating establishments.
Family-friendly restaurants
Family-friendly restaurants serving up all sorts of international delights can be found in Puerto Pollensa. Tiberi is an age-old favourite located just off from the main square in Puerto Pollensa, some of its most popular dishes include stir-fries and signature savoury pancakes.
International cuisine
Opposite Tiberi is a family favourite Tex-Mex restaurant, Nico's, which serves up fajitas and burgers and is very good value for money. If in need of some spice, then Indian restaurant Kashmir is one of only two Indian restaurants in the town and has massive following amongst locals and tourists visiting the island. And of course, Italian goof is always done well in Mallorca. Maxim offers some good pizza, pasta and salads and Little Italy along the Pine Walk is also a fab choice for pizza throughout the day and into the evening!
Where to Stay in Port de Pollenca (Puerto Pollensa)
The resort of Port de Pollença offers a wide range of accommodation options, from lovely sea view apartments and all-inclusive hotel packages to the eternally treasured fincas and villas situated in the back roads of the town and the surrounding hillsides. One of the most popular destinations to stay is along the beautiful Pine Walk. There are many apartments available here as well as some boutique and large hotels. Larger groups might be willing to sacrifice their location, to stay in one of the splendid houses on the hill of Gotmar, overlooking the town!
Villas in Port de Pollenca (Puerto Pollensa)
Villas and fincas are the best choice in this area for large groups or families seeking a more intimate holiday experience. There are some options within the town itself and even more in the neighbouring hillsides. There's a good mix of rustic finca style accommodation, together with some high end 21st-century formations. Rentals Pollensa, Feeling Home Mallorca and James Villas are some of the many reputable companies with villas in the area.
Apartments in Port de Pollenca (Puerto Pollensa)
There are many holiday apartment rentals available to rent in Port de Pollença, perfect for a more independent, budget-friendly experience with family or friends. Most are located within a few minutes walk from the beach and a popular choice for families.
Hotels in Port de Pollenca (Puerto Pollensa)
From boutique hotels to more economical options, Port de pollença has a wide range of accommodation on offer.
Boutique Hotels
There are a few boutique hotels in Port de Pollença offering a luxury experience for guests travelling to the area. La Goleta - Hotel del Mar is a contemporary adults-only hotel, with all the mods and cons one could want for. Its crowning glory is the Michelin-star Argos Restaurant, as well as the outdoor swimming pool with panoramic views of both the Serra de Tramuntana and the Mediterranean sea. The family-friendly Hotel Illa d'Or is located in a tranquil spot at the end of the Pine Walk and is one of the oldest and most cherished hotels in Puerto Pollensa. Whilst recently reformed, it maintains a classical elegance of yesteryear and enjoys some of the best scenery of the bay. Hotel & Aparthotel Daina appears to have everything, from a prime location and an outdoor swimming pool overlooking the sea to modern facilities and an international restaurant.
Budget-friendly Hotels
Budget-friendly hotels are easy to find in Puerto Pollença, but here are a few of our top picks. Firstly, there's the 3-star Hoposa Hotel Bahia, an intimate and charmingly retro hotel right on the promenade. If you like seafood then, whether you are a guest or not, you should stop by to sample their a la carte menu. Hotel Capri is another one worth mentioning. Once again right on the seafront, this little treasure is in a leading location and at a reasonable price. The restaurant on the jetty is a real high point, it makes for a romantic evening under the stars! There are many larger aparthotel and package holiday complexes in Puerto Pollensa such as the Flora Apartments or Puerto Azul, both situated a five-minute walk from the town square and are ideal for family holidays due to their close proximity to the beach and family-friendly facilities, including large outdoor swimming pools. The largest hotel in Puerto Pollensa, the Pollensa Park offers all-inclusive package holidays and is great for families looking for a beach holiday or a place to set up camp by the pool
How to get to Port de Pollenca (Puerto Pollensa)
By car
Although in the north of the island, Port de Pollença is easily accessible from Palma airport thanks to the MA-13 motorway, about a 40-minute drive. Come off the MA-2200 towards Pollença and this road carries on all the way through to the port.
Public transport
Whilst there are no direct buses to Port de Pollença from the airport, you can catch bus number 1 from the airport to the bus station at Plaça Espanya in Palma. From there, get the direct 340 TIB bus which leaves once per hour and takes under an hour
Location
Port de Pollenca (Puerto Pollensa), Mallorca