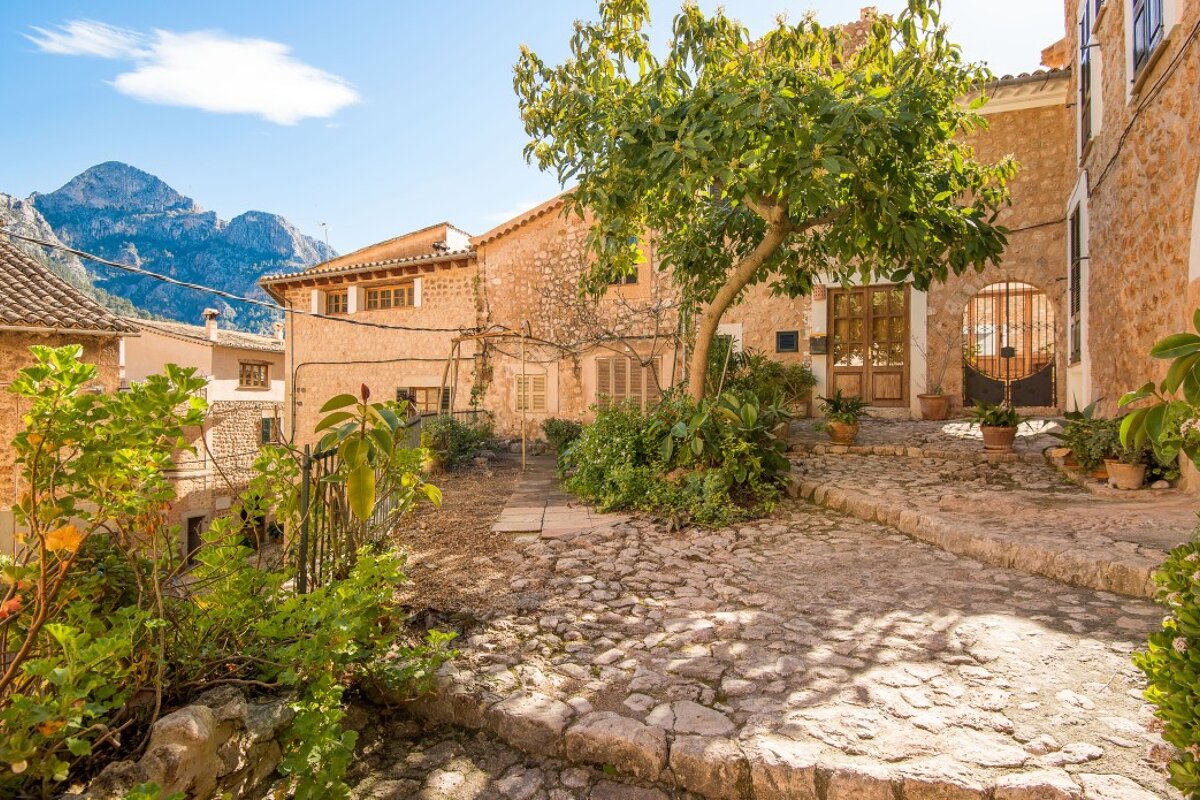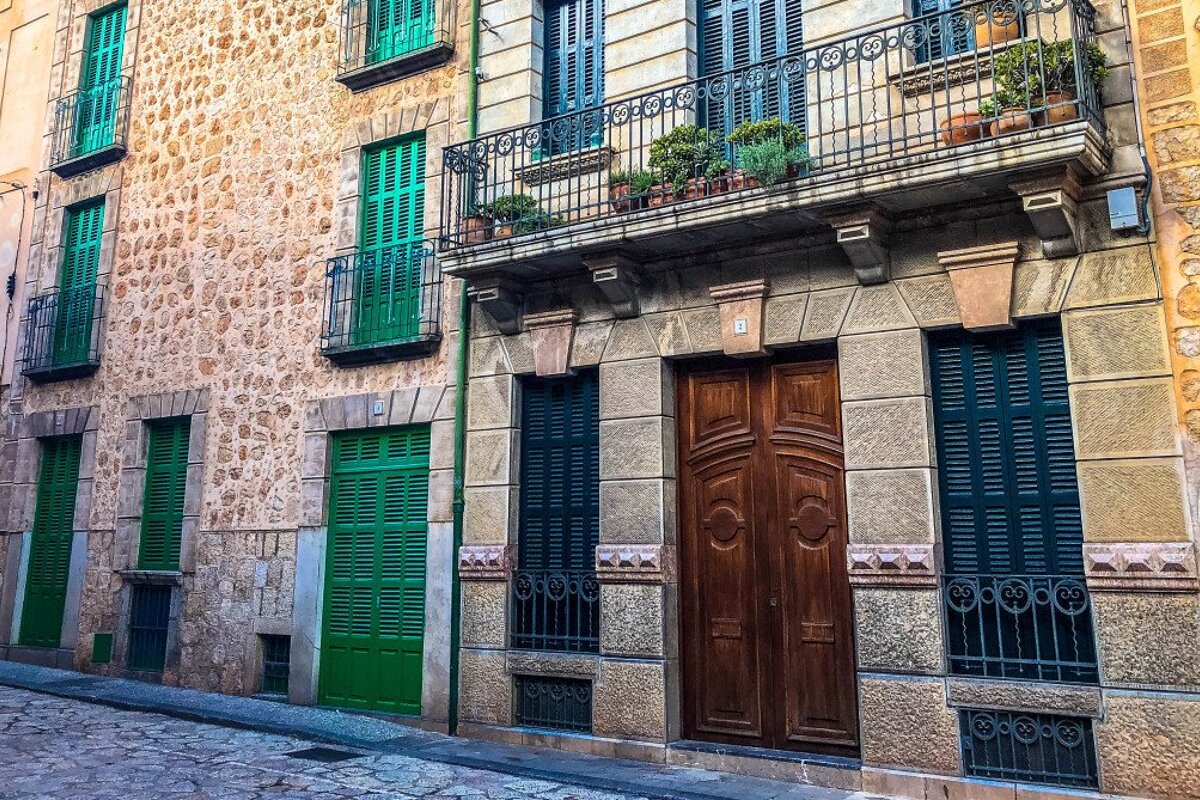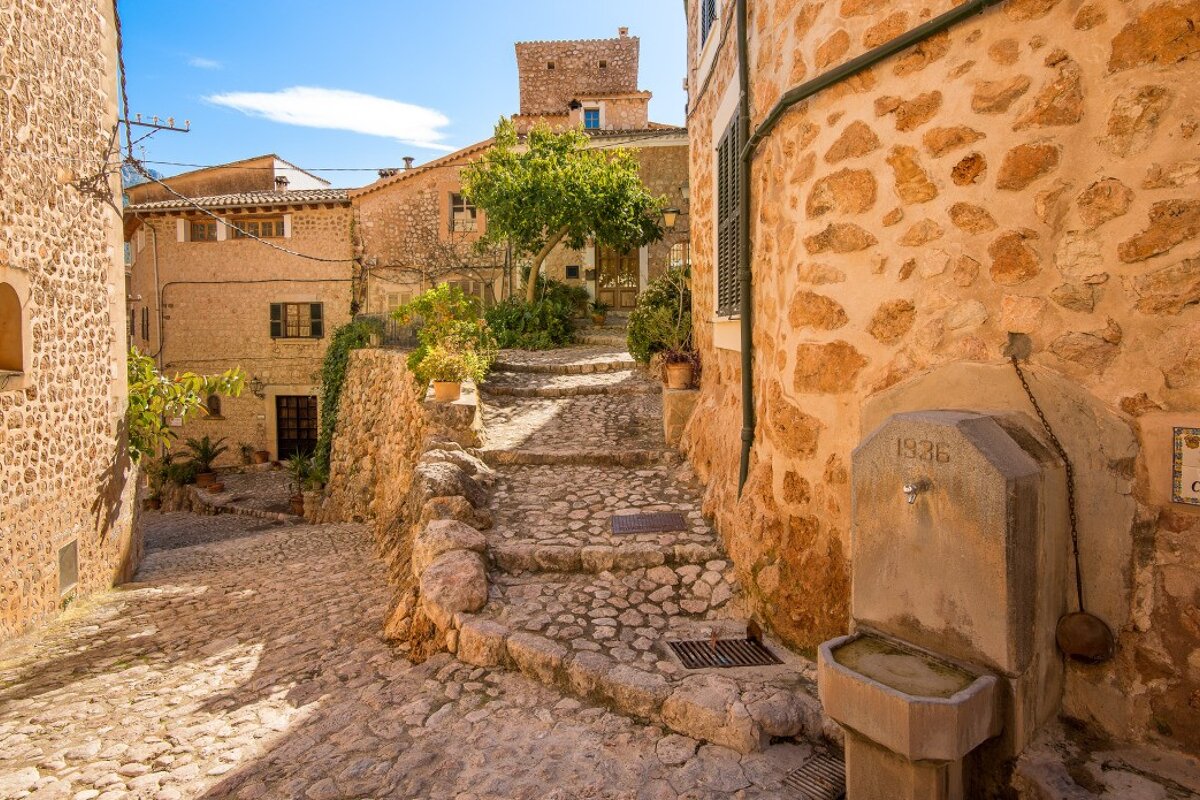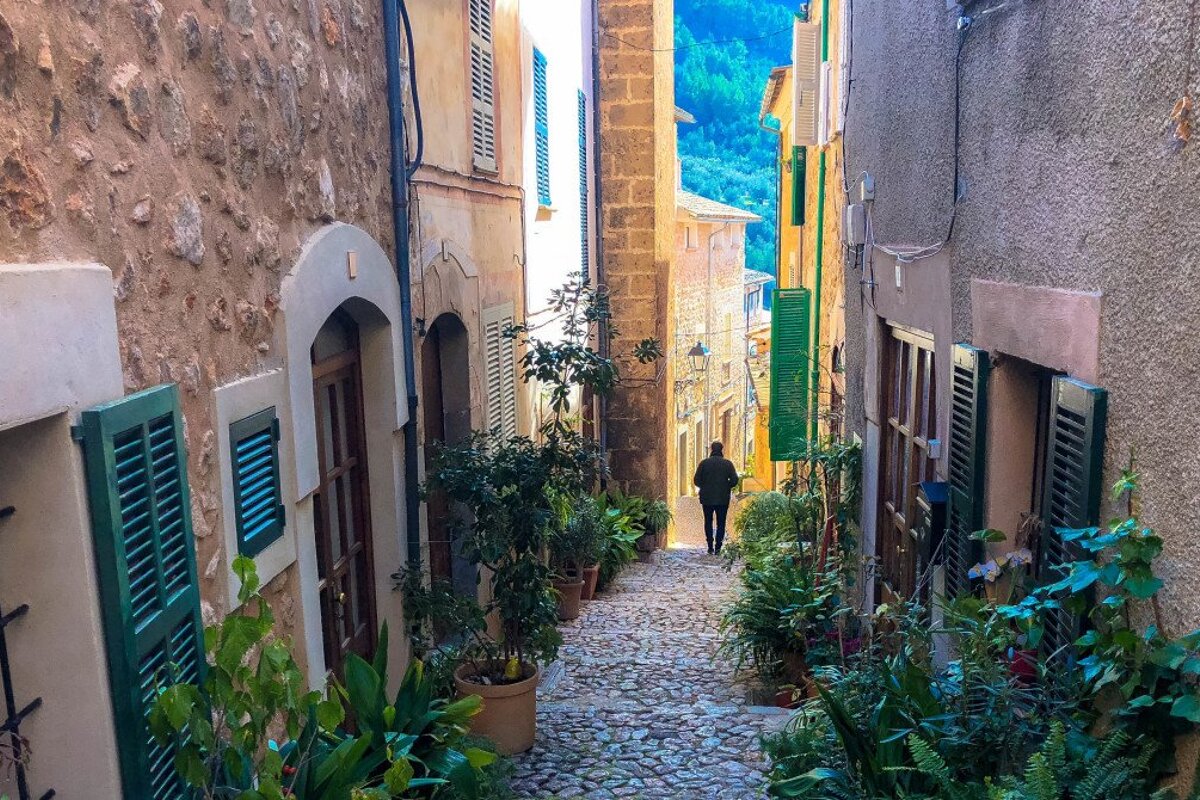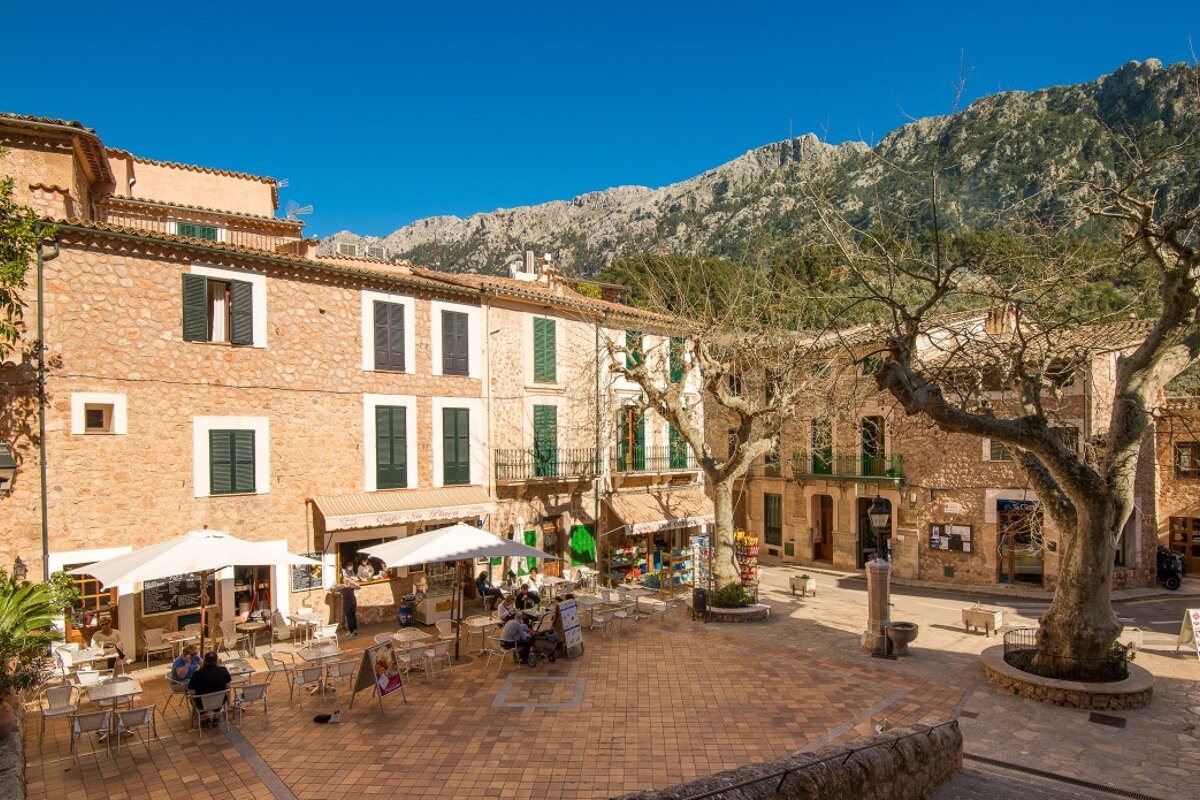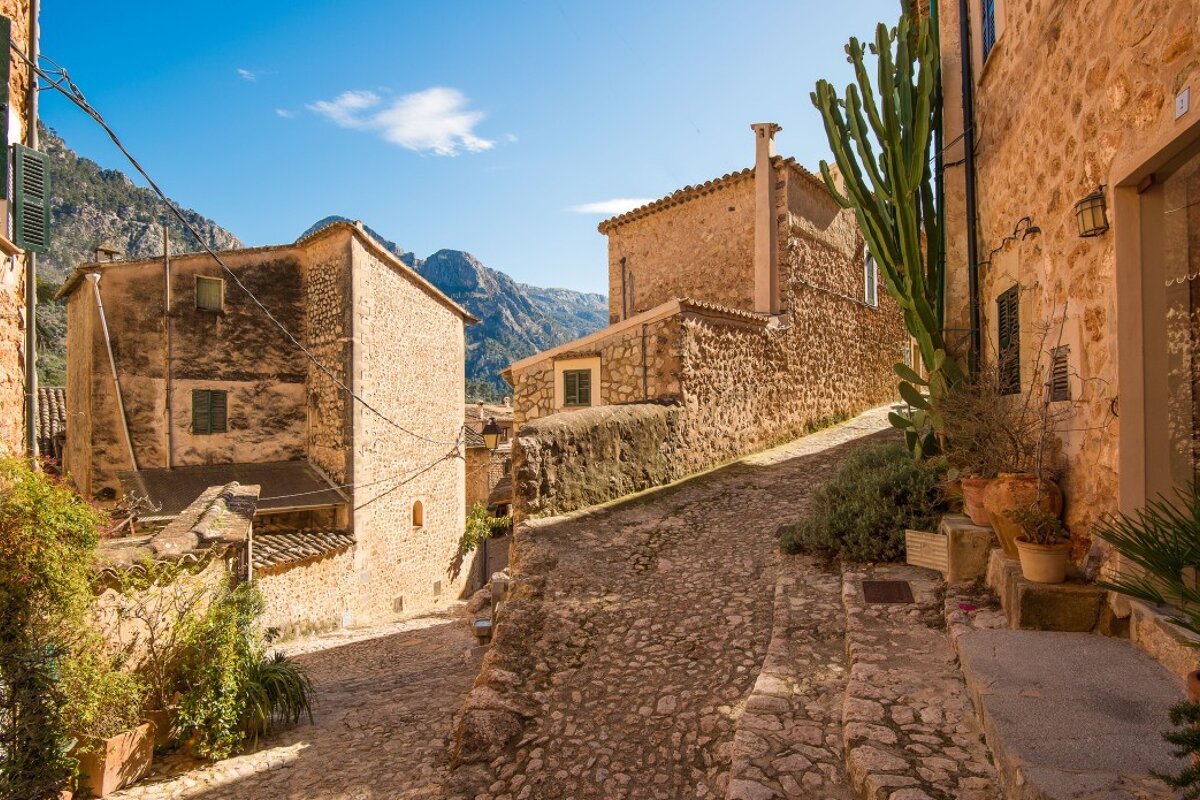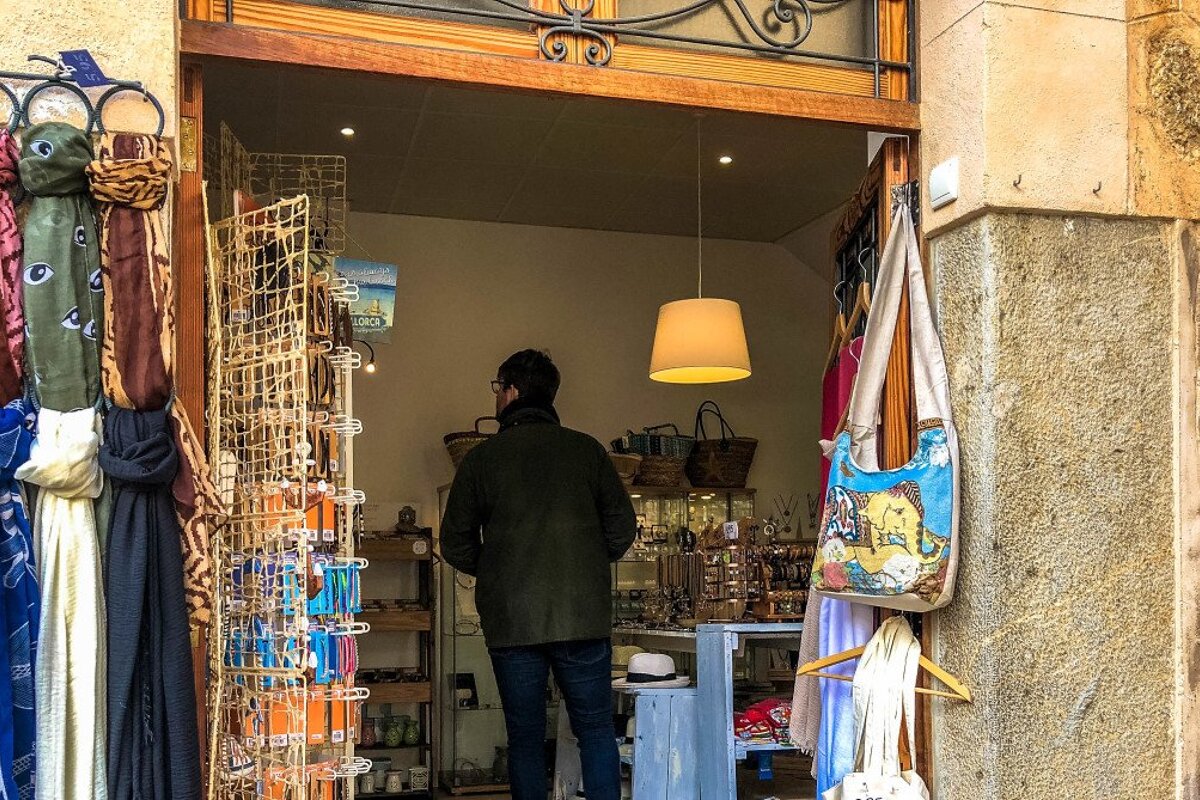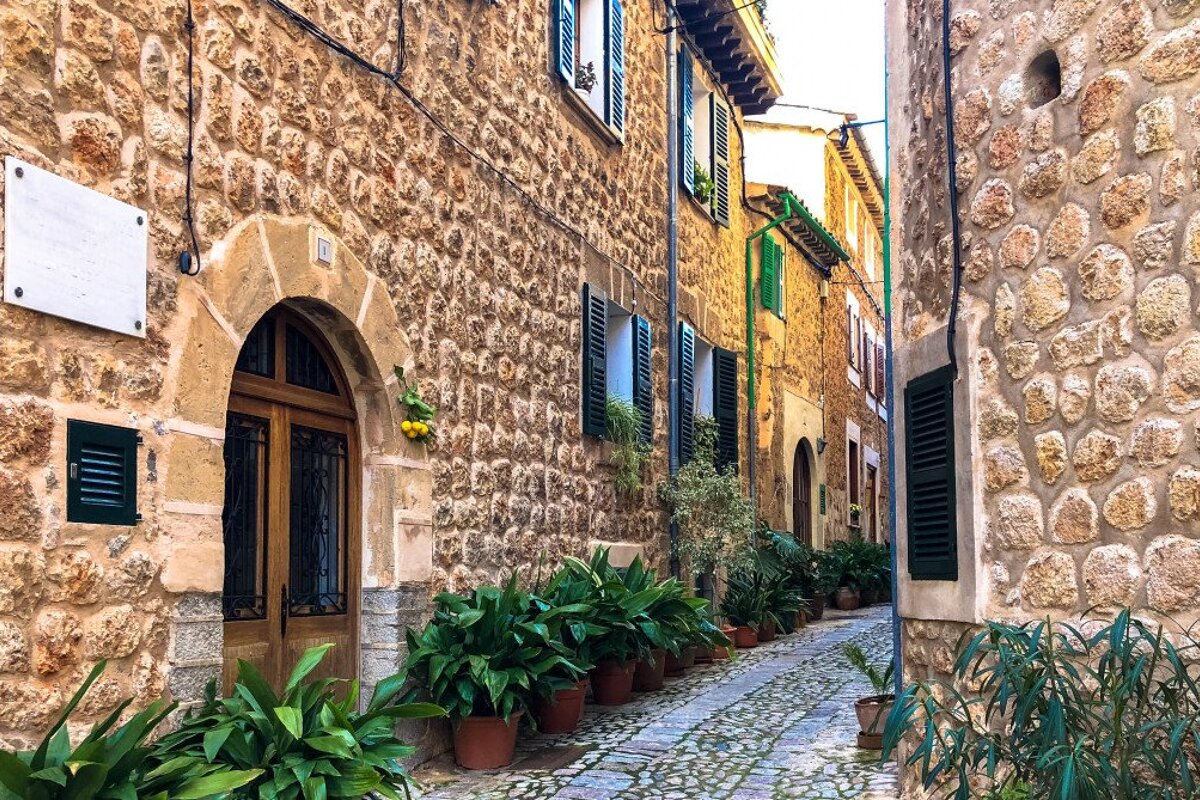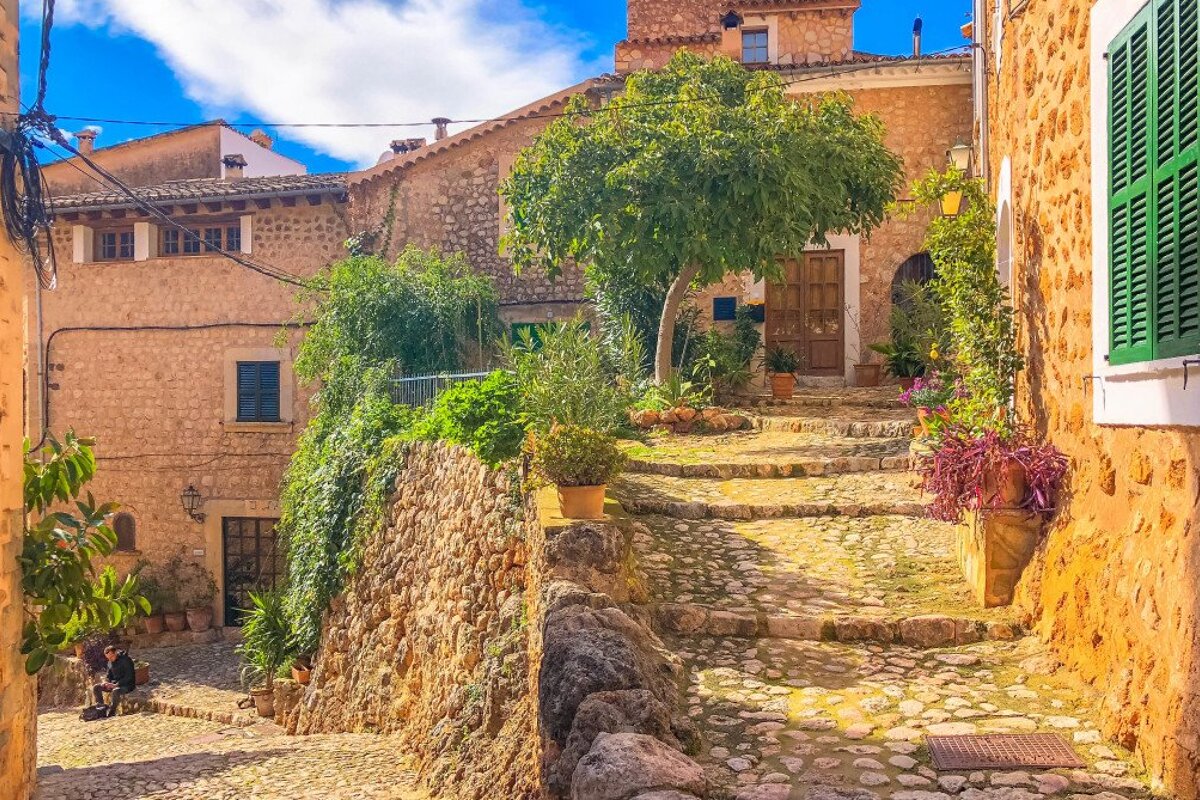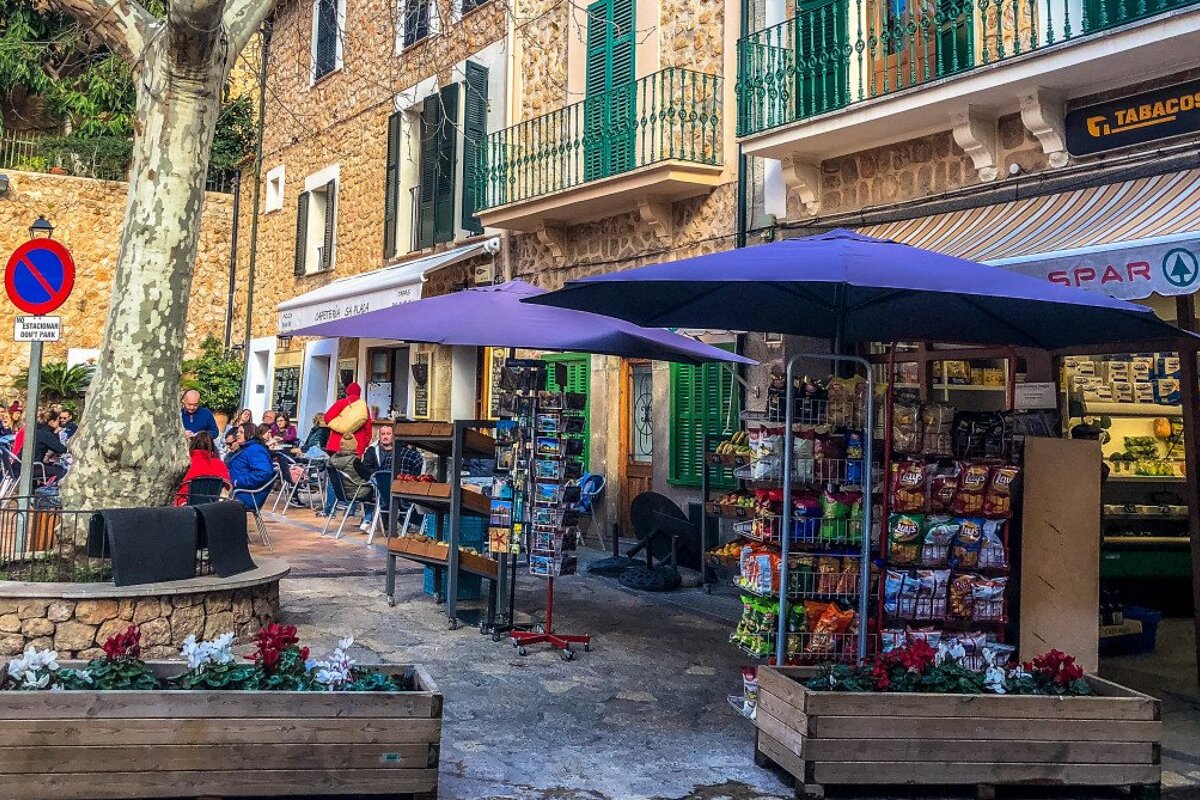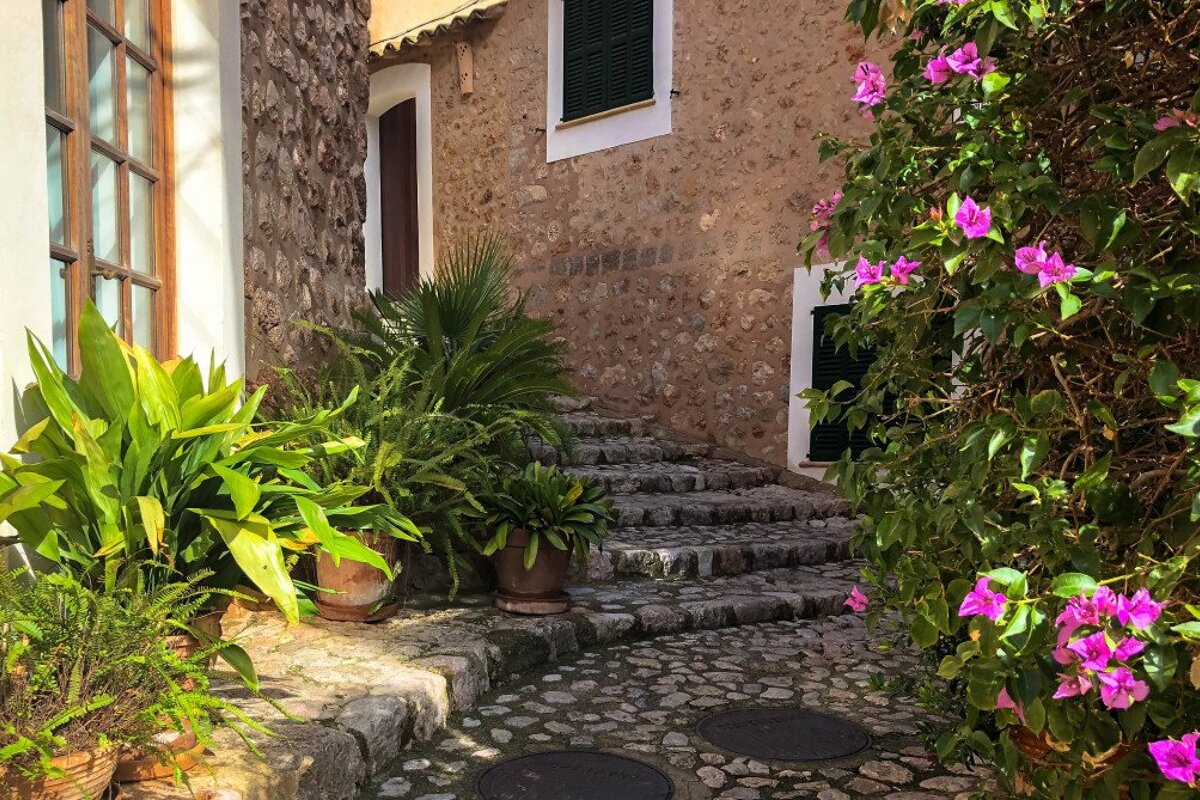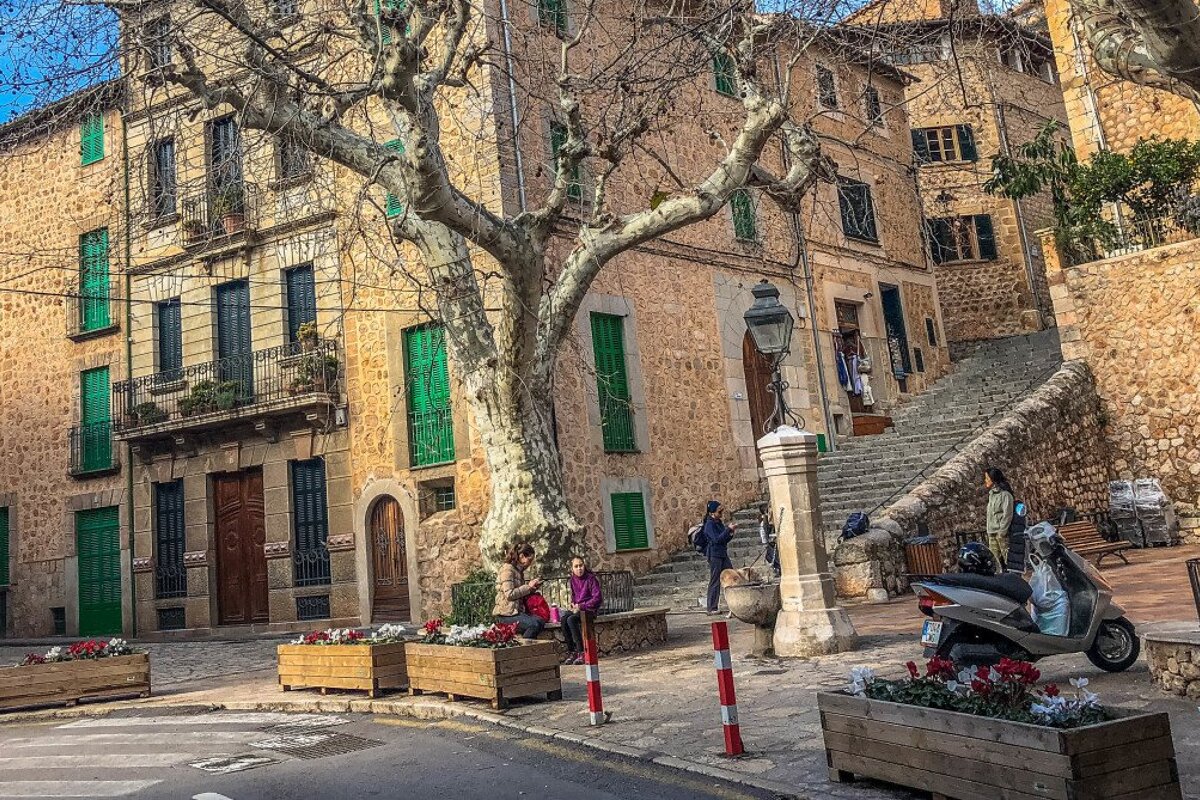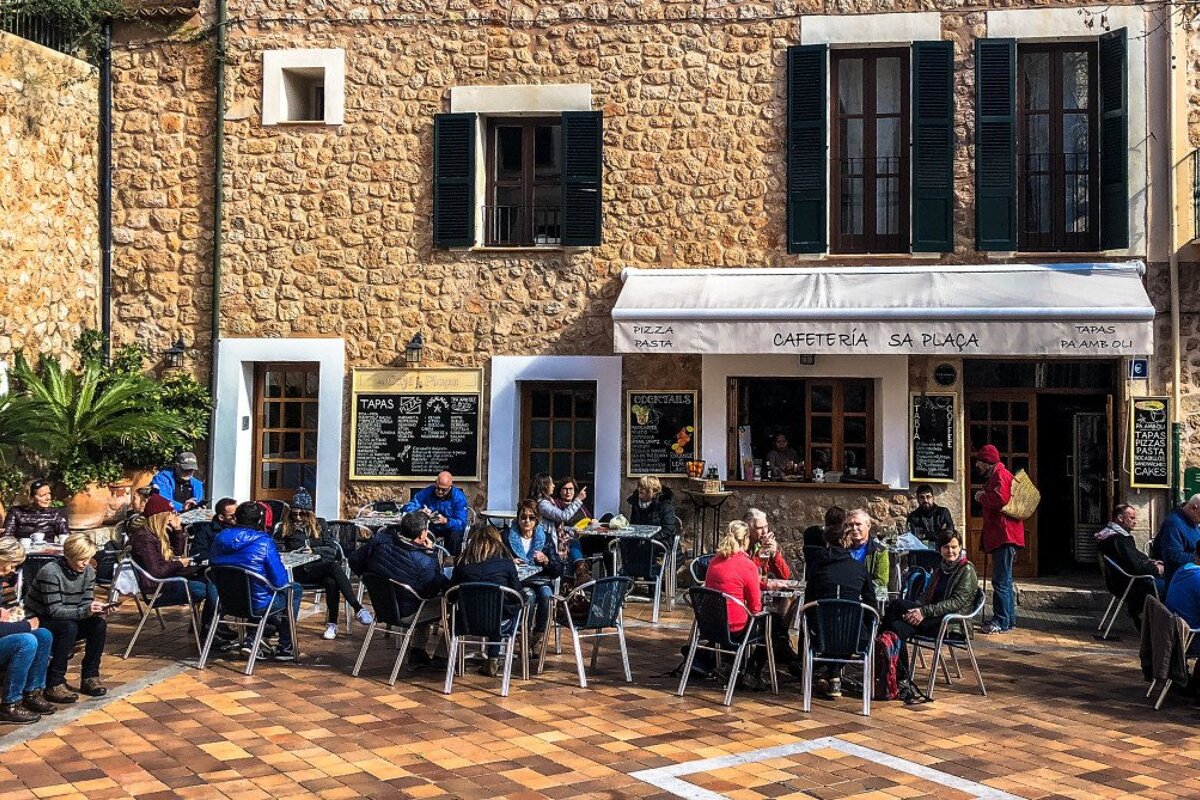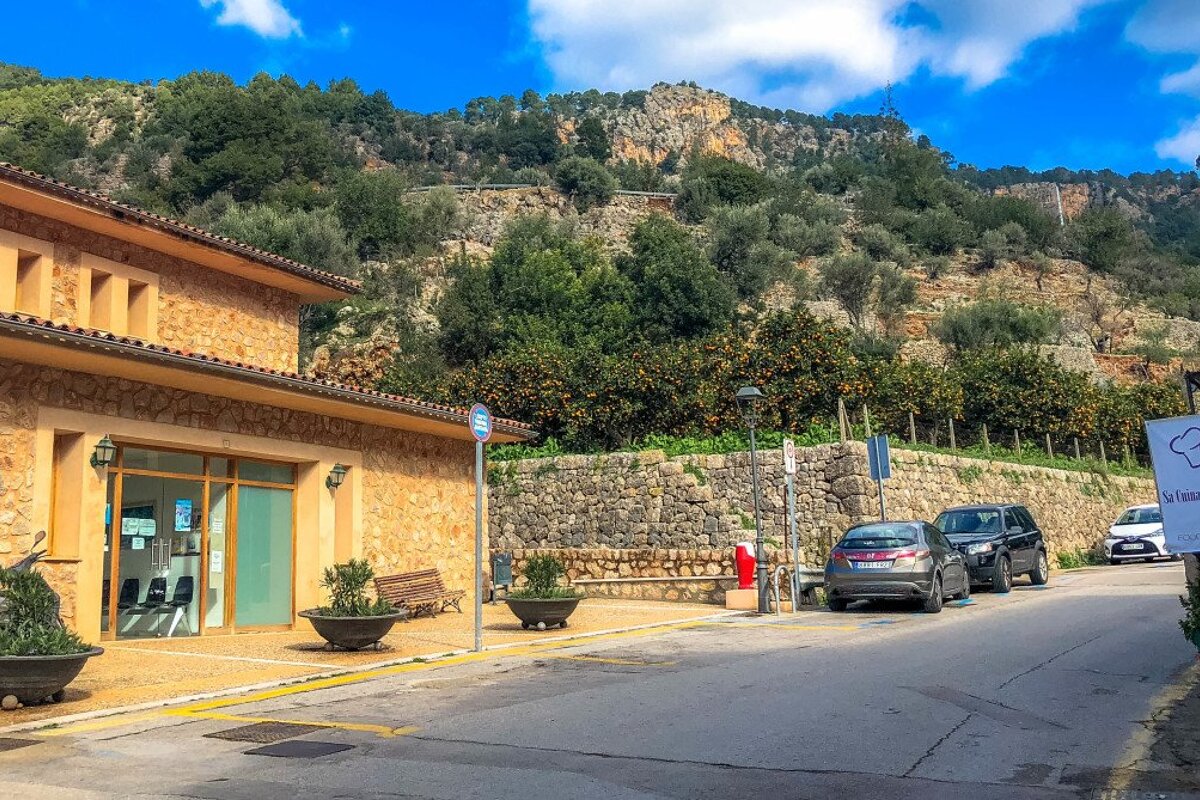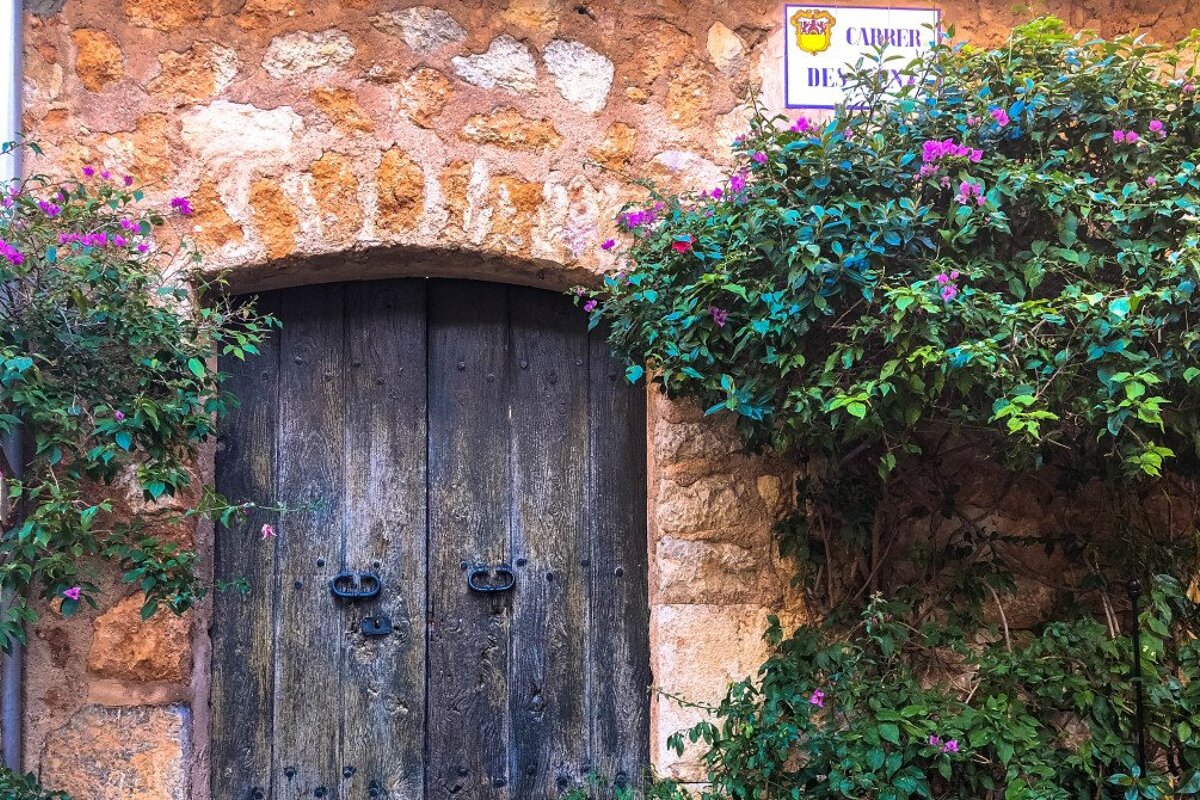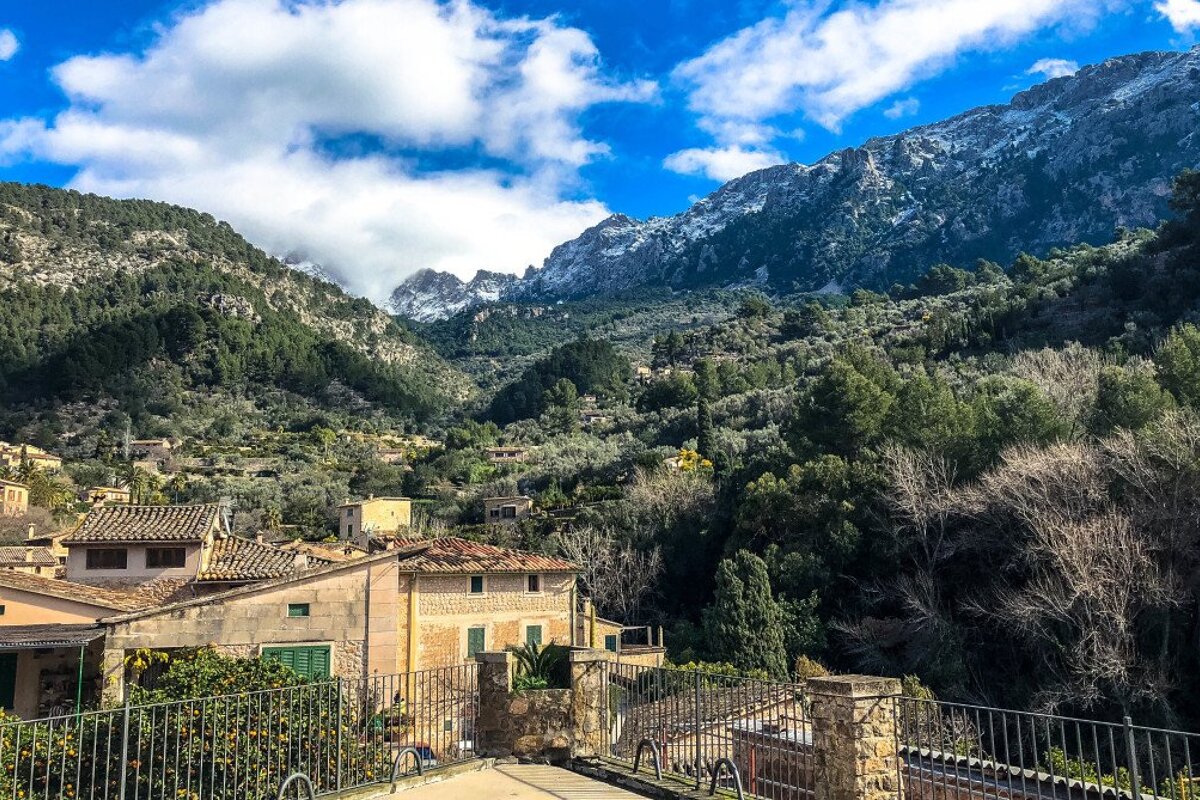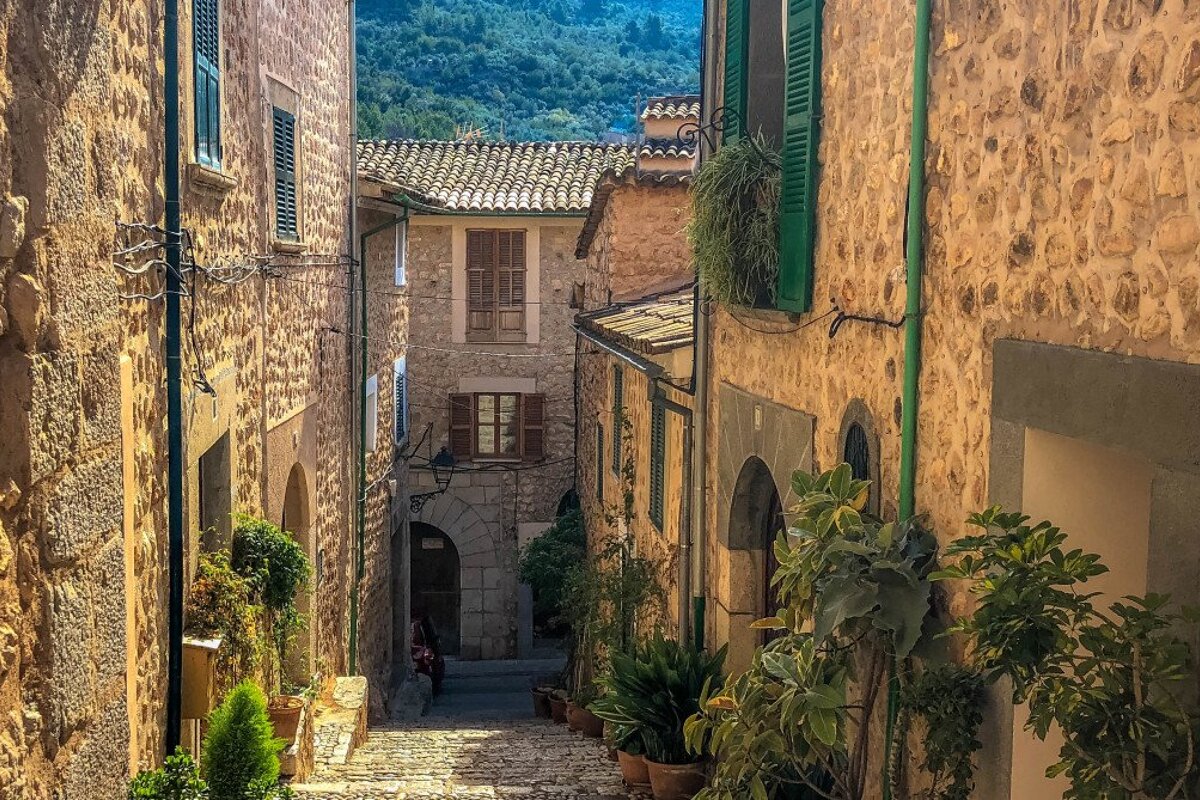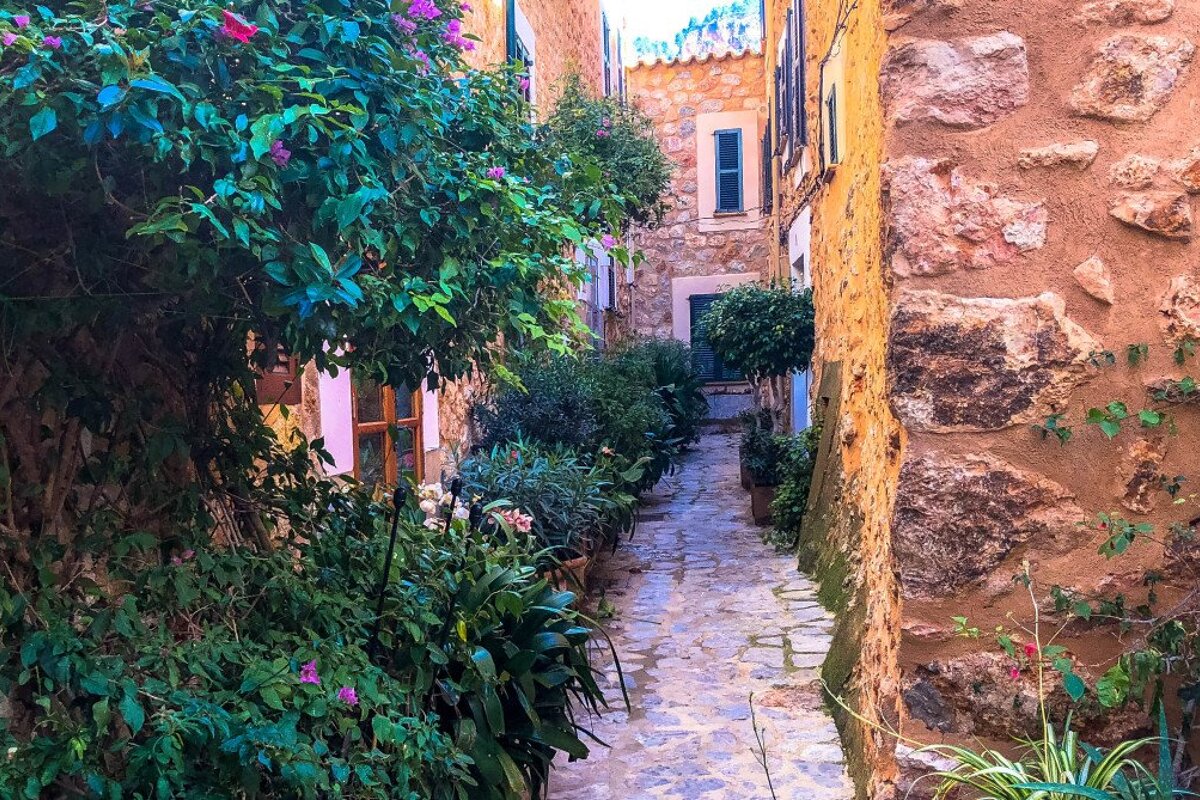 Fornalutx, Mallorca
Pretty rural village in west Majorca
Fornalutx, at the top of the Soller Valley and deep within the Serra de Tramuntana mountains, calls itself the prettiest village in Spain and it's hard to disagree!
The charming little village of Fornalutx has a magical quality to it. So much so that, in 1983, it was awarded by the Promotion of Tourism of Mallorca with the Silver Plate for the defense and maintenance of the town. If you aren't staying here, it's well worth visiting the town for a couple of hours just to walk up and down the stone steps, explore its charming lanes filled with potted plants and admire the pretty citrus groves.
Not only does Fornalutx claim a superlative mountain backdrop but the number of sought-after walking trails and cycle routes on its doorstep makes the village a top destination for hikers and bikers to base themselves. For a more laid-back experience, its cafes offer terraces with views of olive and orange groves scaling right up to the pine-clad foothills of Puig Major (Mallorca's highest mountain).
Being a small village you will notice there is a mixture of locals, expats and tourists out and about. There are a few shops dotted around the village selling some traditional arts and crafts which whilst tastefully done, seem to be tailored more for the tourists visiting the area. The bakery, on the other hand, is a part of the village's authentic Mallorcan charm, servicing the residents in the area. There's also a couple of delightful little restaurants on hand.
History & Culture in Fornalutx
More than 1000 years ago, Fornalutx was nothing more than an Arab farm but, after the Catalan conquest in the 13th century, the village began to take shape to become what it is today. One of the most iconic historic buildings in the village is its Gothic church which was built in 1639.
Sights & Attractions in Fornalutx
Fornalutx is more about enjoying Mother Nature than visiting individual sights and attractions. The current town hall is one of the village's more unique features because of its 17th-century defense tower. The 17th-century Gothic church is also a place of interest thanks to the mixture of original Gothic features and more recent Baroque renovations to achieve its current form.
Events in Fornalutx
Fornalutx has a couple of local fiestas during the year, the main one held at the end of summer. In Soller, you'll find more events and fairs as well as the closest market, on Saturday mornings.
Things to Do in Fornalutx
Fornalutx is the kind of place you come to admire the destination itself. People tend to explore the streets by foot or sit in one of the lovely little cafés with a coffee in hand whilst soaking up the sunshine. Most other activities involve leaving the village and entering into the majestic mountain range on Fornalutx's doorstep.
Hiking
Fornalutx is popular with hikers thanks to the variety of well-signposted routes in the area. The stunning countryside around the village consists of mountains, citrus and olive groves, coastal views and pretty villages - surely heaven for walkers! There's a wonderful leisurely route from Fornalutx to Soller via the village of Binibassi which is a total trip of 3 hours and you can return back to Fornalutx by bus. Or perhaps you might like to try another more challenging option between Fornalutx and the historic Comuna de Sa Bassa, which is a round trip of 3 hours.
Cycling
Cyclists also use Fornalutx as a base, there's plenty of challenging road cycling to be done in this area of Mallorca. The legendary Sa Calobra climb isn't too far away either, one of the main reasons why cyclists come to Mallorca. If mountain biking is more your thing, this can also be done in this area but we would highly recommend taking a guide with you for this. You can rent bikes from Tramuntana Tours in Port de Soller.
Shopping
There are a few little shops in the area, mainly little boutiques selling clothes, jewellery and some interior décor pieces. One of the largest and most popular shops is Tipic which hosts interior design decorations and clothes along with some woven straw basket accessories. For more shops, you'll need to pop down the road to Soller, two kilometres away.
Dining in Fornalutx
For a tablecloth dining experience, head to Café Med which can be found just off the main square. Although it's somewhat pricier than some of the other restaurants in the village, it serves up the best seafood dishes. Es Turo is a casual family-friendly joint serving typical Mallorcan cuisine, from tapas and tortillas to fish and meat dishes. Ca N'Antuna is another one serving up local cuisine in a traditional local setting, while Calzone is the local Italian and can be easily found on the main street in the village.
Apartments in Fornalutx
Sa Tanqueta offers luxury apartments perfect for those keen for a little more privacy whilst spending time in Fornalutx. The aparthotel is in keeping with the traditional Mallorcan architecture but has all the modern luxuries one could want, as well as a spacious living-dining room and a kitchen area with a fridge and a dishwasher. The splendid grounds include a swimming pool overlooking olive and orange groves. Sounds like all the ingredients for a wonderful stay in Fornalutx making it one of our top picks for this area!
Hotels in Fornalutx
There are several boutique hotels in the village of Fornalutx, all very sweet and charming. Fornalutx Petit Hotel is perhaps one of the most famous in the area, a former convent, it's now one of the most treasured pieces of architecture in the village. The old convent chapel is the crème de la crème of rooms, with its own private terrace overlooking the mountains. For a romantic break away with your partner in crime, we would highly recommend you stay at the lovely boutique hotel Ca'n Verdera, its Moorish courtyard is simply divine and the swimming pool boasts fabulous views over the valley. The traditional Mallorcan style of the building is cleverly juxtaposed with some more modern furnishings to create an elegant, luxurious setting.
How to get to Fornalutx
By car
Fornalutx is a 40-minute drive from Palma de Mallorca's Sant Joan airport. It's a little bit isolated from the rest of the island but has been made easier to access thanks to the Soller tunnel built in 1997.
Public transport
There isn't a direct bus from Palma to Fornalutx. We would suggest catching the TIB Bus number 211 from Plaça d'Espanya in Palma to Soller, then the 212 which travels from Soller to Fornalutx.
Location