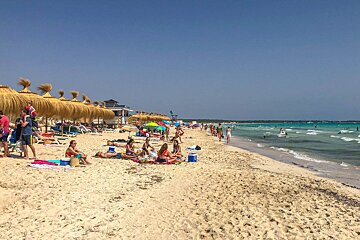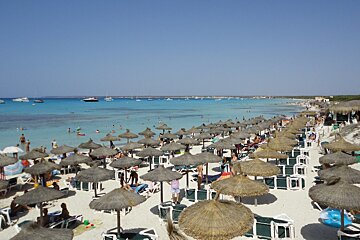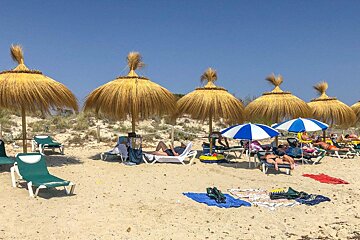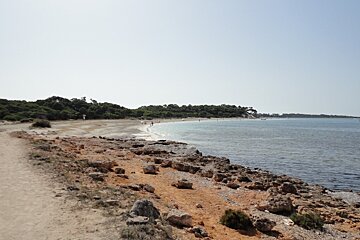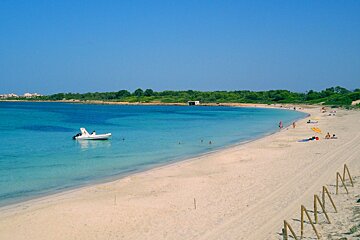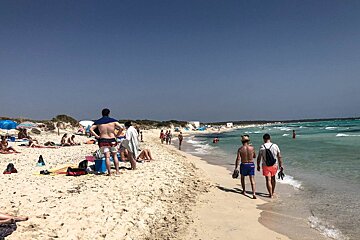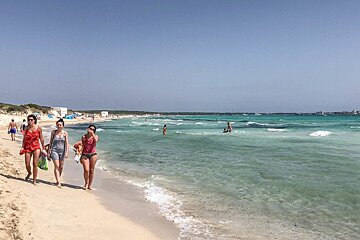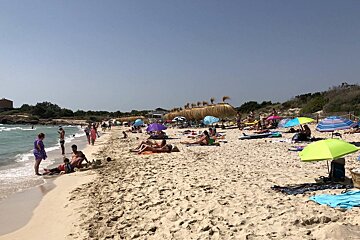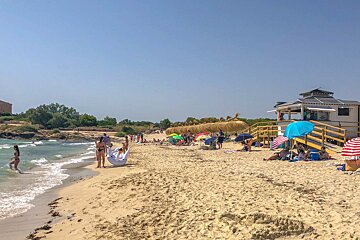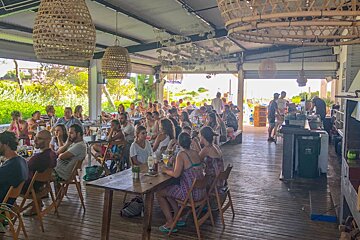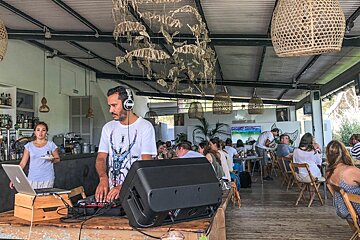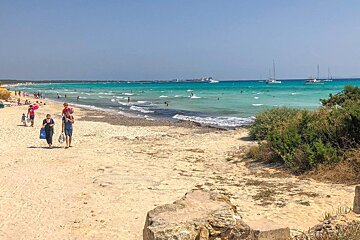 Es Trenc Beach, Ses Covetes
A prominent and unspoilt beach on Mallorca's south coast.
Unassigned to any of the island's numerous holiday resorts, the stunning beach of Es Trenc is geographically fairly isolated with a wonderful wild and natural feel. With 2km of bleached white sand and transparent water, it's often referred to as more Caribbean than Mediterranean in characteristics.
Whilst the beach stretches a good length in distance, it's only 20 metres wide which means you'll often find you're in close proximity to others walking along the sandy shores in search of their own quiet spot. Despite its relative remoteness, the beach remains popular, becoming busy at peak times.
Given that it's location isn't a tourist hotspot, Es Trenc still boasts some decent facilities including sunbeds and parasols for hire, lifeguards on duty, public toilets, ramps for the disabled and a few notable restaurants.
It's also worth noting that Es Trenc has been an unofficial nudist beach for many years, dating back to the Franco era. That being said, it still makes for a more peaceful and less commercial beach than some of Mallorca's other more popular shores. If you're after chill vibes, sandy shores and caribbean blues, this one will likely suit you.
Restaurants
With only one main restaurant and a few chiringuitos, the Mallorcan-style beach bars serve casual but decent food but there's not much in the way of restaurants outside the tourist activity. It's probably a good idea to bring ample supplies as there aren't many shops but you'll often see an occasional vendor selling souvenirs in the way of jewellery or tapestry.
Nightlife
Whilst the beach can often draw a younger crowd, it's more likely to be couples canoodling rather than ravers in search of a party. Occasionally one of the bars will feature live music, but in general the ambience remains very chilled.
Hotels
Whilst the area isn't developed with large beachfront hotels along the shore, a large selection of accommodation is available in the surrounding towns of Sa Rapita, Colonia Sant Jordi and Campos.
Watch this
Setting & Location
Around 45 km or 50 minutes drive from Palma, Es Trenc is located between the popular beach resort town, Colonia Sant Jordi; the flat wetlands of Ses Salines and Sa Rapita. Es Trenc (translated as 'ravine') is perfect for nature enthusiasts after wilderness and raw beauty in the heat. Backed up by sand dunes, some rocky outcroppings, shrubs and pines, Es Trenc extends back to the protected area of Salobrar de Campos, a 1500 hectare natural wetland with salt flats, migratory birds and a small lake with marine vegetation.
Water Safety & Clarity
The spectacular shallow water here is a major draw for visitors and makes it suitable for children with only occasional waves from the wind. There are lifeguards on duty during the busy summer months.
Beach Quality
Renowned as one of Mallorca's top twenty beaches, its beauty doesn't provide much shade, so bring an umbrella for those in need of a break from the Balearic sun's rays. Its esteemed white sand and Caribbean blue water is breathtakingly beautiful and well worth the journey out there.
Watersports Nearby
Es Trenc beach is great for windsurfing, kayaking, snorkelling and stand up paddle boarding, but you're less likely to find the motor-powered jet skis and wakeboarders here.
Directions
You can easily drive or bus to Es Trenc. There is access from both Ses Covetes and through the salt flats heading south. Less expensive parking is available coming from Ses Covetes. The Es Trenc Restaurant offers parking for a fee which is then subtracted from your lunch bill.
Location