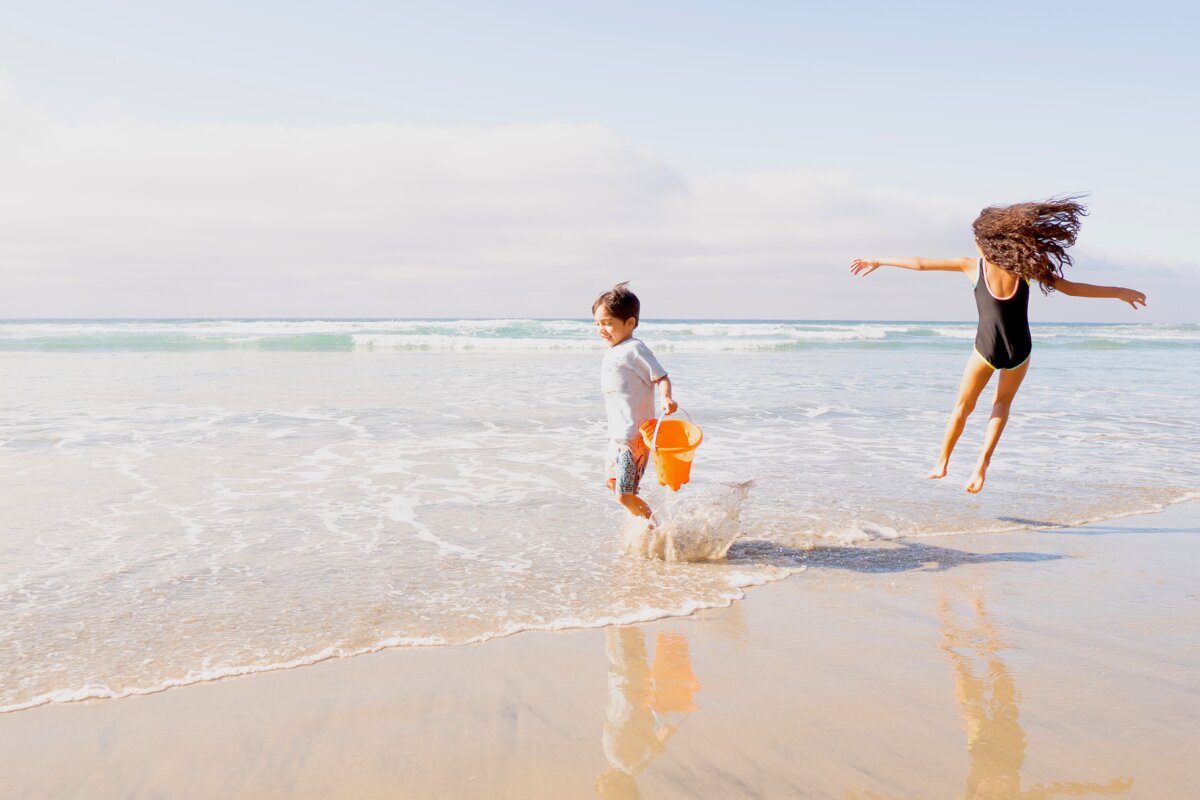 Fabulous family beaches in Mallorca
The best Mallorcan beaches for kids this summer
Mallorca's golden sandy beaches and turquoise waters are claimed to be some of the best in Spain. However, a day at the beach with children can often feel like a big operation. The last thing you want to do is hike down a rocky slope with a buggy, bucket and spade and several inflatables.
The good news is that you can enjoy a number of the island's extraordinary beaches without forgoing the joys of easy access and great facilities. These are seven hand-picked family-friendly options on this very family-friendly island.
1. Port d'Alcúdia Beach – A family resort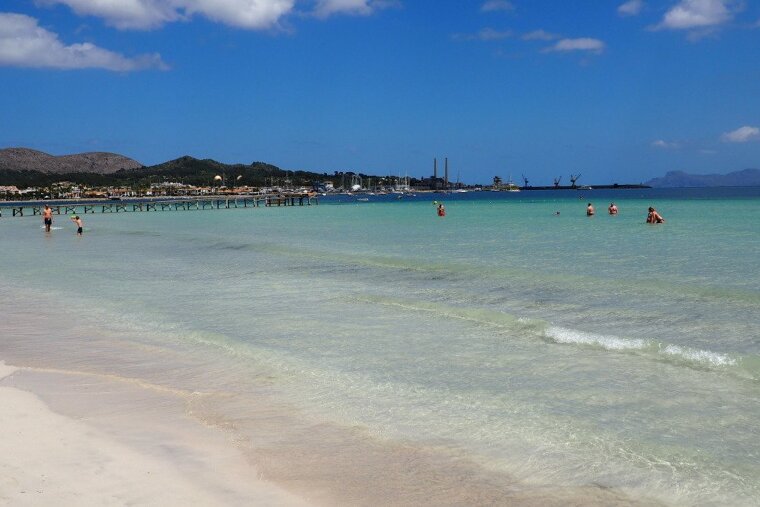 Considered one of the top beaches in Spain, the beach of Port d'Alcúdia offers 3.4 kilometres of fine white sand in the north of the island – plenty of space for the kids to bury themselves up to their necks, build fortresses and play ball! The stunning turquoise water is shallow for some distance and very tranquil, making it perfect for introducing little ones to the delights of the sea.
Watersports such as jet skis and parasailing are also available for the more grown-up members of the family and there are lifeguards on duty to provide an extra pair of eyes. If you can't face lugging your own parasol, sunshades are available for hire. There is a climbing frame and play area and wooden walkways to ease access with a buggy. Being a resort, there's a good number of cafes and restaurants sitting alongside the beach, so you won't have to go far when everyone gets hungry. Beyond the beach, there's an attractive promenade with a great atmosphere and lots of little shops. Port d'Alcúdia beach is a popular option for both local families and visitors.
2. Es Trenc Beach – Natural getaway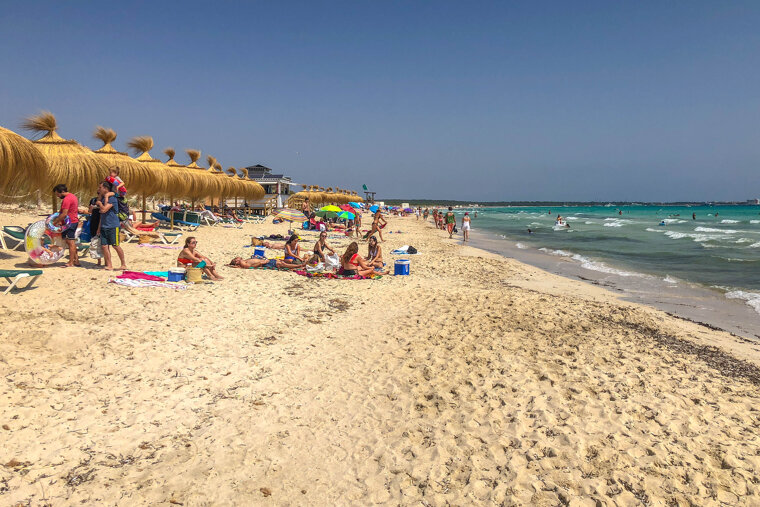 Es Trenc is a 7km-long natural beach in the south of the island, perfect for families who love the beach but aren't keen on all the commerce that it attracts. It's one of the few large beaches that has been left natural and unspoilt by hotel resorts. There are a couple of beach bars and restaurants within easy reach, sunshade/lounge hire and toilets, but no showers. There aren't any noisy watersports activities here either, just plenty of sand, sea and a rocky area waiting to be explored. The waters are shallow for a decent stretch though, depending on the wind, it can attract waves which might appeal to older kids. There are a couple of different options available for parking but expect to pay a small fee. Wooden walkways are ideal for buggies, although at very busy times expect at least a five-minute walk from your car to the beach and another short walk to find the perfect place to create a base for you and the family when you get there. This area of Mallorca is popular with nudists, although the main area of beach is given over to those who prefer to keep their trunks on!
3. Canyamel Beach – A beach day in the east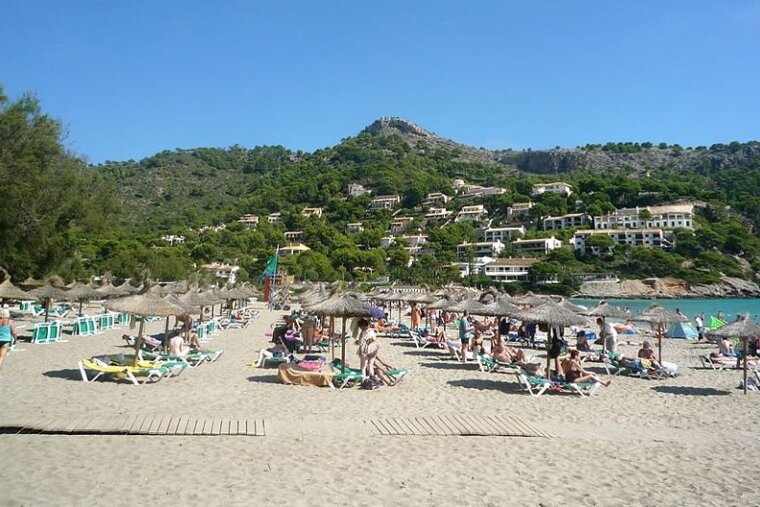 Located in the east of the island, in Capdepera, Canyamel beach offers a stretch of sand just under 3 kilometres long and all the necessary facilities for a convenient day at the beach. Toilets and showers are available, a lifeguard is on duty and there is a car park and disabled access. The sand of Canyamel beach is darker in colour than other beaches mentioned but no less clean. The water is normally crystalline and there are some rocky areas to one side which are popular with snorkellers. There are also swings for the little ones and watersports on offer. Sunshades and loungers are available for hire and there are bars and restaurants nearby.
4. Palmanova Beach – Popular beach near Palma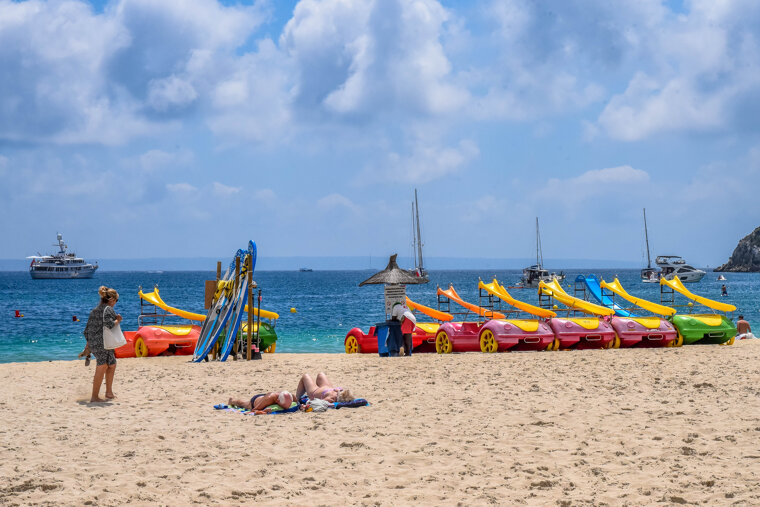 Palmanova is a practical option for families wanting to split their time between the beach and the capital, being only a 20-minute bus ride from Palma. A popular tourist resort claiming 3 beaches, there's plenty of space to build sandcastles or play bat and ball. The turquoise water has a shallow start so good for young swimmers. There's the option of watersports and volleyball for the older children and various playgrounds along the promenade for the little ones to enjoy. Palma Nova has all the facilities that make a day at the beach more comfortable, such as toilets, showers, sun loungers and sunshade hire, wooden walkways, lifeguards and a choice of beach bars and restaurants. It also enjoys a more chilled out atmosphere than its neighbour Magaluf and yet remains lively, with lots of shops and restaurants.
5. Sant Elm Beach – Beach day with optional hop over to Dragonera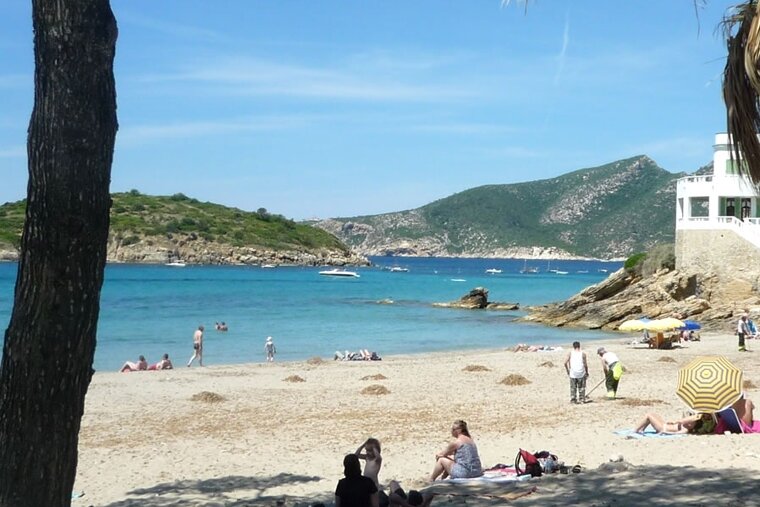 Sant Elm is a picture-postcard beach in the municipality of Andratx. White sand, turquoise water plus a stunning view of the island of Dragonera make it an idyllic location to plant your towel. If your family wants an additional adventure on their day out, they can visit the island by taking a boat from the harbour. There are four different trails to follow once there, although no actual beach. Departure times vary depending on the season. Sant Elm beach has good facilities such as toilets, showers, disabled access, sunshades and loungers, as well as an on-duty lifeguard. There are also swings and a climbing frame as well as cheap paid parking close by. The town is small but pretty and has some really lovely boutiques selling clothes, handbags and gifts, and a few restaurants and bars along the promenade. Sant Elm may be smaller than some of the other beach locations on the list but, even without the optional hop to Dragonera, you can certainly make a whole day of it here!
6. Portals Nous Beach – Family-friendly with upmarket flair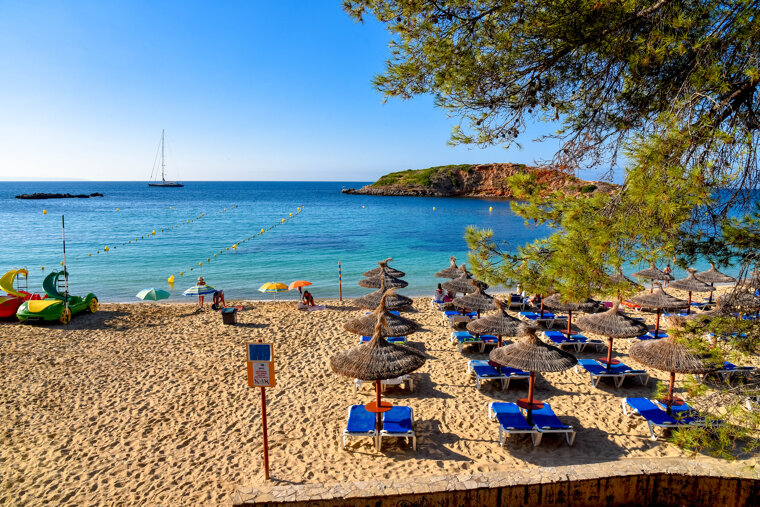 An idyllic blue-flag beach just a short walk from the prestigious Puerto Portals marina, Portals Nous beach comprises calm turquoise waters and golden champagne coloured sand – ideal for swimming with the littlies! In terms of commodities, this beach caters to its well-heeled patrons. The various restaurant facilities have something the whole family can enjoy, take your pick from the swanky yet child-friendly beach-side restaurant at one end of the beach, a casual chiringuito selling lollies at the centre, or a trendy beach bar with a bathing platform at the other end. Sun loungers and parasols are in good supply while an on-duty lifeguard, toilets and showers make for a comfortable all-day beach experience. A range of watersports are available including paddles, kayaks and pedaloes on the beach itself,and thrill-seeking adolescents and adults can book jet skis and flyboards within the port, just a 5-minute walk away. This is a great spot to do some people and yacht watching as well – you'll never get bored!
7. Beaches in Port de Pollença – Two very different beaches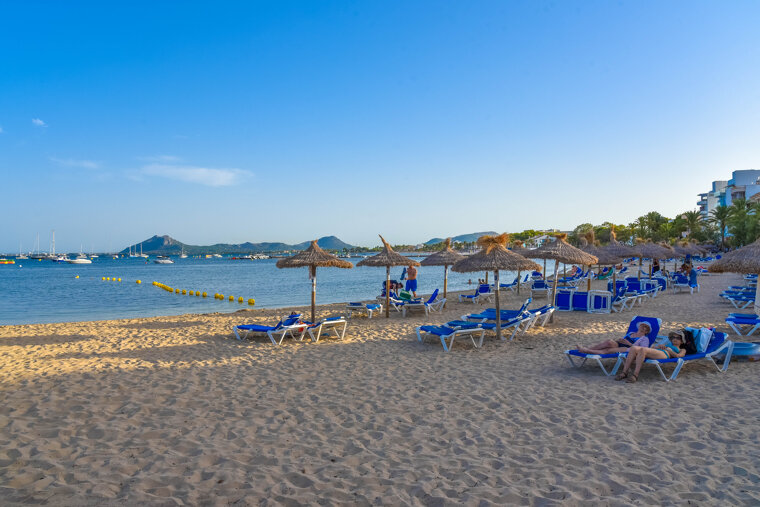 Located in the north of Mallorca, the resort of Port de Pollença retains a loyal following among families returning year after year. It doesn't feel too commercialised, yet has all the facilities required for a successful family beachside holiday. There are two very different styles of beaches on offer: the promenade-lined Port de Pollença Beach and the smaller more natural Albercutx Beach just off the beautiful Pine Walk. The horseshoe-shaped bay generally provides calm waters ideal for swimming and snorkelling while a variety of watersports are on offer at various points on the larger stretch of beach, including banana boats, jet skis paddle boarding and pedaloes. Kitesurfers and windsurfers can find some decent waves to the north of the bay just a short drive away. Playgrounds and family-friendly restaurants complete the requirements for families with little ones. It is easy to park in Port de Pollença as there is free parking in the back streets but expect to pay a small fee in the main car parks. Do watch out for the recently installed one-way system along the promenade, though!
More inspiration...
Mallorca has so many beautiful beaches, the trick is deciding what you want from your trip. Check out Mallorca's best beaches for more ideas for your next holiday and start booking your accommodation right away.
Location