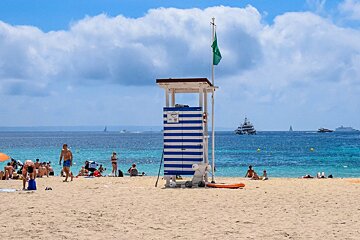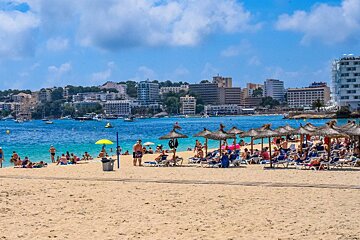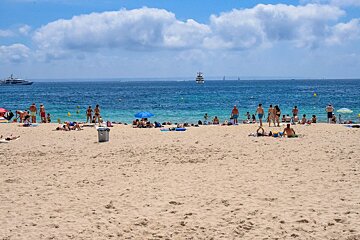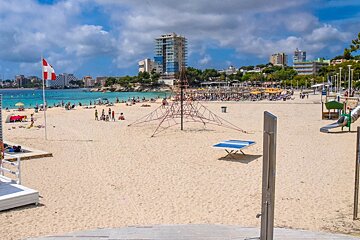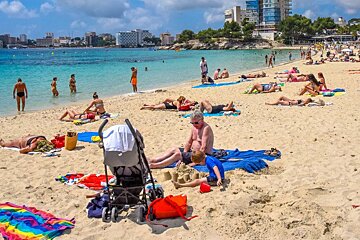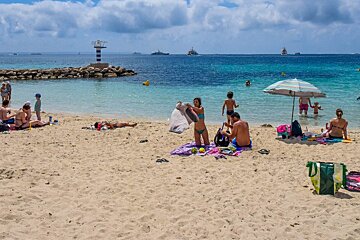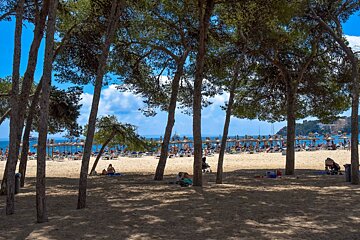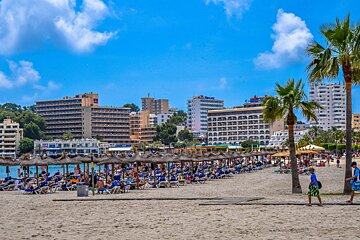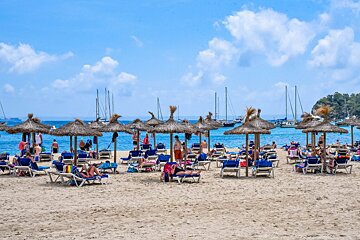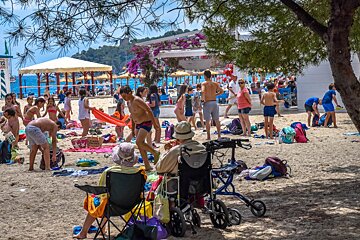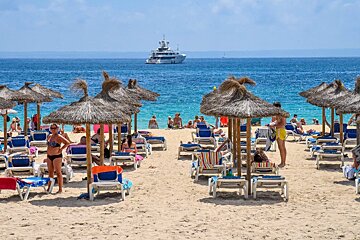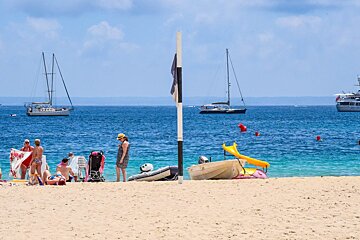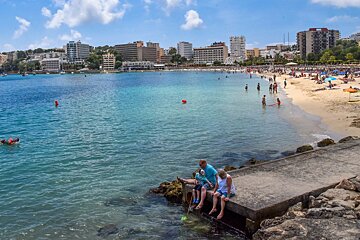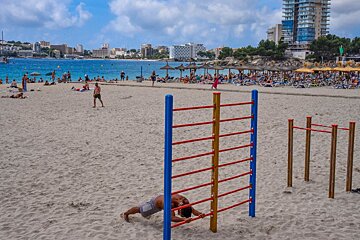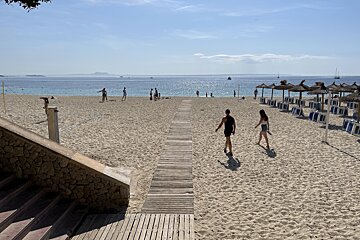 Palma Nova Beach, Majorca
Popular Blue Flag beaches serving Palmanova resort in the south west of Majorca
Attracting thousands of tourists annually and especially popular with Brits and package holiday makers, Palmanova is a purpose built resort next to Magaluf in south west Majorca. Palma Nova actually hosts three separate 'Blue Flag' beach areas, Playa de Palmanova, Playa Son Matias and Playa Es Carregador.
Playa Carregador is at the eastern end of the resort and is 600 metres long by 60 metres deep.This beach is famous for its (artificially enhanced) fine white sand and clear blue sea.
Also enjoying artificially enhanced silky soft sand is Playa de Palmanova beach. In the heart of the resort, it is enormous at one kilometre long and 60 metres deep. With heaps of space for families, there are several small playgrounds and shaded grassy areas at the rear.
The largest and farthest west beach is Son Matias, offering several trendy bars and a great spot to spectate with a drink. It rolls on for 1200 metres and is 100 metres deep.
Facilities are excellent in all areas with sun loungers and parasols for rent, showers and toilets, good disabled access and a high level of lifeguarding services.
Free car parking is available and access is also possible by public bus.
Restaurants
There are many International and Mediterranean restaurants and bars located on the promenade behind the beach with several waterfront establishments looking out to sea. The area caters to differing tastes and budgets with a friendly and vibrant holiday vibe and you'll easily find something to suit your preferences.
Nightlife
Palma Nova has enough animated bars and beach clubs to keep you entertained for weeks. With everything from chill-out lounges to sports bars, British style pubs, karaoke bars and beachfront parties, tourists will easily find their home comforts here amidst fellow families on holiday or younger groups of travellers.
Full of bars, clubs and restaurants with live music and resident DJs, new bars are always opening in the area ensuring Palma Nova's facilities continue to improve. Palma Nova's clubs will keep you dancing with themed nights, live DJs and a great mix of local and international music. There's usually also some promenade entertainment in the form of street performers, artists and souvenir vendors.
Hotels
Palma Nova is particularly popular with British and European tourists thereby benefiting from a wide range of hotels, apartments, and resorts to accommodate its visitors. The peak tourist season typically falls between May and September when the weather is warmest and sunny.
Watch this
Setting & Location
If it's a family beach holiday you're after, Palmanova is a great choice. Within walking distance is the adjacent bay of Magaluf, offering its own special mix of beaches and nightlife.
There are several attractions nearby to keep all the family entertained including waterparks, Mini-Golf, a Marine Zoo as well as a good selection of boutique shops and souvenir stalls.
Not forgetting, its southwest location makes it perfect for sunsets…
Water Safety & Clarity
Family focused, the water here is generally considered safe for swimming and water activities as well as being known for its clarity and cleanliness which helps to make it a popular destination for tourists seeking a beach vacation. The beaches in Palmanova are well-maintained and monitored by lifeguards during the peak tourist season.
Beach Quality
Soft white sand that has been further enhanced with imported artificial sand makes the silky soft terrain sink between your toes. Thanks to the transparent Mediterranean waters, you'll easily see the seabed and marine life beneath the water's surface, making it an excellent spot for snorkelling and scuba diving.
Watersports Nearby
With plenty of opportunities for water sports enthusiasts, you can jet ski, parasail, paddleboard and windsurf at Palmanova, whilst the large bay is also perfect for wakeboarding and banana boating. There's a host of shops selling lilos, novelty inflatables and buckets & spades found all along the promenade. Popular with swarms of boats including private yachts and commercial day boat excursions, the water here is usually full of activity and laughter.
Directions
You can easily taxi, bus, or drive yourself to Palmanova from Palma. Driving takes around 20-25 minutes depending on traffic and whilst parking can get a little tricky to find space in the summer months, there are lots of steetside options and designated car parks. The bus from central Palma bus station: Estació Intermodal is a great option if you're on more of a budget. Look for bus line number 104 and you'll be shoreside in around 30-40 minutes.
Location