Mallorca hot spots for summer
The top areas for a perfect holiday on the island this summer
The number visitors to Mallorca is growing year on year, and the island is currently gearing itself up for an exciting summer.
Here are our top 5 destinations to visit this summer. Be sure to book in advance to avoid disappointment!
Port de Pollença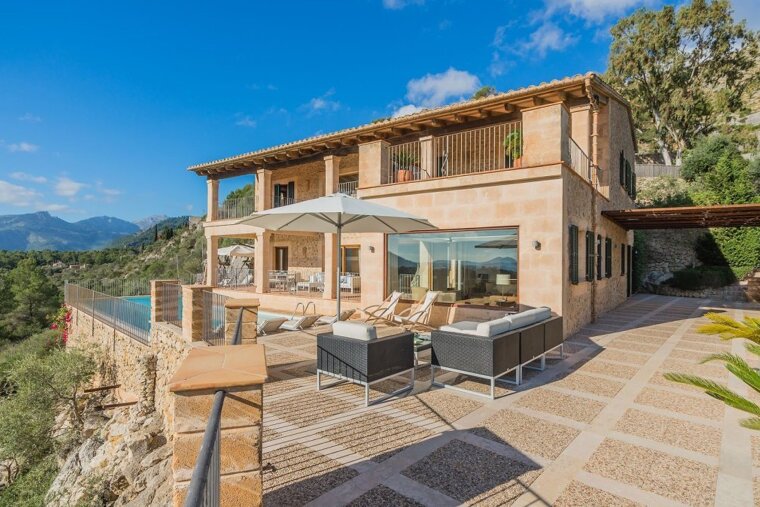 Port de Pollença has won the hearts of many, as familiar faces return to this resort year after year. The portside town, reminiscent of its fishing roots, has many draws including a long stretch of sandy beach and a centre bursting with family-friendly restaurants, cafes and ice cream parlours. Its legendary pedestrianised pine walk comes to life in the summer months, you'll see parents sitting in one of the many beachside restaurants watching their offspring playing on the beach over lunch.
There is plenty to do in the area, but watersports and boat trips along the coastline and around to Cap de Formentor are an absolute must for those who want to get out on the water. In terms of accommodation, there are plenty of villas and apartment rentals available, both in complexes and in traditional Mallorcan chalets, as well as a few hotels dotted around the town centre and along its coastline.
Where to stay
Villas are an impeccable choice of accommodation for large groups, families and those who simply enjoy having their own space. There is so much to be said for having your own swimming pool after all. Prestige Villas offer an assortment of villas in the areas surrounding Pollença and Port de Pollença. Whether you fancy a modern house with all the latest equipment or you are someone who likes the idea of a charming stone little finca with traditional Mallorcan shutters, there's something to suit everybody's unique tastes.
At the very end of the illustrious pine walk stands the enchanting Illa d'Or Hotel, one of the largest and most reputable hotels along the coastline of Port de Pollença. Not only does this hotel claim picture-perfect sea views and all the facilities of a luxury 4* hotel like a spa, tennis courts and a gym, but its majestic 1930's façade generates a yesteryear charm. Its terrace is the best place to kick back and relax whilst watching the sun go down.
Puerto Portals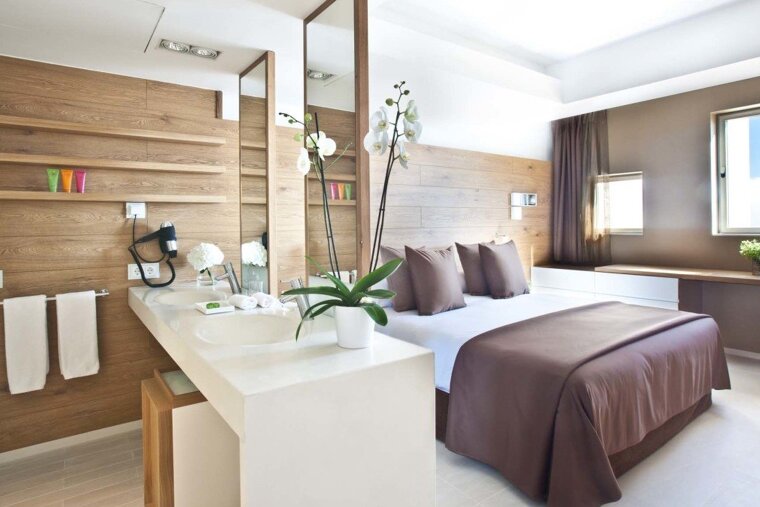 The glitz and glamour of Puerto Portals have made it one of the best-known marinas on the island. If you feel at home surrounded by gourmet restaurants, champagne and cocktail bars and adore designer boutique shops, watchmakers and jewellers then this is the place for you. Just next to the marina there is a gorgeous sandy beach with tranquil waters and a couple of beach bars perfectly positioned to keep everybody hydrated. Being situated on the south-western coast of the island, there are plenty of activities on offer, from swanky beach clubs to waterparks all within easy reach. Whilst there are no hotels in the port itself, the surrounding area offers a wide range of hotels, many within good walking distance to the port.
Where to stay
OD Port Portals is the marina's smart new arrival. Being only three years old you can expect everything to be up-to-date, from gym, spa and pool to more innovative touches that come with staying here. For instance, if you book a junior suite you get the choice of having either a personal chauffeur service or a Smart car. The hotel is in a prime location, being both just a stone throw away from all the marina's amenities and within walking distance of the restaurants in the neighbouring village of Portals Nous. They also offer a jam-packed calendar of special events going on throughout the year, from tasting brunches, after-work 'aperitivos' or, for the health fanatics, yoga with breakfast mornings.
The St Regis Mardavall, perched between cliffs and Puerto Portals, is more of a hideaway retreat. This traditional 5-star resort offers a well-oiled service across all levels. People tend to fall in love with this hotel and its facilities which means it has a loyal following returning year after year. Whilst popular, it feels spacious at all times thanks to the vast grounds, which means that the more affluent visitors get the privacy they want whilst holidaying on the island. Highlights include an in-house Michelin star restaurant Es Fum, superb spa facilities, an excellent children's club and a shuttle service to the nearby golf courses of Arabella Golf Son Vida, Son Muntaner, and Son Quint.
Illetas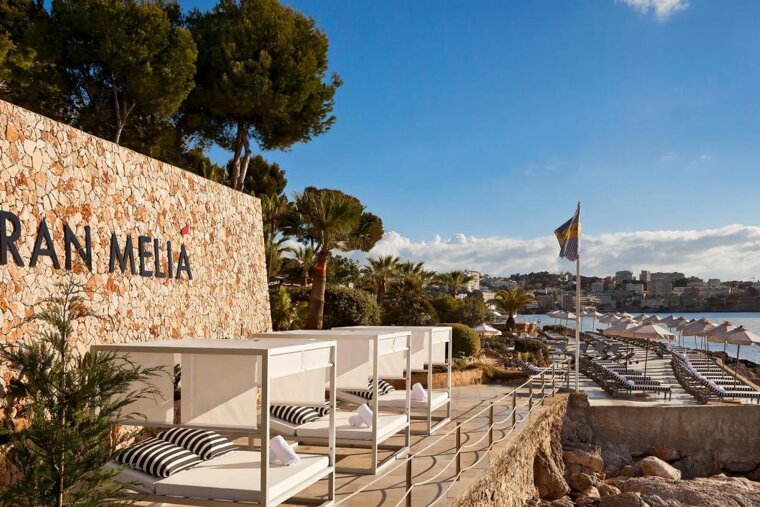 Just down the road from the prestigious Puerto Portals resides a little paradise called Illetas. Its three mesmerising bays with perfect turquoise waters and soft sandy beaches have caught the attention of some premium hotel brands in recent years, which means couples, families and groups of friends are now flocking to the area in the summer months. Whilst there are a few fabulous beach bars, restaurants and boutique shops in the area, it isn't overdeveloped. Being effortlessly situated between Puerto Portals (10 minutes by taxi) and the city of Palma (10-15 minute by taxi) makes it easy for visitors to have a little taste of everything in the area, from snorkelling in the beautiful bays to shopping and sightseeing in the city of Palma.
Where to stay
Couples looking to retreat somewhere for complete relaxation should visit the contemporary, adults-only Gran Meliá de Mar Hotel. Highlights include the Clarins Spa and the superb views from every hotel room balcony overlooking Mallorca's south-western Mediterranean waters. The unique modern design and magnificent gardens and pool area create the ultimate tranquil ambience and are the things that make this place stand out from the crowd.
For those looking for something a little lower key and affordable, then the Riu Palace Bonanza Playa Hotel welcomes families, couples and groups of friends looking to get away from the stresses and strains of real life. With all the amenities you could ask for, the hotel has both indoor and outdoor swimming pools, a spa fully equipped with a sauna, whirlpool, waterbeds and much more. The reasonable rates, outdoor swimming pool and sun loungers overlooking the sea are particular highlights for this hotel.
Port de Sóller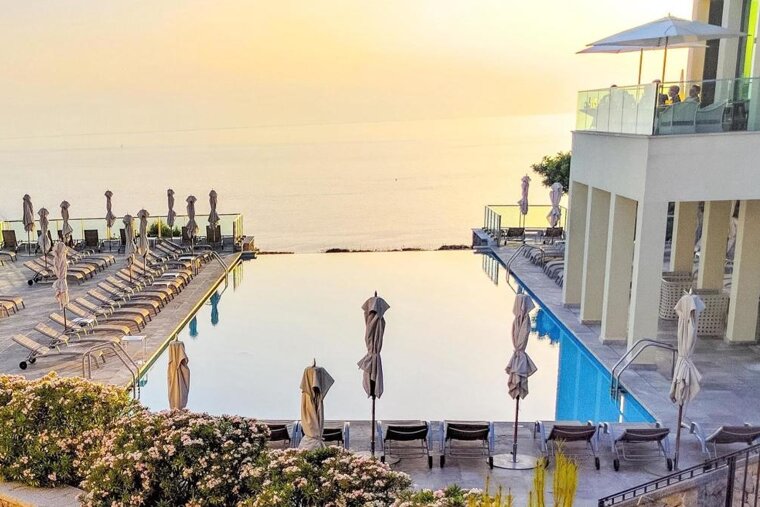 Port de Sóller is another town with its traditional fishing port characteristics still firmly intact, allowing for an eternally sophisticated Spanish experience. Situated at the foot of the Serra de Tramuntana, this charming little seaside town boasts a jaw-dropping mountain backdrop to its shimmering horseshoe bay. A wide choice of accommodation with varying style and comfort is available, from boutique treasures to state-of-the-art establishments. Visitors can range from an adventurous outdoor pursuit kind of holiday-goers to relaxing get-away-from-it-all beach bums, and a whole lot more in between.
Where to stay
It's all about the location for Esplendido Hotel, a boutique style hotel with a modern retro twist which is perfectly positioned on the beach promenade in Port de Sóller. Apart from super views of the port and being within easy reach of the beach, restaurants and sights, it offers a nice little touch by including Nespresso coffee machines, beach bags and flip flops in each room.
One of Sóller's most exciting new addresses, the Jumeirah Port Hotel & Spa is firmly at the top of the list when looking for the most exclusive hotels in the area. Very much a luxury 21st-century hotel, each and every detail has been carefully considered with all the élite amenities a person could ask for, including an infinity pool, an up-to-date fitness centre and spa, top-notch gastronomic restaurants and, of course, panoramic views of the port. Each room has its own private balcony either overlooking the Serra de Tramuntana mountain range or the beautiful horseshoe bay.
Cala d'Or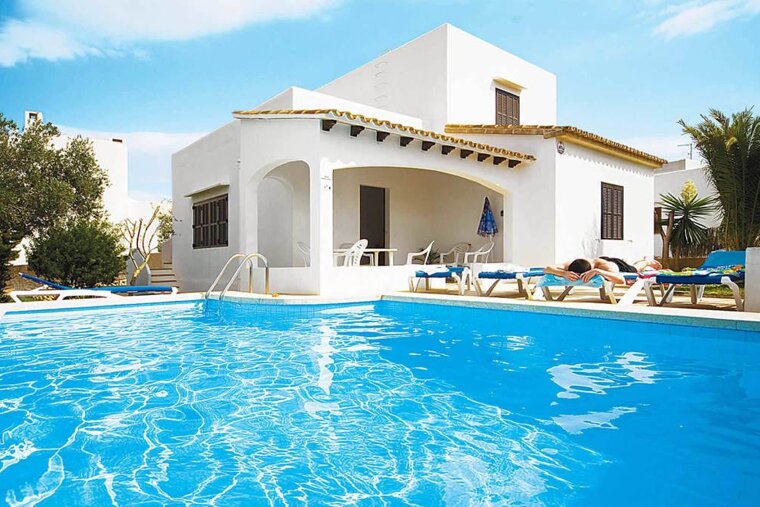 The stylish, family and budget friendly Cala d'Or is very much one to watch. There are endless little coves, beaches and resorts to explore in the vicinity (Cala Ferrera, Cala Esmeralda, Cala Serena, Cala Gran & Cala Llonga) along with an abundance of accommodation choices from luxury adult-only chain hotels to quieter and more basic apartments. There's also a wide variety of activities on offer in the area including watersports, golf and boat trips. The main marina has been an area of interest for yacht owners thanks to more appealing prices for moorings than other ports on the island but this place is flourishing due to a recent spell of investment from hotels, yacht brokerages and restaurants.
Where to stay
A beach bliss holiday destination, the white washed Cala d'Or Hotel sits in a tranquil cove just 300m from the town. An old favourite in the area, its home-from-home retro accommodation, intimate service and position in the idyllic little bay entices many loyal customers back year after year. The pool, complete with poolside bar and sun loungers that overlook the beach is a strong selling point for visitors coming to unwind in the sun.
If the idea of your perfect holiday in Mallorca consists of staying in a traditional white-washed Spanish villa, then James Villas selection will be on hand to help. They have handpicked a selection of villas in various popular spots in Mallorca, including Cala d'Or, to suit a wide variety of preferences or needs. There are different categories available, from simple and cost effective houses right through to ultimate luxury and unique accommodation.
More inspiration...
This is only a small selection of all that Mallorca has to offer. Whether you're travelling with your family, friends or on a romantic escapade, the island will surely provide everything you can think of and more.
Location
Mallorca Island, Mallorca