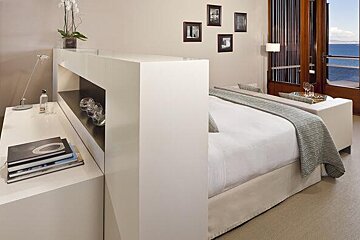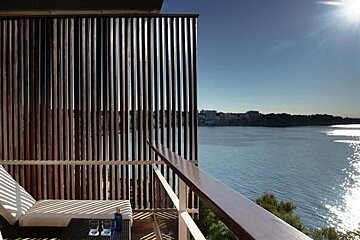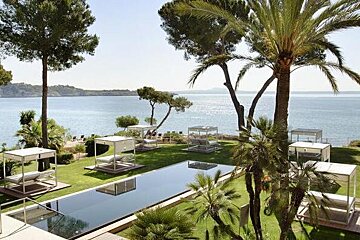 Melia de Mar Luxury Hotel, Illetes
Adult only hotel created for those who want to get away from it all
Meliá de Mar complements its enviable location, views and facilities with art that touches the soul and stimulates the imagination.
The lighting and decoration of the rooms and hallways of each floor has been undertaken by a selected artist sharing and explaining their vision around a particular theme.
Following extensive renovations, Alvaro Sans introduces a twist to this architecturally significant hotel, enriching the experience with the allure of the earth touching the sea.
The suites, all with sea view and a terrace have spectacular views over the sea and gardens.
Reviews
430 verified reviews by
Watch this
Who should go
Children are not allowed at this hotel, it is designed as a place for relaxation and luxury for adults.
The neighbourhood
Situated in a privileged enclave in the city of Palma, only 10 minutes away from the Peurto Portals marina and the popular and fashionable areas of Paseo Maritimo and Jaime III in Palma.
The rooms and suites have been designed with exclusives tastes and offer infinite views of the Mediterranean Sea.
The Bar
The Bodega Bar - A large and select wine cellar stocking the finest of Spanish wines.
Bar & Gabi Lounge - Sophisticated bar with a large selection of cocktails, the very best of gins and a select wine list. Snack avilable. With wonderful panoramic views this lounge is open for lunch and dinner.
The Restaurant
Restaurant Q4 - Fine a la carte dining with a fusion of Mediterranean and International dishes.
Le Pool Restaurant - Mediterranean barbeque buffet with fresh market produce. Open for lunch.
Visitor comments
"Super comfy beds & 'Pillow Menu' ensure a wonderful nights sleep.. not to mention the ambient relaxed lighting! Bathrooms are spacious with double sink, bath & shower & separate walk-in shower, with plenty of soft fluffy towels. The addition of a shaving kit & teeth cleaning kit came in handy as 'someone forgot to pack theirs! The staff were extremely polite & attentive right down to the maids. If you can eat at breakfast, I highly recommend it as one of the best I have had anywhere." - Trip Advisor
"My girlfriend and I stayed here last year at the end of September. It was the last week of them being open and the hotel was almost empty but the weather was still nice and hot. What an amazing experience! We stayed in a Level suite and it was amazing. The view from our room, overlooking the Med was crazy! The service we received was outstanding and we were very sad to leave. Cannot wait to go back!" - Trip Advisor
"We stayed here for two nights following a cruise so were looking for some rest and relaxation - which we got. Our room was very spacious, had a large balcony with a chair and padded lounger and an uninterrupted view of the sea and pool area. The balconies are very private and lit at night so we could take our drinks there. " - Trip Advisor
Location