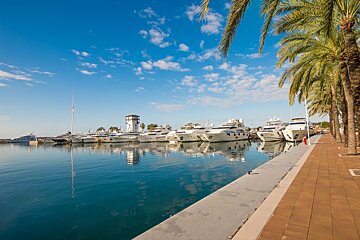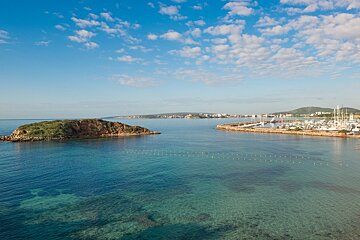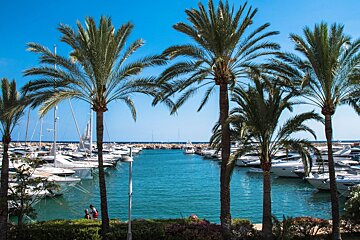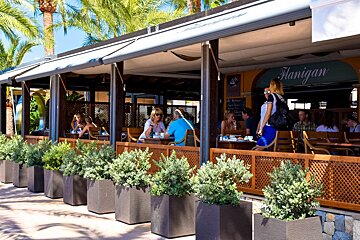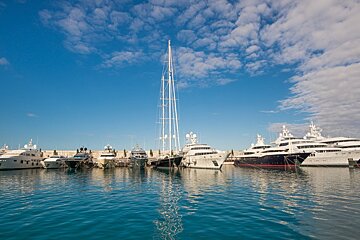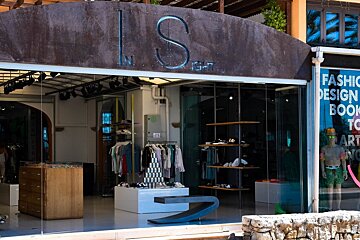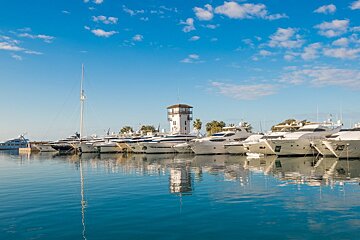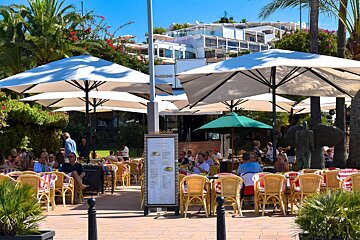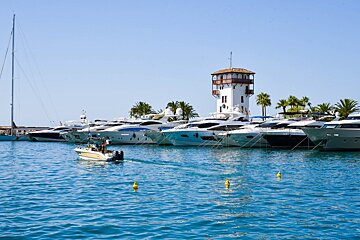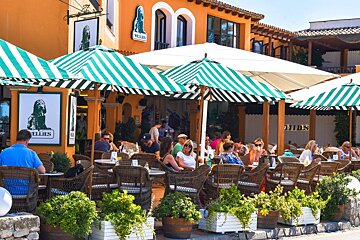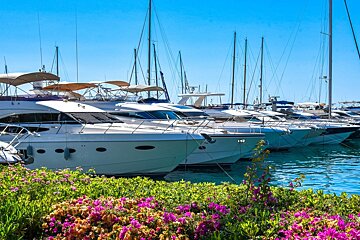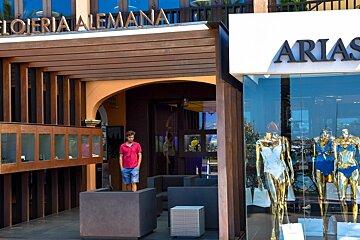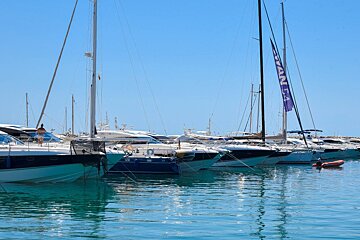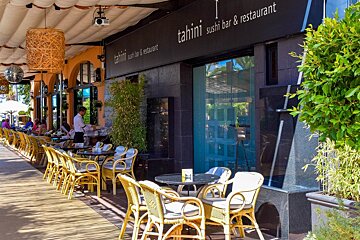 Puerto Portals, Mallorca
Chic marina resort in Mallorca, on the south-west coast
Puerto Portals is widely known as the most glamorous marina on the island. It has become an attractive destination for the rich and famous to moor their yachts and now caters for more than 600 yachts up to 60 metres in length. Unlike many other ports in Mallorca, there is a year-round buzz here. It's the place to visit for designer shopping, people watching and first-class restaurants and bars.
Located in the south-west of the island, just a 10-minute drive from Palma, Puerto Portals is connected to the more modest town of Portal Nous. There's a real cosmopolitan feel to the place, think of something between Monte Carlo and Puerto Banus and you're nearly there.
Puerto Portals is not actually that big - you could walk from one end to the other in five minutes - but the point of being here is to sit and enjoy the world as it goes by. There are designer boutiques selling jewellery, watches, swimwear, clothing, accessories and gifts. In between, you'll also find swanky estate agents and yacht charter and brokerages. A wide range of portside restaurants offer a good selection of cuisine. You can come here for breakfast, lunch and dinner and admire luxury yachts, Ferraris and Porsches (and of course, their owners!) parading up and down the front. It's more than likely you will also spot a familiar face amongst the crowds as it has become quite the celebrity hotspot. The likes of Paris Hilton, Brad Pitt, Jamie and Louise Redknapp or Jenson Button have all been spotted in the port. A lovely beach adjoins the port too, so you can easily make a day of it.
Beaches in Puerto Portals
Next to the marina's shipyard is where you will find the main stretch of beach, called Portals beach by most but officially called Oratori Beach or Platja de l'Oratori in Mallorcan. It's a splendid sheltered beach with golden sand and calm waters. In the summer months, there are sun loungers and parasols to rent and it's possible to hire paddle boards and pedaloes from the middle of the beach. A little further east you will also find the cute sheltered beach of La Cala de Portals, with a little beach bar called La Calita de Portals.
Events in Puerto Portals
Puerto Portals hosts an array of events comprising of evening markets in the summer and a Christmas market in the winter, musical performances, sailing events and more. Keep an eye on our events calendar for the latest events and more.
Things to do in Puerto Portals
Many will simply to come to Puerto Portals to take a stroll along the pontoons and check out how the other half lives. However, there are plenty of other things to do in and around the port.
Beach clubs
Mood Beach is a luxury, modern beach club just down the road from Puerto Portals. Here you can rent a sun lounger for the day and sip on cocktails by the pool, or pop in for a spot of lunch if you are in need of a break from the beach. It's also open for evening meals if you want to enjoy a sunset with panoramic views of the southwestern coastline. For a bit of atmosphere, the vibrant Roxy's Beach Bar can be found on the far east side between the rocks. It is run by South Americans and serves up great sangria and cocktails, along with snacks and sandwiches. It's a great place to round off a day of sunbathing, and they offer a dinghy service to boats anchored in the small bay.
Yacht charter
Get a taste of the high life by chartering your own private yacht from Puerto Portals. It's possible to have it for a day or longer with many reputable companies offering sailing and motor yachts here. Yacht charters are a great way to explore the many hidden coves along the coastline at your own pace.
Watersports
Adrenaline junkies might want to try a bit of jet skiing or flyboarding! Or for more leisurely activities, perhaps deep sea diving, snorkelling, sailing, paddle boarding or kayaking might tempt you.
Golf
If golf is on your agenda whilst visiting Mallorca, then there are plenty of golf clubs to be found close to Puerto Portals. Within a 10-minute drive, you will find Golf Son Quint, Golf Son Muntaner and T Golf & Country Club Poniente.
Waterparks
Marineland can be found just next to the marina and is the perfect place to keep children entertained. Expect dolphin and sea lion shows, exotic birds, penguins, an aquarium and a small children's water park. Just 10 minutes away, resides Western Waterpark, a waterpark with thrilling water slides, wave pools and plenty more for the whole family to enjoy.
Shopping
For a small marina, there is plenty of shopping to be done. Designer boutiques are the thing here including Billy's Exclusive, D2 Fashion, Love Affair Fashion and Blue Marin amongst others. Expect glitzy summer dresses, high-end swimwear and kimonos, fabulous shoes, handbags and more. Jewellery and watches can be admired in Relojeria Alemania and Nicolas Joyeros or, if a new yacht or luxury villa is on the cards, then perhaps a trip to Sunseeker, Princess Yachts or Khun & Partner should be on your list of things to do in the port. For watersports-orientated goods, head to Nauti-Parts which can be found just above the entrance to the port. There's also a small El Corte Ingles food and drinks convenience store at the far east side of the pedestrianized area behind the restaurants in the port. Here you can pick up any last minute supplies you might need, whether it be champagne for a yacht charter, beers and some snacks for the beach or an ice cream for your stroll around the port.
Dining in Puerto Portals
Puerto Portals is blessed with a great choice of restaurants with a wide range of cuisines. As you would expect from a high-end marina, many tables are drinking only the finest champagne and most of the restaurants serve food of the highest standard. Flanigan is an old favourite with a loyal following boasting a huge terrace overlooking the larger yachts in the port. It serves up a lengthy tapas menu and some excellent seafood plates, although the apple pie on the dessert menu is one of its most famous dishes. Another popular hangout is Wellies, where you can take a morning coffee on the pavement terrace, have lunch in the sophisticated restaurant and enjoy dinner and cocktails in the courtyard in the evening. The well-known cafe-bistro chain Cappuccino is another all day and all night establishment with the largest terrace in the port, making it the perfect place to people watch.
For some Japanese-inspired cuisine, then the swanky Lucy Wang is a must-try. Ritzi serves Italian-influenced cuisine and, in many ways, stands out from the crowd as it sits on the corner with a glamorous champagne bar overlooking the yachts. The cocktail bar upstairs is a wonderful late-night establishment. Continuing on the Italian theme, around the corner is Diablito. A little less formal than some of its neighbours, but it's the kind of place the whole family can enjoy a casual pizza.
Nightlife in Puerto Portals
If it's the nightlife that you've come for, then Puerto Portals has some top quality late-night DJ bars. Here you can dress to impress without any fear of being over-dressed. Parties go on until late but bring your wallet and expect big price tags for drinks (expect to pay around €12-€15 for a cocktail). Ritzi and Paradigm are the top nightlife picks as they boast fantastic views over the port from their terraces and are open until the early hours of the morning.
How to get to Puerto Portals
By car
By car, it takes around 25 minutes to get to Puerto Portals from the airport and just 10 to 15 minutes to get into the centre of Palma (traffic dependent). It is well connected to the rest of the island thanks to the Ma-1 being close by.
Public transport
Public buses are frequently travelling through to Puerto Portals (or the roundabout just above the port). The TIB bus lines moving to and from Palma stop at Puerto Portals along with other tourist hot spots on the southwestern coastline including Illetas, Bendinat, Port Adriano, Santa Ponça and Peguera. For a quicker journey, a taxi rank can be found in Puerto Portals next to Cappucino and will cost around 20€ to get into Palma.
Location