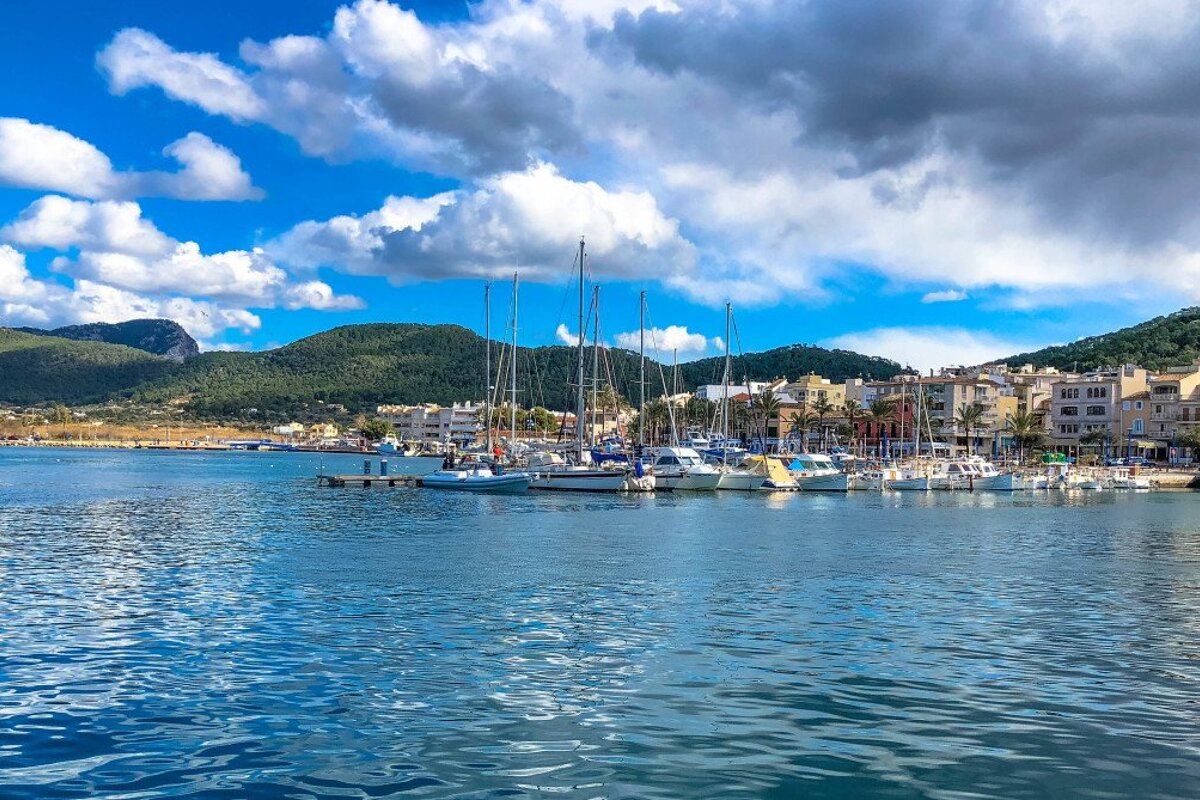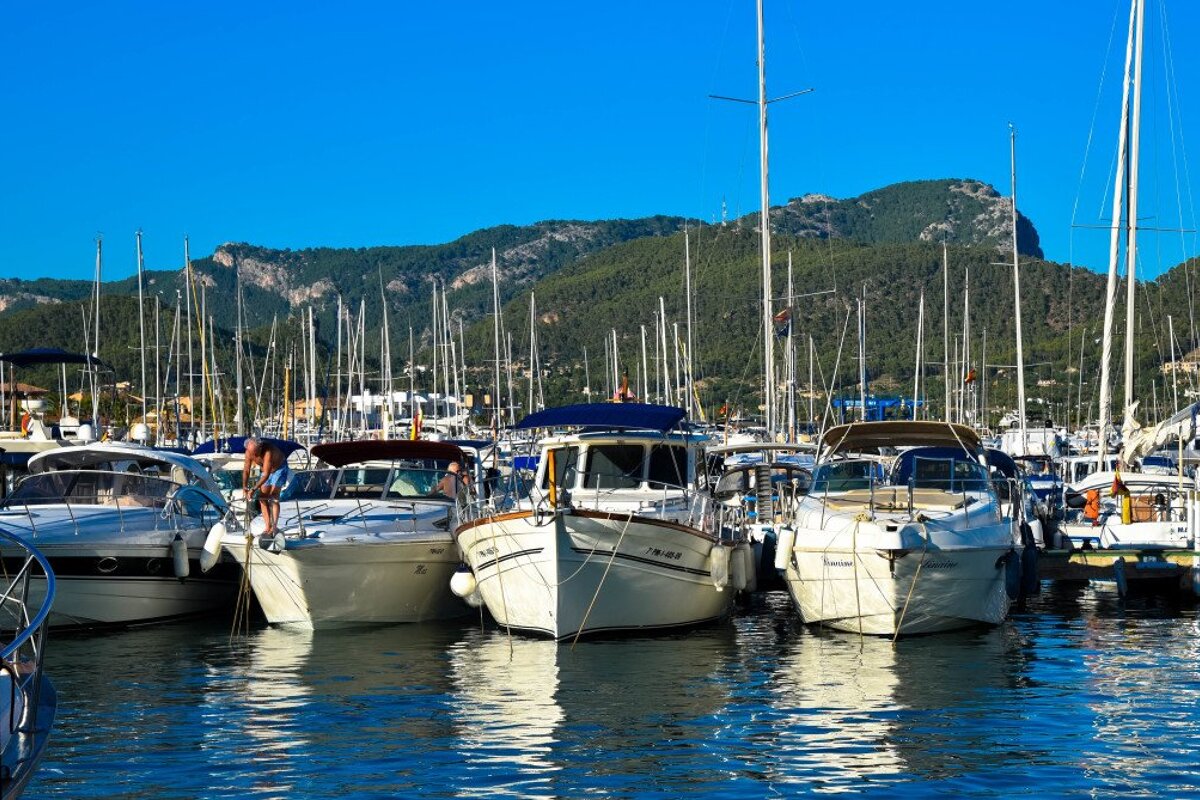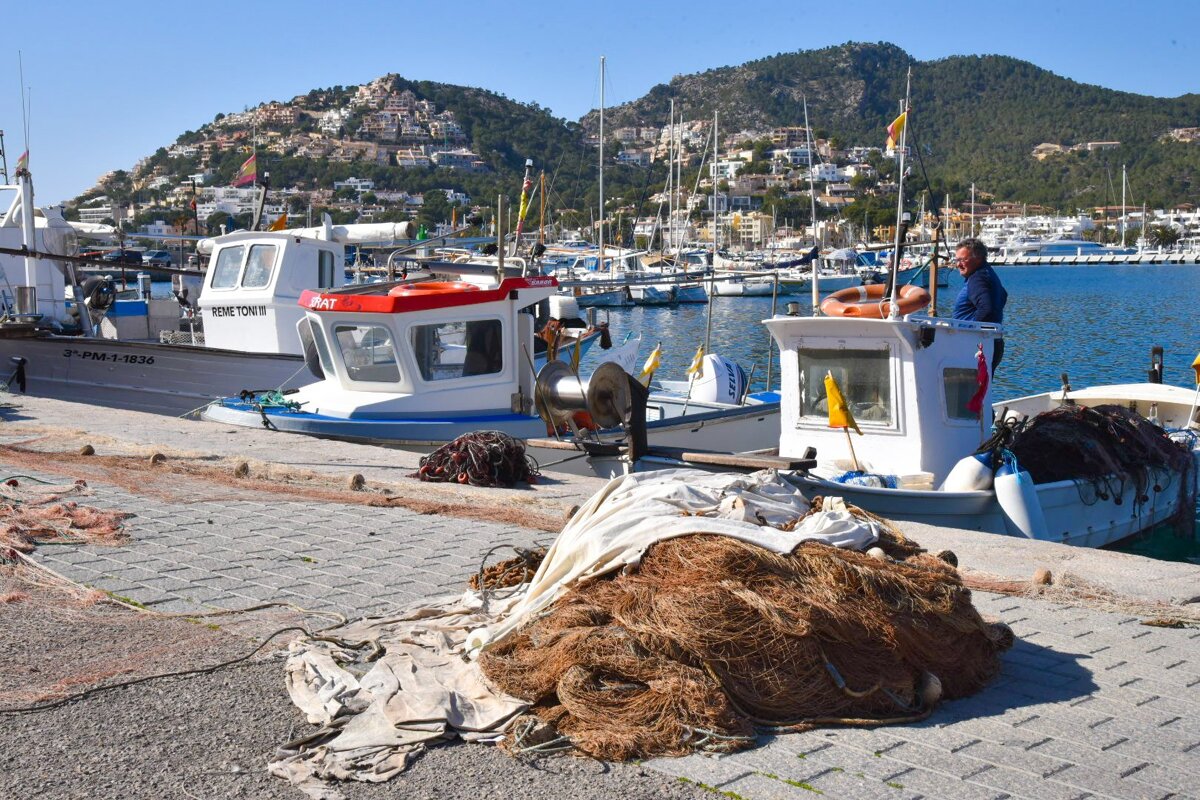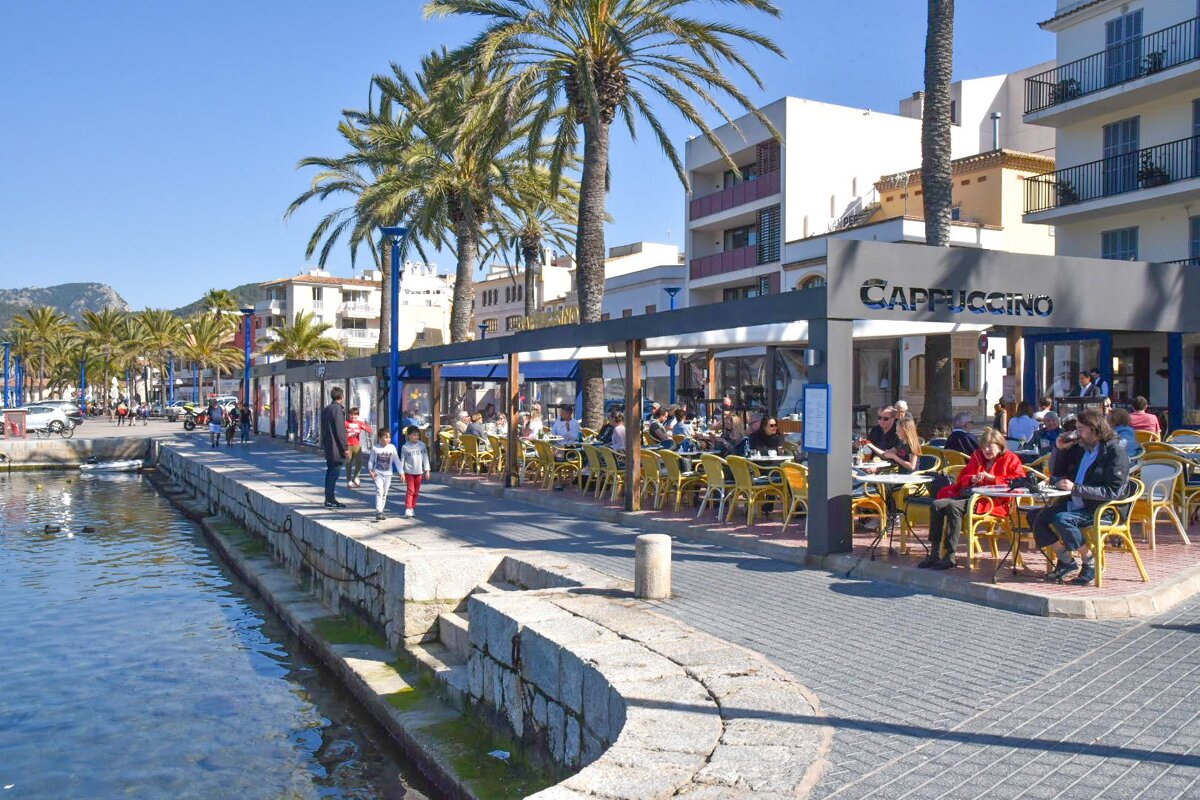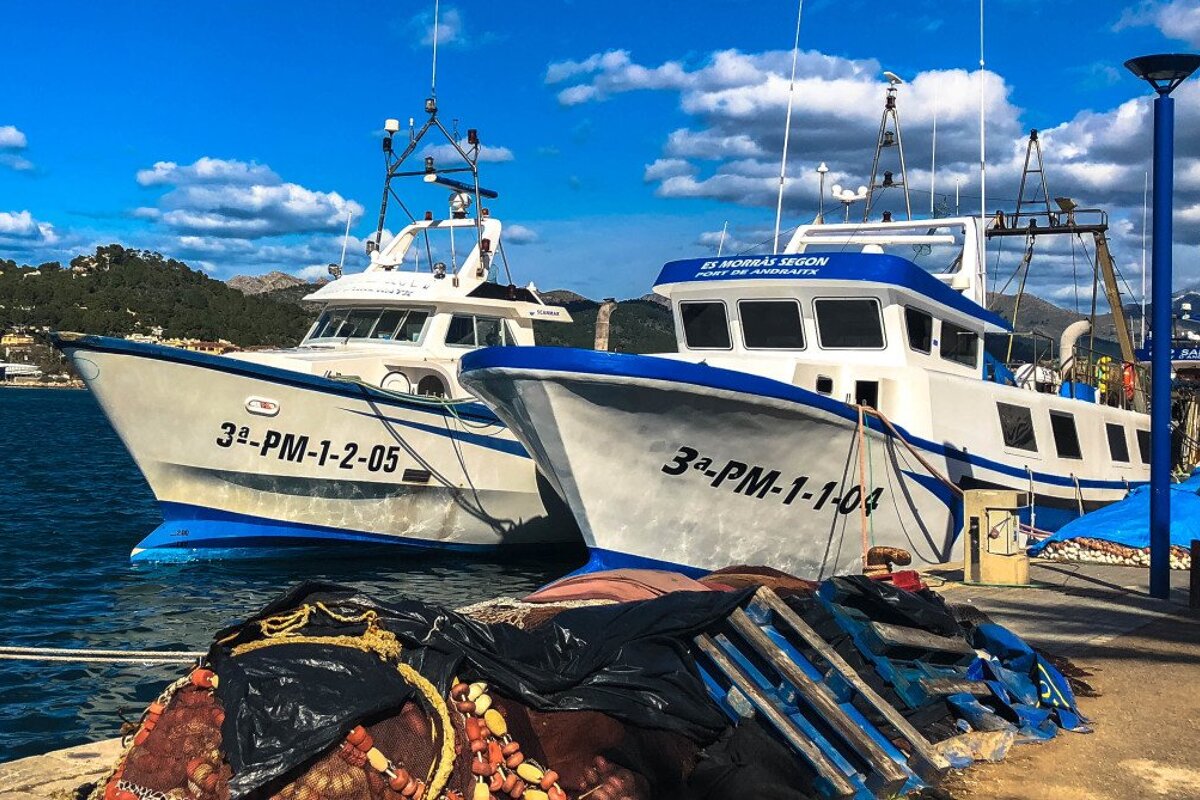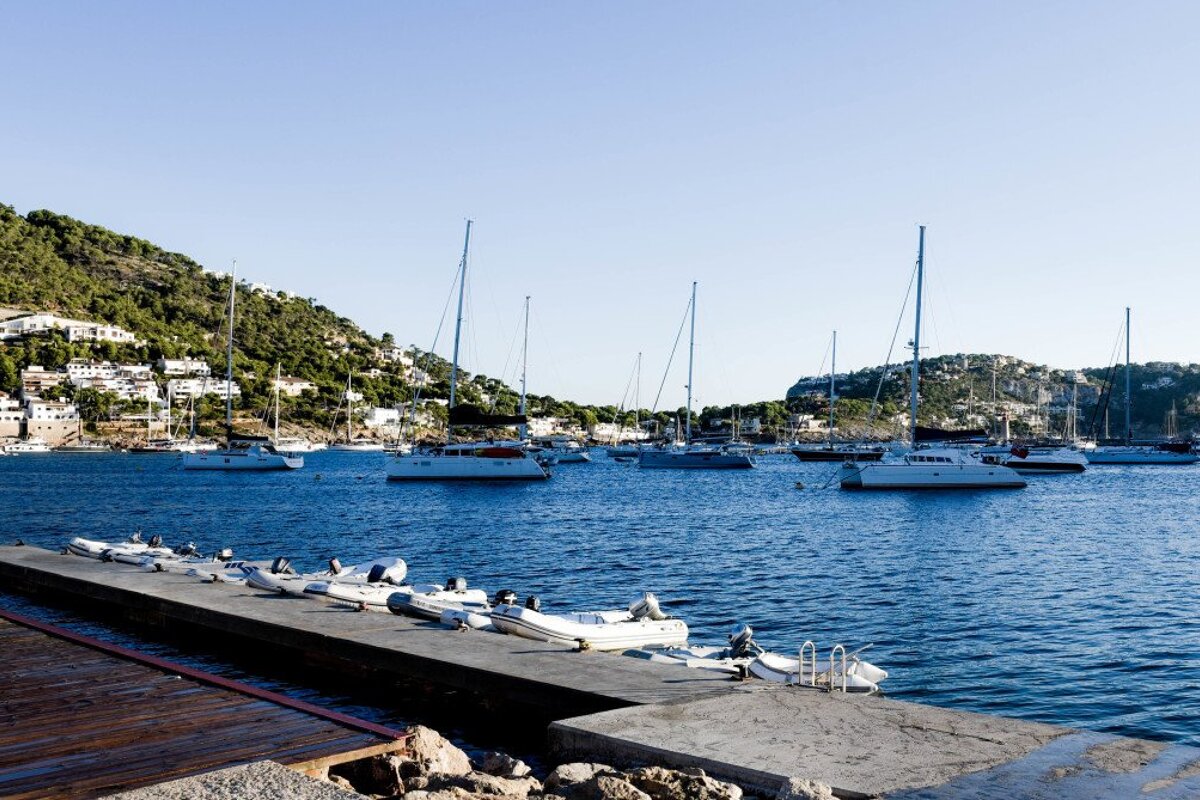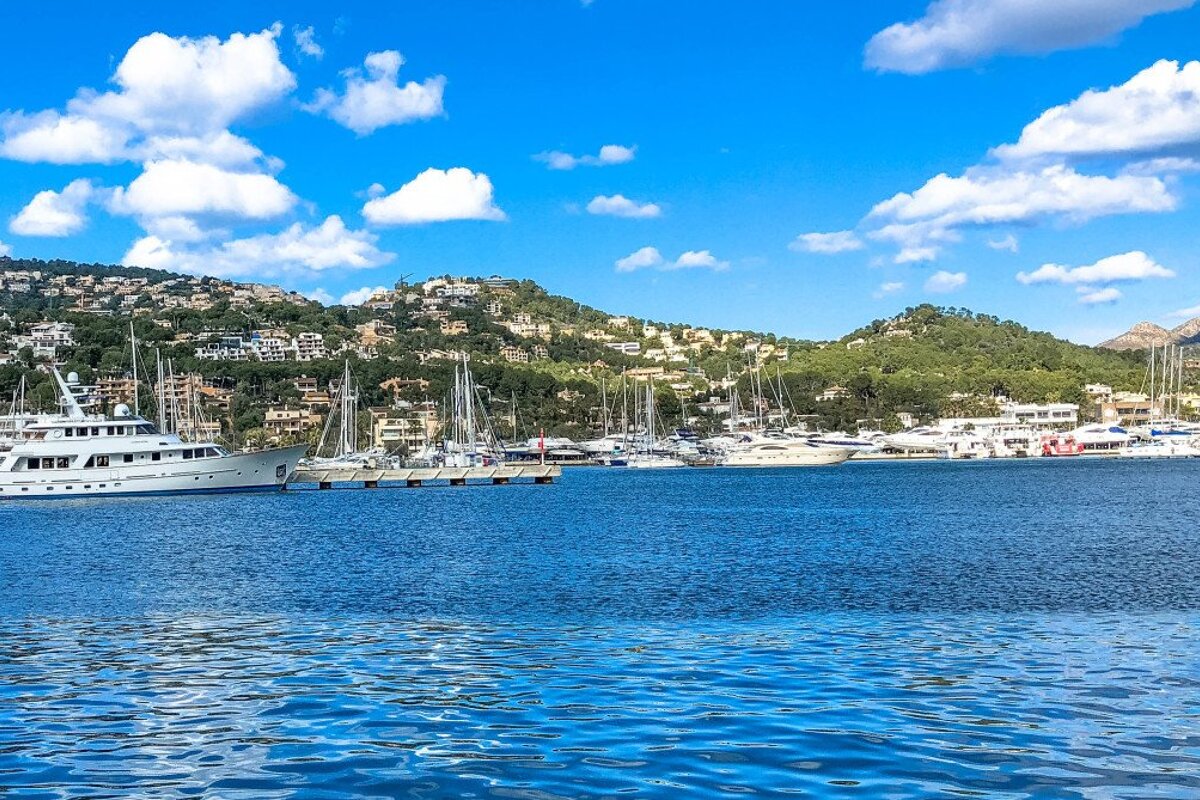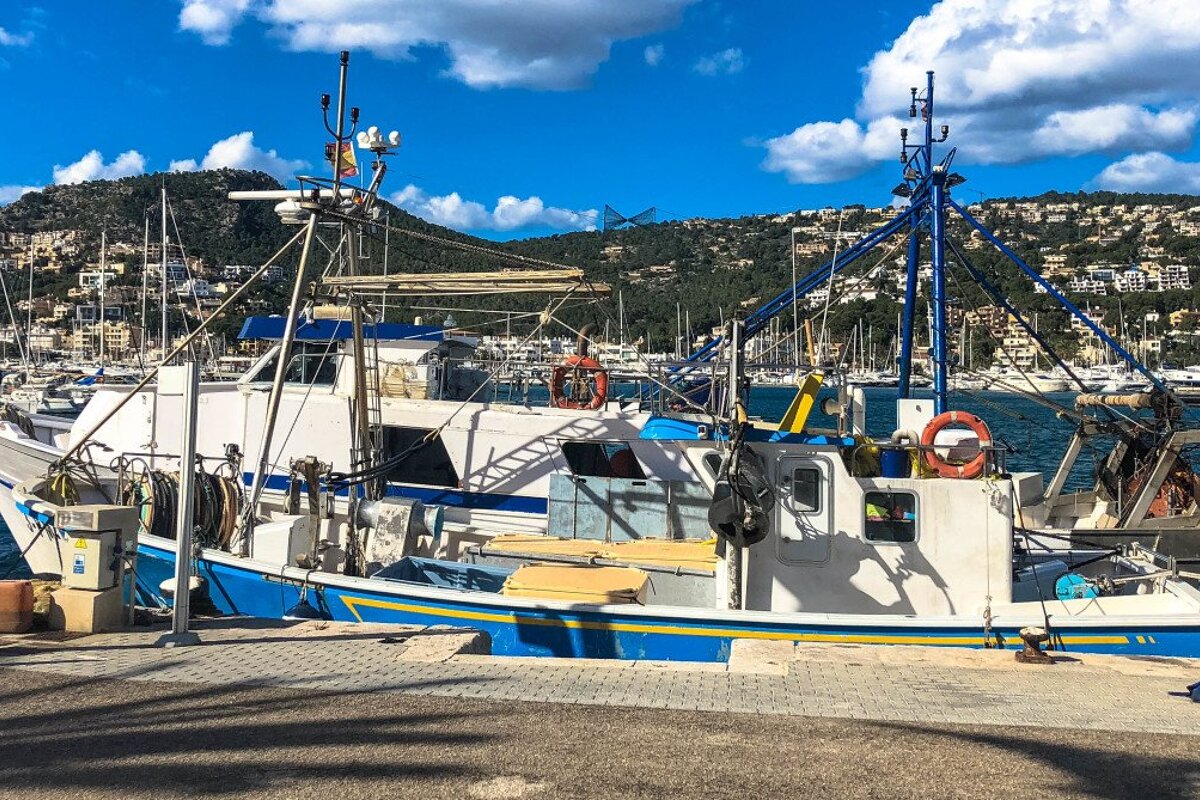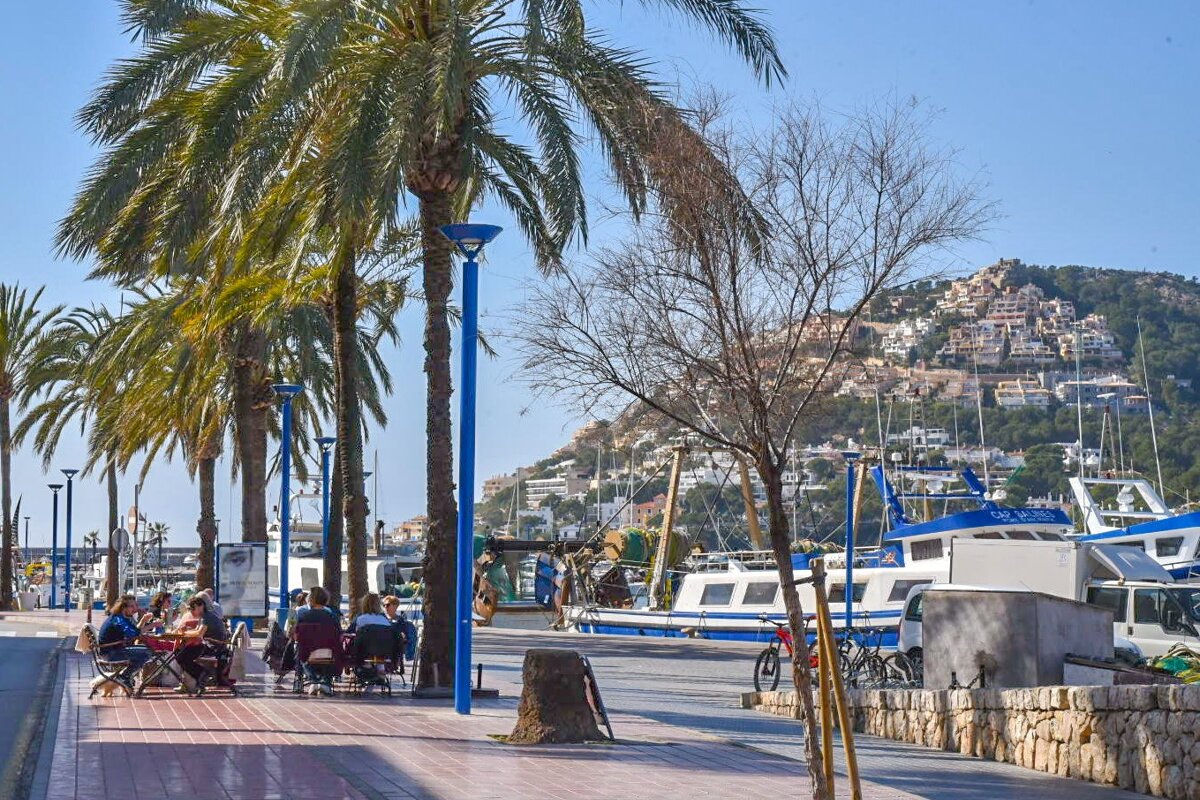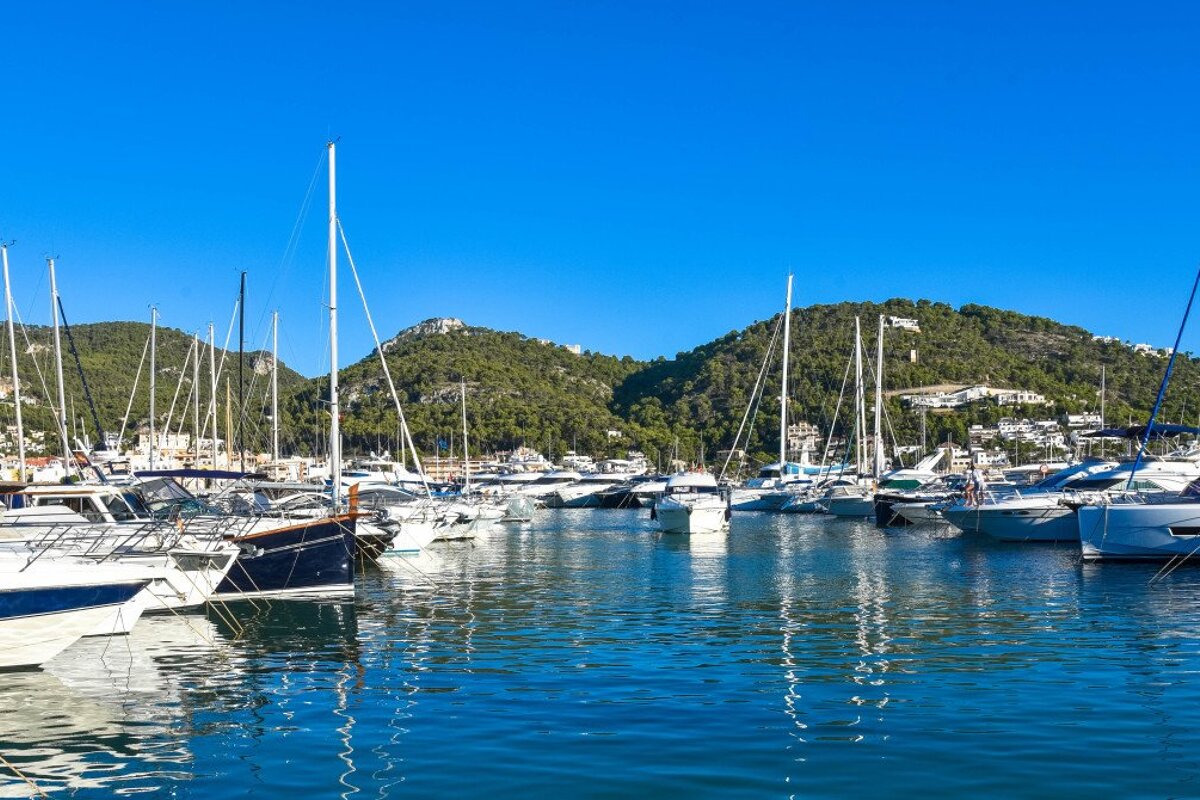 Port d'Andratx, Mallorca
Charming port in the south-west of Mallorca
On the southwestern tip of Mallorca is where you will find Port d'Andratx, a picturesque fishing village as well as one of Mallorca's classiest holiday destinations. Popular with the yachting fraternity and film stars whose Italian-style villas can be seen climbing up the hillsides, it also has a working fishing industry that supplies many of the port's restaurants.
Located in a stunning coastal stretch, at the bottom of a funnel-shaped valley, lies Port d'Andratx, a harbour claimed by many as one of the prettiest in Mallorca. The main town, built in the mid 20th century, is located on the southern side of the port and retains its character thanks to the presence of fishermen. In the summer, this side of the harbour has a wonderfully bustling atmosphere thanks to the lively bars and restaurants that line the water's edge boasting wonderful sea views amplified by the many yachts mooring in the bay. Although the port is quieter in the winter months, with many restaurants closing between November and March it is still a nice place to visit as it appears to revert back to its roots as a small fishing port.
The Club de Vela marina on the north side of the port has a distinguished cosmopolitan legacy. It is also the biggest attraction in the area for some of the most affluent individuals evident by the number of larger yachts dwelling here. Many of them also own a villa on the surrounding hillsides. Speaking of the area's inhabitants there's a mixture of local native Mallorca inhabitants, international expats who have retired to the area and, of course, some holiday home owners who come and go throughout the year.
The town has some nice buildings solely dedicated to apartments, whilst villas dot every conceivable space on the surrounding hillsides from Port d'Andratx to the ancient rural town of Andratx about 5km away. This area of Mallorca is also blessed with glorious countryside, which attracts many visitors keen to explore some of the island's natural beauty.
History & Culture in Port d'Andratx
Port d'Andratx has been an important coastal hotspot since the Renaissance when it was used as a base to transport people from the peninsula to Mallorca. It was mainly a fishing port at least since the late 18th century, although the current docks were built during the 19th century and have been continuously renovated throughout the 20th century. Nowadays, even if fishing is still a daily activity in Port d'Andratx, its marina is mainly occupied by yachts.
Sights & Attractions in Port d'Andratx
There are some remains of the past in the town of Port d'Andratx, such as the watchtowers of Sant Carles and Sant Francesc, built to defend the area from pirate attacks. The area of La Trapa monastery, near Sant Elm, contains the remains of a 19th-century Trappist monastery and boast spectacular views out to sea and over to Sa Dragonera island. This legendary uninhabited island, which has been a National Park since 1995, has 361 different plant species and endemic birds. You can hop across the water by boat.
Art lovers will enjoy a visit to the Liedtke Museum, showcasing Dieter W. Liedtke's unique pieces of art. Located in a modern villa on a clifftop overlooking the sea, the museum boasts breathtaking views of the Mediterranean.
The ancient town of Andratx is also worth visiting if you are staying in the area. You will be enchanted by the streets dripping in history featuring the traditional pretty blonde Mallorcan stone.
Beaches in Port d'Andratx
The port has some small bathing areas and coves which offer easy access to the crystal clear waters. If you have transport, the neighbouring resorts of Camp de Mar and Sant Elm feature larger sandy beaches with sun beds and parasols for hire.
Events in Port d'Andratx
Port d'Andratx like many Spanish towns, hosts plenty of parties and fiestas during the year. The main event to look out for is the fiesta in honour of the Verge del Carme, protector of fishermen, in mid-July with colourful street and boat parades. On Wednesday mornings a market is held up the valley in the inland town of Andratx selling fresh fruit and vegetables along with some other local offerings. There's also a market on Saturday mornings in the small neighbouring village of s'Arraco.
Things to Do in Port d'Andratx
Port d'Andratx is centred around the nautical and fishing industries. The well-equipped marina Club de Vela has moorings for 500 boats. Port d'Andratx's lovely scenery also attracts many hikers and cyclists, thanks to the good selection of routes to follow.
Boat Trips
There are several different boat trips you can take from Port d'Andratx, for instance, Carlomar offer half-day, full-day and sunset tours on their traditional Mallorcan motor yacht. From Port d'Andratx or the neighbouring coastal village of Sant Elm, it's a short boat trip over to Sa Dragonera. Once you reach the island, you can explore the hiking trails and coves, and get friendly with the many native lizards who live here!
Yacht Charters
The best way to explore the coastline around Port d'Andratx is by taking to the water. Chartering your own private yacht gives you the independence to anchor in one of the many hidden coves, nooks and crannies all awaiting to be to discovered on the rugged western coast. It's possible to have it for a day or longer with trusted companies like Prima Boats, Easy Boats, First Yacht Balear and Smart Boats Mallorca.
Watersports
Club de Vela offer sailing lessons and canoeing throughout the year, but there's also the opportunity to explore the mysterious underwater world off Mallorca's western coastline at one of the local diving schools.
Beach Clubs
Gran Folies has become a top hang out for the jet-setting beautiful, rich and famous. Set amongst the rocks, it's a little bit calmer than some of the other beach clubs on the island, being less about partying and more about relaxing and sipping on cocktails by the pool. There's also a wonderful restaurant here, so why not stop by for a spot of lunch?
Hiking
Being at the bottom of a valley on the edge of the Serra de Tramuntana mountain range there are plenty of walking trails to try in the area. One of the most popular is the leisurely hike between Port d'Andratx and Sant Elm along a high coastal path. If you want the best views over Sa Dragonera, then we recommend the hike from the neighbouring Sant Elm that leads to the abandoned Trappist monastery of Sa Trapa before descending down into one of the most breathtaking valleys in Mallorca, a round trip of around 3 hours.
Cycling
Cyclists can enjoy the coastal hill roads or delve deep into the Tramuntana mountains for a more challenging ride. The route from Andratx through to Port de Pollença has been described as one of the best in the world. It passes through wonderfully pretty coastal villages including Estellencs and Banyalbufar then cuts across through iconic mountain villages of Valldemossa, Deia, Soller, Lluc and Pollenca before ending in Port de Pollenca. Whichever route you decide to take, there are various companies on hand to rent you a bike.
Golf
Andratx Golf Course is an 18-hole championship course which can be found near Camp de Mar, just a few kilometres from Port d'Andratx. The signature 6th hole here will challenge even the most experienced golfers, as it is known as the "Longest Hole in Spain" at 609 metres from the back tees.
Shopping
There is a boho-chic vibe to the shops in Port d'Andratx where you can find a good range of summer dresses, high-end swimwear, kimonos, sandals, straw bags and more in the summer months. Whether you find yourself on the waterfront or the back streets of town, you'll come across anything from touristy gift shops to designer boutiques, gourmet food and wine stores, to little convenience stores. Keep an eye out for the wonderful interior design stores in the area too. Beach House is a big hit amongst the home and boat owners in Mallorca. As you might guess from the name, there is a beachy nautical theme in this particular store. Another good one is K&K, a Dutch interior design store located one street behind the harbour front. In terms of supermarkets, there's an Eroski and an Aprop within Port d'Andratx. Health fanatics will be pleased to know the Spanish organic supermarket Veritas can be found in the town too.
Dining in Port d'Andratx
The harbour front in Port d'Andratx is lined with restaurants and, thanks to menus being on display outside, it's easy to browse what's on offer before deciding which one suits your tastes. Also worth a look is Carrer d'Isaac Peral, the street that runs parallel behind the front, which has a good selection of eateries at appealing prices.
Seafood restaurants
Being a fishing village, seafood is the main offering in town, with menus full of delicious Mediterranean recipes showcasing fresh fish and shellfish caught in the nearby waters. Rocamar is one of the most popular eateries in the area and offers fine sea views whilst chomping down on some of the Mediterranean's best produce. The 'Rocklobster Casserole' is their speciality dish but you can get a whole range of treats from seafood platters and Paella through to homemade fresh red prawn croquettes. Club de Vela Restaurant, being one of the only restaurants situated overlooking the harbour on the north side claims some of the most exclusive sea views over Port d'Andratx. Here you can expect your favourite Mediterranean and seafood dishes featured on the menu.
International cuisine
Moving away from traditional seafood restaurants, Sumailla Restaurant delivers first-class Japanese-Peruvian cuisine in a modern, minimalist setting. The terrace overlooking the waterfront is often full of happy eaters in the summer months. Although it's one of the most expensive in the area, it does have a special lunchtime sharing menu for two people at a more than affordable price. The highly regarded Trespais Restaurant & Bar cooks up a fusion of Italian and Asian cuisine within a sophisticated setting in the back streets of Port d'Andratx. The menu changes regularly in keeping with seasonal local produce available on the island, which means its chefs only use the freshest ingredients. Those who want to dine al fresco style, don't be put off by the fact that it's not on the seafront for it boasts a delightful courtyard garden.
Restaurants on the outskirts
If you are willing to travel a little out of town then do head on down to Oliu Restaurant which receives rave reviews time and time again. Here you can expect typical Mediterranean cuisine with various fresh fish and meat dishes featuring on the menu. The stylish terrace also boasts a beautiful mountain backdrop, which more than makes up for the lack of a sea view.
Nightlife in Port d'Andratx
If you are looking for some pre- or post-dinner drinks, then Tim's Bar is one of the biggest watering holes on the seafront. Just down the road, Romeo's Lounge Bar is another great spot to grab a cocktail and watch the sun go down, claiming some of the most spectacular views over the port from its rooftop terrace. For late night partying, Monkey Mind is the resident nightclub in Port d'Andratx, it has different nights featuring different music genres including pop, house and Spanish sounds.
Villas in Port d'Andratx
Villas are the most popular choice of accommodation around Port d'Andratx. Located in the hillsides around the port, many were built in the 80s and 90s but contemporary houses continue to be constructed in the prosperous area today. Some of these villas are available for holiday lets and are the perfect choice of accommodation for those who want a more private experience. This style of accommodation is also popular for large groups and families.
Apartments in Port d'Andratx
There are a couple of aparthotel options available in the area surrounding Port d'Andratx which are particularly popular for couples with young children. Aparthotel La Pérgola is a top choice offering bright and elegant accommodation, from 1 and 2-bedroom apartments to bungalows and villas. Facilities also include spacious outdoor pools and a buffet restaurant. More apartment complexes can be found in the neighbouring resort of Camp de Mar.
Hotels in Port d'Andratx
There's a handful of hotels on offer within close proximity to Port d'Andratx, from luxury hotels through to more budget-friendly options. If you want more choice, then there are also a few boutique hotels in the rural town of Andratx just 5km away.
Mon Port Hotel & Spa is one of the more luxurious establishments in the area, owing to its tastefully decorated rooms and well-equipped spa facilities which include a hot tub, sauna and hammam. It also has an a la carte restaurant and wonderful grounds to create an idyllic setting for a relaxing holiday. For a more intimate experience, then Hotel Villa Italia is a one of a kind boutique style hotel. It resides in a beautifully restored mansion overlooking the bay. The rooms continue to draw on the traditional features of the building whilst encompassing modern furnishings to create the best comfort for their guests. Hotel Brismar is a budget-friendly option which offers simple accommodation with views over the bay. There's no swimming pool but the sea-facing terrace has sun loungers, appropriate for those keen to bask in the sun all day long.
How to get to Port d'Andratx
By car
Port d'Andratx is about a 35-minute car journey from Palma airport. Head for the Ma-20 from the airport, then get off on the Ma-1 which takes you all the way to Port d'Andratx.
Public transport
The TIB Bus number 102 travels every hour from Plaça Espanya in Palma to Port d'Andratx and back. This route also connects Port d'Andratx to Andratx, Camp de Mar, Peguera and Santa Ponsa.
Location
Port d'Andratx, Mallorca