Top rural retreats in Mallorca for 2018
Relax and recharge at some of the best finca hotels
About
Mallorca is a paradise for those seeking a break from the stresses of city living. Either surrounded by orange groves, overlooking valleys, or built along pine covered coastlines, the island's many lovingly restored farmhouses invite you to pause and take stock.
Whatever corner of the island you're drawn towards, there's a rural idyll where you can reconnect with nature and restore depleted energy levels.
Unwind with Wine in Central Mallorca - Es Quatre Cantons Agroturismo Hotel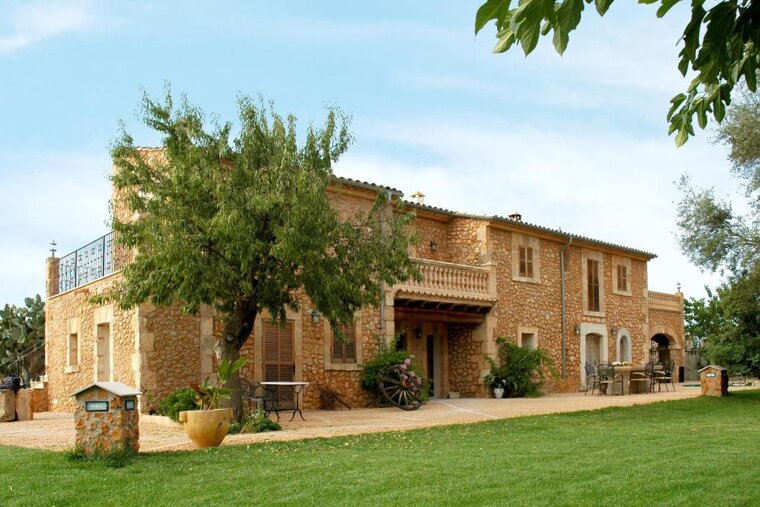 With its cats, dogs, chickens, horses and even an ostrich, Es Quatre Cantons Agroturismo Hotel might just fit your idea of a rural escape. Care for the environment is a priority and they use solar energy, residual water in their garden and organic products in both the bathrooms and on their menu. The beautifully restored 19th century finca has 14 rooms, including four suites, with plenty of space for families. It is located just 2.6km away from the historic town centre of Binissalem, which is the centre of wine production in Mallorca. We recommend sampling the local wines at nearby wineries, such as Celler Albaflor, Vins Nadal or Jose Ferrer. Cycling, hiking and horse riding are all possibilities from here, although best not mixed with wine tasting!
Prices for a double room start at €83 and vary according to season
---
Wellbeing in the West - C'an Verdera Hotel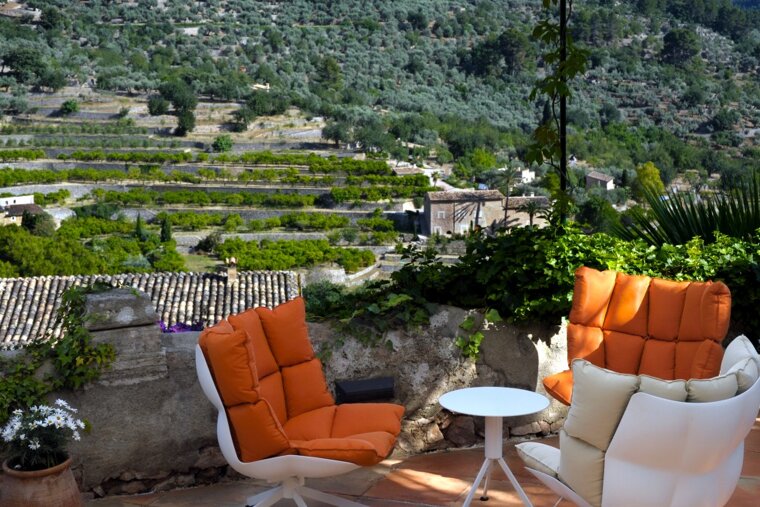 "All that a poet or a painter might dream of, nature has created here..." The words of writer, George Sands, may resonate with you while you're enjoying the view from your garden facing balcony at C'an Verdera Hotel. This 11 room boutique hotel is located on the slopes of the Serra de Tramuntana in the village of Fornalutx, which is claimed by many as the prettiest village in Spain. It is perfect for all those who want to immerse themselves in nature without forgoing the luxuries expected of a top hotel. Beauty treatments, massages to knead out those knots and yoga to stimulate you, are just some of the ways to make the most of your stay here. Lovers of the great outdoors have a good choice of walks, from gentle paths to high altitude hikes. An excursion to Lluc monastery is highly recommended. The stylish Garden Lounge is the perfect place to end each day, as you can sit back and enjoy orange blossom beer, freshly brewed in Soller.
Prices start at €160 for a double room and vary according to season.
---
A hideaway in the south – Es Lloquet – The Secret Place Boutique Hotel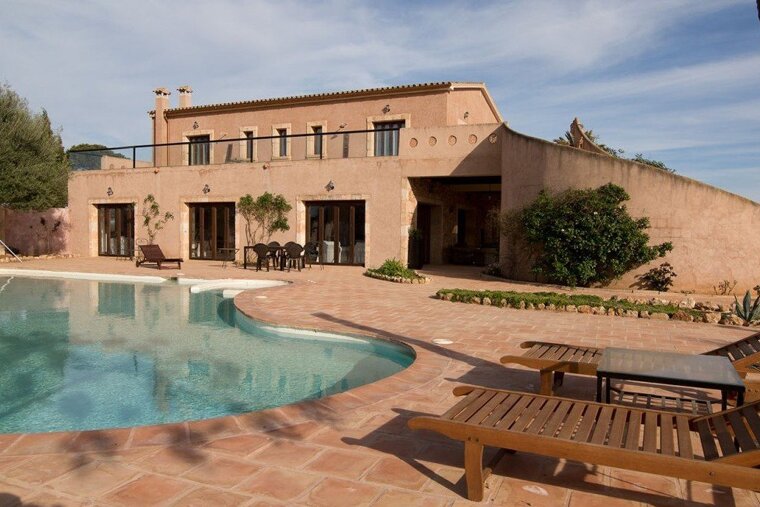 The Secret Place is a charming boutique hotel in the rural village of Campos just a short distance away from one of Mallorca's most beautiful beaches, Es Trenc. The hotel true to its name is set in a rural, tranquil location, away from the commercial resorts in Mallorca. It offers guests the opportunity to get up close and personal with the islands natural beauty. Set within an old finca style building, the rooms feature traditional Mallorquin décor, and combines it with modern fixtures and fittings to create the ultimate relaxing retreat. Between the two swimming pools, the tennis court, padel court, and extensive gardens with lakes, you would be forgiven for never leaving the grounds. This is a place suitable for those who want to explore the stunning sandy beaches and coves with turquoise waters on the south eastern coastline of Mallorca.
---
Natural tastes in the North - S'Hort de Cas Misser Rural Hotel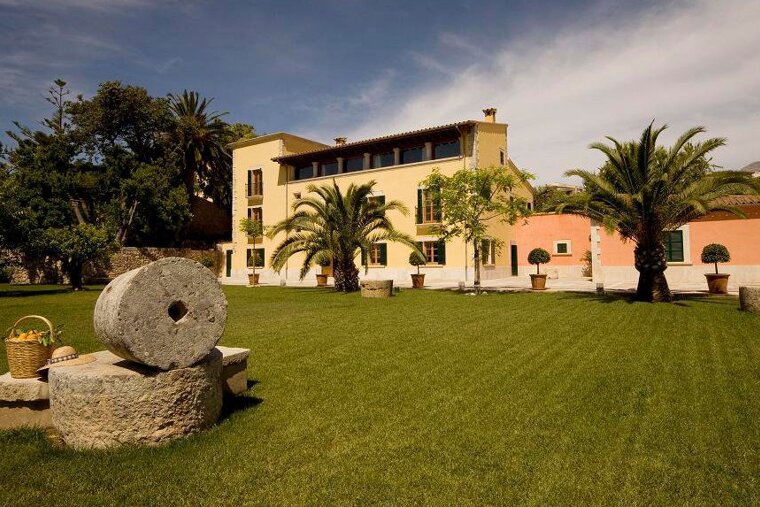 A 300 year old farmhouse restored in style, S'Hort de Cas Misser Rural Hotel is an 8 room adult only boutique hotel with an emphasis on connecting with the natural beauty and tastes of the land. Enjoy a sumptuous breakfast with fresh, Mallorcan ingredients each morning on the pretty flagstone terrace and reserve your place at their weekly themed supper. Beyond the hotel, it's worth making a reservation at Can Miceli, a small yet very highly regarded family-run restaurant. Their menu is dictated by the most enticing ingredients available on the day, selected by their Chef Marga Coll. Located in sleepy Selva, with very little commerce, this is a place for those who are happy to let nature entertain. Walkers, cyclists and foodies will be very happy in this heavenly place.
Prices start at €150 and vary according to season
---
A wholesome experience in the East - Agroturisme Na Martina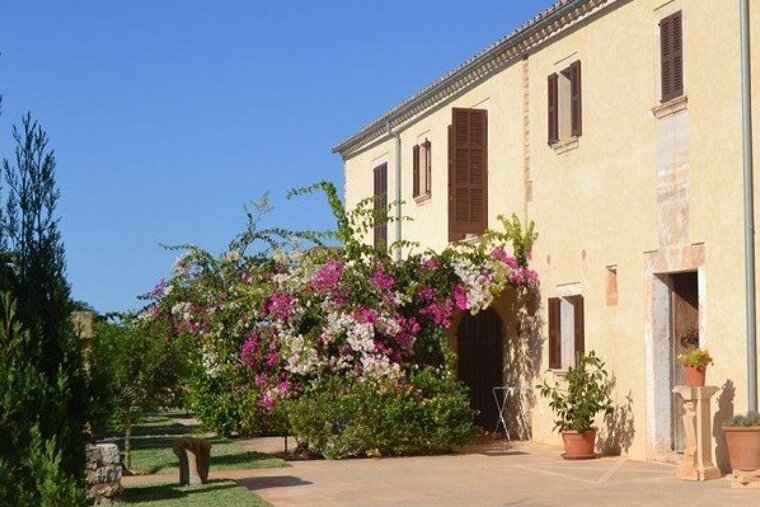 Agroturisme Na Martina is a family run establishment within a restored finca on the edge of Mallorca's Mondrago Nature Reserve. The style of this hotel could be described as an intimate, home-away-from-home holiday setting. The hotel is traditional in style whilst encompassing all the amenities you could want from a relaxing stay, including an outdoor swimming pool. Dining at the hotel is also a must, as the restaurant serves homemade regional cuisine, with much of the ingredients grown on site. There's also free parking and bicycle rental available!
Prices start at around €150 and vary according to season.
---
---