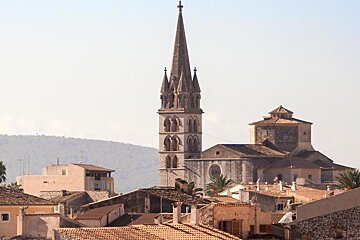 © Ajuntament de Binissalem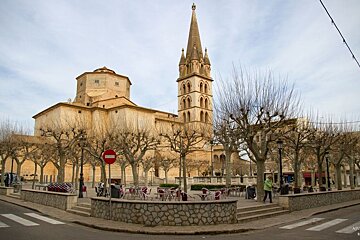 © Ajuntament de Binissalem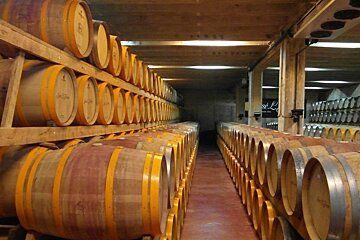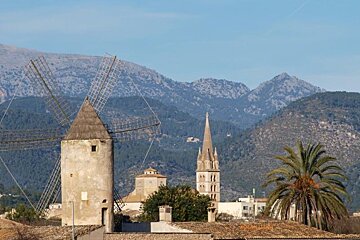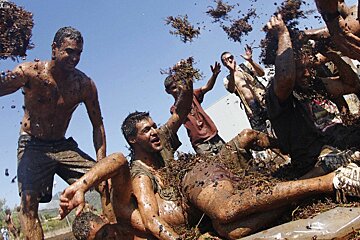 © The Travellers Collection
Binissalem, Mallorca
Traditional rural town & wine growing region in central Mallorca
If you are familiar with Mallorcan wine, then it's more than likely you will have heard of Binissalem. This small town in central Mallorca is most famously associated with wine production. Surrounded by some of the island's best vineyards and bodegas, wine buffs should make it their mission to stop by on a trip to the island.
Aside from its wine roots, the town itself predominantly remains a sleepy, authentic, blonde sandstone Mallorcan village. There are a few bars and restaurants available servicing mainly the locals as well as a few tourists visiting the town. Binissalem lies where the Mallorcan plains meet the Serra de Tramuntana mountains, making it a popular pit-stop for outdoor enthusiasts, although many are drawn to the surrounding countryside filled with vineyards and orange and almond groves.
The town boasts excellent travel links as it is just off the main motorway travelling between Palma and Alcudia. The fact that the train service from the capital reaches Binissalem also means it is well connected to other towns around the island.
History & Culture in [locality]
Viticulture was introduced to Mallorca by the Romans and Binissalem was one of the island's most prominent regions for growing wine right up until the 19th century. It famously exported high-quality produce to the rest of Europe but, like the rest of the island, this industry was completely wiped out by the plague of Phylloxera in the late 19th century. In recent years, the wine industry has been revived and improved with Binissalem being the first area to be awarded a DO (Denominació d'Origen) in 1990.
The reputation of Binissalem red wines, made with the local grape Manto Negro, has seen the most growth during the last 20 years or so. Local growers are passionate about their product and are dedicated to raising the profile of Mallorcan wine. If you are buying, remember that 'crianza' wines are the youngest while 'reserva' and 'gran reserva' have been aged for longer.
Binissalem also developed a reputation for producing fine woodwork and stonework in the mid 20th century. There are still successful and active quarries in or near the town which are producing even today.
Sights & Attractions in [locality]
The most iconic piece of historic architecture in Binissalem is the 15th-century Gothic church of Santa Maria de Robines, although its Neo-Gothic bell tower wasn't completed until 1908. Many of the buildings in town date back to the 18th century, and, in 1983, the Municipal Government of the Balearics declared Binissalem a historic-artistic site, awarding it special protection from future development.
Events in [locality]
In the third week of September, the Festa des Vermar (Binissalem's wine festival) takes place and all things wine appear on the streets, including special recipes with grapes and wine and, of course, many opportunities to taste some local potions. The most exciting part of this festival is the grape fight, where locals (and brave visitors) dress up in white clothing and paint the town purple as they pelt each other with bunches of grapes. It has to be seen to be believed! The festivities conclude with a harvest supper in which the town's traditional dish, Fideus de Vermar, is served. This local recipe usually encompasses small noodles, red wine and mutton.
Binissalem is famed for its native stone and, at the end of May, the town puts on its annual Stone Craft Fair where this traditional craft is showcased around the streets of the town. The fair coincides with a local produce celebration, making it a popular place for locals to come together.
Binissalem's weekly market is held every Friday morning in the square by the church. Other food and drink events are held throughout the spring and autumn, celebrating local agricultural successes.
Things to do in [locality]
Unsurprisingly, wine is the main attraction in this area. Many enjoy visiting the local vineyards for tours and tastings. Most of the vineyards have shops with their wine for sale, so you can also take your favourite bottles home with you afterwards. There are lots of vineyards in the area but these are some who are especially well-versed in wine tours and tastings.
Bodega Ribas, dating back to 1711, is one of the oldest wine producers on the island. The winery, part of the old Ca'n Ribas stately home, not only attracts visitors for its exceptional wines but also the bodegas history, including its original historic barrel cellar and winemaking warehouse.
Bodegas Jose L. Ferrer was established in 1931 and has quickly become the most famous name in winemaking on the island. They have an extensive list of high-quality award-winning wines and you will see their wines in many restaurants, supermarkets and even at the airport.
There are several companies offering guided tours of the local vineyards, perfect if you want to visit more than one place. Book your spot on the Gourmet Train & Wine Tour or tailor the experience to suit your needs and enjoy an unforgettable day out amongst the Mallorcan vines.
Dining in [locality]
If you want to try something completely authentic, then Sa Caragolera is where you should go to taste one particular Mallorcan delicacy, snails. But if this local speciality isn't something that appeals to your taste buds, then fear not, there are some other lovely restaurants in Binissalem. Restaurante Terra di Vino is a favourite amongst locals and tourists, serving top quality food at reasonable prices. Here you will find a good selection of Italian and Mediterranean dishes. Es P'dal sits in an idyllic situation along the Passeig des Born in Binissalem and specializes in casual Italian fare. Its pizzas make it hugely popular amongst the locals, always a sign of a good spot. If you are looking to try some traditional Mallorcan pastries and a good café con leche, then L'Exquisit is the place to visit.
Where to stay in [locality]
It's all about finca and villa rentals in this part of the island and you will find plenty of choice in the countryside surrounding Binissalem. This type of accommodation tends to appeal to families and large groups looking to escape the hustle and bustle of some of the tourist spots in favour of a rural escape in Mallorca.
Alternatively, there are a couple of rural hotels nearby but nothing within the town itself. The closest hotel is Agroturismo Es Quatre Cantons, a rural boutique hotel housed in a large old mansion. The interior is traditionally styled, with four-poster beds and antique furniture. Highlights include a swimming pool surrounded by 10,000m2 of gardens and patios, and a wonderful restaurant and bar servicing hotel guests with traditional local cuisine.
How to get to [locality]
By car
Binissalem is about a 30-minute drive from Palma airport. Head towards Palma along the Ma-19, then take the Ma-30 to get on the Ma-13 towards Port d'Alcudia and Inca. Take exit 17 towards Consell/Alaro/ Binissalem/Lloseta and travel along the Ma-13a all the way into Binissalem.
Public transport
There is no direct bus to Binissalem from the airport. Take the bus number 1 from the airport to Palma's Plaça d'Espanya and then train T3 which travels between Palma and Manacor every hour. The T3 takes just over 20 minutes to travel to Binissalem and connects the town to other popular market towns like Santa Maria del Cami, Alaro, Consell, Inca and Sineu.
Location