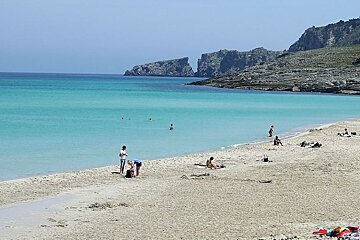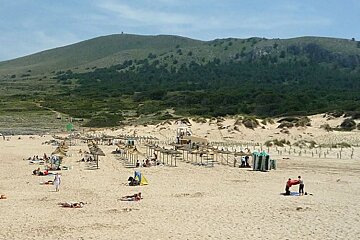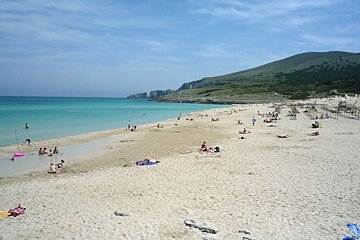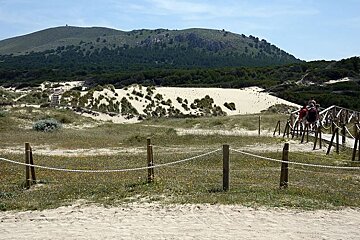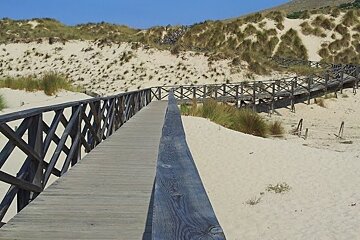 Cala Mesquida Beach, North-East Mallorca
Beautiful beach in the natural surroundings of north-east Majorca
Cala Mesquida is a fairly remote beach, located in the north-east of Mallorca, around 15km from Arta with lovely white sand and crystal-clear waters.
The beach is 300 metres in length and over 100 metres in depth. Home to one of the largest colonies of gulls and Balearic cormorants, the area is protected due to its importance for bird life. This is why the east side of the beach still exists purely of natural sand dunes and pine trees, upon a hilly background still free from development. A small resort lies on the west side, with a few local shops and restaurants.
Whilst there are no showers or toilets, there's a great selection of luxury sun loungers with parasols available to hire.
Restaurants
At the back end of the beach, you'll find a large and popular restaurant, as well as a beach bar in the central part of the beach.
Nightlife
The nearest towns, Capdepera and Cala Ratjada, offer a variety of nightlife from casual sundowners to all-night clubbing, but don't expect to find much late night activity in Cala Mesquida itself.
Hotels
Being a petite and relatively unspoiled holiday resort, it is composed of a handful of resort hotels catering for tourists, some are adult only and some are family friendly.
Setting & Location
Considered one of north-east Mallorca's most scenic locations, Cala Mesquida is a large bay surrounded by rocks on either side which offer wonderful views with a small climb. Officially an 'area of special interest', a raised wooden walkway will take you through the dunes and onto the far side of the beach if you fancy taking a closer look at the species that dwell within. From the walkway you can see the 'Talaia de Son Jaumell', which is an old watch tower perched on top of the hills at the back of the beach. It's worth noting that this walkway brings you onto the nudist side of the beach.
The resort town of Cala Mesquida is surrounded by a lovely landscape of hills and protected pine forest. You can find the small medieval town of Capdepera 5km from Cala Mesquida, full of ancient walls and towers, it's definitely worth visiting.
Water Safety & Clarity
The sea is a wonderful clear, pale turquoise colour and often commented as being notably crisp. The waves can increase however when the wind is up, which is great for wind surfers but not so great for small children.
Beach Quality
The 300m stretch of soft and fine, bright white sand is heavenly, but being fairly unprotected, it's often unavoidably exposed to stronger winds which warrants the lifeguard on duty. There are showers available, but no toilets or changing area. Particularly popular with tourists, especially Germans and British under 50, families are grateful for the easy access and large area of sand and sea.
Watersports Nearby
Water sports are popular here, with pedalos to rent and regularly good conditions for wind-surfing.
Directions
Heading towards Manacor from Palma on the Ma-20 and Ma-15, you will need to exit the motorway at 21-A towards Arta, following a series of smaller roads along the coast to Cala Mesquida.
The resort offers free car parking a few hundred metres from the beach. Otherwise, you can easily catch a bus from Cala Ratjada or Capdepera.
Location