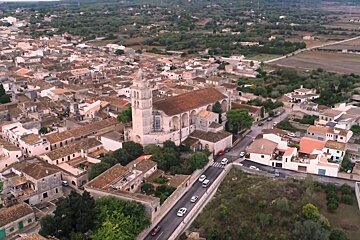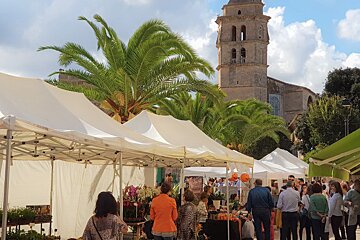 Petra, Mallorca
Traditional rural town in central Majorca
The small rural town of Petra lies in the middle of Mallorca, surrounded by agricultural land.
Petra is best known as being the birthplace of Fray Junipero Serra, a misionary who some claim to have founded California. Petra is also known for it's sandstone which has created many of the villages of Mallorca.
History & Culture in [locality]
This sleepy town of sand coloured houses would be completely off the tourist map if it were not the birthplace of Mallorca's most famous son, Fray Junipero Serra. Born in 1713 he became a priest in 1730 and worked as a missionary in Mexico from 1749 to 1763. At the age of 54 he was sent to California; the missions he established there grew into some of the USA's largest cities including San Diego and San Francisco.
Sights & Attractions in [locality]
You can visit the house where Serra's parents lived, a museum devoted to his life and work, the font where he was baptised (in the church of Sant Pere) and a plaque outside the same church describing him as 'explorer missionary hero civiliser'. Anyone walking down the street leading to his birthplace decorated with majolica tiles depicting him baptising Native Americans might be inclined to disagree but by the standards of his day he was certainly a hero.
There is a small hill just outside Petra which has a small church, The Ermita de Bonany. Enjoy the solitude and the views from the top.
The wealth generated from it's agricultural past is shown in the size of its church, Sant Pere, which was built in the 16-17th centuries.
The area around Petra is scattered with windmills, reflecting the relationship Petra has with cereal crops. These days, vineyards also prosper in the fertile lands and you can arrange visits for tours and tastings in advance.
Events in [locality]
There is a market every Wednesday morning. Petra's autumn fair is held on the third Sunday of September. There are also smaller fiestas during the summer months.
Hotels in [locality]
There are a couple of choices for simple accommodation in Petra and its surroundings.
Location