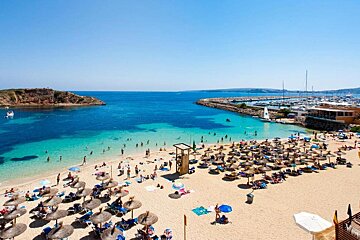 Beautiful beaches in Mallorca
Discover the top beaches in Mallorca
There are more than 200 beaches around Mallorca's beautiful coastline. Over 30 of these are designated as 'Blue Flag', which assures not just the water quality but the provision of bathroom facilities, lifeguards and other tourism services.
Best Beaches in Mallorca
North
Cala Sant Vicenç, Cala Formentor, Playa d'Alcúdia, Playa de Muro, Port de Pollença
East
Cala Mesquida, Cala Varques, Canyamel Beach
South-east
S'Aramador, Cala Mondrago, Calo d'es Burgit, Cala d'Or, Cala Sa Nau,
South
Cala Pi, Es Trenc, Es Carbo, Es Calo des Moro
South-west
Portal Nous, Camp de Mar, Palma Nova, Sant Elm, Portals Vells
West
Cala Deià, Sa Calobra, Port de Sóller
Mallorca's beaches range from long stretches of golden sand sliding into shallow blue seas to quiet rocky coves with crystal clear waters. Many of the bigger beaches have been claimed by resorts but there are many more to discover off the beaten track.
The north and south have the largest sandy beaches, whilst the east coast is filled with pretty little coves with sheltered turquoise seas. The west coast is famous for its rugged mountainous coastline, cliff edges dominate the landscape which means there are only a few small beaches to visit.
Favourite Beaches in Mallorca
Some beaches in Mallorca must be visited. Whether it's for their stunning location, turquoise waters, exceptional facilities and services on offer or incredible atmosphere, here are our 3 favourite beaches in Mallorca:
1. Cala Formentor
Cala Formentor Beach is found at the most northerly point of Mallorca and is one of the island's most well-known beaches. The setting is second to none, the beach is backed by lush vegetation and green pine forests, and has views over turquoise green seas and the Bay of Pollenca. The soft sandy beach itself is one km long but it is extremely narrow, so there's not much room for children to play. This is a positive or a negative, depending on whether you have kids!
2. Portals Nous Beach
Portals Nous Beach, located right next to the prestigious Puerto Portals marina. The bay is sheltered so you can normally enjoy perfect swimming conditions in pristine turquoise seas. Watersports facilities are good here, from (SUP) paddleboarding and pedalo hire through to jet skiing available at the neighbouring marina. There's the choice of a cracking beach bar and a trendy beach club on the other side of the marina, or you can dine at one of the many first class restaurants in the Port.
3. Camp de Mar Beach
Camp de Mar Beach is a beach within a small coastal resort close to Andratx in the south west and has all the amenities one might want from a beach holiday. The beach itself is of medium size with fine golden sand and beautiful green-blue waters. You can even dine in the middle of the sea as there is a restaurant which you can only reach by crossing a rickety wooden bridge.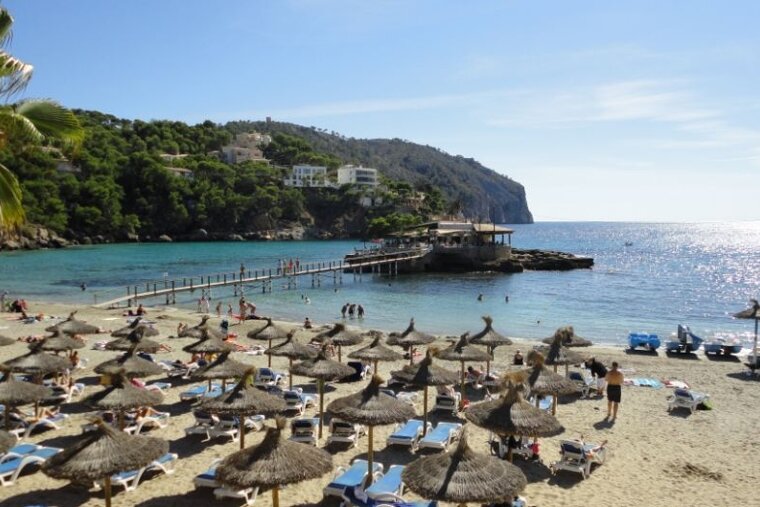 Family Beaches in Mallorca
Beaches with plenty of parking, easy beach access, bathrooms, restaurants and shops selling beach inflatables will suit families looking for a fun but relaxing day at the beach. Many of the best family beaches in Mallorca tend to be part of the bigger resorts, in both the north and the south. These are the top 5 recommended beaches in Mallorca for families:
1. Playa d'Alcudia Beach
Playa d'Alcúdia is considered one of the best in Spain and offers fine white sand, shallow sheltered seas and plenty of space for the kids to bury themselves up to their necks, build fortresses and play ball. Watersports such as jet skis and parasailing are also available for the more grown-up members of the family and there are lifeguards on duty to provide an extra pair of eyes. There is a climbing frame and play area and wooden walkways to ease access with a buggy. Cafes and restaurants alongside the beach mean you won't have to go far when everyone gets hungry.
2. Playa de Muro Beach
Playa de Muro beach lies just beyond Alcudia beach and continues on to Can Picafort. This section of beach tends to be quieter than Alcudia and space is plentiful along it's five kilometre length. Fine golden sands dip into shallow, idyllic turquoise waters. Upmarket resorts lie directly behind the beach, and there are good quality beach bars and restaurants to enjoy.
3. Port de Pollença Beach
Port de Pollença Beach, also in the north, has a long stretch of sand, an abundance of sun loungers, good quality restaurants, bars, shops and a pretty marina. The sandy beach boasts a picturesque mountain backdrop and a quieter more relaxed atmosphere than Alcudia.
4. Palma Nova Beach
Palma Nova is a popular tourist resort, and yet with one kilometre of fine white sand to enjoy in the bay, there's plenty of space to build sand castles or play bat and ball. The turquoise water has a shallow start so it's good for young swimmers. There's the option of watersports and volleyball for the older children and playgrounds for the little ones. Palma Nova has all the facilities that make a day at the beach more comfortable, such as toilets, showers, sun loungers and sunshade hire, wooden walkways, lifeguards and several beach bars.
5. Sant Elm Beach
Sant Elm, also in the south-west, has a small white sand beach, turquoise water plus a stunning view of the island of Dragonera. If your family wants an additional adventure on their day out, they can visit the island by taking a boat (€15) from the harbour. There are four different trails to follow once there although no actual beach. Departure times vary depending on the season. Sant Elm beach has good facilities, such as toilets, showers, disabled access, sun shades and loungers and an on-duty lifeguard. There are also swings and a climbing frame as well as cheap paid parking close by.
Beach Bars & Beachclubs in Mallorca
The majority of Mallorca's beach clubs are found around the Bay of Palma. They range in style from swanky Balinese-bed-type of places to smaller, more rustic affairs at the quieter beaches.
Pool parties
The cream of the crop is Nikki Beach with their renowned parties gathering Mallorca's rich, beautiful and famous. A centrepiece swimming pool surrounded by plush lounge beds on a pristine sundeck, the best international cuisine with exotic touches, delicious signature cocktails and high-class DJs.
Breathtaking sunsets
For a more relaxed feel, Mhares Sea Club offers scrumptious cocktails and a terrace from where to watch the best sunsets on the island to the sound of national DJs. Their restaurant is also famous for serving modern Mediterranean cuisine.
Popular hot spots
Equally well-known are the Puro Beach Clubs, with their pure white theme and relaxation & wellness centres. Despite neither of their Mallorca clubs actually having a beach, they offer a sophisticated experience by the sea. Other beach clubs worth mentioning are Mood Beach Club, by Puerto Portals, and Gran Folies Beach Club at Cala Llamp. More relaxed are the beach clubs on the Bay of Alcudia – Playa de Muro has a great selection of beach clubs and restaurants set on the sand, offering great food, cocktails and DJs.
Beach bars
If you prefer a more informal service at the beach, then you'll be pleased to know that most beaches have beach bars that serve up tasty snacks and drinks throughout the day. The best of these include Roxy's Beach Bar at Oratori Beach, El Chiringuito in Costa de la Calma and Cala Sa Nau, just north of Cala d'Or.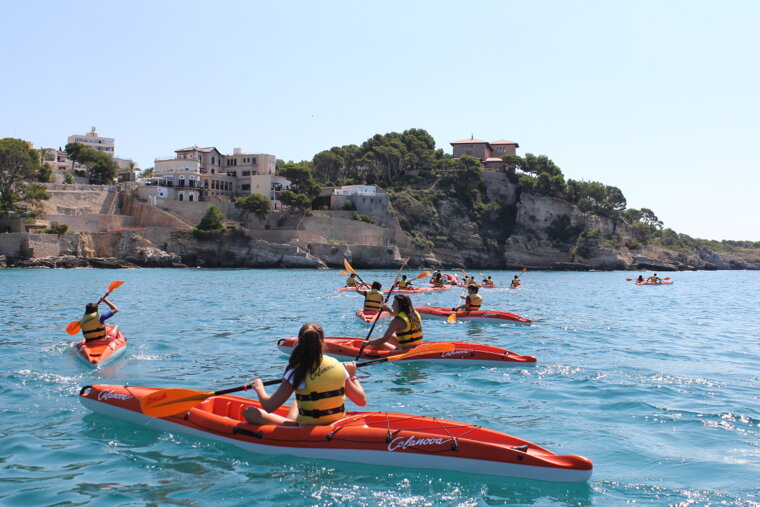 Watersports Beaches in Mallorca
Most of the beaches that offer watersports are found in the major resorts of Mallorca. Plenty of activities are available to try, including windsurfing, kitesurfing, stand-up paddleboarding, flyboarding, parasailing, kayaking, snorkelling and jet skiing. Head to Port de Pollença, Port d'Alcudia, Cala d'Or, Colonia de Sant Jordi, Cala Nova, Magaluf and Santa Ponsa for the best selection.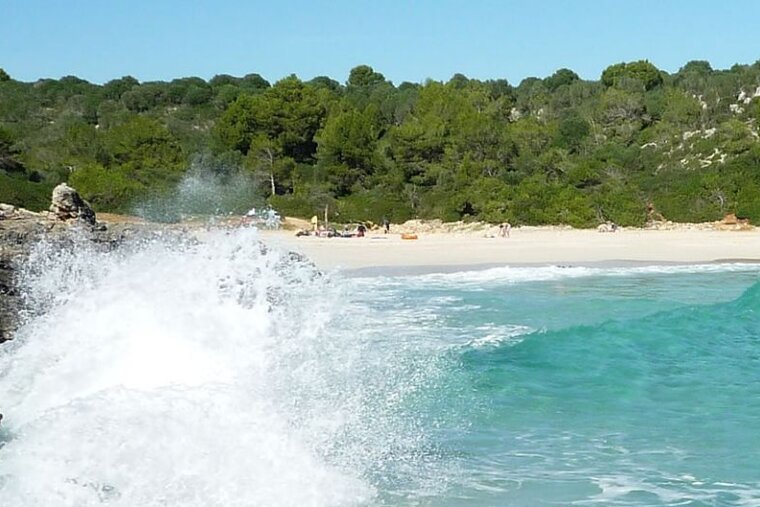 Mallorca not only has large stretches of sand attracting hundreds of tourists, but there are also charming secluded coves, far from the hustle and bustle of the most popular resorts. Take a look at the top 6 secret calas on the island:
1. North – Cala Mesquida
Cala Mesquida is a natural, unspoilt beach, famous for its picture-perfect white sand and turquoise seas set in a beautiful bay. Wooden walkways lead you through sand dunes and the Llevant Natural Park provides a rugged and wild backdrop. Although there is no resort as such, there's a hotel complex and a couple of beach bars and restaurants nearby.
2. East – Cala Varques
Cala Varques is one of several wild, natural beaches on the east coast. Far enough away from any resorts, and a 20-minute walk from the road, only the determined make the effort to visit this wonderful beach. Glorious golden sand, crashing waves, and intricate rock formations make Cala Varques a hit with those who enjoy nature and adventure sports.
3. South-east – S'Amarador Beach & Cala Mondragó
S'Aramador Beach and its neighbour Cala Mondragó Beach are very special places in the south-east of Mallorca. Situated in Mondragó Natural Park, one of Mallorca's most famous natural parks, these two beaches are linked by a short coastal path. Despite being away from any resorts, visitors flock here to enjoy the beauty, the soft sandy beaches, rocky inlets, and the most amazing deep turquoise blue sea.
4. South – Cala Pi
Away from the hustle and bustle of Mallorca's tourist resorts, Cala Pi Beach sits at the end of a narrow sea inlet in the south of Mallorca. The narrow sandy beach extends quite a way inland which means the beach is never overcrowded. The bay is sheltered due to a long torrent of dramatic rocks out to sea and the shallow waters make it a haven for families with young children, although there are a series of steps to navigate on the way down to the beach.
5. South-west – Portals Vells Beach
Portals Vells Beach is found between Magaluf and Port Adriano in the south-west. You will find it down small country roads, away from the hustle of the nearby resorts and is one of the most beautiful beaches on the southwestern coastline. The soft sandy beach, unique rock formations and mysterious caves attract locals and those 'in the know' who are willing to travel a little further to find the perfect beach.
6. West – Cala Deià
A special mention must go to Cala Deia, on the west coast. This tiny cove has a shingle beach and two classic fish restaurants and is surrounded by natural beauty. It's a hot spot for the rich and famous who stay in the village above the beach and is a well-known haunt of artists who enjoy the magical light.