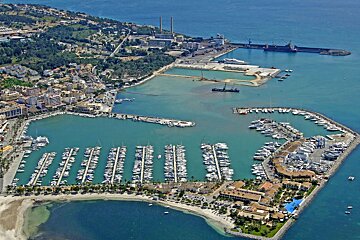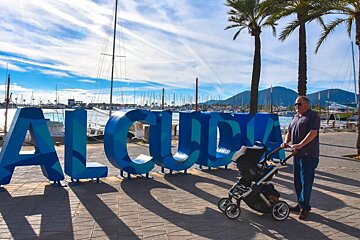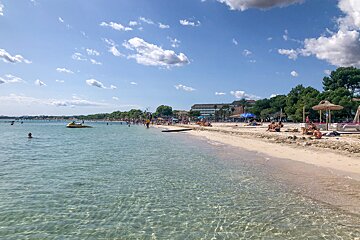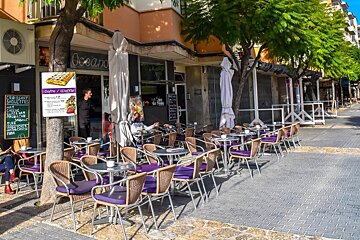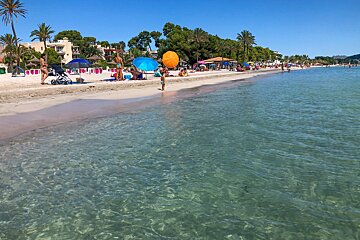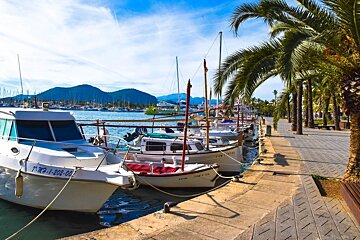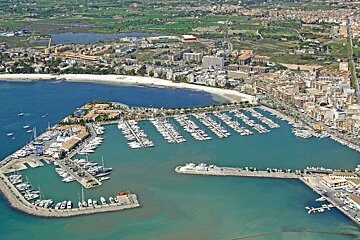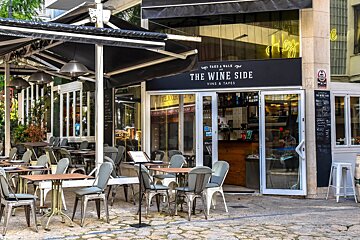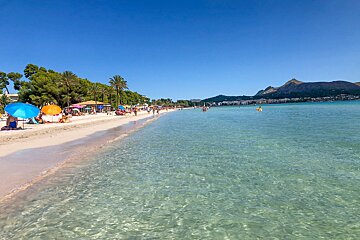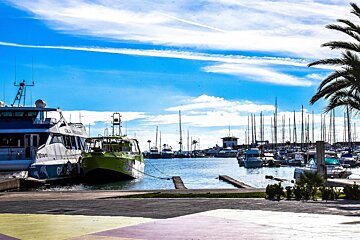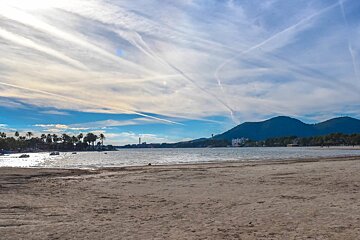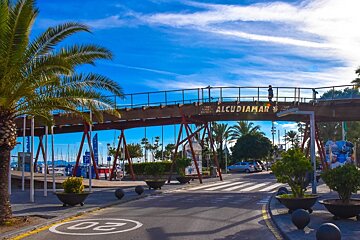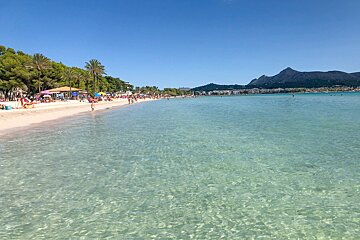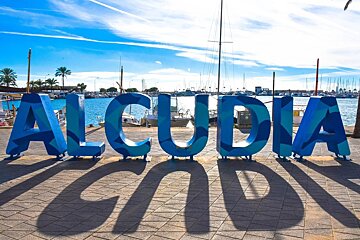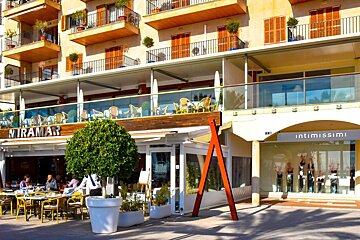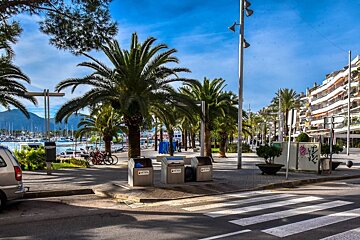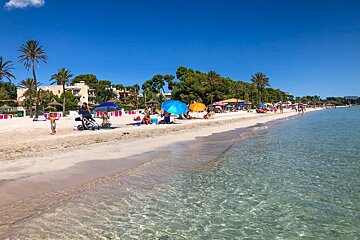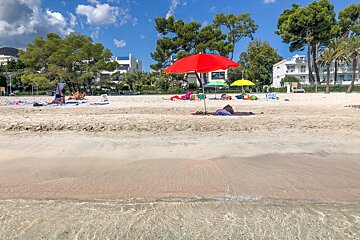 Puerto Alcudia (Port d'Alcudia), Mallorca
The most popular place in Mallorca for family beach holidays
On the north coast of Mallorca lies the Bay of Alcudia, a gorgeous coastline comprising of turquoise shallow waters and long, soft golden sandy beaches. It is therefore not much of a surprise to find Majorca's biggest beach resort here. From Port d'Alcudia, in the west, to Can Picafort 10 km down the coast, you will find a strip of apartment blocks and resort style hotels that offer everything from budget self-catering to luxurious 5-star accommodation.
As the name Port d'Alcudia or Puerto Alcudia suggests, this was once just a port serving the inland town of Alcudia. The area around the old fishing harbour is now the most attractive, an upmarket marina where fishing boats sit along luxury leisure yachts. From here, there is a pedestrianised promenade that runs along the coastline. On this promenade and within the streets behind, you will find a good selection of bars, cafes and restaurants. Apartments and hotels can be found from the shoreline backwards, a very built up area. Although it is prettier down by the waterfront, there is a canal system that leads to an inland lake, creating a system of waterways between the buildings adding a level of charm to this area.
Being a tourist resort, most of the hotels, restaurants and bars are only open in the summer months between April and October. If you are looking for a more cultural experience, head to the ancient town of Alcudia a few kilometres inland - it is a wonderfully restored Medieval town with city walls and Roman ruins which boasts one of the best markets in Mallorca.
Beaches in Playa de Muro
Playa de Alcudia is the longest stretch of beach in Mallorca thanks to its 7km of soft, golden sand. In the summer, you will find row upon row of sun loungers and parasols full of tourists. The stretch of beach closest to the port is known as Ciudad Blanca (White City in English) which is where you will find a full range of facilities including beach bars, restaurants, watersports, public toilets and showers. Some way down the coast, it gets quieter and then changes from being Alcudia Beach to Playa de Muro. Here the beach narrows somewhat and, without as many facilities, it has a more relaxed vibe. Continuing in this direction, you will reach the calmer holiday resort of Can Picafort.
Events in Playa de Muro
Port d'Alcudia hosts a selection of events throughout the year, from traditional Mallorcan fiesta's through to first class sporting competitions.
Traditional events are big in Mallorca and, for Puerto Alcudia, the Sant Pere Festival in June is one of the biggest and best. It's a maritime affair, as the locals celebrate the port's patron saint, and entails a week of entertainment, parties, dancing, music and more. The day of Sant Pere (29th June) starts with a sea and land procession with a statue of Saint Peter and finishes with a fireworks display at midnight.
Sporting events are big in this part of Mallorca. Port d'Alcudia is the start and finish line for the iconic cycling event Mallorca 312 which normally takes place in late April or early May and attracts thousands of cycling enthusiasts from across Europe. IronMan 70.3 Mallorca is another huge sporting event bringing thousands of athletes over to the island in May.
Things to do in Playa de Muro
The town is popular with families because of all the facilities that the resort has developed. If lounging by the pool or on the beach isn't for you, then fear not, there's plenty of activities on offer throughout the resort too.
Boat trips
From the port, there are a variety of boat trips on offer including dolphin watching tours, glass bottom boats and sunset excursions. Alcudia Sea Trips offer dolphin watching tours, cave trips and a boat tour of Formentor. To the north of Port d'Alcudia is where you will find the commercial port. From here, passenger ferries leave for the Menorcan city of Ciutadella each day.
Fishing
Mallorca's northern coast is one of the best spots for fishing in the island. There are a few companies that can take you fishing and they provide all the gear, snacks, drinks and anything else you might need for a fun day at sea. Mallorca Fishing offer family-friendly fishing trips, coastal fishing trips and deep sea fishing for those who want to step up their game.
Yacht charter
Charter your own private yacht from Port d'Alcudia harbour to experience a more exclusive sailing experience around the Mallorcan coastline. Whether you want to charter a motor or sailing yacht for a day, week or longer, you will be sure to find something here. Fishing trips can also be arranged in this area with Fishing in Mallorca.
Cycling
Port d'Alcudia is a bit of a haven for cyclists as it provides an ideal location to tackle some of Mallorca's most famous and gruelling cycling routes in the Serra de Tramuntana, as well as providing more leisurely options around the flat plains. There are plenty of places to rent a bike in this area, including Wheels Sport.
Golf
Alcanada Golf Course is an 18-hole golf course claimed to be one of the best in Mallorca. Designed by renowned architect Robert Trent Jones, it is recognised by a number of well-known golf magazines and golf guides as one of the finest in Spain and Europe.
Go-Karting
Kartingmania is a huge attraction for both adults and children and can be found within Hotel Bellevue. The track, designed by an ex F1 driver, is one of the best in Spain and its British Biz Karts, with unrestricted engines, are a big draw alongside the good range of Kids Karts. It is open daily from 09:30 in the morning until midnight.
Tourist train
There is a tourist train known by many as the 'Ting Ting Train' which makes a tour of different parts of the Puerto Alcúdia, stopping off at various places it is a good way to travel around the resort.
Waterparks
Hidropark is Alcudia's waterpark and can be found to the back of the resort. It has everything you could want offering many slides, a wave pool, and a shallow play area for the little ones. There's also a mini-golf course here if you need a break from the water boasting an impressive 54 holes across various courses.
Watersports
Watersports are the most popular activity in Port d'Alcudia. The widely popular pedaloes can be found along the coastline and can be hired by the hour. For the thrill seekers, banana boats, parasailing and water skiing are also available to book on the beach.
If you want to take things to the next level, then kayaking, canoeing and SUP paddle boarding are also available with various companies. The north of the island is the windiest, making windsurfing and kite surfing particularly prevalent in this area. Whether you want to hire the equipment or commit to a course, the facilities are available with various companies including Wind Pirates, Wind & Friends Watersports, Mallorca Kiteboarding & SUP and Kite Surf Mallorca in Playa de Muro. If sailing is your thing, then sailing courses are available for both adults and children from beginner to intermediate level.
Playgrounds
Being a family-friendly resort, there are plenty of playgrounds to be found around Port d'Alcudia.
S'Albufera Natural Park
If you want to explore some of the island's natural beauty, then a visit to the Nature Reserve of S'Albufera is an absolute must. It is the largest wetland area in Mallorca, stretching across 1708 hectares and renowned for birdwatching. Entrance to the park is free.
Dining in Playa de Muro
As one of the islands biggest tourist destinations, you are spoilt for choice when it comes to restaurants in the area. You will find every kind of cuisine under the sun including American steakhouses, Chinese, Italian, Indian, and obviously typical Spanish cuisine. Most of the restaurants can be found within the resort and along the promenade. Some of the nicer ones are in the marina but the choice is massive, as is the range in prices.
If you are after a good seafood restaurant on holiday, you will be pleased to know that Port d'Alcudia certainly delivers. Try Miramar or Sirenas for the catch of the day or a heartwarming paella. For traditional style Mallorcan food, veer a little away from the seafront in the direction of Meson los Patos. A restaurant that oozes charm, you will find local delicacies like snails, Mallorcan soup and tumbet on the menu. Alternatively, Bistro del Jardin serves Mediterranean cuisine with lots of local influence. If you are after an extra special culinary adventure, its sister restaurant, the Michelin-starred Jardín, is an absolute must.
Trattoria Italiana S'Espiga is a popular choice amongst families seeking pasta and pizza on holiday, while Sa Roqueta is where you will find high-end Italian cuisine; its outstanding reputation means you must book in advance. Como en Casa is a quirky little eatery serving good home-cooked food at a reasonable price, you will find everything from pizzas and steak through to seafood fare. Further down the coast of Playa de Muro is where you will find Ponderosa Beach. Drawing people from across the island, its Ibiza-esque vibe and top-notch international cuisine is the recipe for an afternoon well spent.
Nightlife in Playa de Muro
Puerto Alcudia is the main place to go for a night out in the northwest of Mallorca. The area around the marina is well served by a variety of bars and cafes, ranging from Irish-themed pubs to smarter brasserie-style cafes. There are other clutches of bars around the bay where music and karaoke bars are always popular. A good selection of bars and clubs can be found on Avinguda del Tucan. A top pick that caters for a range of ages is Cafè Milano, from here you aren't far from one of the biggest nightclubs in the area, Banana Club.
Villas in Playa de Muro
Villas are great if you are a large group or want a little more privacy whilst holidaying on the island but also want to be within close proximity to the excellent facilities on offer in Port d'Alcudia. There are a whole host of villas and more traditional style farmhouses available to rent in the area.
Hotels in Playa de Muro
There is certainly plenty of hotel choices for holidaymakers coming to Puerto Alcudia. The coast is lined with hotel and apartment blocks ranging from budget options that sit one or two blocks back from the beach to all-inclusive and four & five-star hotels on the beach itself.
Luxury hotels
For a luxury all-inclusive experience, head down to Palace de Muro, a modern large-scale resort offering various swimming pools including a kid's pool, a selection of restaurants, a spa & wellness centre, and an excellent breakfast. Looking for an adults-only hotel in Puerto Alcudia? The Hotel Astoria Playa is a popular choice. It is just 150 yards from the beach, set in 4000m2 of gardens and has two swimming pools, outdoor hot tubs and a poolside snack bar. With mini golf, pool and table tennis tables, aerobics, evening entertainment and so much more. You might never want to leave!
Budget-friendly hotels
Budget-friendly hotels include Iberostar Ciudad Blanca, an all-inclusive family-friendly resort. Otherwise, the more modern and luxurious PortBlue Club Pollentia Resort is a top pick for families owing to its child-friendly services, including a children's club, paddling pool, babysitting and childcare service.
How to get to Playa de Muro
By car
Although in the north of the island, Port d'Alcudia is easily accessible from Palma airport thanks to the MA-13 motorway running through the middle of the island. It's about a 45-minute drive: come off the MA-3460 towards Puerto Alcudia, and this road carries on all the way through to the port.
Public transport
Whilst there are no direct buses to Puerto Alcudia from the airport, you can catch bus number 1 to the bus station at Plaça Espanya, then the direct 351 TIB bus between Palma and Puerto Alcudia which leaves once per hour and takes around 1 hour 15 minutes. It also connects Puerto Alcudia to Inca, Sa Pobla, Alcudia and Playa de Muro.
Location