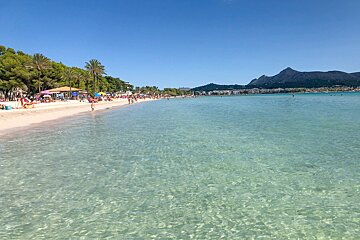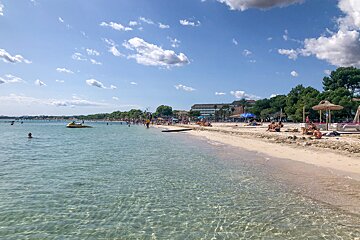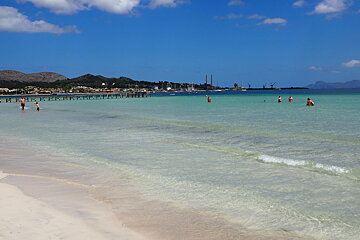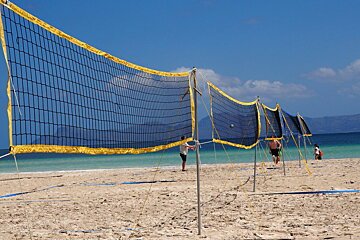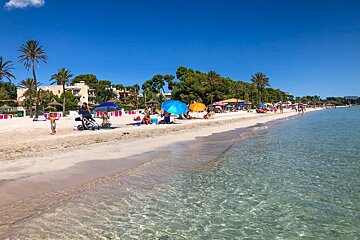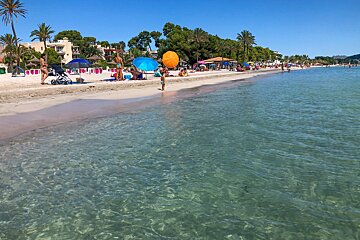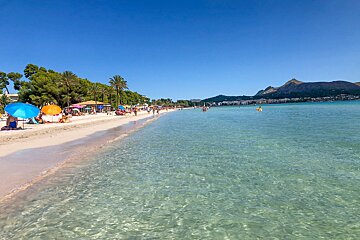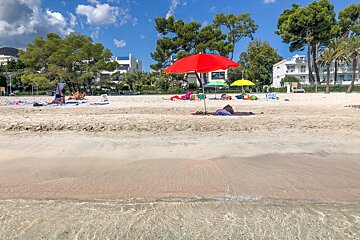 Playa de Alcudia Beach, Port d'Alcudia
A wonderful, white sandy beach in the north of Mallorca
This beautiful and popular 'Blue Flag' beach boasting fine white sand, stretches more than 3 kilometres east from Port d'Alcúdia. This breath-taking beach is one of the reasons why Port d'Alcúdia remains so popular with holiday makers years after year.
With an entire 10 kilometres of sand from Ca'n Picafort in the south, to Port d'Alcúdia in the north; Playa de Alcúdia sits in the middle and is the largest of all the Balearic Islands' beaches. Unsurprisingly, it offers a wide range of facilities with everything you could ever need, including: numerous beach bars and restaurants, a great selection of water sports, sun beds, parasols, ample car parking… plus the added bonus of public toilets, showers and even a WiFi connection! Effortlessly, this beach becomes incredibly busy in the summer months as the purpose-built resort fills up with tourists.
Restaurants
Lined with an excellent selection of beach cafes, bars and restaurants along the beachfront and in the streets behind, you'll be spoilt for choice on local and international dining options.
Nightlife
There's a real variety of nightlife across the bay of Alcudia, with different vibes and genres for everyone. An evening spent in one of their many bars and pubs, offering live music and outdoor seating, will often lead to later festivities in the lively nightclubs and discos.
Hotels
There's a large amount of accommodation to choose from with several beach front hotels specialising in kids' entertainment as well as more luxurious options with rooftop pools and bars overlooking mallorca's northern peninsula.
Setting & Location
Port d'Alcúdia offers the largest and most popular holiday resort on the island, especially loved by families with small children. The resort provides numerous shops, activities and playgrounds surrounding the most 'child-friendly beach' in Mallorca. In addition to this the nearby waterpark, a stone's throw away from the quaint town of Alcudia which is rich in heritage and ensures that Port d'Alcúdia remains one of Mallorca's greatest tourist attractions.
The beach divides into two sections with the busier half ranging from Port d'Alcúdia to Ciudad Blanca and where you'll find the majority of amenities and services. But head further south around the Bay of Alcúdia, towards Playa de Muro for quieter and more peaceful spots.
Water Safety & Clarity
The bay's calm shallow waters are one of the many reasons families are drawn to holidaying here. As well as being safe for children, the clear turquoise water is a delight to swim in… or simply view from the comfort of your shoreside sun lounger.
Beach Quality
In addition to the 10 km of white sand beach to choose from, uncharacteristically for Mallorca, the average beach depth here is a staggering 80 metres wide (and 100m at its northern end) ensuring there's heaps of space for everyone as well as numerous friendly beach sports!
Wooden walkways at the back of the beach allow facilitated access for the disabled and pushchairs. Lifeguards are on duty during the summer season and no pets are allowed on the beach.
Watersports Nearby
Several excursion type boat trips depart from here, ranging from a gentle half-day cruise to more adventurous diving expeditions. You'll also find numerous vendors selling pedalo hire, banana boat rides and 'ringo-ing', plus many more fun activities. Parasailing, water-skiing, and diving excursions are also on the list, as well as several small boats available to hire.
Directions
Enjoying excellent connections with the rest of the island, several public buses venture to Playa de Alcúdia. Lines 351, 352, 353, 356A and A32 link the bay with Palma, Port d'Alcúdia, Alcúdia Town, Playa de Muro, Can Picafort, Pollença, Port de Pollença, Inca, Sóller, Port de Sóller and many more spots around the island.
If you are arriving by car, it's 60km up the motorway from Palma, with less than an hour's drive. On arrival you can easily park at one of the numerous public car parks, or in the streets behind the beach.
Location