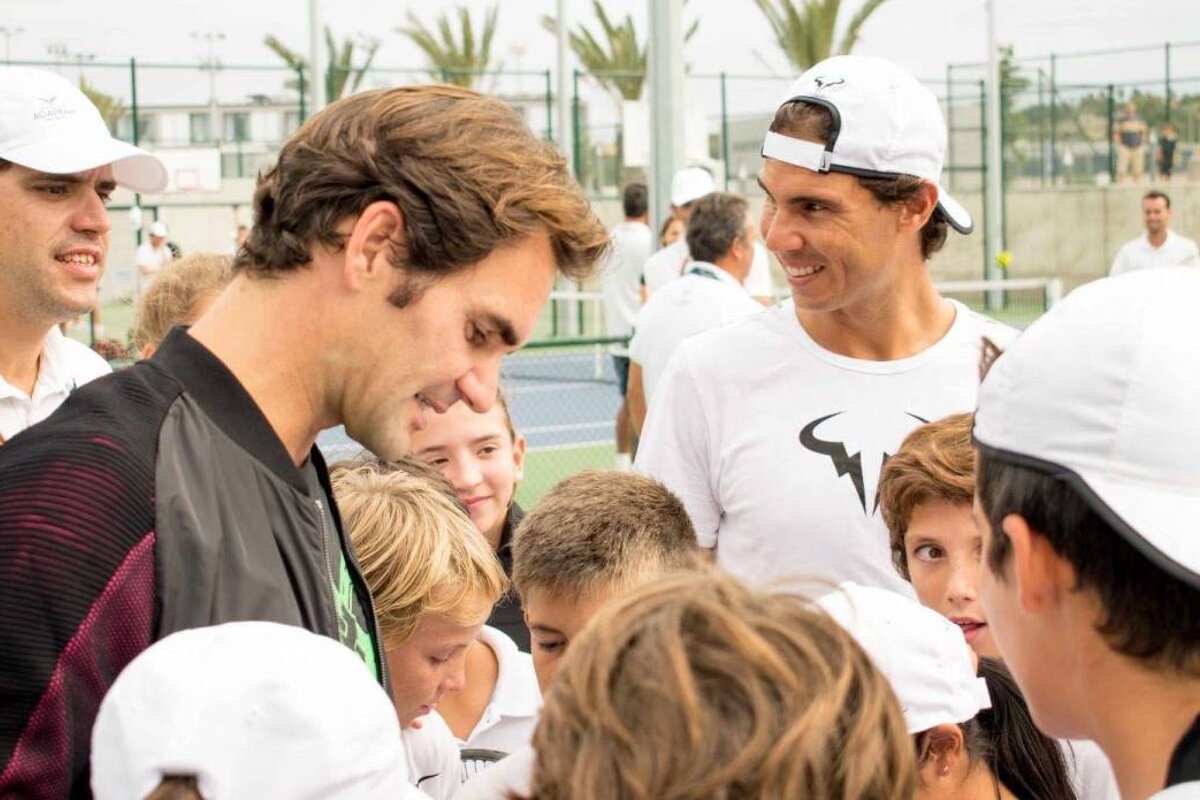 © Rafa Nadal Sports Centre
Celebrity (spotting) hangouts in Mallorca
Where to rub shoulders with the stars on the island
The Balearic Islands have long been a hot spot for international celebrities. Thanks to another year of star sightings, Mallorca is rivalling its sister island of Ibiza as 'the place to be seen'. While many of the rich and famous choose Mallorca as a one-off holiday destination, the island has also won the hearts of many stars who now own properties here.
Port d'Andratx, Puerto Portals, Palma and Deià are some of the main haunts where you might find yourself rubbing shoulders with a familiar face. Here are a few celebrities who have graced the island with their presence and where they have chosen to spend their time.
Port d'Andratx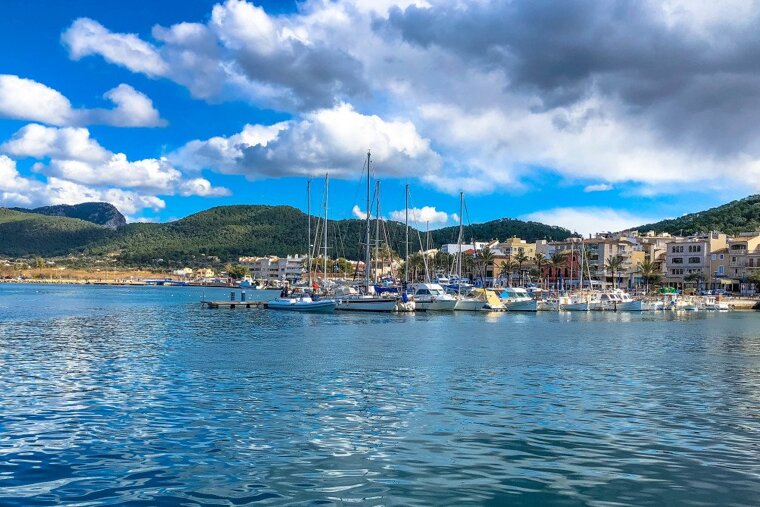 Port d'Andratx is one of the hottest places to buy a property at the moment and continues to be a favourite amongst celebrities for being a more discreet holiday setting. Near the sea and the magnificent Serra de Tramuntana mountain range, it offers the best of both worlds. The nearby town of Andratx is full of authentic Mallorcan charm, whilst the port offers some of the best waterside dining on the island.
Who's been spotted in Port d'Andratx?
The British Royals
Prince Harry was seen holidaying here with friends a few years ago, although this wasn't the first time he visited the island. He came to Mallorca a few times as a child with Prince Charles, Princess Diana and his brother Prince William. The west of the island was a favourite of his late mother, who spent some time at the luxury hotel La Residencia in Deià in 1996, which was then owned by Richard Branson.
Brad Pitt
Brad Pitt is one of the latest in the long list of celebrities to have invested in the area. He purchased a property in a secluded location in the hills around Andratx, so we hope to see him dining in the neighbouring Port d'Andratx in the near future.
Claudia Schiffer
Claudia Schiffer is widely known to have had a love affair with Andratx. She has owned a couple of holiday homes in the area over a number of years, with the most recent one being in Camp de Mar. She is usually spotted holidaying in Mallorca throughout the month of August as she likes to celebrate her birthday on the island each year.
Puerto Portals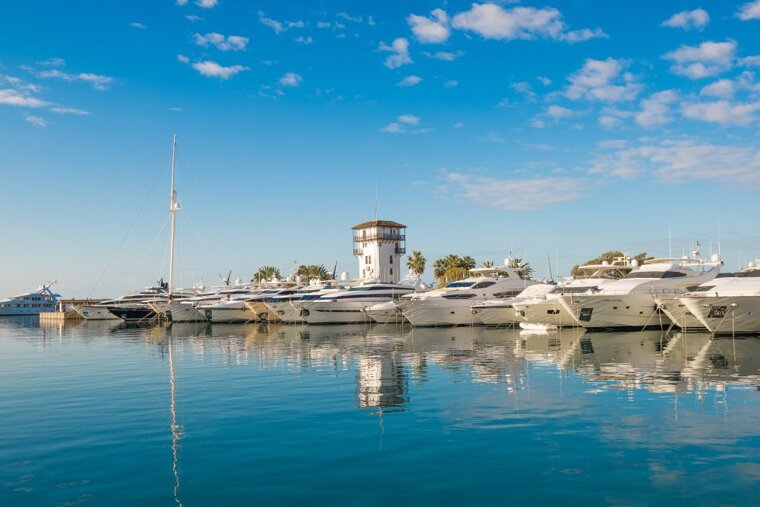 Being the glitziest port on the island means it's highly likely you will come across one celebrity or another here. Famous faces are often seen dining in one of the reputable restaurants or lounging around on a yacht so Puerto Portals climbs to the top of the list when it comes to choosing a place for some people watching.
Who's been spotted in Puerto Portals?
Well, it might be easier to ask the question, who hasn't been spotted in Puerto Portals? Over the years the port has attracted some big names including socialite Paris Hilton, designer Valentino, actor Jim Carrey and racing car driver Jenson Button. So, instead, let's examine who's been spotted there recently.
Jamie & Louise Redknapp
Ex-footballer Jamie Redknapp and singer wife Louise owned a property in the area for over a decade, so they have been spotted in the port many times. Although it has been rumoured they have sold the property due to their separation in 2017, we hope they will be returning to the area for holidays in the future.
Michelle Obama
The former FLOTUS was first spotted in Mallorca on a luxury yacht in the marina in September 2017. She then enjoyed some time off the boat as well, dining in some of the top-notch restaurants in the port and completing a hike on the island. Mallorca must have made an impression on Michelle as she returned to Mallorca in August 2018.
Rod Stewart
Singer Rod Stewart is known to have visited Mallorca for work and pleasure. He has performed at sold-out concerts on the island and also moors his yacht in Puerto Portals frequently. He seems to enjoy the atmosphere in the port and the variety of restaurants on offer.
Sharon Stone
Sharon Stone and her boyfriend Angelo Goffa chose Puerto Portals for a romantic escapade in Autumn 2018. It's rumoured they rented a yacht and were spotted dining in the lavish Ritzi Restaurant.
Michelle Keegan & Mark Wright
In 2017, Mark Wright surprised his wife Michelle Keegan by gathering her nearest and dearest to celebrate her 30th birthday in Mallorca. This year, they returned again and were spotted in Puerto Portals and Purobeach Illetas with a lively bunch of friends.
Palma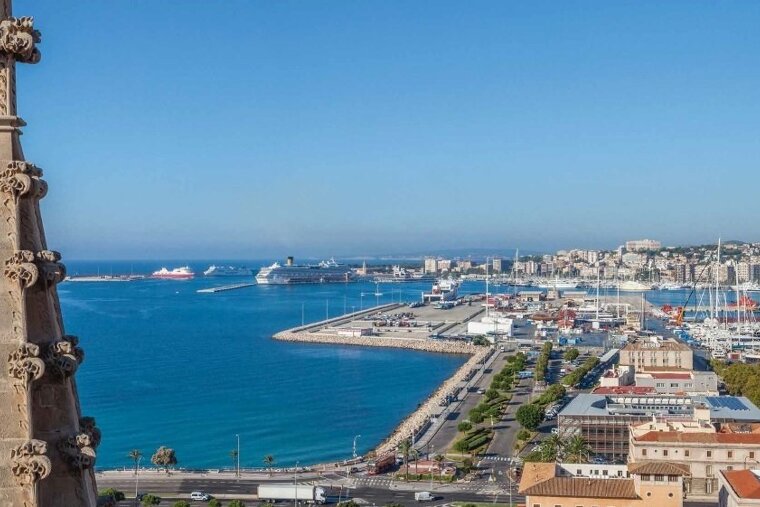 The bustling capital city of Palma is becoming an increasingly popular city break destination. It might be more difficult to spot a familiar face in the crowds but it's likely you will rub shoulders with a famous face in one of the boutique hotels, Michelin-starred restaurants or swanky bars in the city.
Who's been spotted in Palma?
Andy Murray
In 2016, before going on to win the Wimbledon Championship title, Andy Murray was spotted training at the luxurious Palma Tennis Club with his forthcoming Wimbledon rival Milos Raonic.
Mads Mikkelsen
Rumoured to own a house in Santa Catalina, Star Wars actor Mads Mikkelsen frequents the restaurants in the area quite regularly.
Deia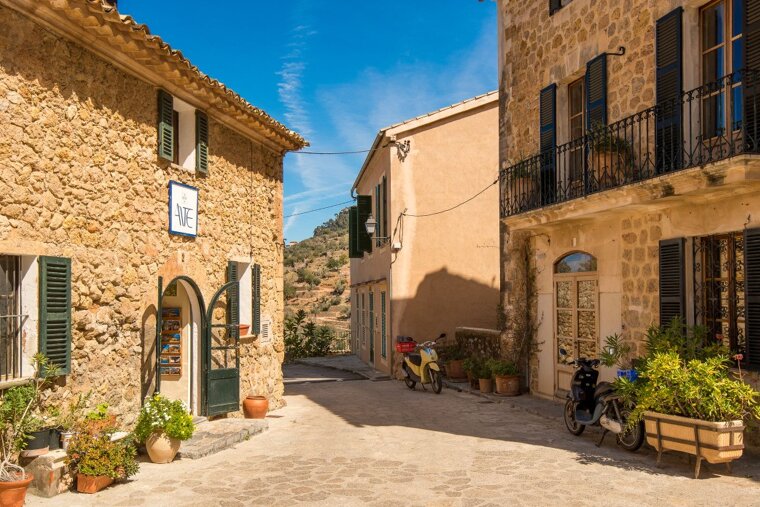 A quaint village set in the beautiful Serra de Tramuntana mountain range in the west of Mallorca, Deià has become a haunt for well-heeled visitors. This means the area has developed some first-class restaurants and hotels that welcome big names on a regular basis.
Who's been spotted in Deià?
Sir Richard Branson
The self-made billionaire Richard Branson famously owned and sold Deià's La Residencia Hotel. Since selling, he recently reinvested in a wonderful country estate called Son Bunyola just down the road in Banyalbufar which is home to three impressive villas: Son Balagueret, Punta de S'Aguila and Sa Terra Rotja. He has been known to host an extensive list of VIPs on the island over the years, so we are excited to see who he might have visiting next.
Pixie Geldof
Mallorca's 13th-century Son Marroig Monastery in Deià was where Pixie Geldof chose to marry her rocker boyfriend George Barnett in 2017. A-list pals including Harry Styles, Daisy Lowe and Alexa Chung were all in attendance, along with her father Sir Bob Geldof. In 2018, she returned to the island with her bestie Alexa Chung to soak up some of June's sunshine, so the island clearly holds a special place in her heart.
Matthew Williamson
British fashion designer Matthew Williamson quietly moved to Deià back in 2016 and is already making friends with the locals. In fact, owners of swish Asian restaurant Nama asked him to do the interior design of their cocktail bar. You can often spot him strolling the streets of Deià and the neighbouring mountain village of Valldemossa.
Valldemossa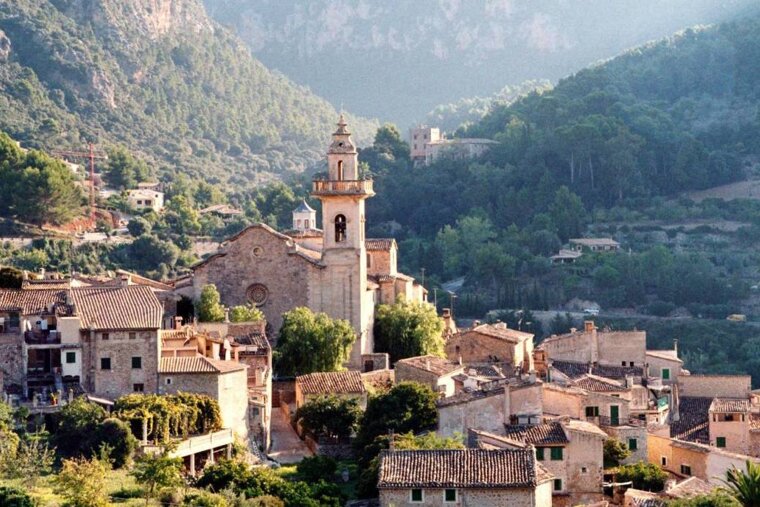 Another picturesque town set in the heart of the Serra de Tramuntana mountain range, Valldemossa was one of the first places to receive high profile guests. The town famously hosted Polish composer Frédéric Chopin and his lover and writer, George Sand who, in the 1830s, wrote a notable account of A Winter in Mallorca. It seems the natural beauty of the area continues to attract big names today.
Who's been spotted in Valldemossa?
Michael Douglas & Catherine Zeta-Jones
This Hollywood couple famously owns one of the most lavish properties on the island which is located near the charming mountain town of Valldemossa. It shouldn't come as a surprise that it comes complete with its own vineyard.
Soller & Port de Soller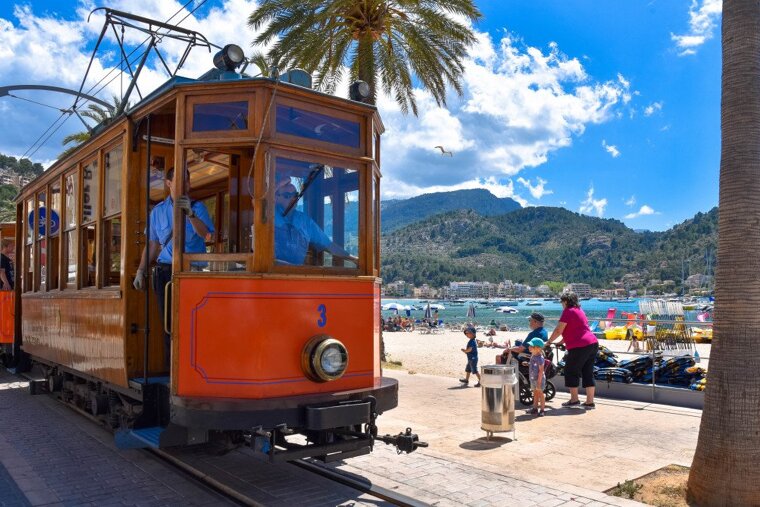 One of the prettiest towns on the island, Sóller is famous for its orange groves and historic train ride to Palma. Its isolated location means it has become the perfect escape for celebs wanting peace and quiet while holidaying on the island. The enchanting port restaurants and beach have been known to attract its fair share of famous faces too.
Who's been spotted in Sóller?
Annie Lennox
The singer Annie Lennox is known to own a house in the town of Sóller and now spends a large proportion of her of time in Mallorca. Although she has been described as one of the more elusive inhabitants of the island, she has been seen out and about a few times so fans should keep their eyes peeled to catch a glimpse of her.
Ricky Martin
After Ricky Martin performed a sold out concert at Palma's arena in 2017, the singer was spotted indulging in some downtime with his children on the beach in Sóller. Let's hope to see the star return for a family holiday soon.
Manacor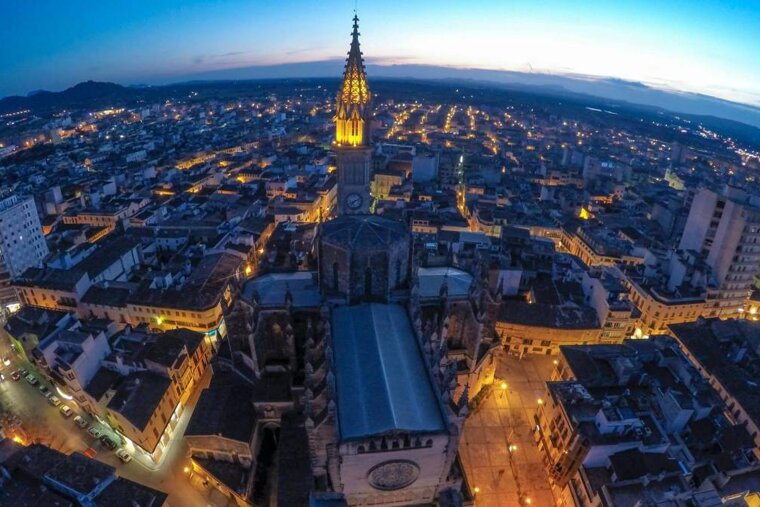 The second largest town in Mallorca, Manacor remains more of an industrial town with authentic Mallorcan charm. It isn't as touristy as the rest of the island but, owing to one native tennis star and his academy, you are most likely to catch a glimpse of some tennis heroes in the area.
Who's been spotted in Manacor?
Rafael Nadal
If you hadn't already guessed from the intro, tennis legend Rafael Nadal was born and bred in Manacor and has put this town on the map. Chances are you might see him in the local supermarket when he isn't playing in a tennis competition. He has even opened up a Rafa Nadal tennis academy for young players, so you can feel close to your tennis hero even when he isn't at home on the island.
Formentor
It appears Formentor has appealed to some of the biggest stars for its privacy and tranquility for decades. In the past, it provided the perfect summer retreat for the likes of Charlie Chaplin, Winston Churchill and Audrey Hepburn and it has continued to attract an assortment of big names over the years.
Who's been spotted in Formentor?
Emilia Clarke
The idyllic setting is often used as a film set and Emilia Clarke or, as most might know her, Daenerys Targaryen the Mother of Dragons in Game of Thrones, was spotted filming here.
Port de Pollença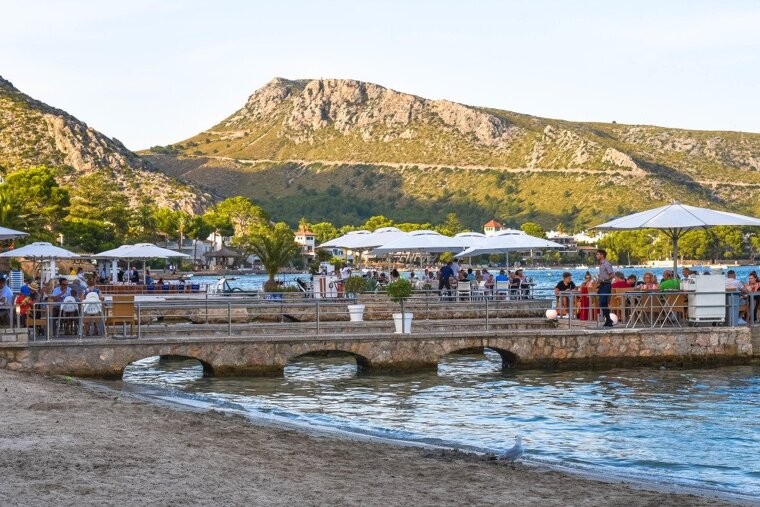 Port de Pollença is one of the most renowned areas on the island boasting fabulous villas, hotels and restaurants. However, the ever growing cycling scene in Mallorca has meant this particular area has attracted some of the world's best cyclists.
Who's been spotted in Puerto Pollença?
Bradley Wiggins
Bradley Wiggins, who has completed many cycling adventures in Mallorca, grew so fond of the place that he invested in a property in Port de Pollença. You will often see him playing with his children along the pine walk.
More inspiration...
Beach clubs are definitely popular celebrity hot spots. Only last year, we had Michael Jordan enjoying a drink with his toes in the sand at the exclusive Nikki Beach.