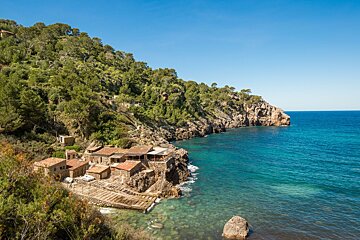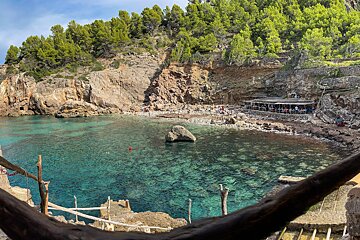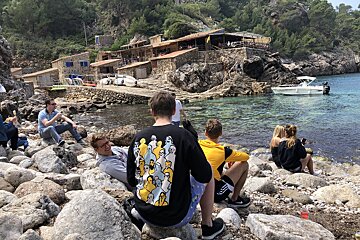 Cala Deia Beach, Deia
Charming shingle beach on the west coast of Mallorca
Cala Deia is a very beautiful small rocky cala with clear waters and rock pools, one of the few beaches on the west coast of Mallorca. It's quite a rugged beach here so you might need to bring a chair or a lilo to lie on.
There are a number of terraces which are popular with artists as they set up their easels for a day of painting. The sea is wonderfully clear and inviting and perfect for cooling off in on a hot summer's day. The beach is mainly made of rocks and pebbles with a few patches of gravel. The beach is served by two excellent restaurants serving fresh seafood and traditional Mallorca food where you can sit and enjoy the spectacular surroundings. The BBC Series, 'The Night Manager' was famously filmed within one of the restaurants here which has put one particular restaurant on the international map.
The bay is sheltered by high cliffs that lead into pine forests. There is a small jetty, but the bay is not considered suitable for anchoring thanks to the sometimes strong northerly winds. You can drive down a small lane to access the beach (sign-posted Cala Deia, on the outskirts of the town heading towards Soller) but the pay parking is quite limited and you might be better to leave your car in the village and take the walk down the perfectly maintained path to the beach (note it is a steep hill so be prepared for the return journey!).
Those who want to be based near Cala Deia, the local town just up the hill is well-heeled and full of traditional Mallorcan character, boasting some splendid boutique hotels in keeping with this theme. The hills around Cala Deia are dotted with traditional country houses converted into charming, modern villas that are popular for larger groups. Having attracted the rich and famous for decades, it should come as no surprise that there is a whole host of gourmet restaurants in this town. There are a couple of little supermarkets and some small boutique shops selling artisan goods, jewellery and more.
With the Serra de Tramuntana mountains as a backdrop, this area of Mallorca boasts exceptional natural beauty. There are also a handful of stately homes, religious buildings and museums to visit. These mountains are the perfect place to explore on a bike, a horse or just on foot. When you're feeling tired, book your massage at a local spa.
Water Safety & Clarity
The water here is a beautiful clear turquoise and very enticing for swimming. Due to the rocky nature of the cove sides, it is also a popular spot for snorkelling.
Beach Quality
The beach is made up of coarse sand and pebbles and is only six metres deep, although it does stretch for 70 metres.
Watersports Nearby
The crystal clear waters of Cala Deia are ideal for some snorkelling and diving. Coasteering, kayaking, canyoning and climbing are also very popular on the west coast of Mallorca.
Location