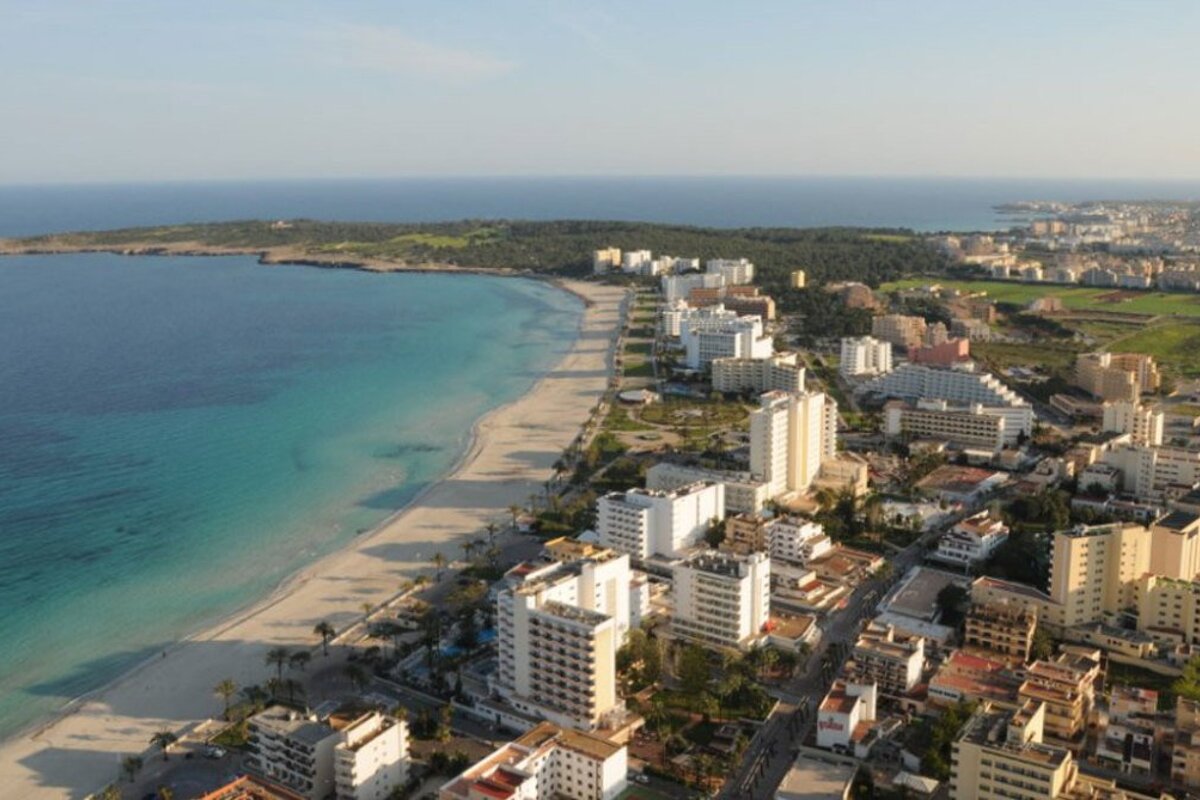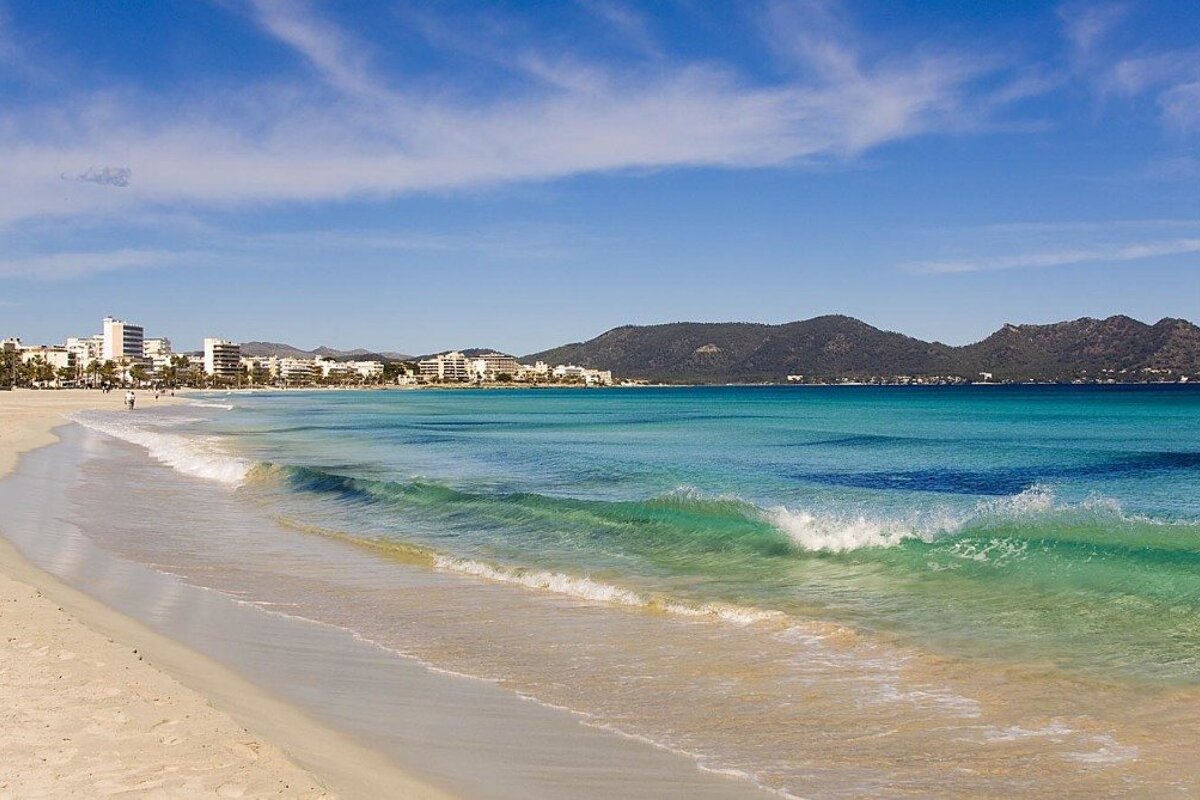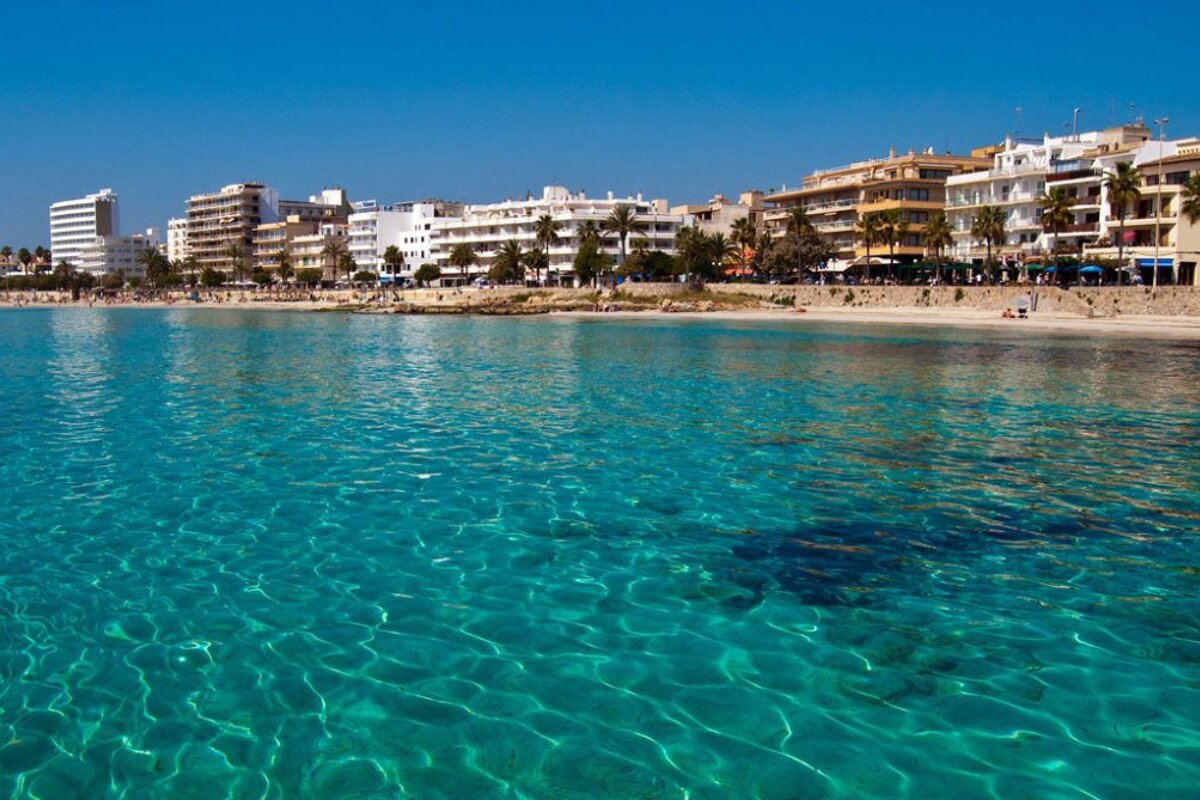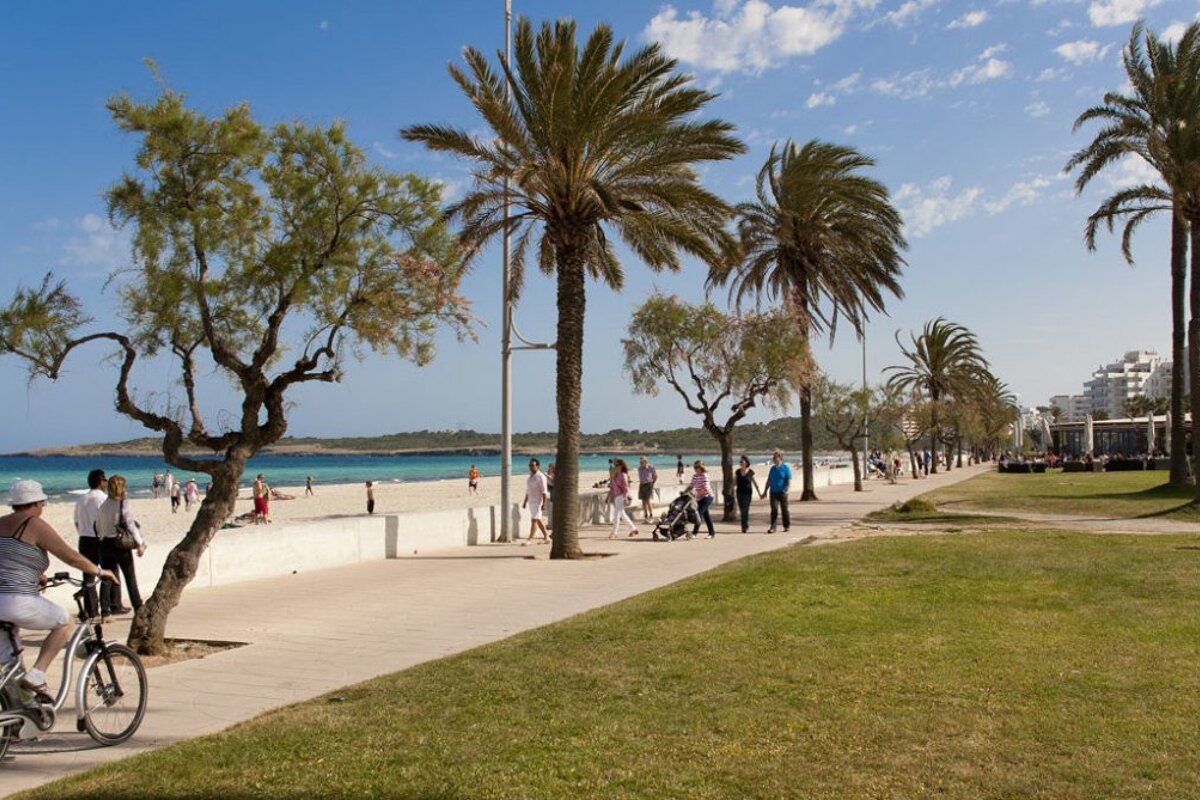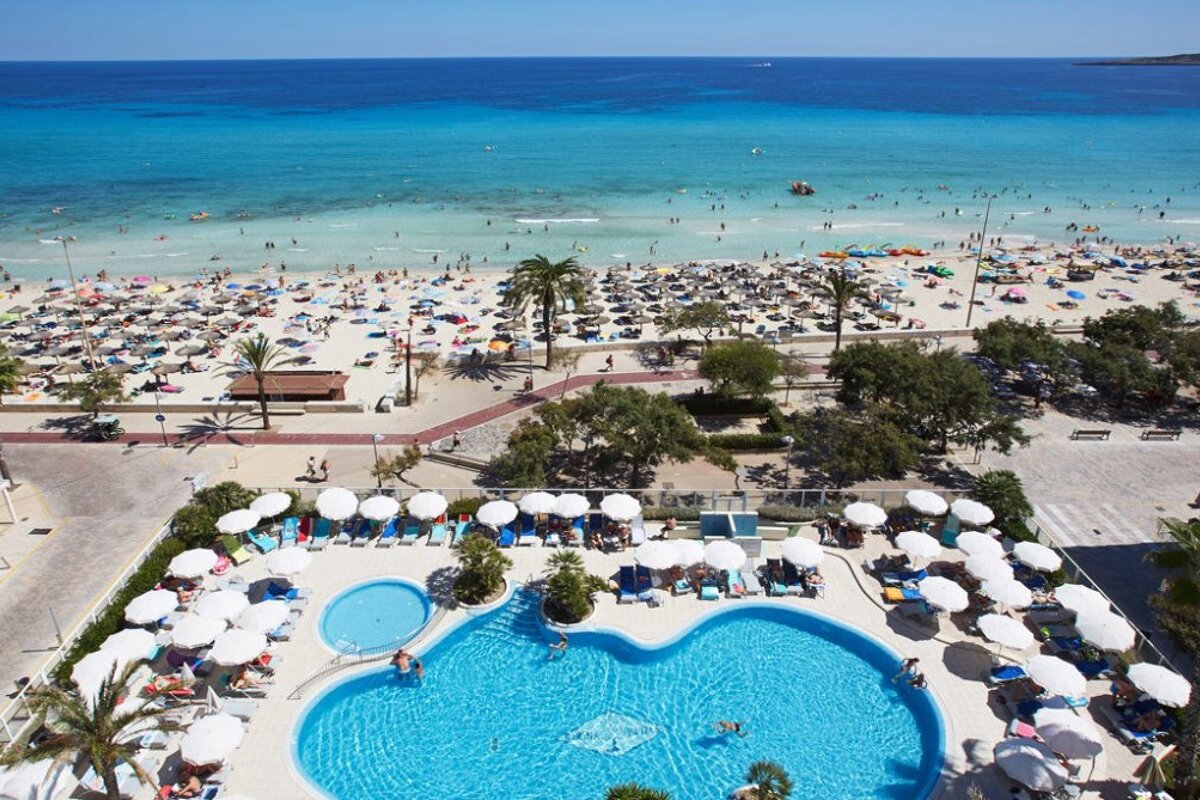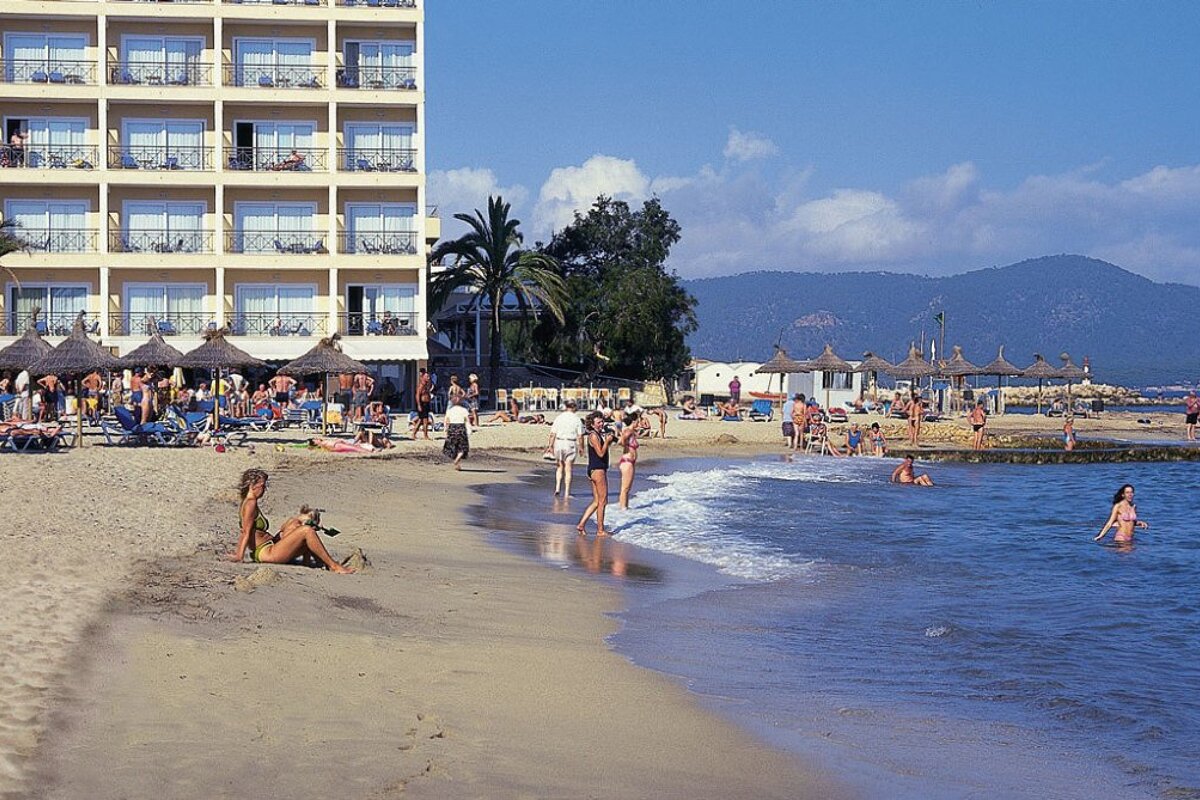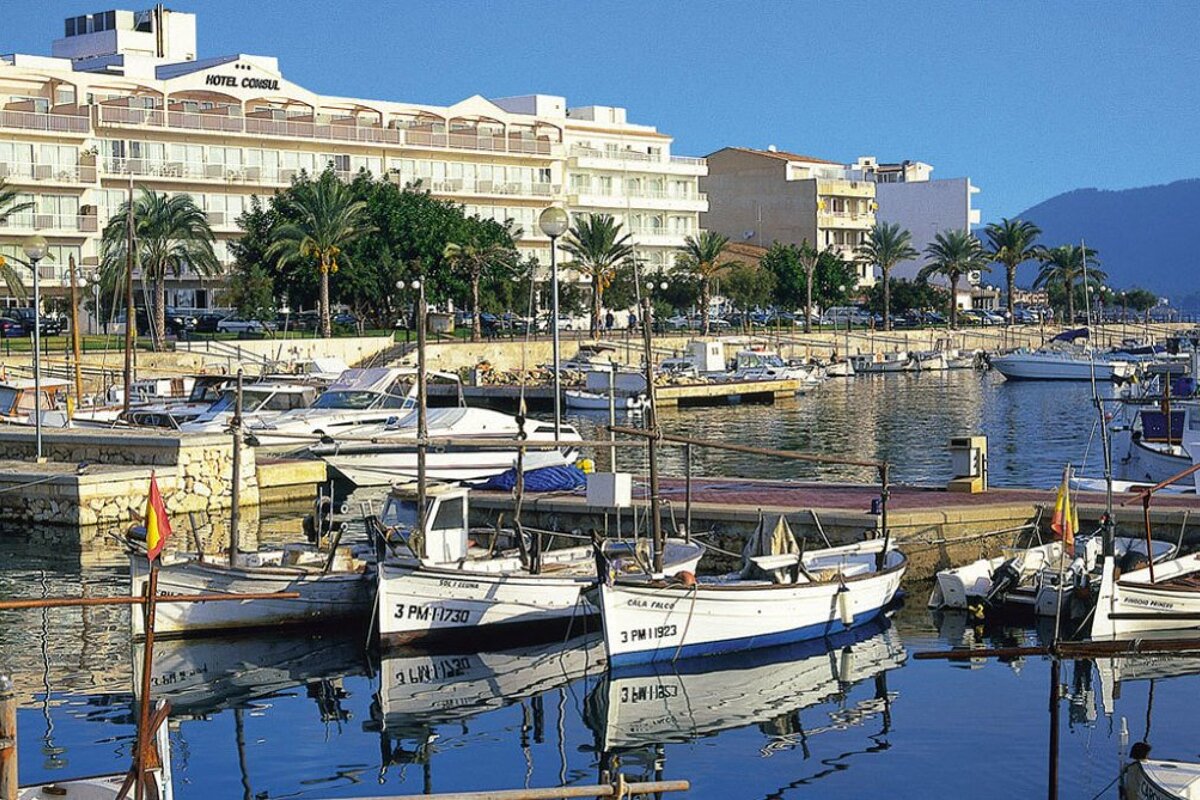 Cala Millor, Mallorca
Holiday beach resort in the east of Majorca
A purpose-built holiday resort, Cala Millor is a major family holiday destination on Mallorca's east coast. Its main attraction is the fine sandy beaches met by turquoise shallow waters, behind which you will find a promenade lined with hotels.
Cala Millor, like many of the eastern coast resorts, is popular with northern Europeans. In summer it is lively, with the beaches full of people by day and late-night bars and discos lighting up the resort by night. Although most people come to relax on a sun lounger and dine in one of the many restaurants, there's a whole host of activities for adults and children to enjoy here, from boat trips and watersports to children's theme parks and more.
In winter, Cala Millor takes on a more tranquil atmosphere with many of the hotels and restaurants closing between the months of November and March. However, there are around 5000 residents who live here year-round.
History & Culture in Cala Millor
Fifty years ago, this was a lonely dune-covered shore but it's idyllic setting and turquoise water made for the perfect setting for a holiday resort. Cala Millor was originally built in the 1950s and continues to grow today. If you would like to see what this coast used to be like, walk to the headland at Punta de N'Amer.
Sights & Attractions in Cala Millor
Safari Zoo Mallorca
There is a safari zoo close by, connected to Cala Millor by a free transfer service. Within the park, you can enjoy the 3km safari tour either in your own car or the safari train, where you can catch a glimpse of exotic animals like giraffes, rhinoceroses, zebras, gazelles, gnus and monkeys.
Cave trips
One of the islands most attractive natural beauty spots, Cuevas del Drach (Dragon Caves) can be found down the coastline in Porto Cristo. Tickets are available from various outlets around the resort and trips include transfers to and from the caves. The visit has a duration of over an hour and includes a memorable classical music concert on Lake Martel, considered to be one of the biggest and most spectacular underground lakes in the world.
Beaches in Cala Millor
There are two beaches running along this coastline. Here, Cala Millor Beach meets Cala Bona to create 2km of fine golden sand and shallow waters. Being a tourist resort, you will also find facilities like sunbeds with parasols, showers and a variety of watersports on offer. The beach is lined by a promenade full of hotels, restaurants and bars to serve your every need.
Things to Do in Cala Millor
Most of the things to do here revolve around the beach and the sea. Although, if you do find yourself needing to escape the sun lounger for the day, then there are plenty of other things to do to keep you and the little ones entertained throughout the day and into the evening.
Boat trips
A boat trip is a great way to jump offshore and explore the eastern coastline of Mallorca. From trips up the coast to the pretty bay of Cala Ratjada to glass bottom boats, you will be sure to find something that takes your fancy. Book your tickets from the jetty on Cala Millor beach or from the ticket office opposite.
Theme parks
There are two different children's theme parks at each end of the promenade called 'Fantasy Park'. Each has a good range of children's attractions, including trampolines, a giant bouncy castle, go-karting, and water activities.
Watersports
On the beach, you will find pedaloes or, if you fancy travelling further afield, join a SUP paddle boarding or snorkelling tour. For the thrill seekers, there is also parasailing, banana boat rides, jet skiing and more. If you want to get to know the underwater world a little better, then we suggest organizing a scuba diving trip with Albatros Diving.
Adventure activities
Cala Millor offers a good range of activities for outdoor adventure enthusiasts, whether it be canyoning, climbing, coasteering, or rappel. There are various trustworthy companies organizing excursions around this area.
Cycling
Cycling is most popular in Mallorca in the winter months. Cala Millor is surrounded by beautiful countryside to enjoy a leisurely jaunt or head to the Serra de Tramuntana or the Serres de Llevant for some thigh-busting climbs. In the summer months, it's rather hot so many people stick to the cycle path that runs along the coastline. You will find a few bike hire shops within the resort.
Shopping
Within the resort, you will find shops selling the holiday essentials like sun cream, inflatables and souvenirs. A few Spanish high street shops are on hand like MANGO, Springfield and Calzedonia. A small Eroski supermarket and convenience stores dotted are around the place if you want to stock up on food and snacks. There is also a small summer market held between March and October at Calle Eucalipto and the square behind the Centro Civico from 09:00 to 13:00.
Golf
The closest golf course to Cala Millor is Canyamel Golf. An 18-hole, par-73 course, created in 1988 by the golf architect José Gancedo, it's renowned for its natural beauty thanks to consideration for the natural environment and orography in its creation.
Dining in Cala Millor
Tapas de Sa Caleta has a wonderful terrace overlooking the beach and serves up good quality tapas, seafood, salads and a kid's menu. If you are trying to cater for the masses and want a choice of traditional tapas, seafood and some more modern dishes then Amapola is your best bet. Moving away from the more touristy restaurants Restaurante Granada is a traditional family-run eatery that serves up authentic Spanish cuisine, due to its popularity with the locals it is open year round.
If you want a change from eating Spanish food, then Italian restaurants can be found around the resort. Pizza lovers must visit Il Grande Minimini L'incontro while Dolce Vita Restaurant is a favourite for many as it serves honest Italian cuisine. For an extra special dining experience, Restaurante Son Floriana serves good quality Mediterranean cuisine.
Nightlife in Cala Millor
Bars and clubs in Cala Millor are tailored towards the tourists visiting the resort, so you can expect some cheap and cheerful drinks and the usual resort entertainment.
For late night cocktails, CHUCCA, Cheers Bar, Bar Piccadilly and WAIKIKI are some of the age-old favourites. If you are after some late night entertainment, then you can count on Café del Sol as it puts on live music performances each night and is open until late. In terms of dancing, La Havana is the resort's main nightclub and has become a bit of a hot spot for groups of all ages to throw some shapes on the dance floor.
Hotels in Cala Millor
Cala Millor has dozens of hotels occupying the shore, many of which line the promenade and overlook its beautiful beach, making it the perfect place to base yourself for a beach holiday between the months of March and October. Being a package holiday destination, you will find plenty of budget-friendly options from aparthotels to large scale all-inclusive holiday resorts.
For family-friendly accommodation, look no further than Hipotels Hipocampo Palace, a luxurious resort set within 19,000m2 of tropical gardens with large outdoor swimming pools. Here you can get active on one of the 6 clay tennis courts and in the gym, or unwind in the Turkish bath or sauna before a dip in the indoor pool or hot tub. The children can enjoy themselves in the pool or playground, as well as with the daytime entertainment team. This entertainment continues into the night, with frequent professional shows and weekly live music.
Looking for an adults-only hotel? Try the Cala Millor Garden, a 21st-century state-of-the-art hotel, featuring 2 pools, a spa with wellness centre, and a gym. The views from the poolside terrace are absolutely splendid and the finishing touches add an exclusive feel to the place. Alternatively, head to Iberostar Cala Millor. It's modern, minimalist and sleek in design with all the luxury amenities you could possibly wish for whilst holidaying on the island. There is the option to enjoy an all-inclusive rate too.
How to get to Cala Millor
By car
Cala Millor is easily accessible within an hour's drive from Palma airport thanks to the Ma-15 travelling east across the island. Just after Manacor, at Sant Llorenç des Cardassar, take the Ma-4030, then the Ma-4040 and follow the signposts to Cala Millor.
Public transport
There is a direct bus to Cala Millor from the airport, it's the TIB A42 and it runs a few times per day taking just under 1h30. Otherwise, you can catch bus number 1 to the bus station at Plaça d'Espanya in Palma, then the direct 412 TIB bus between Palma and Cala Millor. These buses travel between Palma and Cala Millor more regularly throughout the day, and take around 1h15 - please check the latest timetable carefully. These buses also connect Cala Millor to other popular towns, villages and attractions including Manacor, Cuevas del Drach, Porto Cristo, and Son Servera.
Location
Cala Millor, Mallorca