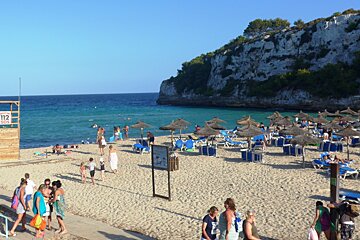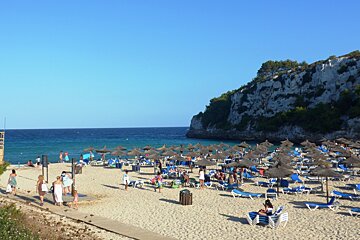 Cala Romantica, East Mallorca
A pretty beach resort in the east, also known as S'Estany d'en Mas
Cala Romantica is a picturesque cala with turquoise water and golden sand on the east coast of Mallorca.
Full of space and scenic cliffside plunging into the two-tone water, this beach manages to deliver the classical majorcan beauty you'd normally only find at smaller calas. Approximately 160 metres long by 100 metres deep, there's also a flat sandy area towards the back of the beach perfect for playing ball games.
There are sunbeds for hire with parasols that offer a safe in which to store your valuables.
Restaurants
While Cala Romantica is not as developed as some of the more popular tourist beaches, it does offer some basic facilities and a beach bar or two for refreshments. A couple more cafe type venues are available further inland in the residential streets.
Nightlife
Located in a more tranquil and residential area, the nightlife options in Cala Romantica itself are limited compared to Mallorca's larger tourist hotspots. However, if you're looking for a relaxing and peaceful vacation, Cala Romantica offers a charming setting with stunning natural beauty and access to nearby attractions. It's perfect for relaxing evenings at local bars and restaurants. For a livelier nightlife experience, consider taking a short trip to nearby towns Porto Cristo or Cala Millor with a wider range of bars, restaurants, and entertainment options to suit different tastes.
Hotels
Hotels in Cala Romantica primarily consist of residential areas, vacation rentals, and some beachfront hotels that cater to travellers seeking a quieter and more serene environment. Accommodation options range from all-inclusive resorts to boutique hotels and self-catering apartments. Many hotels usually offer evening entertainment, including live music and shows.
Setting & Location
20 minutes away from Manacor, or a ten minute drive south from the resort of Porto Cristo, Cala Romantica is one of three sandy calas within a 1 km radius. Popular with German and British families in the summer months, it's the largest of the three calas accessible by foot, including Cala Anguila and Cala Mendina. Surrounded by pine covered rocky cliffs and lush vegetation, there's a lovely sense of seclusion.
Water Safety & Clarity
The water is usually crystal clear here with a stunning turquoise blue, but it can get choppy when the wind blows around the sloped entrance. At certain times of the year, the water can also fill up with algae but usually won't stay around very long.
The lengthy shallow distance makes this beach a great option for families with children as well as having lifeguards on duty throughout the summer months.
Beach Quality
At 160m long, the white, fine sand is soft and perfect for sunbathers and families with small children.
Watersports Nearby
As well as being popular for snorkelling and diving, you'll find paddle boats and often spot private yachts residing here in the sheltered, calm and natural harbour, ideal for dropping anchor.
Directions
Although the beach is signposted on the main road as 'Cala Romantica', as you approach the shore, the signed name changes to 'S'Estany d'en Mas'. There is a small car park here, but it can also be reached easily on the public bus system, taking the bus number 441 from Porto Cristo just to the north.
Location