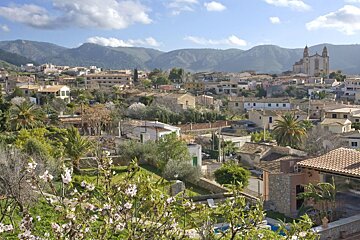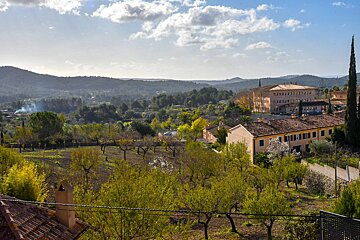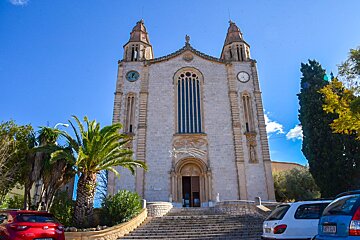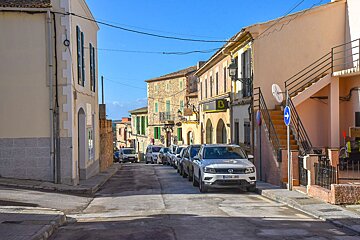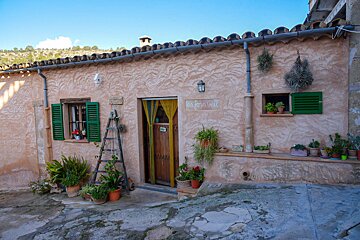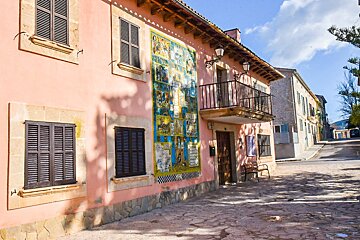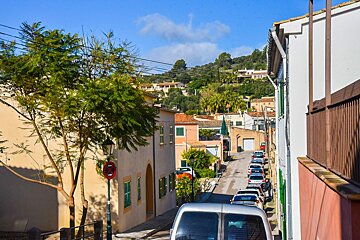 Calvia, Mallorca
Traditional rural town in the south-west of Mallorca
Calvia town is the administrative centre for the southwestern region of Mallorca. The region is said to be the richest municipality in Spain. It hit the jackpot when tourists discovered the nearby beaches, and developments like Magaluf and Palma Nova were built.
The town was founded in 1249 with 80 inhabitants, it had a population of 3000 in 1960 before the tourist boom, and rose to 11,560 by 1980. A world away from the coastal developments, here life continues as before the tourist boom. Calvia town remains a truly pretty place, with ochre-coloured houses, a handful of shops and bars, and chickens scrambling between the olive trees. The town is dominated by the church of Sant Joan Baptista, built in the late 19th century around a 13th-century original. Nearby, a fountain and a ceramic mural tell its history. While in many ways, Calvia is still a modest Mallorcan village, the sparkling new town hall and sports stadium do hint at the area's success. Still, it's hard to believe you are only a few kilometres away from the bustling resorts of Magaluf and Palma Nova.
While most expats live in the coastal areas of the region, those seeking a more authentic Mallorcan experience choose Calvia town. With such a high number of foreigners having settled in the region, the town hall runs regular Spanish language lessons which are free for residents.
History & Culture in [locality]
There is evidence that the area where Calvia resides was originally a settlement dating back to 2000 BC. It has been an agricultural town since, and many of the current buildings date back to the 17th century. The church of Sant Joan Baptista is the most iconic building in town, built around the remains of a 13th-century temple.
Events in [locality]
Calvia's traditional weekly market takes place on Mondays. It's the best time to visit as the town comes to life. Market stall owners sell a selection of clothes, fresh fruit and vegetables and some traditional arts and crafts. The festival of Sant Jaume takes place for a week around the 25th July and is one of the towns biggest events! A jam-packed schedule of events is organized for both adults and children, combining cultural and leisure activities with sports and religion.
Things to do in [locality]
Dining in [locality]
The town of Calvia only has a few restaurants servicing mainly the town's residents. Meson Ca'n Torrat features an authentic rustic vibe and serves homemade Mallorcan cuisine. It has a cosy terrace full of historical artefacts from around the village. On the other hand, if you are looking for some home comforts, head to Bistro Rosita's for some British food. It's particularly famous for its fish & chips.
Hotels in [locality]
The village of Calvia is predominantly residential but there are a couple of rustic boutique-style hotels within close proximity. Various villas are available for private use and are perfect for large groups looking for a base away from the hustle and bustle of the tourist resorts but still within easy reach of their attractions.
Finca Hotel Son Malero, just 1 kilometre from the centre of Calvia, is a rural finca with a timeless, home-away-from-home ambience. It attracts people looking for a relaxing rural escape and features an outdoor swimming pool. Cars and bicycles are also available to rent from the front desk. A bit further away, Son Boronat Hotel is set in a beautiful sandstone country house with cosy interiors. It is surrounded by attractive gardens and features a lovely outdoor swimming pool.
How to get to [locality]
By car
Calvia is just under a 30-minute drive from Palma airport. Head towards Palma along the Ma-19, then use the Ma-20 ring road around the city before getting on the Ma-1 towards Andratx. Take exit 13 towards Calvia/Palmanova and then travel along the Ma-1015 all the way to Calvia town.
Public transport
There is no direct bus to Calvia from the airport. Take bus number 1 from the airport to Palma's Plaça d'Espanya and then TIB bus, 111 which travels a few times per day to Calvia and connects the town to the popular resort of Santa Ponsa.
Location