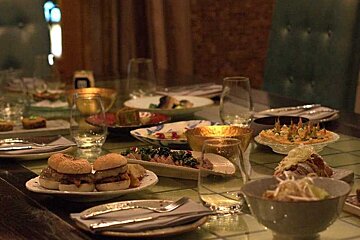 Best 11 restaurants for groups in Mallorca
Our favourite eateries for large gatherings
Our favourite spots for dining in larger numbers, without compromising on great service and excellent food.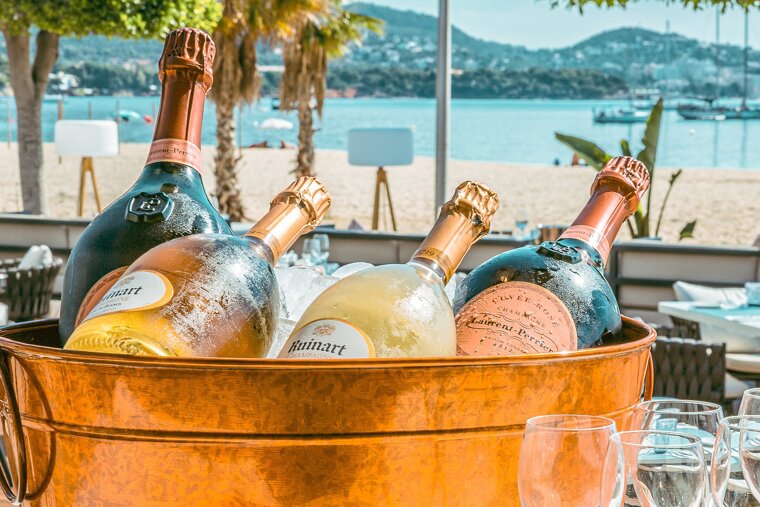 1. Siso Beach – Son Matias Beach, Palma Nova
Restaurant Siso Beach couldn't be closer to the water's edge. Located on Son Matias Beach in the scenic municipality of Calvia, their self claimed 'avant-garde' restaurant celebrates a collaboration of sun, sea and gastronomy with stunning beachfront views across their extensive terrace. Award-winning Chef - Claudio Vargas, has created a palette pleasing and extensive menu drawn from worldwide inspiration. Including well-presented matured meats, local fresh fish & Paella, everything is proudly locally sourced, with their beloved island's best interests at heart. Brunch, lunch or dinner is available daily from 11am until late and includes a number of vegan options. Their set menus and finger food packages from €32pp ensure larger groups are easily accommodated here whilst the management will expertly help organise any additional entertainment or decorative touches for special events.
2. Diferent - Cala d'Or
Restaurant Diferent in Cala d'Or allows an authentic Mallorcan, yet intimate and exclusive setting for your gathering. Set in a beautiful location, the terrace overlooks the centre of Cala d'Or and accommodates up to 40 guests. Predominantly Mediterranean, the menu exudes a few international favourites ensuring everyone is kept happy. Renowned for their extremely friendly and efficient staff, larger numbers are effortlessly catered for and they'll happily create bespoke packages to suit specific budgets and needs.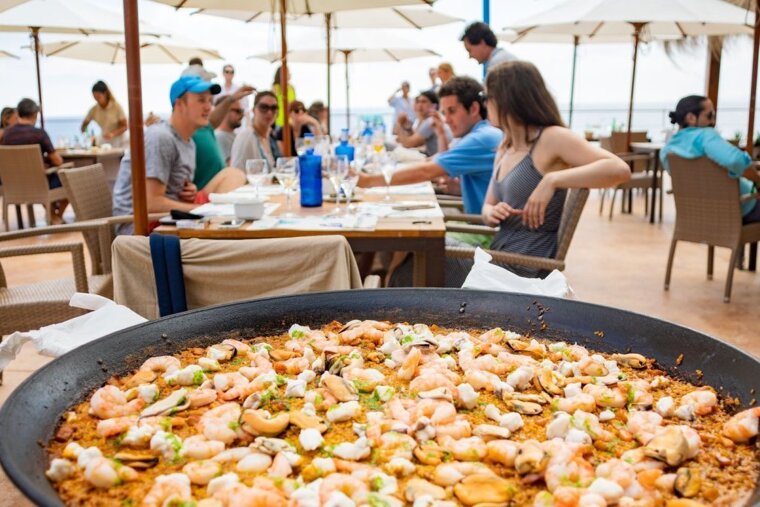 3. Mhares Sea Club - Puig de Ros
If you're after a picture-perfect backdrop to your 5* dining experience, Mhares Sea Club is a perfect choice. Specialising in events, you can rest assured your party will be well looked after alongside unmatched sea views offering magical Mallorcan sunsets. Their Restaurant Tamarell offers Mediterranean cuisine with innovative twists and a farm-to-table policy with wonderful fresh produce. With a number of packages to choose from, their elaborate drinks menu includes unbeatable cocktails, craft beers and a world-class wine list. Whilst you'll feel the weight on your wallet, this venue will certainly provide a wow factor for those you're looking to impress.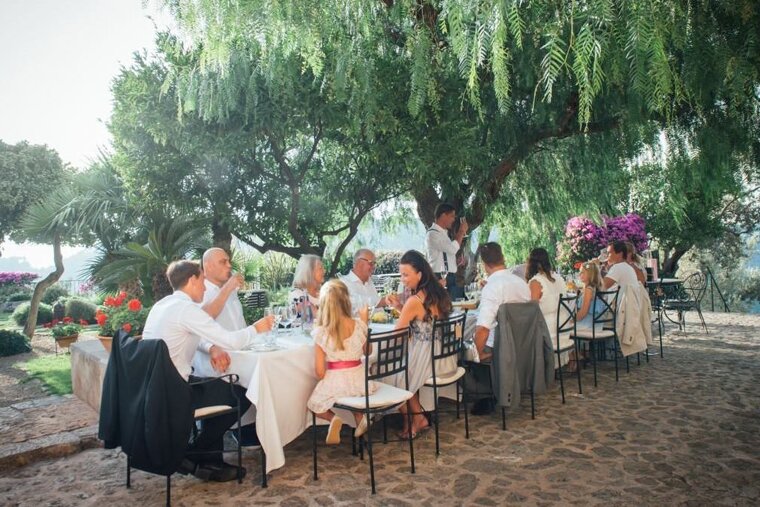 4. Ca's Xorc - Sóller
The terrace of Ca's Xorc's Restaurant easily wins the award for 'best setting'. Set upon a hillside overlooking the enchanting valley of Sóller, views here are unbeatable. A favourite amongst visitors and the local mallorquins, this restaurant is well-practised in larger gatherings and events presenting impeccable Mediterranean-inspired cuisine along with first-class service. Their well-constructed menus are a welcomed relief for those larger, hassle-free, family get-togethers.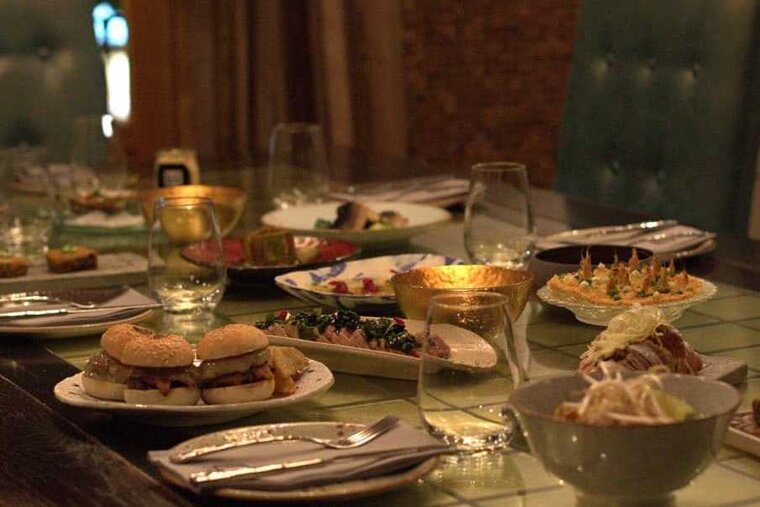 5. Ombu - Palma
Located in the city centre on Palma's regal boulevard, Passeig des Born, you'll be grateful Ombu's innovative tapas creations are intended for sharing, given you'll easily want to try everything on their menu. Their fixed-price menus offer delicious fusion showstoppers, such as 'Poke bowl with salmon and sriracha mayo' and 'Grilled marinated Iberian pork with vegetable chutney and kumquat coulis'. The portions are generous to ensure no one goes hungry and they're well versed in reading their customers and providing suitable recommendations. The private dining room adds a wonderful touch of intimacy for groups of 10 - 14 people, offered complimentary depending on availability.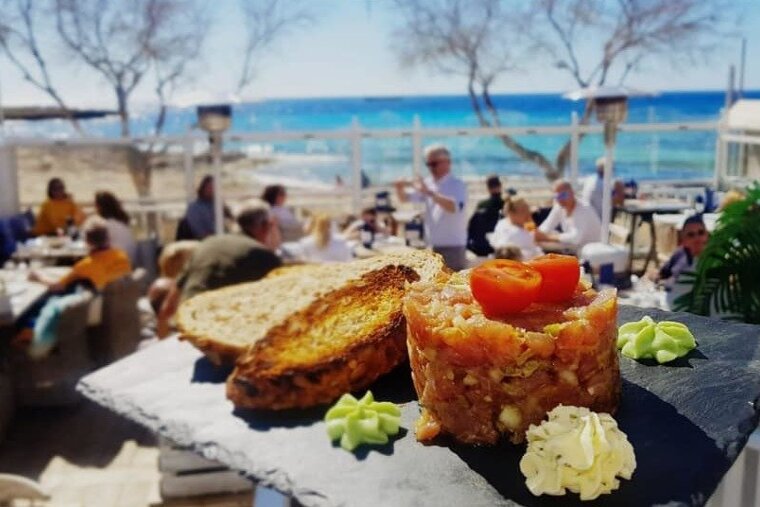 7. Cassai Beach House – Colonia Sant Jordi
In addition to their original spot - Cassai Gran Café & Restaurant in the centre of Ses Salines, Cassai Beach House is a seafront haven in the heart of Colonia Sant Jordi. You can't beat the jaw dropping location of this stunning venue on Mallorca's rugged east coast. Their well shaded interior and terrace ensures you can enjoy marvelling at the idyllic turquoise waters whilst comfortably soaking up that pure Mediterranean ambience in view of neighbouring Island Cabrera. Their interior is simple, rustic, and beachy, offering a refined yet casual surrounding for either Winter or Summer events.
Beautifully presented traditional cuisine arrives with creative, modern touches. Bluefin & Salmon tartare dishes top the charts, along with their popular Chicken Caesar Salad. They take special pride in every staff member presenting an articulate service, ensuring every guest receives 100%.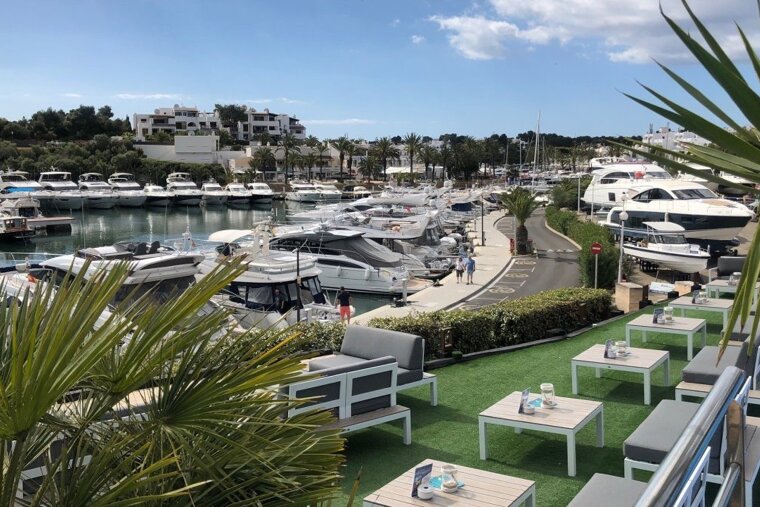 8. Yacht Club - Cala d'Or
Yacht Club Restaurant in Cala d'Or is a prime spot for a special meal or exclusive event on the east coast of Mallorca. Their excellent European cuisine, friendly service and an elevated setting overlooking the port of Cala d'Or make it the perfect venue to host a special occasion. Whether it's a large dinner booking, a wedding anniversary, a big birthday or even a wedding, this striking venue should be considered for a memorable celebration.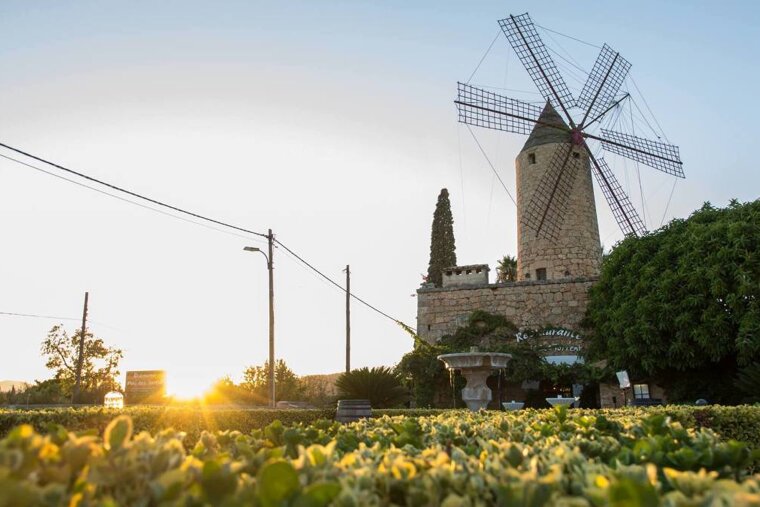 9. Moli des Torrent - Santa Maria del Cami
Whilst there are no beachfront views here, the inland and rural setting doesn't deter the crowds. Moli des Torrent can be found just outside Santa Maria del Cami right in the heart of central Mallorca. The distinctive windmill touret enjoys a loyal local following, including expats who have fallen in love with its romantic courtyard setting, polished service and exceptional culinary delights. A wonderful selection of Mediterranean and German-inspired cuisine arrives on their large round tables in a rustic and native ambience, perfect for private parties.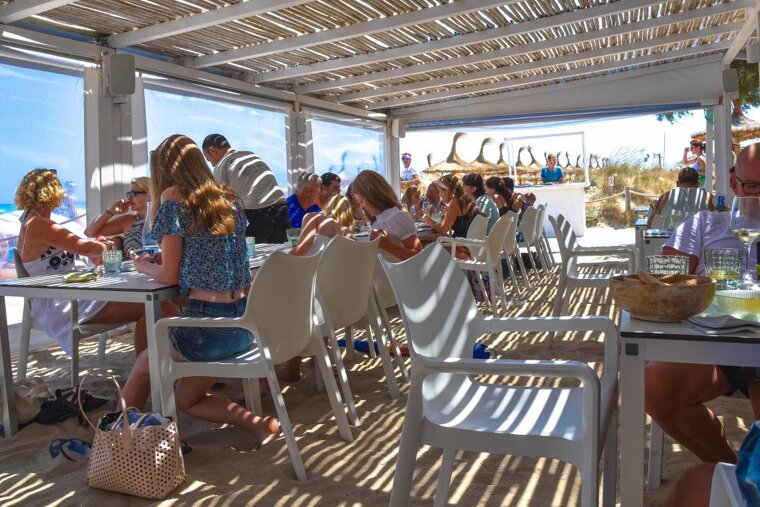 10. Ponderosa Beach – Playa del Muro
Ponderosa Beach is a stunning and family owned restaurant found on Mallorca's north coast close to Alcudia. Their 'Barefoot luxury' concept compliments the gourmet and locally produced cuisine whilst dining with your 'feet in the sand'. Their Asian inspired, boho-chic vibe exudes relaxed coastal glamour against the white-washed furnishings and driftwood design. Ponderosa provides an excellent opportunity for an 'on-shore' dining experience, ideal for hosting groups or social gatherings in a relaxed environment, yet with innovative and beautifully presented cuisine. Delicious examples of their dishes include their 'Octopus and Crab Paella' or 'Razor Clams cooked over charcoal'. Heavily involved with numerous charitable offerings and events within Mallorca's community, the venue makes a great choice for those with a sustainable focus.
Lume & Co – Genova
Just five minutes out of Palma, Lume & Co steakhouse is located in a beautiful 15th Century building in the original stables of Castillo de Son Berga on the outskirts of urban village, Genova, just outside of Palma. Their focus combines Mallorcan talent with Scandinavian detail and design. Presenting delicious, Mediterranean gastronomy, their signature products boast the best quality beef in Mallorca with a focus on animal welfare and natural nutrition. Vaca Gallega, Black Angus and Wagyu are all accompanied by well-paired side dishes, homemade sauces and a well stocked cellar full of Mallorca's finest vinos. Groups are encouraged for all occasions, catering for exclusive business lunches and dinners as well as large wedding parties.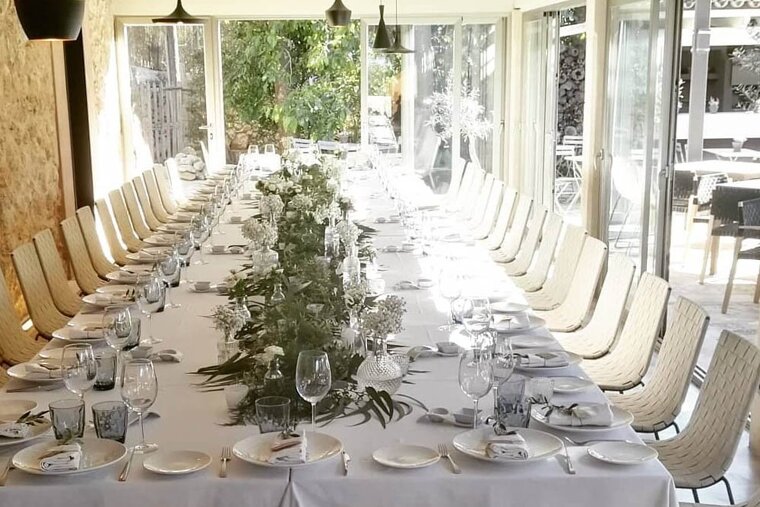 12. Oliu - Andratx
Owned by Mallorcan Chef Joan Porcel Balaguer, his restaurant Oliu is located halfway between the town and Port d'Andratx. Their beautiful and large terrace and garden is surrounded by the luscious greenery of Mallorca's South west coast. Preserving the essence of Mediterranean cuisine with an up-to-date gastronomical concept, they offer a mix of traditional 'tafona' methods with modern touches and using rustic materials. The ever-changing Chef's tasting menu maintains their Mediterranean roots with worldwide inspiration. Groups receive a personalised menu to accommodate wedding receptions, business events as well as a possible catering service to your private residence or yacht.
More inspiration...
If you're in need of some inspiration for team building activities prior to your fine dining experience, have a browse through our list of things to do in Mallorca. If our recommendations above haven't quite cut the mustard and you're looking for something in particular, there are hundreds more restaurants in Mallorca offering space for groups. If it's a wedding you want to organise, take a look at our Wedding Guide.