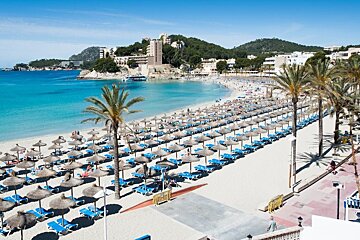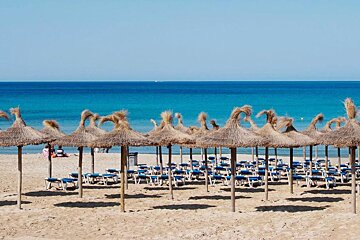 © Challenge Peguera-Mallorca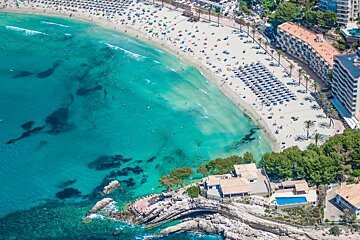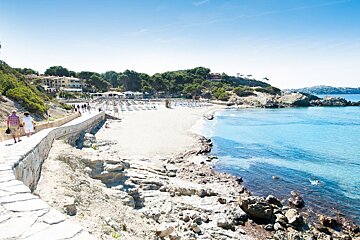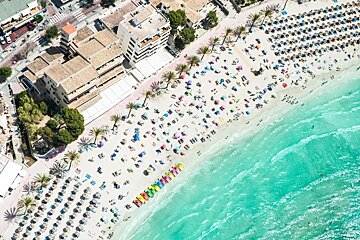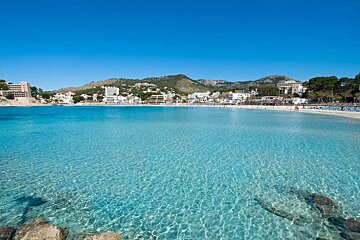 Peguera, Mallorca
Holiday beach resort in the south west of Majorca
A small beach resort in the south-west of the island, Peguera – also known as Paguera – sits on the coast near Andratx. It offers idyllic blue flag beaches, along with a good selection of hotels and restaurants catering for a full range of budgets.
Many of the hotels are located on the hillside above the beach, which means it might not be the most attractive choice for those with mobility problems. In the summer, there is a lovely bustling atmosphere but many of the hotels and restaurants are seasonal, which means Peguera is a quiet place in the winter. The few visitors that do descend on the town in the winter will experience a completely different side to the town.
In the summer months, Peguera is favoured among German families as a beach holiday destination and is often referred to as 'Little Germany', although the resort still receives a wholesome influx of British visitors throughout the year.
History & Culture in Peguera
The direct translation of Peguera from Catalan to English is "oven tar", and refers to the oven tar produced from the mass of pine tree resin found in this area. Peguera or Paguera was originally a tiny fishing village, and much of today's architecture is from the 20th century. The village succumbed to tourist development in the late 1950s and throughout the 1960s. Nowadays, it is primarily a modern family-friendly tourist resort with plenty of restaurants and facilities. It was the first resort in Mallorca to have its own artificial beach, created from imported sand.
The main road travelling between Palma and Andratx used to cut straight through Peguera, which meant there was a bit of a traffic problem but, thanks to the construction of a bypass, it has become much more peaceful. The opening in 1996 of a seafront promenade connected the three beaches and made it more appealing as a 21st-century tourist resort.
Beaches in Peguera
The resort consists of three beaches. Playa Palmira Beach is the main stretch but Playa Torà Beach and Playa Romana Beach are equally attractive and they have all been connected by the promenade. There are areas set up for sunbeds and parasols as well as stretches for a DIY experience. Being within a sheltered bay, the sea is calm and inviting. The promenade sits behind the beach, here you will find refreshments and any summer essentials you might need. Just outside Peguera is Cala Fornells, a pretty resort consisting of terracotta houses set around a pretty cove.
Events in Peguera
The biggest event Peguera hosts is the Challenge Peguera-Mallorca, a middle distance triathlon. It usually takes place in October and provides the perfect end-of-season hit out for European athletes. Peguera does get involved in the traditional fiestas that take place throughout the year but its neighbouring town of Andratx is where most people will gather. Check out all the latest local events in our events calendar.
Things to do in Peguera
Due to its situation on the south-west coast of Mallorca, Peguera offers something for everyone throughout the year. In the summer, it is a prime summer beach holiday destination, and during the winter months, it is popular with both hikers and bikers. Here are just a few things to do in and around the resort.
Boat trips
In the summer months, there are various boat trips departing from Peguera exploring the southwestern coastline of Mallorca, including glass-bottomed boats, dolphin watching, sunset boat cruises and more. We would highly recommend a trip to Sa Dragonera, an island off the most westerly point of Mallorca.
Watersports
All kinds of watersports are available here, including thrill-seeking activities like water skiing and banana boats through to more leisurely activities like windsurfing, pedal boats and diving.
Hiking
The surrounding countryside is very beautiful if you want to explore something other than the beach whilst on holiday. There is a popular network of coastal hiking routes found at the back of the resort. Peguera is the starting point for a well-known hike to the mountain village of Capdella, where you can enjoy some of Mallorca's captivating countryside.
Tennis
There are a couple of tennis clubs around the town offering a range of services and facilities whether you require tennis coaching or just want to book a court for a friendly game.
Golf
If you fancy teeing off whilst staying in Peguera, then we would highly recommend a trip to Golf de Andratx, just a few kilometres away from the resort. The signature 6th hole carries the status as "Longest Hole in Spain" clocking in at 609 metres from the back tees and certainly merits its name as "The Green Monster".
Shopping
El Bulevar is the road behind the promenade and is the main shopping street in Peguera. As a tourist resort, there are plenty of convenience stores, beachwear and souvenir shops here. On top of this, Peguera is renowned for its quality leather shops. In fact, many of the island's residents will travel to Peguera to buy shoes. If you want to experience a traditional Spanish market, we would highly recommend a visit to the market held down the road in Andratx on Wednesdays between 08:00 and 14:00.
Dining in Peguera
Peguera has a good selection of restaurants catering for a wide range of tastes and budgets. Seaside dining is a must whilst on holiday and Mar y Mar should be on your hit list. The name gives it away, this restaurant specializes in seafood. It's a stylish establishment serving good quality sea fare along with tapas, sandwiches and other small plates. If you are after a meat feast whilst holidaying on the island, La Hacienda Restaurant has built up a solid reputation as one of the best steak restaurants in Mallorca.
A more casual affair can be found at Feliciano's which ticks all the boxes: quality food, reasonable prices and family-friendly. You will find a range of dishes from pizza to paella and it's always busy in the summer. For an ultra-special experience, two Michelin star Zaranda Restaurant is set within an idyllic castle setting at Hotel Castell Son Claret just a few kilometres outside of town. The team under Fernando Perez Arellano incorporate the best Mallorcan ingredients into their groundbreaking menus.
Hotels in Peguera
There are plenty of resort hotels along with a small selection of boutique-style, independent hotels in Peguera. For top-end luxury, Petit Cala Fornells is a 5-star choice. Sitting above a heavenly beach with turquoise waters, it's a large elegantly designed hotel featuring three outdoor and one indoor swimming pool and an indoor spa.
The Hesperia Mallorca Villamil is set in an old manor house and oozes luxury. Not only does it offer world-class facilities with its swimming pool, hot tub, sensation showers and Turkish bath but its Velería Gastronomic Restaurant has breathtaking sea views and serves Mediterranean cuisine.
Set in stunning gardens just a 2-minute walk away from the beach, many are drawn to Hotel Bahia. This large, colonial style, 4-star, family-friendly hotel has everything you need on site including indoor and outdoor swimming pools, a bar, lounge and coffee shop. There are even squash courts.
How to get to Peguera
By car
By car, it takes around 30 minutes to get to Peguera from the airport. Follow the Ma-19 towards Palma, then hop on the Ma-20 around the city before taking the Ma-1 towards Andratx. Take exit 23 off the Ma-1 towards Peguera / Cala Fornells and, from here, the resort is well signposted.
By public transport
The A11 is a direct bus travelling between the airport and Peguera and runs almost every hour. Please check the latest timetable carefully as it changes throughout the year. The A11 also connects Peguera to Santa Ponsa, Magaluf, Palma Nova and Costa d'en Blanes.
Location