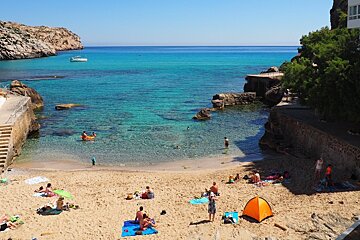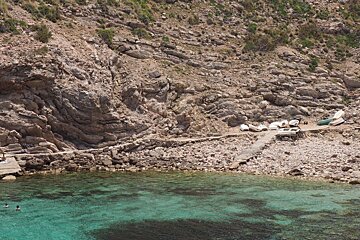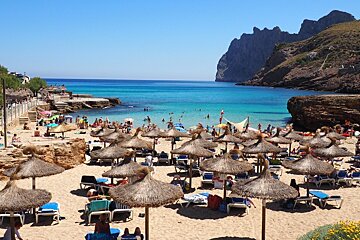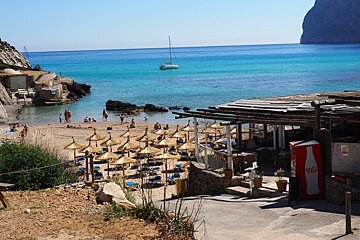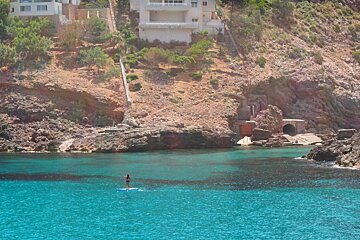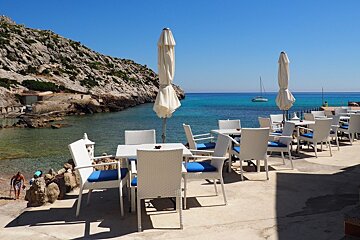 Cala Sant Vicenc Beach, North Mallorca
Small beach resort with crystal clear waters in the north-west
Cala Sant Vincenc is a spot of real beauty in north Mallorca, an old fishing village arranged around various little cove beaches and stunning blue water. This cala is known in Castillian Spanish as Cala San Vincente and in Mallorquin as Cala Sant Vicenc.
Tucked far away on Mallorca's northwest coast, Cala Sant Vicenc is part of Pollenca's municipal district, located more or less half way between the town and port. Originally a fishing village, the town of Cala Sant Vicenc has several small bays, surrounded by rugged rocks & dramatic cliffs. Offering a collection of small beaches, the main attraction here is Vicenc's tranquillity. Bear in mind that the entire village here is built on steep hillsides with varying levels, thereby unavoidably involving some uphill and downhill walking.
The resort is divided into two parts, thanks to a protruding rocky outcrop, dividing the beaches of Cala Barques and Cala Molins, with the third petite Cala Clara making three in total.
It's no wonder the three small beaches found at Cala Sant Vicenc and their crystal-clear seas are particular favourites for both locals and tourists visiting the area. Cala Molins is the largest of the three and is therefore the hot spot for summer sunbathers. A little pathway leads to the smallest, Cala Clara is a stony pebbled beach, and although not ideal for sunbathing, it often provides a great location for snorkelling with lots of crabs to be found hidden in the rocks.
Sunbeds and umbrellas are available to rent amidst local fisherman seen preparing their nets for the day ahead. You'll find lifeguards on duty at both Cala Molins and Cala Barques and for good reason, given the open resort of Cala San Vicente is often exposed to winds and high waves during bad weather and storms. Swimming is forbidden during such conditions, with ample warnings issued and monitored by the local lifeguards.
Restaurants
Located by the romantic San Vicente Cove, there is a hotel offering delicious Mediterranean dishes including paella and fresh fish delicacies, as well as a wide selection of Spanish wines.
The beachside restaurant at Cala Barques offers spectacular views of the nearby mountain, Cavall Bernat in addition to their popular specialities such as 'arroz a bordo' (a rice dish traditionally prepared by fisherman), as well as daily lobster, grilled seafood grill and freshly caught John Dory from the surrounding Mediterranean Sea. In the beach's surrounding restaurants you'll find an extensive list of local wines, superb seasonal produce often presented in a 'Surf 'n' Turf' or 'Mar y Montaña' cooked on woodburning stoves.
Nightlife
A few bars are dotted around the beaches for casual drinks with a relaxed vibe, but for anything more upbeat you'll need to venture further afield to Pollenca or the port.
Hotels
As you approach the town of Cala Sant Vicenc, a lovely budget friendly hotel sits just above the beach with stunning views. Another slightly more luxurious hotel is located above the Cala Molins beach with views across the entire resort and out into the distance to sea. Both hotels are popular with couples seeking a romantic getaway.
You'll find a number of other nearby hotels with all the necessary amenities including, swimming pools, beauty treatments, gyms and restaurants with a fantastic selection of gastronomic delights including a 5* resort located along the main road into the town.
Cala Sant Vicenc also has many apartments and villas for rent during the summer months usually with sea views across the bay and surrounding Tramuntana mountains. For a more tranquil ambience benefitting from some peace and quiet, several larger villas are dotted between the roads from Cala Sant Vicenc to Pollenca or Puerto Pollenca.
Setting & Location
About 6-7 km west of Puerto Pollensa, Sant Vincenc is the most northern holiday resort on the island, located around 67km from the airport.
Next to some of northern Mallorca's best hiking routes, Cala Sant Vicenc is unsurprisingly a popular destination for walkers. The area between the beach and Puerto Pollenca is home to the island's native black vultures and a fantastic place to spot flocks of migrating birds including Eleonora's falcons; peregrine falcons; swifts and nightingales.
Shopping in Cala Sant Vicenc is fairly limited offering mostly tourist-friendly convenience stores. There isn't a wide variety of shopping options here other than supermarkets found on the road from Port Pollenca to Pollenca. A popular market is held in the port selling seasonal fruit, vegetables, olives, local sausage as well as clothes, handbags and souvenirs, plus an additional market in the town of Pollenca every Sunday morning.
Water Safety & Clarity
Although crystal clean, be warned that fierce winds can often make the beaches particularly unfriendly. Remember that the lifeguards are there for a reason and extra caution should be administered in high winds.
Beach Quality
Known for being quieter and less busy, the beaches are great for couples and older children as well as being full of fine sand and surrounded by jaw dropping scenery. With three beaches to choose from, decide between them based on your desired level of occupancy.
Watersports Nearby
Scuba diving is hugely popular in the area with excursions available on most days during the peak season. The underwater rock formations are perfect to explore the underwater ecosystems. Many of the dives here are suitable for beginners as the depth is around 12m and it is an exciting place to have your first dive. Fish that can be found here include rabbitfish, scorpionfish and wrasse. Most scuba diving companies are based in nearby Puerto Pollenca with two being located very near to each other on streets behind the marina, one on Carrer Verge del Carmen and the other Carrer de Magallanes.
Location