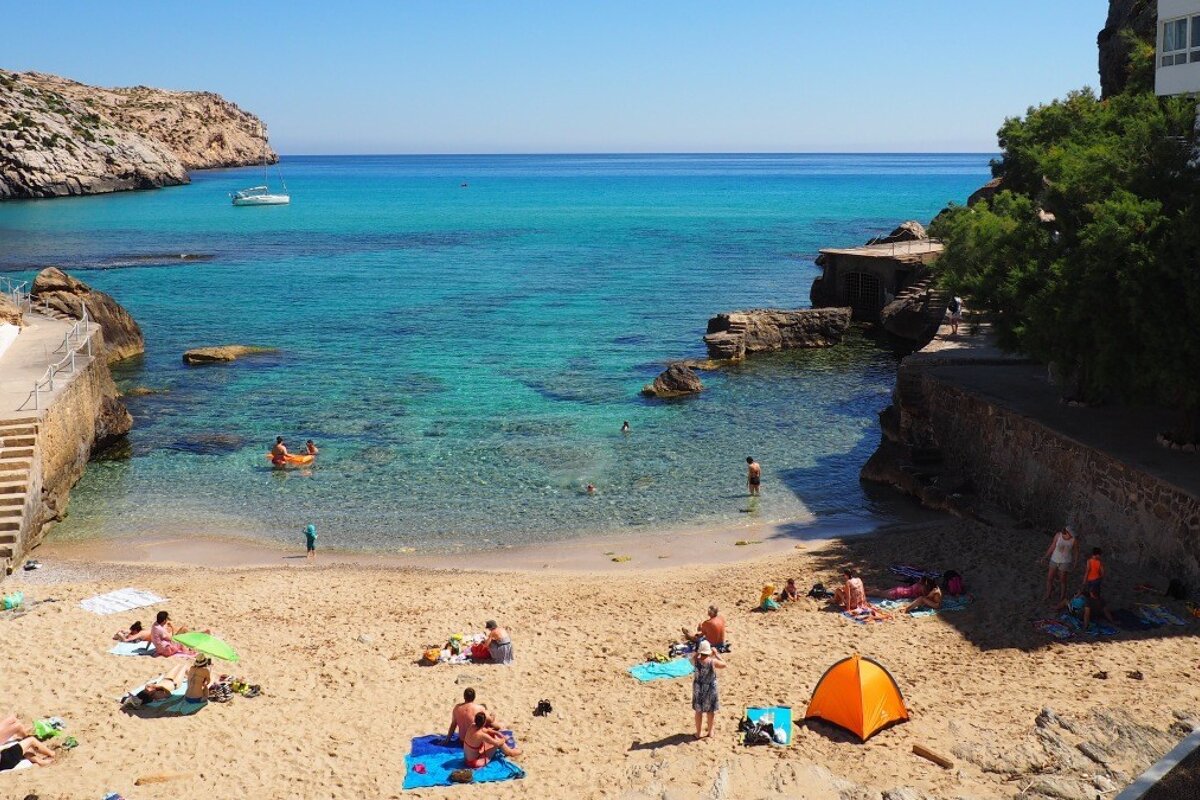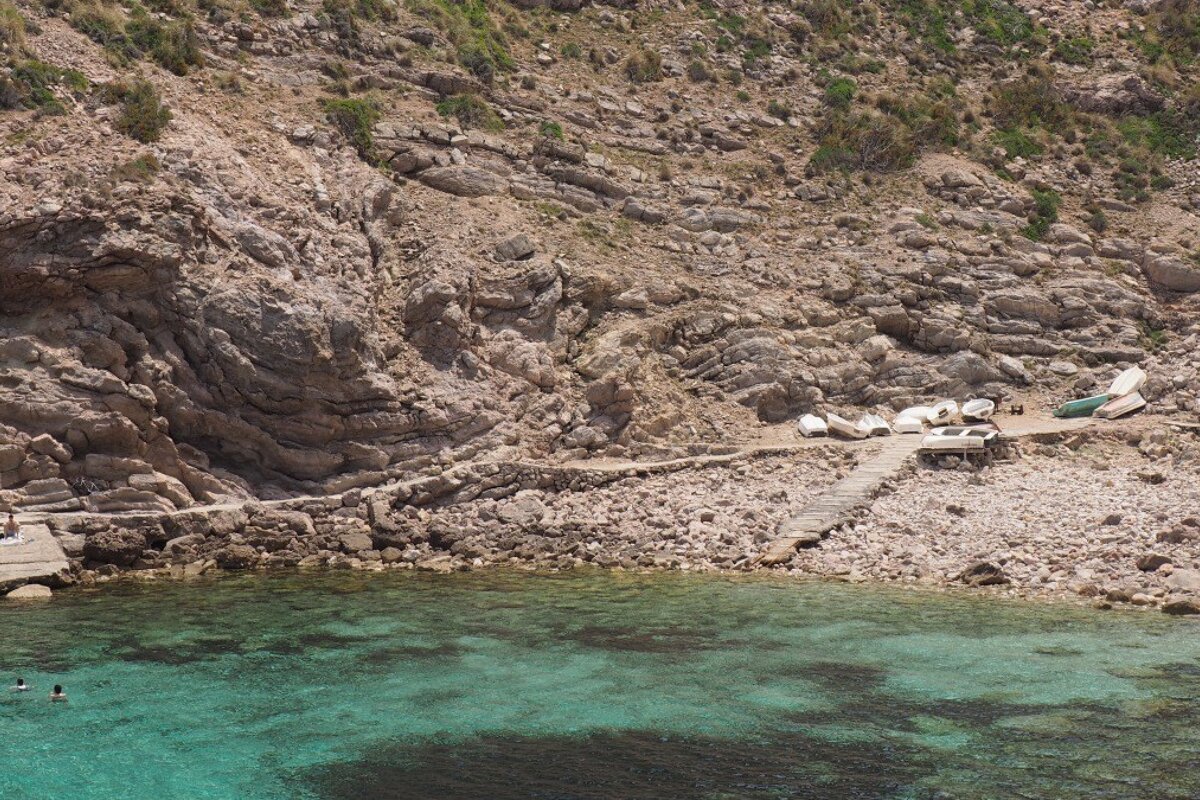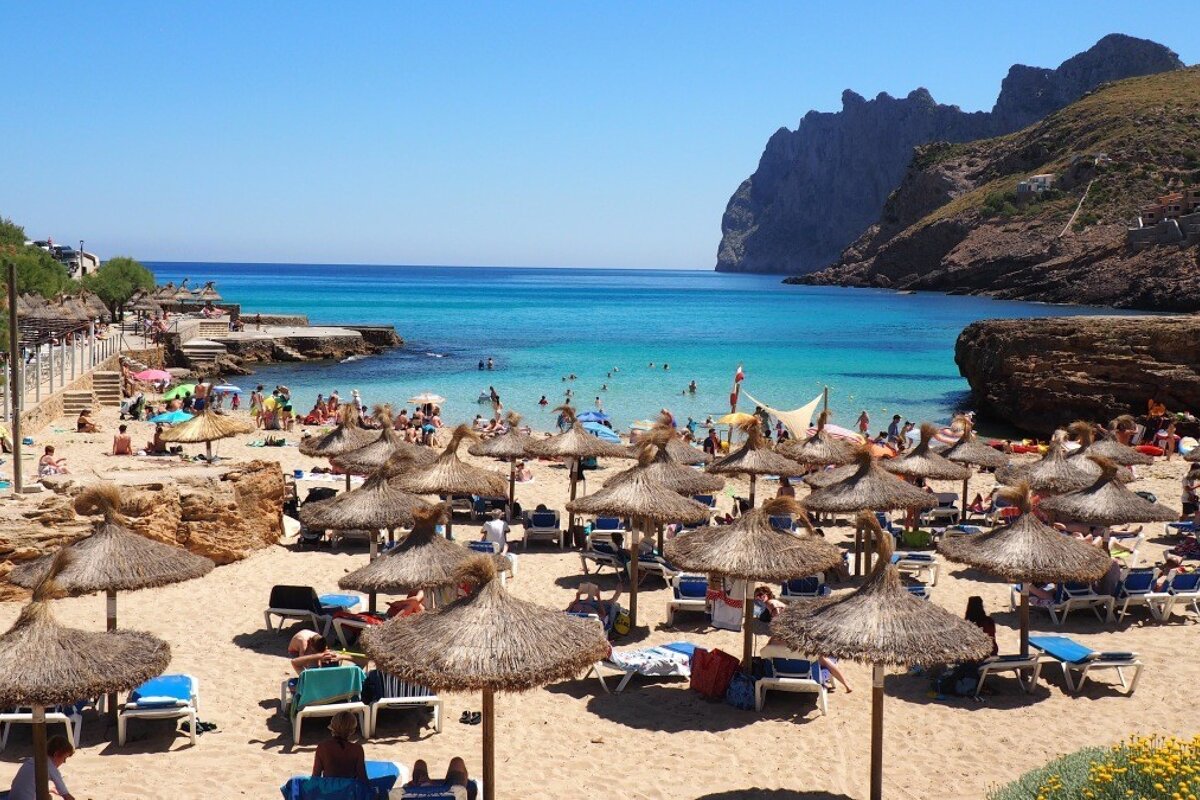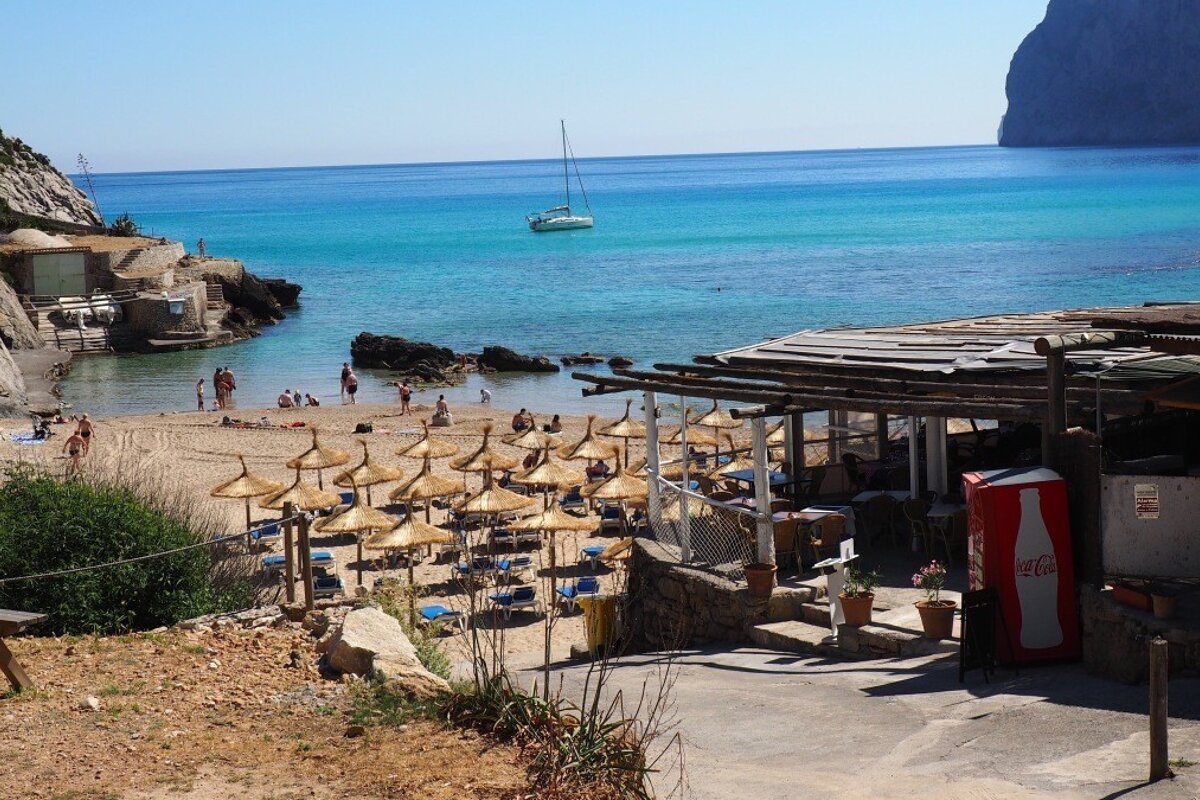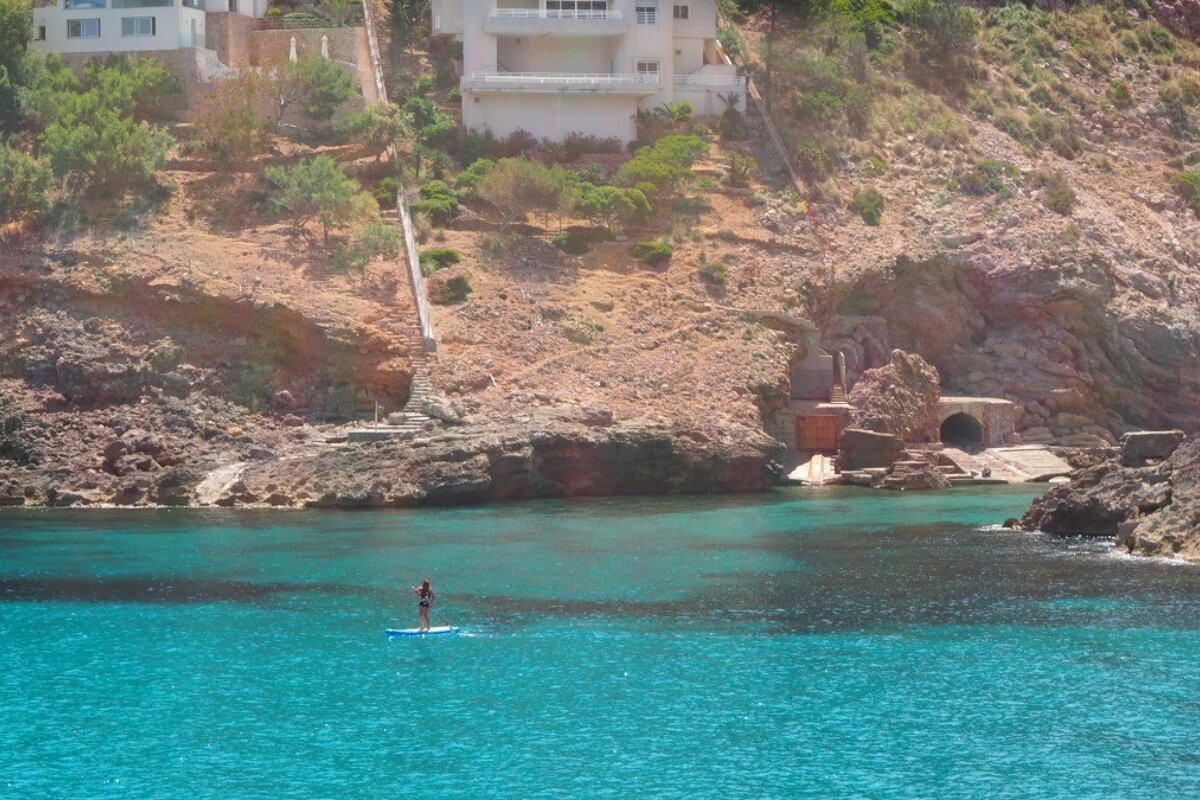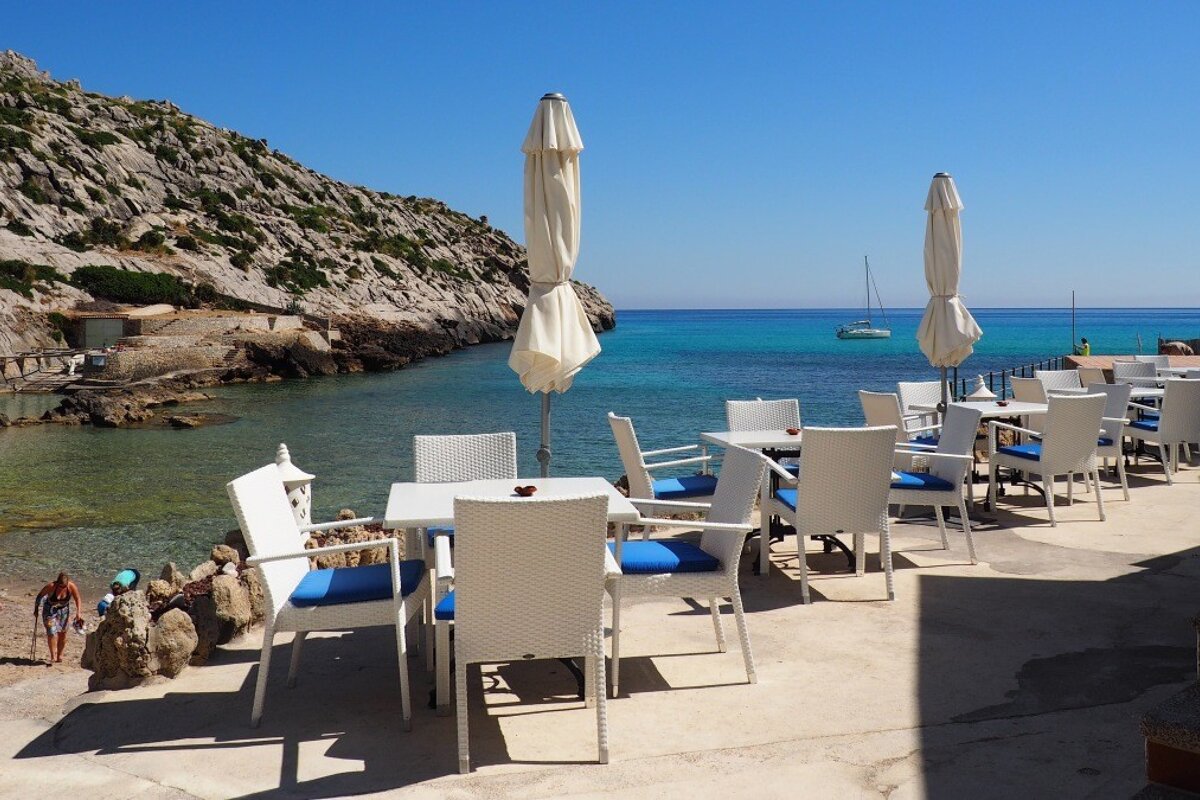 Cala Sant Vicenc Beach, North Mallorca
Four different beaches and beautiful bays
Cala Sant Vincenc is a spot of real beauty in north Mallorca, an old fishing village arranged around four little cove beaches and stunning blue water.
A great sport for a day trip, or to use for your holiday base camp, the little town of Cala Sant Vincenc is a beautiful spot with azure water, four separate coves full of character, a town full of everything you might need and restaurants offering great seafood selections.
The first of the four beaches and the largest is Cala Barques, which has soft white sand, lifeguard service and plenty of sun loungers, the sea is rather rocky all the way out, but that plus the wall of rock on the left of the cove makes this a great spot for snorkelling. An array of restaurants look out over this beach including a snack bar near the sand and higher up, the beautiful Hotel Niu with its staggered patio and kitchen open all day.
A two-minute walk along the road or around the rocks to the right and you'll find tiny but pretty Cala Clara. Unfortunately backed by the large Hotel Don Pedro, little Cala Clara can become over run with their guests and noise from their entertainments but that doesn't make it unworthy of a visit. This beach also has beautiful sand and boasts a clearer seabed than it's neighbour Cala Barques. Walled in by rock on the right side this time, Cala Clara has some interesting rock formations to explore, including stairways down into the water and a rough path which you can clamber along and up to the road which leads around to the right and onto the next of the beaches.
The furthest beach away is Cala Carbo, with no sand to speak of, this is a small rocky cove and as such the least visited and least crowded of all 4 beaches. Unfairly ignored however, as the water is still stunning, it's much quieter and there are some large flat platforms of rock for you to set up camp on. This beach is built for exploring either on foot along the rocky sides and around the man-made boat houses hewn into the stone, or by kayak or paddle board from Cala Molins. Make sure you don't miss this beach off your list.
All four beaches in Cala Sant Vincente can be visited easily within half an hour so you can spend your day hopping between the four or pick your favourite and camp out all day. Visit Cala Barques and Cala Molins for easiest access, lifeguard service and facilities, but all four are worth visiting and you're never far from the pretty town which is packed with all the amenities you could need including restaurants for all budgets, supermarkets selling snorkels, inflatables and all your beach needs, pharmacies, newsagents (selling English books) car rental, banks and all sorts. There is also a sports shop Atemrausch offering bike rental, scuba diving and snorkelling tours.
Take a trip to Cala Sant Vincenc for a great family day out with variety built in, or use it as your base for a quiet holiday away from the bigger towns and resorts.
Read more about the Beaches at Cala Sant Vicenc.
Setting & Location
Situated 7km away from Pollenca, Cala Sant Vincenc is nestled on the east side of Cap Formentor just where it rejoins the main body of the island. Once an old isolated fishing village and a Mecca for artists and writers, Cala Sant Vincenc has grown and evolved somewhat but managed to retain much of its charm.
Watersports Nearby
Follow the road around the headland or descend the steps in the centre of town and you'll easily spot beautiful Cala Molins, the most classically beautiful of the four beaches and often the busiest. This one is a little smaller than Cala Barques but with whiter softer sand (rumour has it this gets manually shipped in each year) and a completely clear sandy entry to the tranquil turquoise waters. Packed with sun loungers, this beach also has a lifeguard station, toilets and water sports stand where you can rent a kayak or stand up paddleboard. The beach does get very busy here so if you don't mind sunbathing on rock your best bet is to walk along the stone promenade to the left of the beach where you'll find more sun loungers and unobstructed access to the clear deep water by the rocks. This is also where you'll find the best snorkelling.
Directions
You can access Cala Sant Vincenc easily by car, it's well sign posted and there is ample free parking in the town or by bus from Pollenca/Puerto Pollenca. The 345 bus runs only once every 2-3 hours so be sure to check the times for your return journey.
Location
Cala San Vicente, Mallorca