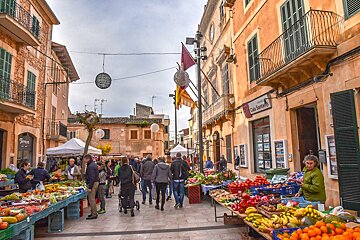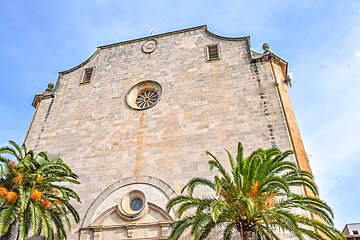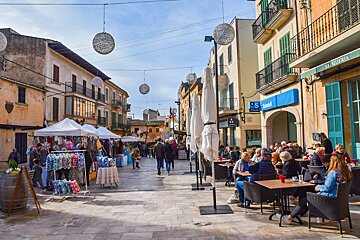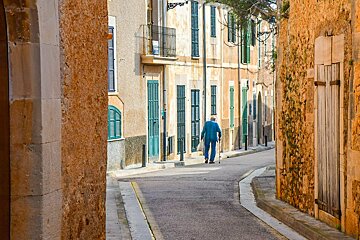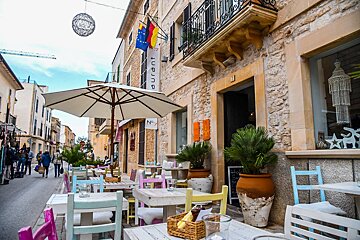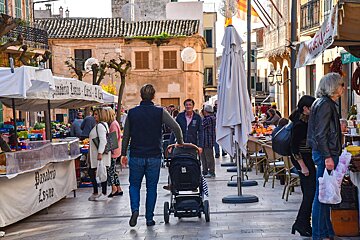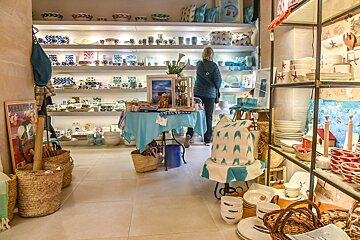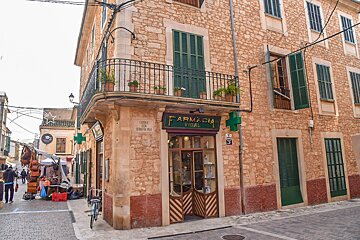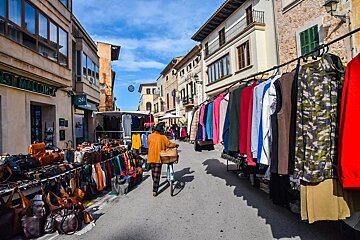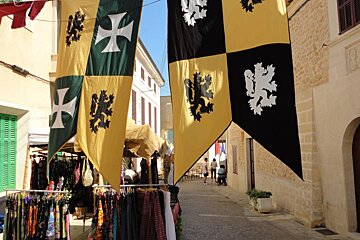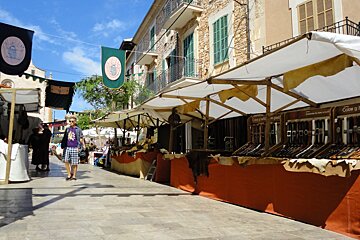 Santanyi, Mallorca
Traditional rural town in the south east of Majorca
Santanyi is a historic rural town famous for its gold stone architecture. It's charming, with quaint cobbled streets, a majestic church and appeals to most for its slow pace of life.
You can sit and watch the world go by on one of the many terraces on the main square in front of the church. Market days are on Wednesdays and Saturdays and are the best day to come and soak up the atmosphere, as locals come out in full force to buy local produce.
Agriculture was the mainstay of the town until tourism arrived in the 1950s. Today, this beauty spot is particularly popular amongst Germans for holidaying but also retains an all-year German community. Many creatives and artists have made it their home, so galleries and workshops can be found within the nooks and crannies around the town. Beautiful boutiques, trendy furniture shops and an array of top-class restaurants are also worth writing home about.
Santanyi's location makes for an impeccable base to explore some of the island's best beaches, so the town becomes a hot spot in the summer months but has plenty to offer all year round. When it comes to accommodation in this area, there are a few boutique-style hotels within the town centre and some authentic rural agroturismo hotels in the surrounding countryside.
History & Culture in Santanyi
Do not be surprised if the buildings in Santanyi look just that little bit more mellow than everywhere else – this small town is the source of the golden sandstone used in Palma's cathedral and La Llotja among others. Santanyi stone is still quarried today.
Historical landmarks like the old city wall and Porta Murada (an old gate) stand as symbols to remind us of the constant threat of pirate attacks which troubled the town. According to history books, many people took to sleeping in the town's locked church during invasions. Forts and defense towers dating back to the 18th century mark the coastline, most notably Torre d'en Beu, in Cala Figuera.
Sights & Attractions in Santanyi
Sant Andreu church
The construction of Sant Andreu church began on July 25th, 1786, when the rector of Santanyí, Nicolau Pons, laid the first stone for the new church. It took 25 years to complete and was built with the special local sandstone. Each year the town celebrates the day the first stone was laid during the Festes de Sant Jaume.
Botanicus
Botanicus is a botanical garden attraction on the way to Ses Salines, covering an area of 150,000m2. Tropical jungle plants thrive almost side by side with subtropical flora and characteristic desert vegetation.
Es Pontas
Located on the coastline between Cala Santanyi and Cala Llombards, Es Pontas is a famous natural arc rock formation in the sea. Meaning 'The Big Bridge', Es Pontas often appears on postcards and is a photo-worthy spot. This is where Chris Sharma cemented his reputation as the best deep water solo climber in the world, as he ascended it for the first time in 2006, giving it a difficulty of 9a+.
Beaches in Santanyi
Santanyi is the administrative centre for the beach resorts of Cala d'Or, Portopetro, Cala Figuera, Cala Santanyi and Cala Llombards. This means that, within a 15-minute drive of Santanyi, you will be able to reach some of Mallorca's best beaches complete with crystalline turquoise waters.
Cala Santanyí
Cala Santanyi is just 5km away and it might be the most obvious to visit, as it is the closest and named after the town. This small 130-metre long blue flag beach popular amongst snorkellers has all the amenities, including sun loungers with parasols, restaurants serving seafood and various family-friendly watersports. It services the hotels that surround the beach, so it can get particularly busy in peak summertime.
Cala Mondragó & Cala Sa Nau
Cala Mondrago, set within a natural park, is a favourite amongst many. Good restaurants serving traditional Spanish food, ample parking and a magical atmosphere are all on the menu here. Cala Sa Nau has a boho Ibiza-esque vibe thanks to the charming chiringuito and Balinese sun beds that reside there.
Cala Llombards, Caló des Moro & Cala S'Almonia
Cala Llombards is less frequented by tourists but is more popular amongst the locals. It has a popular beach bar, car parking and sun loungers to rent. Calo des Moro was one of the best-kept secrets until recently, its crystalline turquoise waters stretch out making it a popular place for boats to anchor. Not easy to access by foot, with a bit of rock climb involved but well worth the trip. Cala S'Almonia or Cala Almunia is another small cala painting that picture postcard setting that most people are after.
Cala Figuera
Finally, Cala Figuera is a timeless harbour just down the road from Santanyi. It's filled with old Mallorcan 'llauts' (traditional fishing boats) whose appearance help to make this one of the prettiest marinas on the island, giving you an idea of how many of the old ports would have looked before tourism hit the island.
Events in Santanyi
Santanyi boasts a jam-packed calendar of events throughout the year. It is highly recommended to come and see this town at its best on market days which are hosted every Wednesday and Saturday throughout the year.
Traditional fiestas
Traditional fiestas are widely celebrated here. The Festes de Sant Jaume is one of the most famous events and usually takes place across the last two weeks in July. Live music concerts, children's activities and the legendary correfoc are included in the events programme.
The patron saint Sant Andreu is celebrated on November 30th, when the locals look forward to a week of cultural activities and the church hosts a special service to honour him. In October, Sa Fira de Santanyi celebrates local produce, including artisan crafts, agricultural products, and livestock.
Live music
Between April and September Santanyí hosts its own International Music Festival. Concerts are free and bring a variety of international artists to town.
Things to do in Santanyi
Santanyi is great for a relaxing holiday in an authentic Mallorcan setting. There's ample to do in the town but you should also get out to explore the local area and the beaches if you can.
Shopping
There are a few boutique shops selling fashion, local artisan ceramics and interior design – KOYO Interior or Sa Sort Interiores are worth stopping by. There's also a Flor de Sal d'Es Trenc Shop for those keen to get their hands on the famous salt from Es Trenc.
Art Galleries
The local art galleries are worth visiting. Here you can pick up both local and international works. Estudi Garrit, Casa de Arte, Galeria Barcelo and Galeria Sailer are some of the most reputable galleries and studios in town.
Walking & Hiking
The stunning Mondragó Natural Park is a must-visit. It has fabulous white sand beaches and walking trails in its natural flora and fauna. Cap de Ses Salines is a starting point for many hikes, the most popular of which is the 12.5km trail from Cala Lombards.
Cycling
There are plenty of cycling trails to enjoy – the area is pretty flat so cycling is an easy way to get around. Bike rentals can be found in various resorts surrounding the town, particularly in Cala d'Or.
Wine Tastings & Tours
Several vineyards in the area are available for tours and tastings by appointment. Son Alegre wine cellar produces organic wine and olive oil, while Bodega Es Fangar offers a premium wine tasting experience, which can be combined with an exclusive tour of the magnificent estate.
Golf
There is a highly regarded 18-hole golf course on the way to Cala d'Or called Vall d'Or, offering epic sea views and rolling fairways bordered by almond and olive trees. The clubhouse has a premium restaurant with an extensive terrace and panoramic views over the course and coastline.
Boat Trips
From Colonia Sant Jordi you can hop on a boat across to the remote island and nature park of Cabrera, famous for its unspoiled natural beauty, rare species and crystalline waters. There are various trips available including day trips and sunset tours.
Bird Watching
In the autumn, this region is a haven for many migrants as they make their final stop before completing their journey to Africa to overwinter while in the spring, this area is their first stop on the way to their European breeding grounds.
Dining in Santanyi
Foodies are spoilt for choice in this town and its surrounding area.
Mediterranean cuisine in Santanyi
Trendy East 26 Bar & Restaurant is famed for its quality Mediterranean cuisine in a timeless Mallorcan setting. The courtyard offers an enchanting location for guests, as they can kick back in the island sunshine and enjoy excellent food and drinks. Es Cantonet is a cosy traditional restaurant with top quality homemade food and a renowned tasting menu.
Tapas in Santanyi
It's all about location with Sa Cova which is positioned just a stone's throw away from Santanyi's iconic church and has a lovely terrace to sit and watch the world go by. Food is an all-day affair but the Mallorcan breakfasts are legendary! They also host live music nights on Wednesdays and Saturdays. On the other side of the road resides Alchemy, with alfresco style seating on the plaza but is also a pleasant place to sit inside. Tapas is their speciality but you can get your hands on good Italian fare and other international favourites. These guys host a live music night on Fridays in the winter months from 21:00 onwards.
Family-friendly restaurants in Santanyi
If you are after a culinary journey for the whole family to enjoy, then Anoa restaurant dishes up extraordinary tapas and main courses along with age-old favourites like pizzas. The ultimate crowd-pleaser is Restaurant Sa Botiga, a one-stop-shop charismatic café, bistro restaurant and bar in the heart of the town. It serves everything your heart could desire from fresh fish and typical Mallorcan favourites like black pig and tapas to various vegetarian and vegan recipes.
Fine dining in Santanyi
For that extra special occasion, Llaudat Restaurant is one of the trendiest addresses in Santanyi – expect contemporary Mediterranean food and first-class service. Restaurant Goli specialises in oysters and caviar but expect the price tag of a meal here to match the experience.
Hotels in Santanyi
Boutique hotels in Santanyi
Within the town centre, there are a few good accommodation options available. S'Hotelet de Santanyi is a stylish hotel in the heart of town offering contemporary design within a natural stone façade, in keeping with the rustic charm of the town. It's worth noting, that while this hotel is in the town centre, it does have a small swimming pool. Cal Reiet Holistic Retreat is a boutique lifestyle country hideaway within easy reach of the town centre by foot. It offers retreats for your mind, body and soul. Within this architectural gem, juxtaposing a historical building with luxury furnishings, you can treat your mind body and soul to the ultimate retreat.
Rural finca hotels in Santanyi
In the countryside, Sa Galera is a rural hotel within a 13th-century manor house in Cas Concos, north of Santanyi. Set in attractive gardens, this hotel features an outdoor swimming pool. Stone walls, beamed ceilings and an original fireplace are its most endearing features while the décor is more traditional, with a home-away-from-home vibe.
Beach hotels in Santanyi
Hotel Cala Santanyi & Apartments is a resort-style hotel overlooking Cala Santanyi beach. Having been established for many decades, every amenity has been thought through – it offers a wide range of sports facilities, including a gym and tennis courts.
How to get to Santanyi
By car
It takes around 45 minutes to get to Santanyi from Palma de Mallorca's Sant Joan airport. It's just one road, so an easy drive. Come out of the airport and follow the Ma-19 towards Campos/Santanyi.
Public transport
There is a direct public bus running from Palma de Mallorca Son Sant Joan Airport to Santanyi. It's number 502 and it runs a few times per day. This bus also connects Santanyi with Llucmajor, Colonia de Sant Jordi and Campos. Alternatively, you can catch the number 1 bus to Plaça d'Espanya in Palma, where you will find alternative more frequent options.
Location