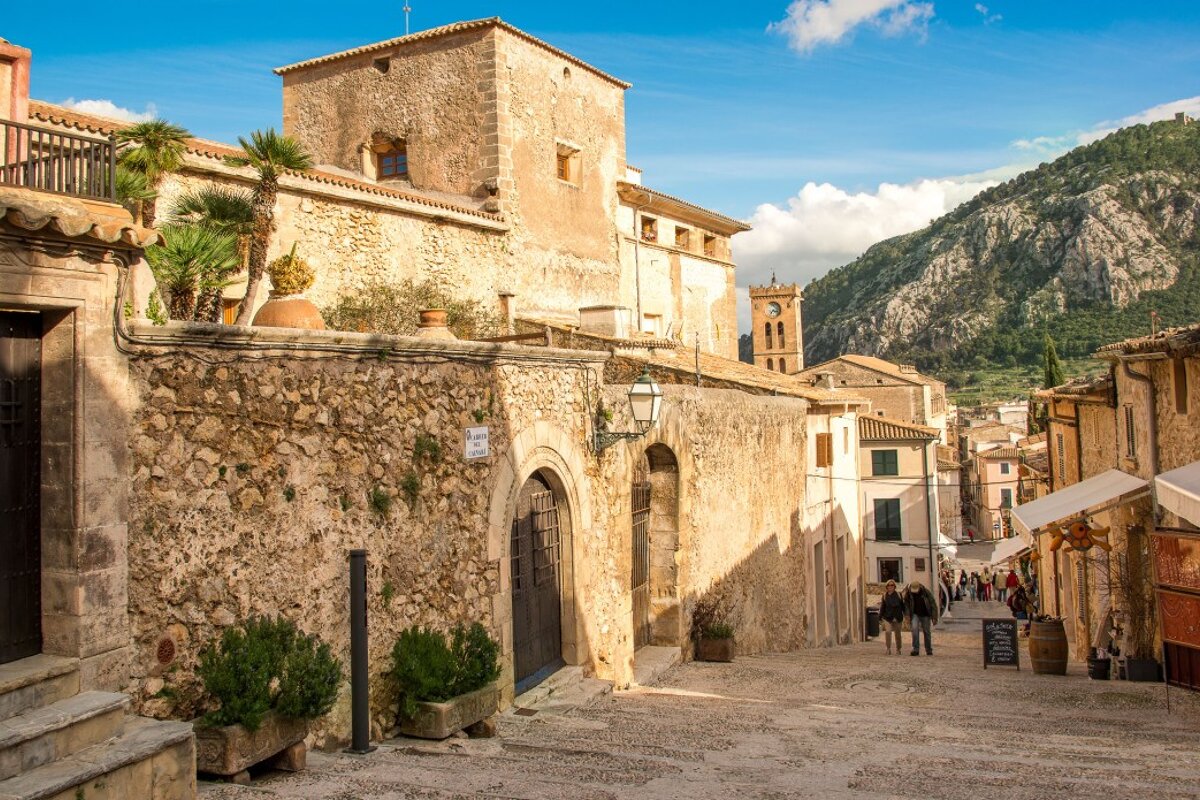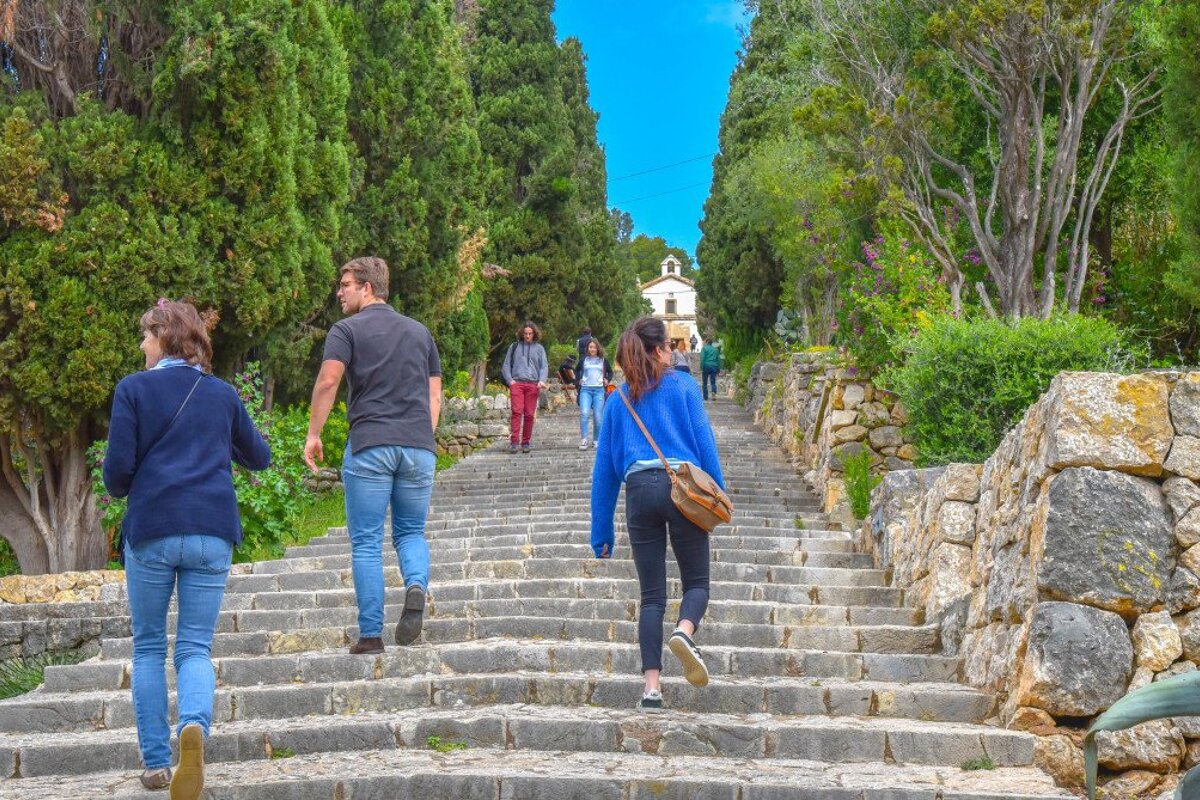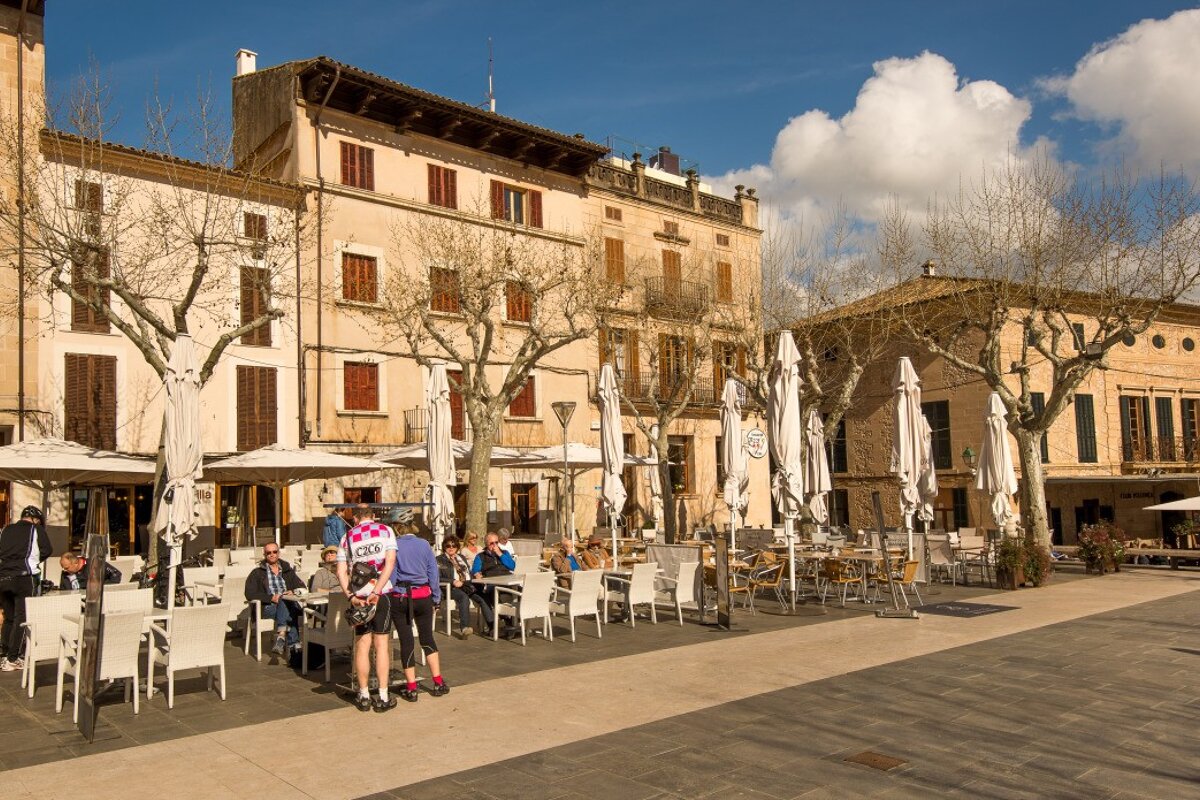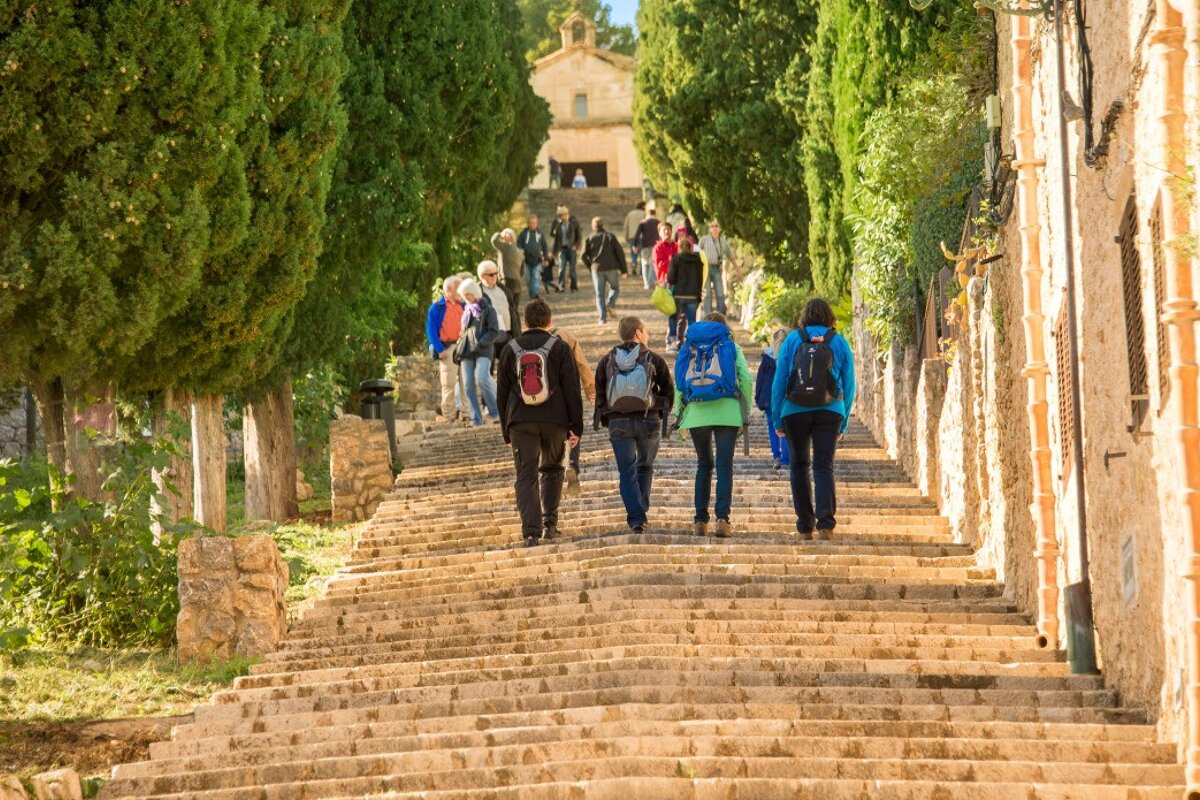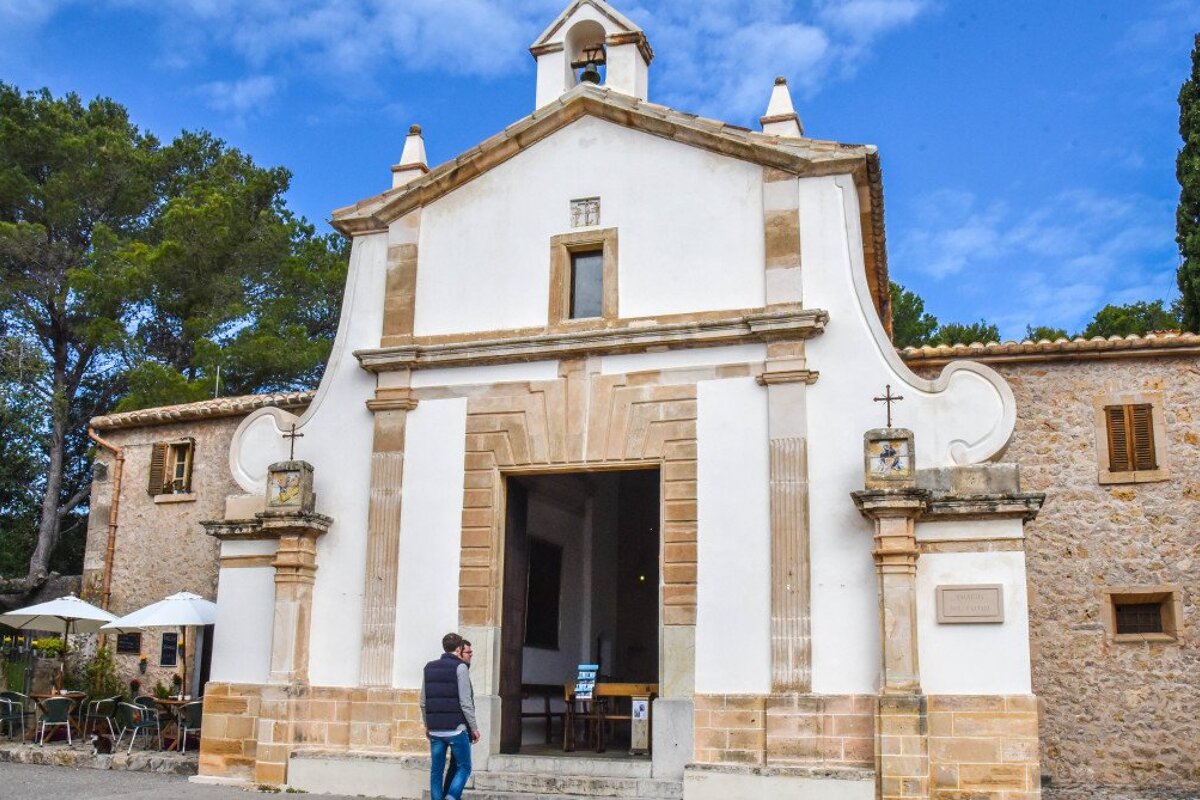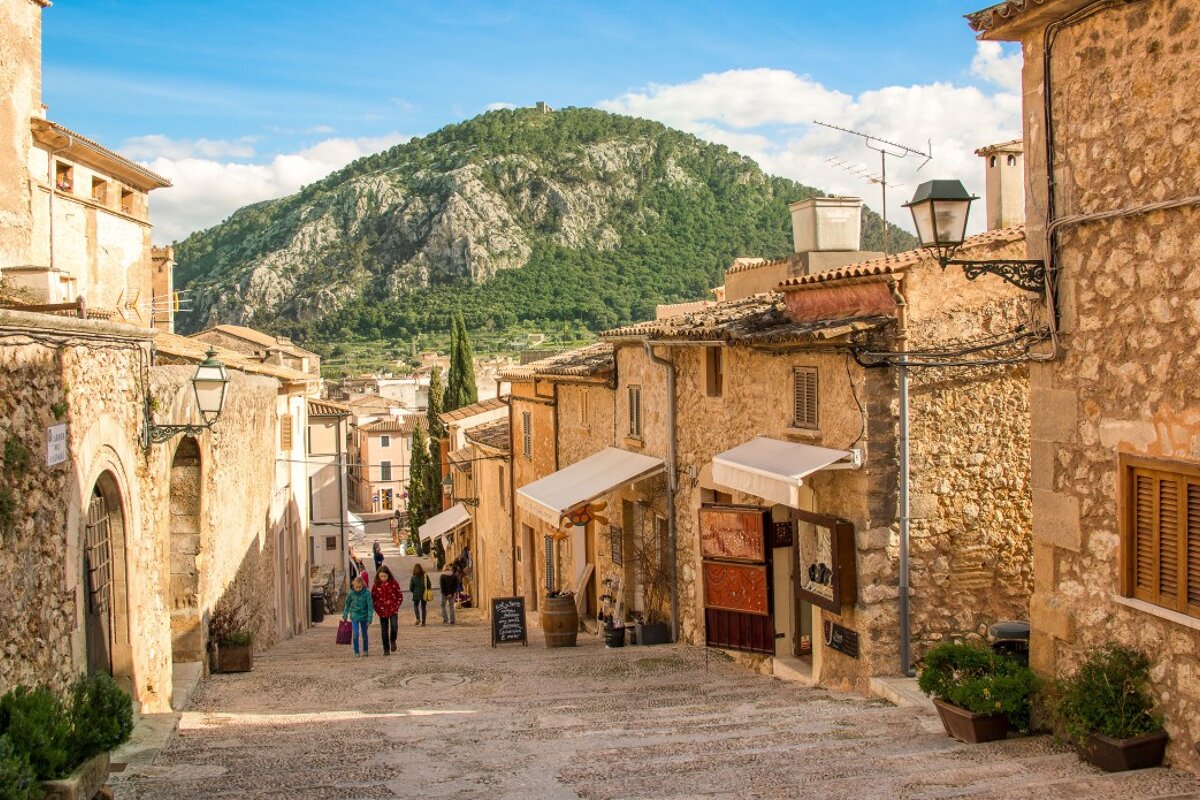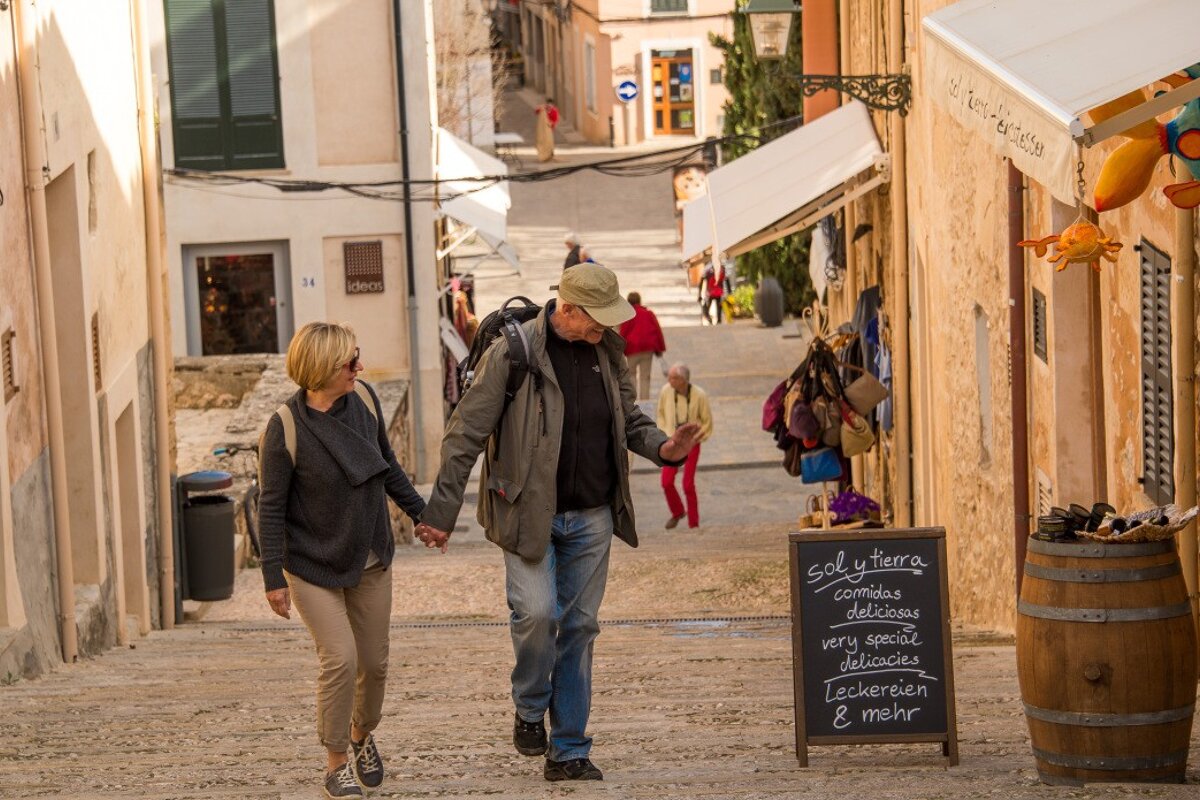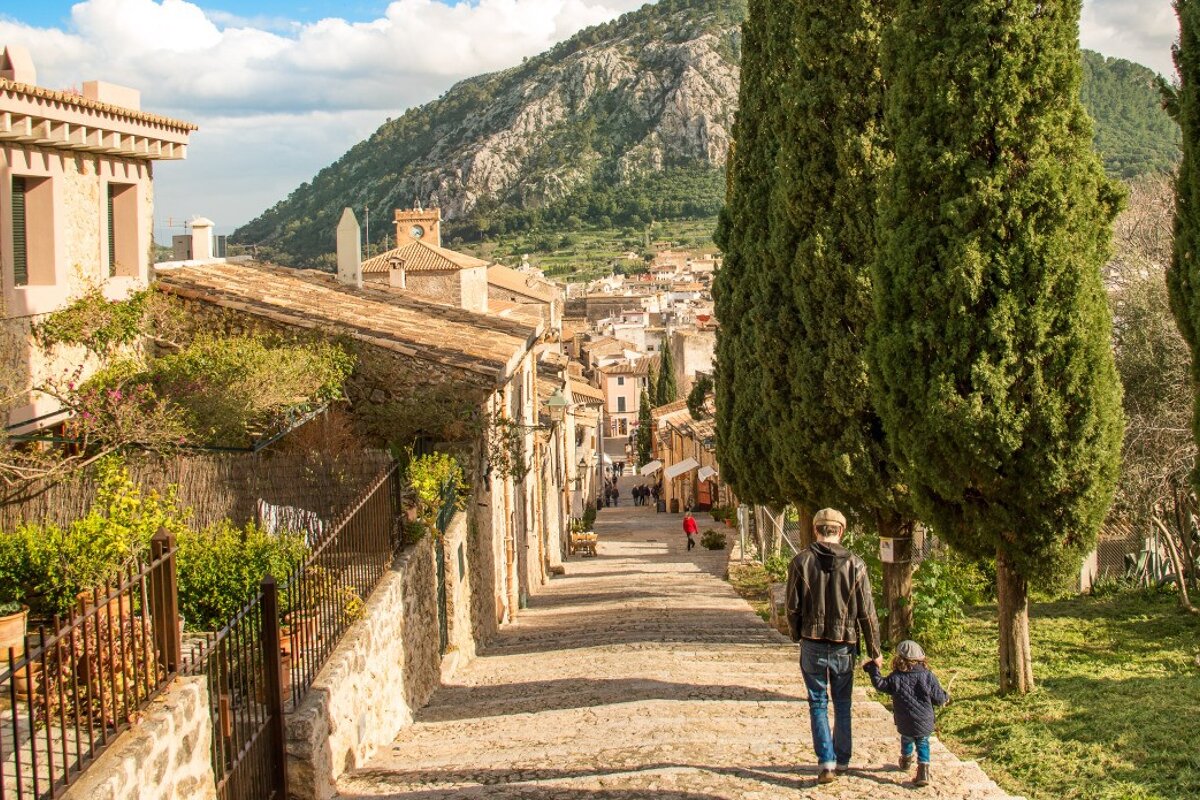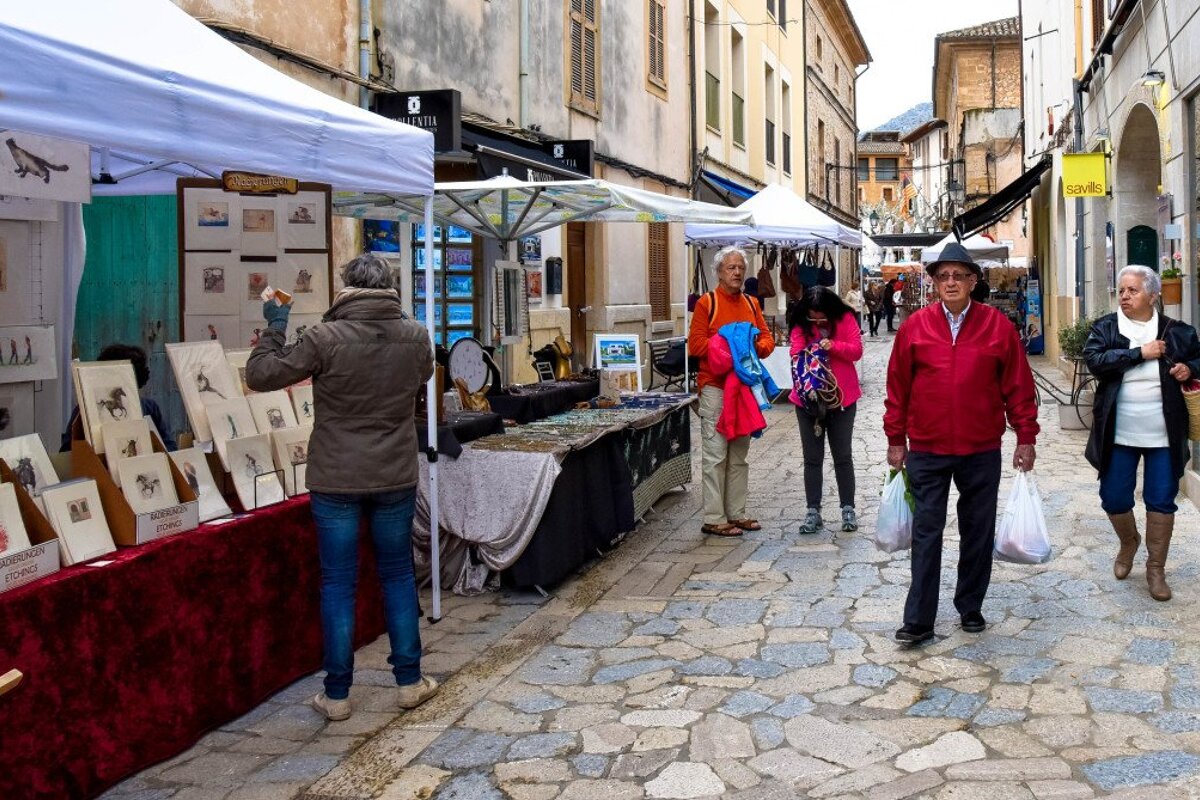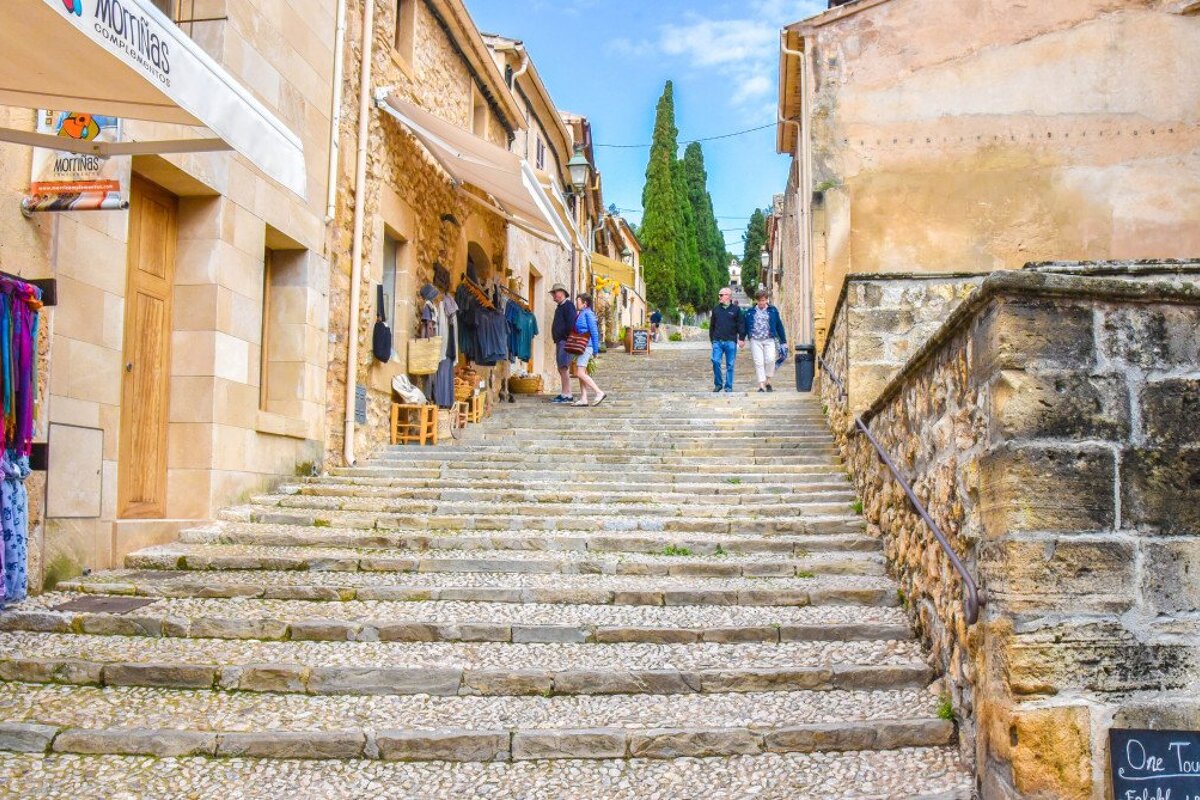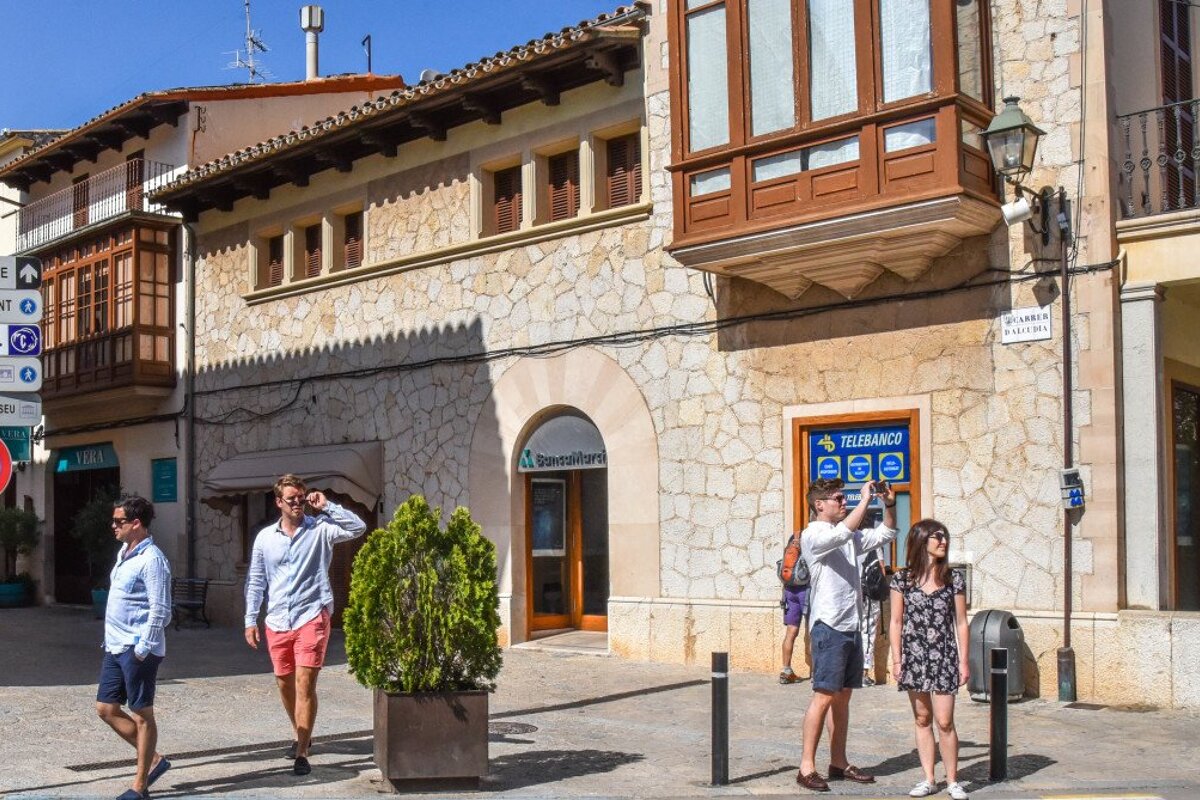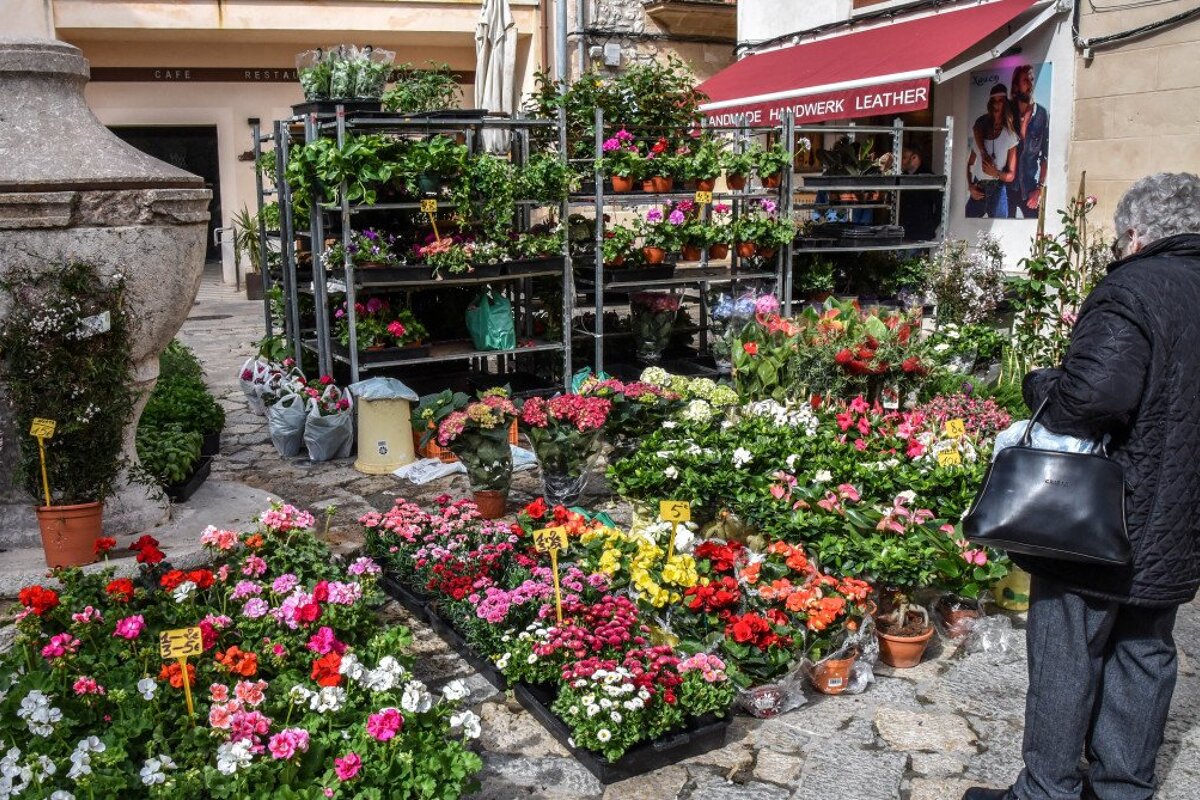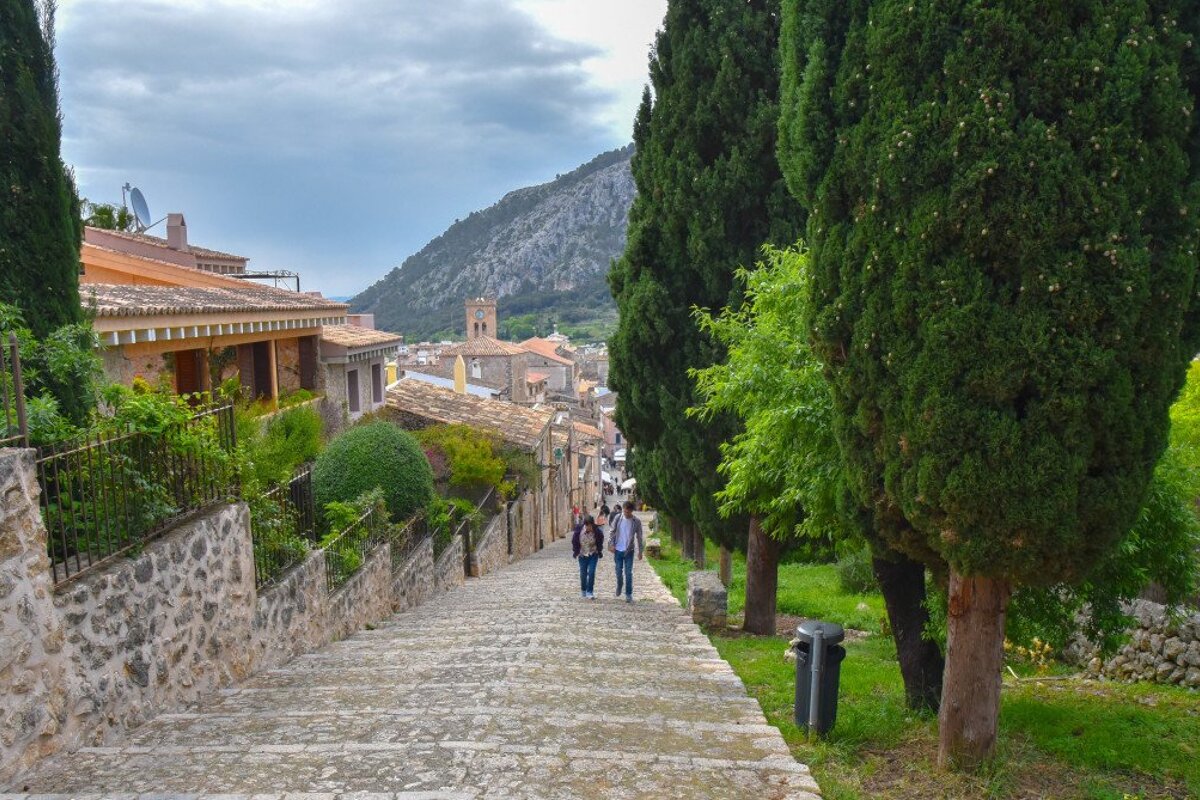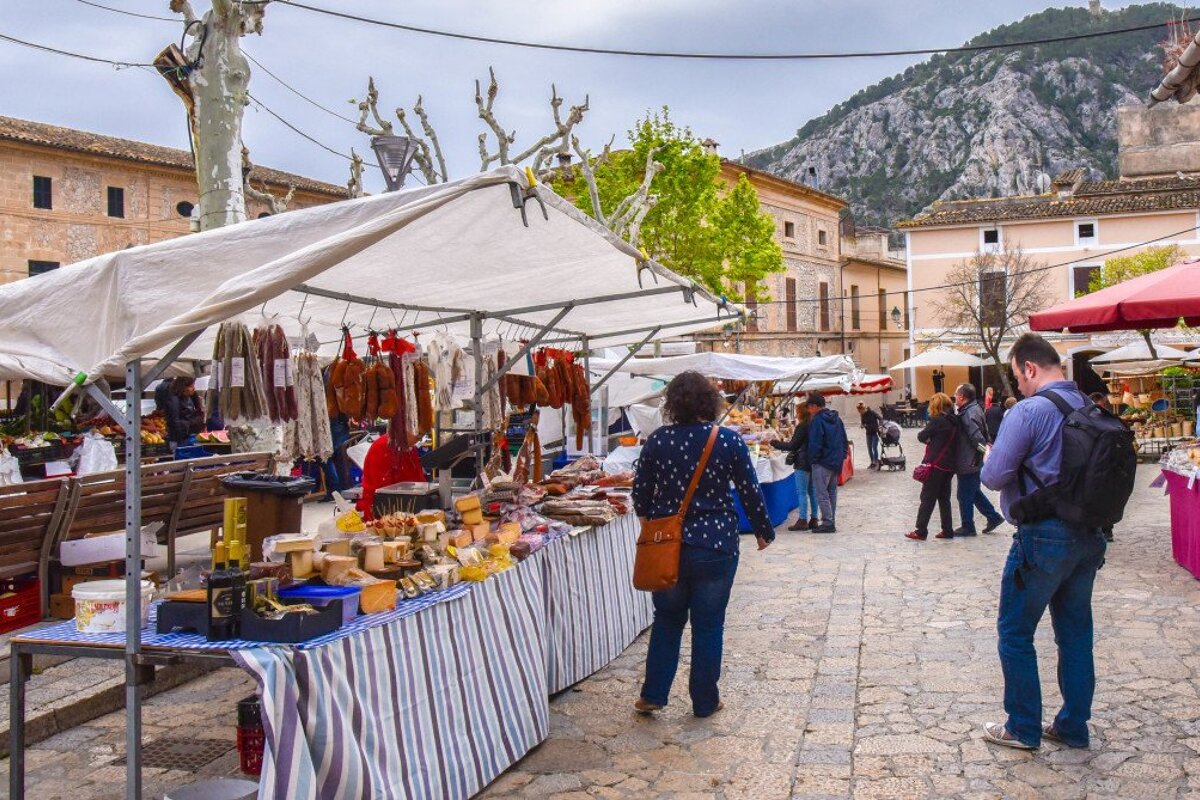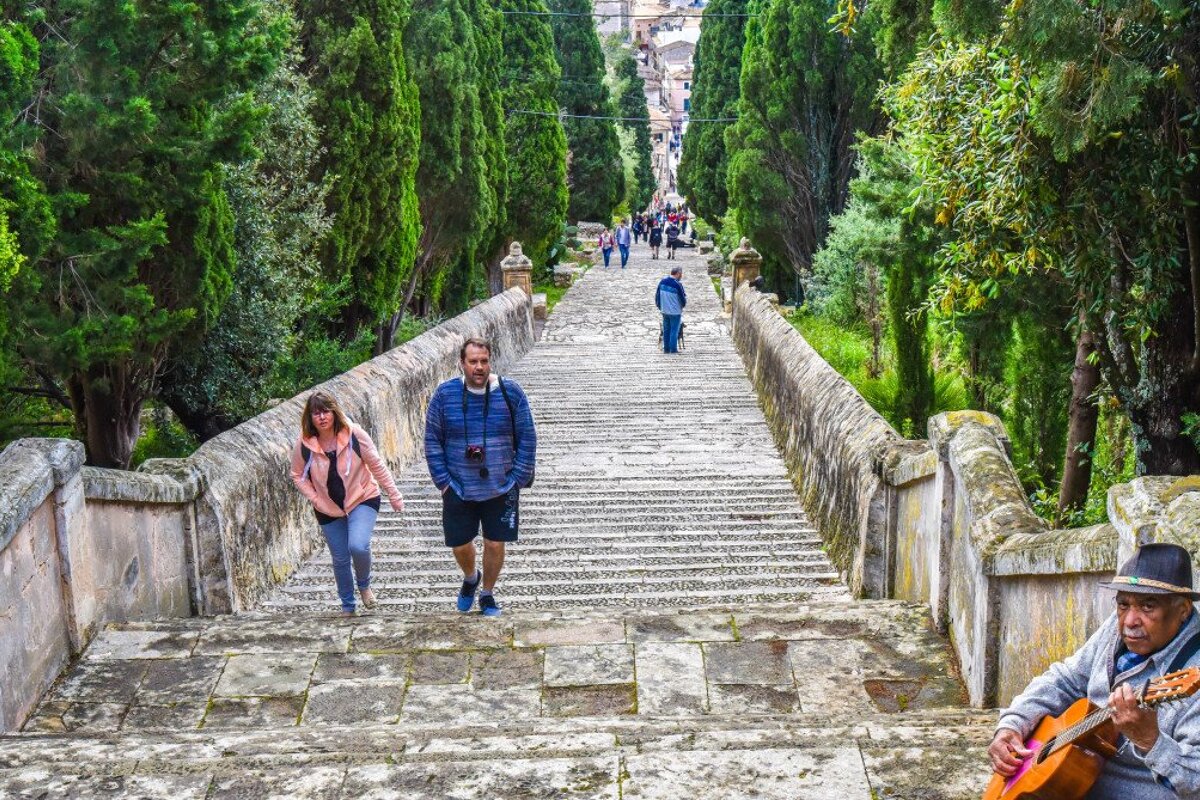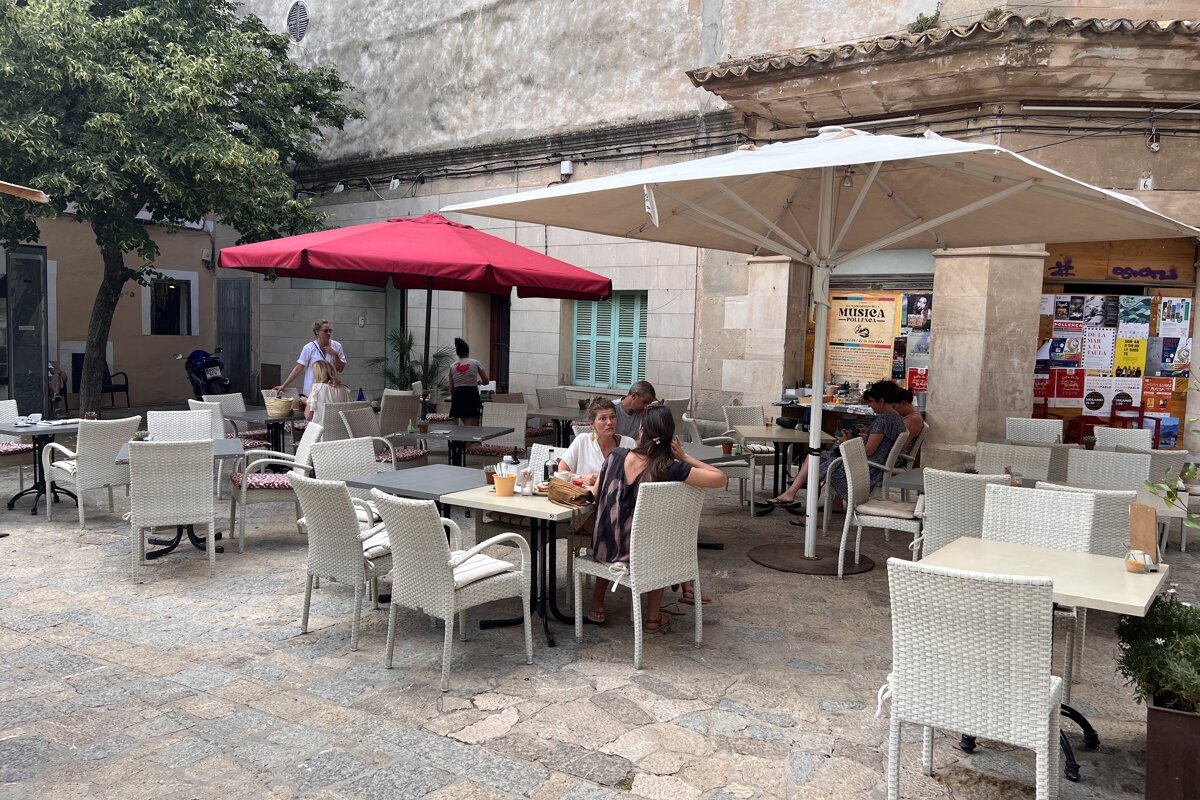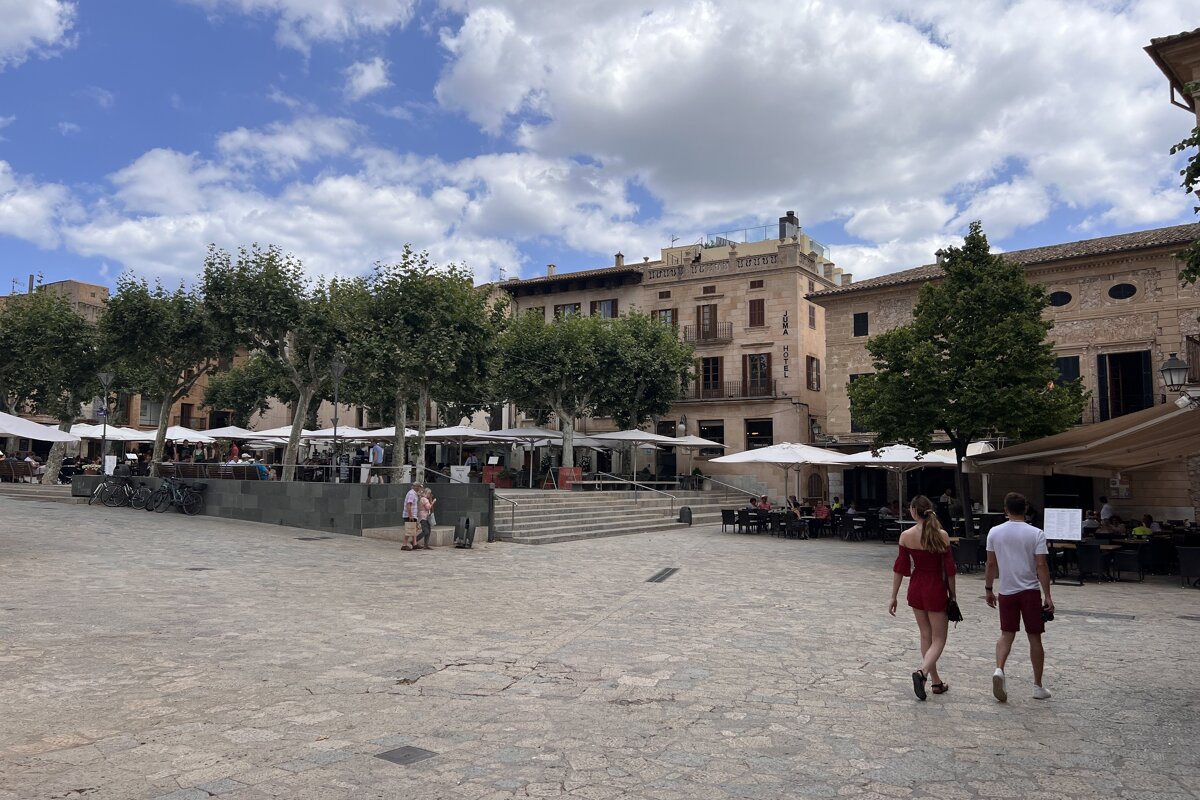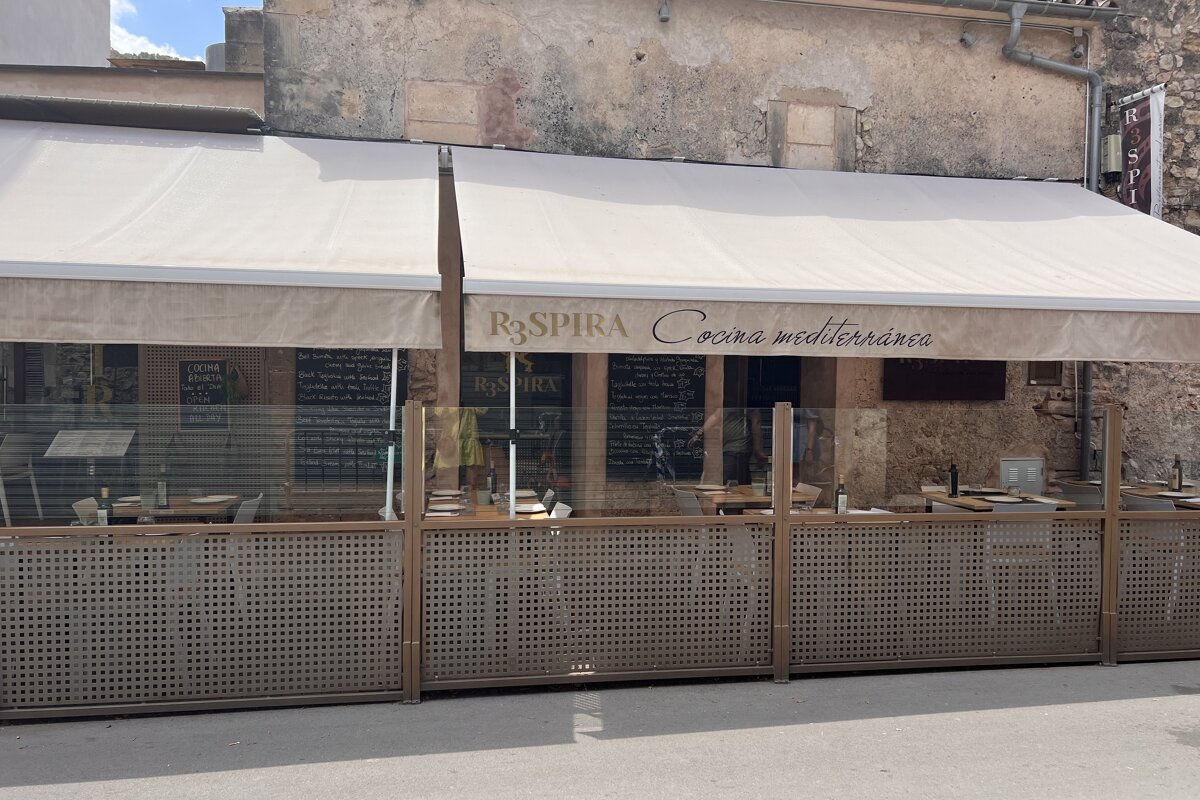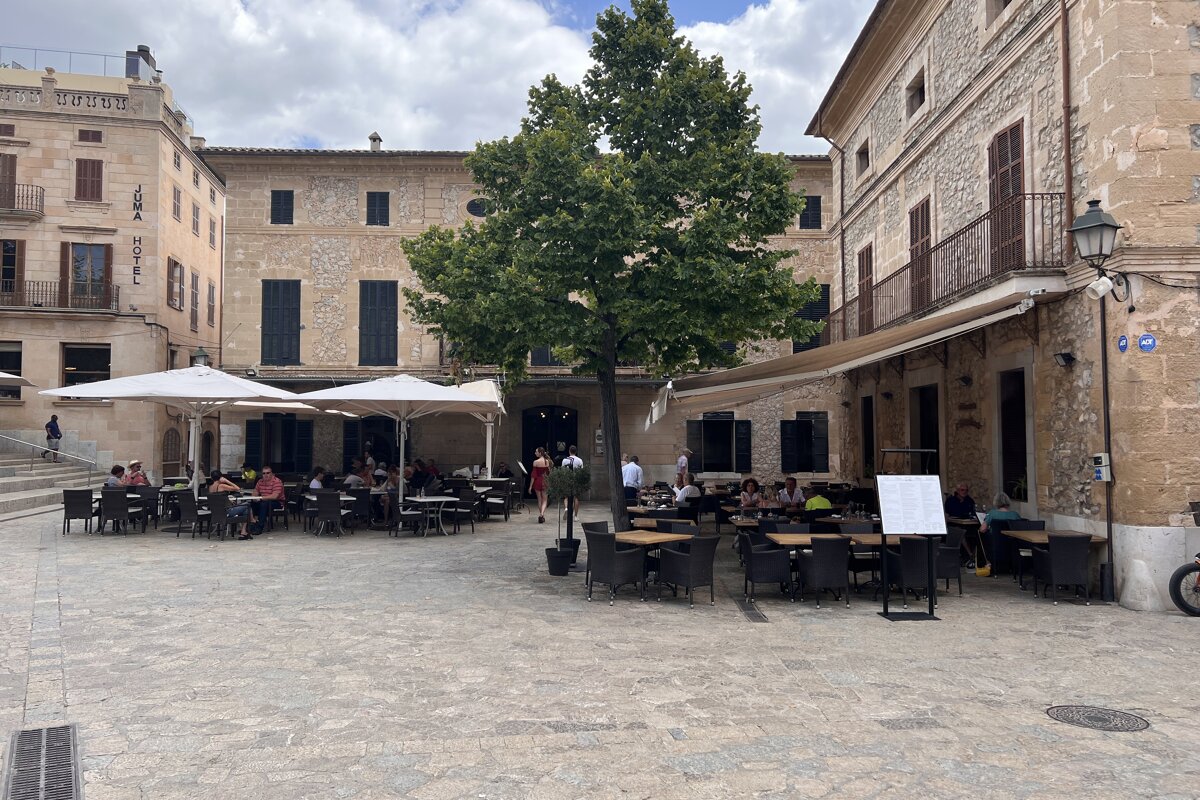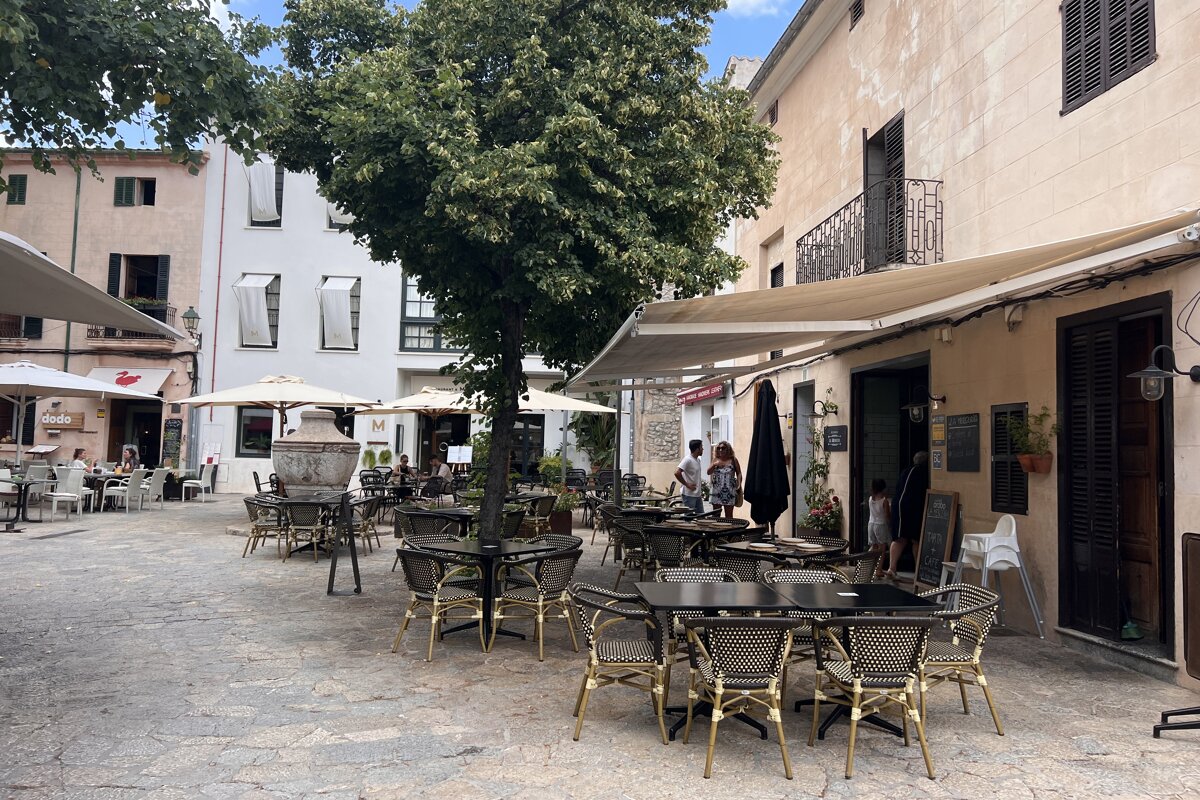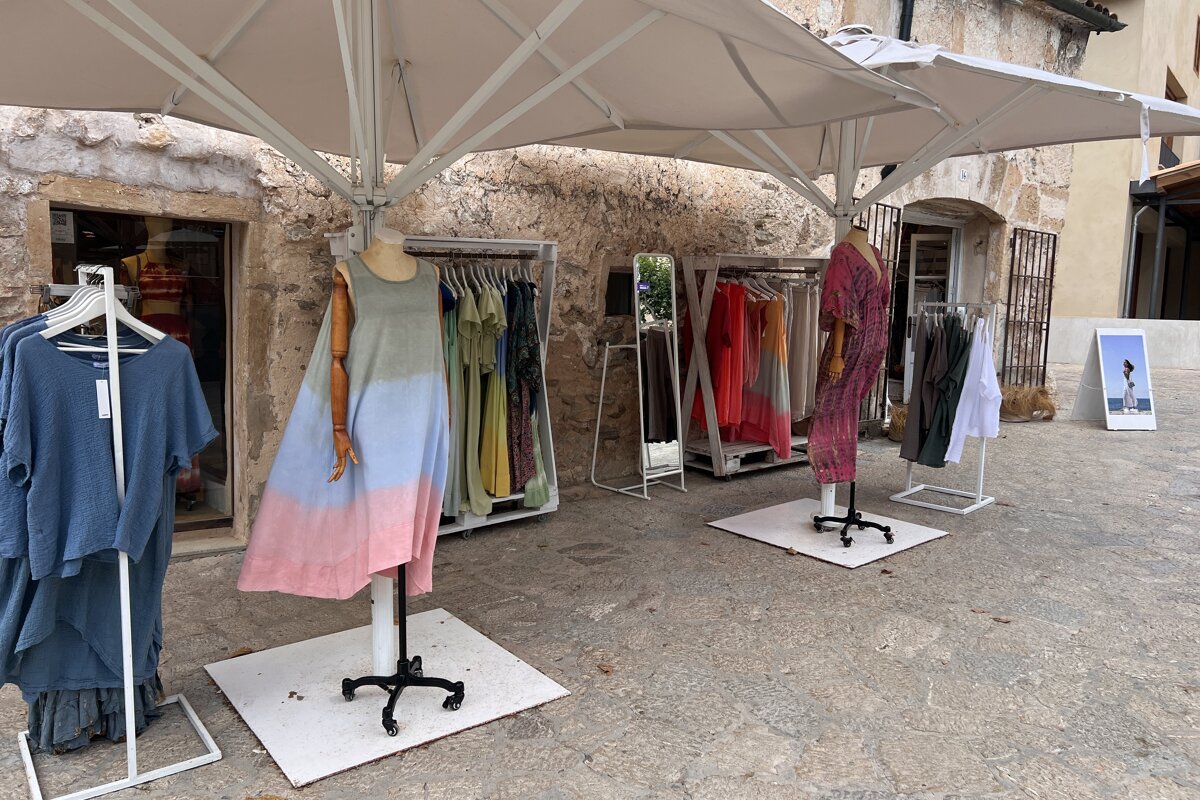 Pollensa (Pollenca), Mallorca
Attractive rural town in Mallorca, in the north-west of the island
At the eastern end of the Serra de Tramuntana, tucked between two hills, lies the ancient rural town of Pollença (also written Pollenca or Pollensa). An enchanting Mallorcan town packed with ancient blonde stone architecture, Pollenca doesn't feel like many of the other towns which have surrendered to tourism. Although tourists have long been attracted here, Pollensa has learned to accept and adapt to tourism without losing its soul.
The town's residents are primarily islanders, making it a popular retreat amongst those looking to escape the more touristy beach resorts in favour of a more cultural Mallorcan experience. Cafe life is the rule here; if you want to join in, we recommend visiting on a Sunday morning when Plaça Major is filled with market stalls and the locals congregate after church to relax in the cafes. There are a few boutique hotels in the town while luxury retreats and large scale villas can be found in the lush countryside and hillsides near the town.
Pollença is a town rich in history, its many points of interest attract visitors from far and wide. Some of the highlights include an ancient Roman bridge or 'Pont Romà', the 18th-century Mare de Deu dels Angels church with a famous rose window and the Convent de Sant Domingo. There are also wonderful ancient monasteries dotted around the surrounding countryside.
Pollenca's port, Port de Pollença lies a few kilometres to the north. It has glorious beaches and a further selection of restaurants and cafes to enjoy.
History & Culture in Pollenca
Although the majority of the buildings in Pollenca were built in the 17th and 18th centuries, this is a town rich in history dating back to medieval times.
Roman times
In 123 B.C., the Romans landed in Mallorca and set up their base in an area close to what is now known as Alcúdia. Their settlement was named Pollentia, from which Pollenca later got its name. This was a time of peace on the island, until 440 A.D. when vandals caused destruction and those who survived the attack fled the island.
Pollença in the Middle Ages
Pollenca, as we know it today, was founded in the late 12th century by the Arabs who set up a settlement in its current location. After King Jaume I conquered Majorca between 1229 and 1231, Pollenca was gifted to the Knights Templar by the king. During this time, the church in the main square, Parròquia de la Mare de Déu del Àngels (Parish of Our Lady of the Angels) began to be built. Following a conspiracy led by the King of France, this period of calm and prosperity came to an end during the 14th century, and the knights fled the island.
From the 16th to the 20th century
From this time onwards, there were continued attacks on this part of the island by pirates and watchtowers such as the Atalaya de Albercutx were built along the coast. The most famous one took place in 1550 when Joan Mas led a small band of locals armed only with sticks to fight off the Moorish bandits. This is celebrated with La Patrona Festival each August. The Jesuits arrived in Pollença and in 1697 constructed the iconic church, Monti Sion, situated close to the foot of the Calvari steps.
The arrival of tourism
Until the early 1900s, Pollença was mainly an agricultural town and, in fact, its coastline was sparsely populated. It all changed with the turn of the century when its port town, Port de Pollença, was developed as a tourist hub, mainly thanks to the artists who arrived here attracted by its landscapes and light. The "Escuela Pictórica de Pollença" included famous Catalan painters such as Hermenegildo Anglada-Camarasa, Santiago Rusiñol or Joaquim Mir as well as local artist Dionis Bennassar. It was in the 1960s when the tourist boom really reached Pollença so much that around a 70% of the town's economy today is based on this industry. However, Pollenca still remains very much untouched, providing a glimpse into the traditional life of the Mallorquins.
Sights & Attractions in Pollenca
Pollença is a delightful place to wander around. The town is filled with history, its characterful lanes wind around little squares and you will notice how spotlessly clean the whole place is.
Pont Romà
The Pont Romà (Roman bridge) on the edge of town is one of the oldest historical landmarks in the town. It was said to be part of an aqueduct to the former town of Pollentia, in between 123 BC and 425 AD although the current structure dates back to the 15th century.
Town centre
The main square, Plaça Major, is home to the 18th-century Mare de Deu dels Angels church with its remarkable rose window. Among the town's many other historic buildings is a former Jesuit convent which is now the town hall. From here you can reach the Calvari church with its ancient wooden cross and views of Puig de Maria by climbing the 365 steps, one for each day of the year, which are lined with cypress trees. Fantastic views up to the Bay of Pollença and over the plains of Majorca can be enjoyed from the top. The Calvari steps are the scene of a moving procession each Good Friday when a figure of Christ is removed from a cross and carried down the steps by torchlight.
Convent of Sant Domingo
The Convent and Cloister of Sant Domingo is one of the town's defining features, it was built between 1588 and 1616 and its beauty is remarkable. The Baroque cloister, famous for its four arched corridors will take your breath away. It has been hosting Pollenca's annual Classical Music Festival since 1962 which takes place in July and August. The convent also hosts the wonderful Pollença Arts & Crafts Fair each year at the beginning of November as well as the Wine Fair in at the end of April-beginning of May. The cloisters are also home to the Museum of Pollença containing the remains of prehistoric sculptures shaped like bulls, as well as a mandate (Tibetan sand painting) given by the Dalai Lama in 1990. It even houses a collection of contemporary art and works by the artist Atilio Boveri. Next to the convent lie the gardens of Joan March with its 17th-century tower.
Dionis Benassar Museum
Artists and writers have been known to be fond of the area throughout history, and Pollenca is home to the Dionis Bennassar Museum, located in a typical Mallorcan house and filled with the painter's works and personal belongings.
Santuari de la Mare de Deu del Puig
The Santuari del Puig de Maria is a 330m high hillock on which a Gothic-style fortified monastery sits. First occupied by nuns in 1371, it was abandoned for many years. It has now been restored and you can stay in simple rooms if tranquillity is what you seek. You can access it by following a tiny lane (cars not recommended) which goes off the main road from Pollenca to Palma.
Events in Pollenca
La Patrona Festival
The historic town of Pollenca hosts some epic events relating to its history. La Patrona is one of the most significant, typically held at the end of July and beginning of August. For an entire week, there is a scheduled list of activities and celebrations taking place around the town in celebration of the Mare de Déu dels Àngels, Pollença's patroness saint, who is honoured on the 2nd of August. You won't miss it as the whole town is decorated for the event! The celebration consists of all-night parties, concerts, market stalls and children's entertainment including processions, dancing and a foam party. To mark the end of the week, locals re-enact a mock battle between the Moors and the Christians. It is the commemoration of the locals' victory, the Christians, over Dragut's corsairs, the Moors, who, on the night and early morning of the 30th to the 31st May 1550 attacked the town of Pollença.
Pollença Music Festival
The Pollença Classical Music Festival has been going strong since 1962 when it was created by famous British violinist Philip Newman. It is held annually in July and August and attracts a whole host of musical legends. In past years, performers have included the French National Orchestra with Lorin Maazel as conductor, the Pittsburgh Symphony Orchestra, soprano Montserrat Caballé, cellist Mstislav Rostropovich, Lord Yehudi Menuhin, Goran Bregovic, Roger Hodgson and Sven Helbig, to name just a few.
Pollença Wine Fair
The Pollenca Wine Fair is organized by l'Associació Vi Primitiu de Pollenca
and takes place at the Convent de Santo Domingo in the springtime. The event has a loyal following comprising of locals and those 'in the know'. Dozens of vineyards come to exhibit their wine here and visitors pay a small entrance fee to taste all the wines on display over the weekend.
Pollença Arts & Crafts Fair
The Pollenca Arts & Crafts Fair, held in the middle of November, is worth a visit if crafty fairs are your thing. Here you will find lovely stalls selling local artisan goods, ranging from woven baskets to soaps, pottery and delightful papier-mache figures.
Things to Do in Pollenca
Pollenca is a sleepy rural town, perfect for exploring the quaint cobbled streets where you can get up close and personal with the magnificent architecture. It's also the perfect base for hiking and cycling in the Serra de Tramuntana.
Hiking
Pollenca is hugely popular with walkers thanks to its marvellous location in the foothills of the Serra de Tramuntana mountains. Coastal walks are also popular in this area, particularly up towards Cap de Formentor on the northwestern coast of Mallorca.
Cycling
The countryside surrounding Pollenca is well-liked by cycle enthusiasts. From mountain to coastal routes, there is a great variety of terrain that will suit almost every level of cyclist. The designated cycle path to the south of Port de Pollença is a gentle flat route around the bay suitable for the whole family. Otherwise, head into the mountains for the thigh-busting climbs that attract Olympic-level athletes in the springtime. Whichever route you take, you can expect great views! If you don't fancy lugging your bike to the island, then there are plenty of places to rent a bike.
Golf
There are some outstanding golf courses in Mallorca and two within close proximity to Pollensa. Pollenca Golf Course is a 9-hole golf course and possesses two of Mallorca's longest holes. Its rolling fairways, protected by trees and other obstacles can be categorized as a medium level of difficulty. Just up the road, in Alcúdia, Alcanada Golf Course is an 18-hole golf course designed by renowned architect Robert Trent Jones that has been recognised by a number of well-known golf magazines and golf guides as one of the finest in Spain and Europe.
Wine tasting
A visit to the award-winning Ca'n Vidalet Bodega is an absolute must on a trip to Pollença. Just a few kilometres out of town, you can join a tour and tasting, a fantastic opportunity to sample some of Mallorca's best wine along with some cheese and bread. You can then go on to buy your favourite wine at some reasonable prices.
Shopping
Pollenca encompasses a few boutiques and gift shops selling locally crafted goods from jewellery to ceramics, fabrics and interior decorations. These include a beautiful ceramics shop two minutes away from the main square called Monti-Sion, on Carrer Monti-Sion. The market in Pollensa is celebrated every Sunday morning and sells fruit, vegetables, souvenirs and local goods.
Dining in Pollenca
Pollenca has a good selection of restaurants within the town. Manzanas y Peras is a casual option and offers good quality local and fusion tapas using only the freshest, locally sourced ingredients. They have a tasting menu, perfect for those keen to try something new. For a more sophisticated experience, Restaurant Clivia is a popular eatery serving primarily Mediterranean and seafood dishes to its patrons. The courtyard in the summer creates the perfect setting for lunch or dinner. Bar Nou is a family run restaurant famous for its paella.
Restaurante Cantonet is the best Italian restaurant in town, with homemade ravioli being the speciality dish. It has a great 'menu del dia' at lunchtime, well worth a trip if you want a break from Spanish cuisine. Speaking of menu del dia, Restaurante Celler El Moli offers some traditional, hearty Spanish food. Finally, it is worth venturing just outside of town to Cavall Bernat, within Hotel Cala Sant Vicenc for some good-quality, fresh, local food in a polished atmosphere.
Villas in Pollenca
Villas and fincas are the best choice in this area for large groups or families seeking a more intimate holiday experience. There's a good mix of rustic finca-style accommodation, together with some high-end, 21st-century architectural designs. Villa Vida, Prestige Villas or Sealand Villas are some of the many reputable companies renting villas in the area.
Hotels in Pollenca
Pollenca has a good mix of accommodation options on offer, most of which will allow you to embrace the traditional Mallorcan charm. Within the town, there are a few middle of the range boutique-style hotels at reasonable prices, rustic townhouses and apartments. The countryside surrounding the town is where you will find luxury rural retreats.
There are just a handful of boutique hotels within the town centre, ideal for those who want the sights and attractions of Pollenca on their doorstep. L'Hostal - Hotel D'Interior is a family-run hotel and a firm favourite for its good location in the town centre; each room has its own unique décor and all the amenities you might need in your room. Desbrull Hotel is traditional as far as the shell of the building goes, with rustic blonde stone and exposed beams, but modern furnishings bring a contemporary feel to each room. Do not mistake this hotel for the Son Brull Boutique Hotel that can be found under 2km from the town. This former monastery is now a super luxury hotel perfectly positioned as a couples retreat. It has all the facilities one could possibly want for with full spa facilities, two swimming pools, tennis courts and a top-notch restaurant.
How to get to Pollenca
By car
Pollenca is easily accessible from Palma airport thanks to the MA-13 motorway which only takes about a 40-minute drive. Come off the MA-2200 which is signposted towards Pollenca.
Public transport
Whilst there are no direct buses to Pollenca from the airport, you can catch bus number 1 to the bus station at Plaça Espanya, then get the direct 340 TIB bus which leaves once per hour and takes under an hour.
Location