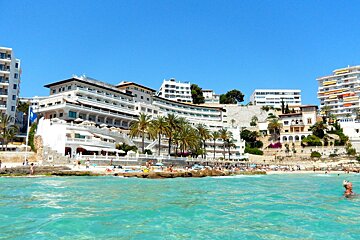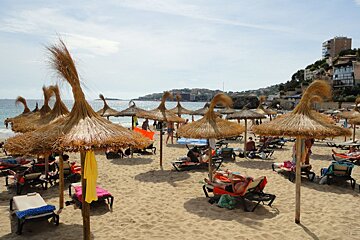 Cala Major Beach, Palma de Mallorca
An idyllic but lively sandy beach featuring stunning turquoise waters.
Cala Major is located within Palma Bay, around four kilometres to the west to the city of Palma.
At the edge of Palma, Cala Major beach is a soft sandy beach boasting brilliant blue turquoise waters within the resort area of Cala Major/San Augustin. It's location and beauty make this a popular beach in the summer months.
Sun loungers and thatch-roofed parasols are available to hire at an affordable rate, but in the summer you'll need to be early as they sell out quickly. You have the added luxury of nearby public showers and toilets in situ during the summer months. Ramps facilitate access and lifeguards are on duty.
The beach's regular crowd welcomes a wide demographic and variety of visitors. Expect anyone and everyone to be on this beach, including noisy children's birthday parties; reggaeton-blasting teens; city dwellers on their lunch break; mahogany-Mallorquins and of course tourists.
Given its proximity to the city and its modest size, it gets incredibly busy during the summer months, and even more so at the weekends when the locals hit the shores. In the winter you can still enjoy the sunshine with a fraction of the summer crowd. Note dogs are also allowed on the sandy shores in the off season.
Watch this
Beach Bars & Beachclubs in Mallorca
Directly on the beachfront, there are two chiringuitos open all day in the summer and usually with reduced hours in the winter. Dine on pizza, pasta, and beachside snacks with gorgeous terrace views out towards the Balearic water.
The summer months also see a couple beach bars pop up directly on the sand - great for takeaway drinks, sundowners and refreshing cocktails on tall bar stools.
Setting & Location
You'll find Cala Major beach in the southwest of Mallorca, its the nearest bay to the centre of Palma, around four kilometres west from the city.
Being one of the island's oldest tourist spots, recent years have seen a serious amount of money invested into the area; creating an eclectic mix of run-down shabby 70's architecture, now juxtaposed with state-of-the-art Scandi vibes. It's ever-expanding residential area with tall south-facing apartment blocks all boast knockout views, and is surrounded by a purpose-built beach resort; ensuring there's a fantastic selection of hotels, bars, and restaurants to choose from.
The population here is somewhat international but especially popular with the Brits and Swedes.
Water Safety & Clarity
The entrance into the water is smooth with a very gradual increase in depth making it perfect for swimming and relaxing on your Lilo. There are public showers and toilets, ramps for access, and lifeguards on duty.
Protected on both sides by rocky outcrops, the water is mostly clear, warm, and calm with occasional opportunities to surf when conditions allow.
Beach Quality
The beach is 250 metres long and around 50 metres wide and enjoys its 'Blue Flag Beach Status',
The natural beach has been enhanced with additional fine white sand, and it is a lovely spot, very conveniently situated for Palma and local services.
Watersports Nearby
There's not much you can rent here on the beach itself, except for paddle boards and kayaks from the beachside chiringuito during the summer months.
Within a ten minute walk up the road however, you have Port Cala Nova, offering a large variety of water sports-based gear and activities, with everything from XL paddleboards, Jet Ski hire, sailing, windsurfing and yacht charters.
Visitor comments
"Not far from Palma center by public bus, you will be charmed by this site! You can have a drink or tapas, and enjoy the view." - Trip Advisor
"Fell in love with Mallorca. After a day at the cathedral and old town, we wanted a dip in the water. I'd done research to find this beach and it was definitely worth it! Crowded but not fussy. Protected cove with a couple of restaurants on the perimeter. Cabs will drop you off about 100 yards from the beach, but to get one back to port, you need to walk about 300 meters up the Main drag to the taxi stand. If it's a busy day (like ours was!), you'll also need to call the cab company to let them know you're waiting. Will definitely go back." - Trip Advisor
"Lovely little bay with a beautiful beach, loads of nearby restaurants and cafe/bars. Would consider staying here next time I'm in Mallorca." - Trip Advisor
Directions
If you're driving to Cala Major beach, there is paid on-street parking along Avinguda de Joan Miro behind the beach. There is a public car park on your right, coming down from the Ma-1 off junction 11b. Parking can be troublesome in the peak of the summer, arrive early to avoid disappointment. If you're coming from central Palma, their public transport links are also very good. The beach is easily accessible by bus from the city centre (Bus lines 3, 20 or 46). A short taxi ride costs around €10-15.
Location