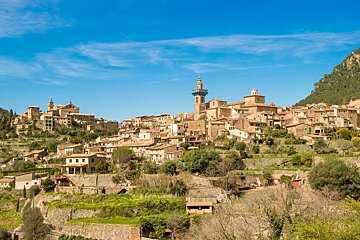 Best places to visit from Palma de Mallorca
Head outside the capital to experience medieval walled villages, stylish ports and rural idylls
There are plenty of day trip options that will make your time in Mallorca unforgettable. While a car makes exploring easy, there are alternatives for those who prefer not to drive. Buses leave regularly from the central intermodal station in Palma and how can you resist the vintage train to Sóller?
Here's our pick of five of the most stunning destinations within easy reach of Palma de Mallorca.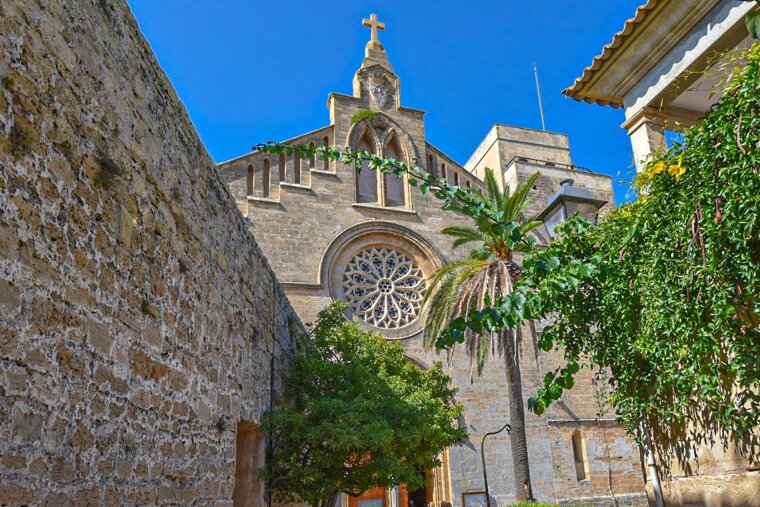 Alcúdia, a town steeped in history
Alcúdia is a medieval walled town 60 kilometres north of Palma, a 40-minute drive or just over an hour on the 351 bus. It's picturesque, lively and rich in history. The best days to visit are Tuesdays and Sundays when there's a large bustling market from 08:30 to 13:30 selling everything from leather goods to souvenirs, clothes, jewellery and vegetables, which winds through the narrow streets along the striking Roman wall and under the Roman gate. For those wanting to discover more about the history of Alcúdia, visit the Roman Remains of Pollentia and the Roman theatre.
Enjoy a leisurely drink and some people watching at the tastefully refurbished Can Polit in Plaza de les Verdures. Or if you're lusting after old world charm, book a table at Ca'n Costa, the oldest restaurant in Alcúdia on Calle Sant Vicenç, which was founded in 1594. They have a wonderful courtyard, not visible from the outside. You'll also be able to say you dined at the house where king Carlos V once stayed in 1535.
If you want to prolong your day trip, Port d'Alcúdia has a sandy beach and an attractive seaside promenade. It's less than a ten-minute drive away, or a 30-minute bus ride.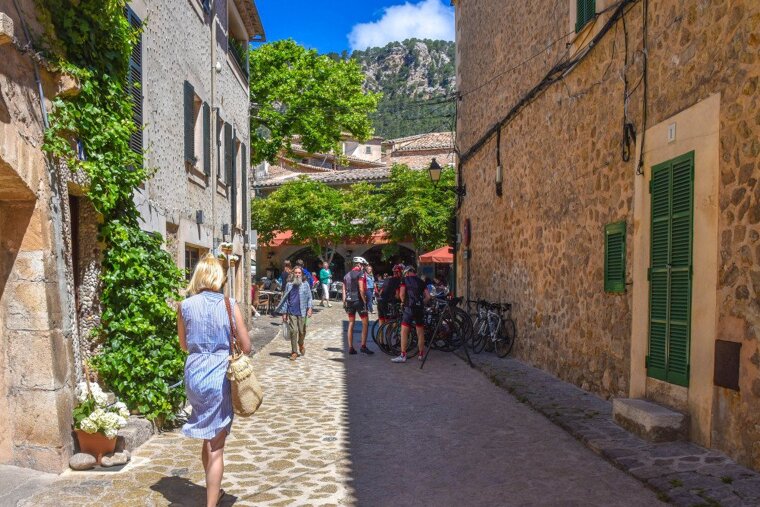 Valldemossa, deep within the Serra de Tramuntana
The Serra de Tramuntana mountains are the setting for some of the most picture postcard villages on the island, among them Valldemossa. It lies 18 kilometres north of Palma or half an hour on the 210 bus. The birthplace of Santa Catalina Thomas, the first saint of Mallorca, yet more famous for briefly being the home of composer Frederic Chopin and writer George Sands. The couple stayed one winter at the 14th-century monastery La Real Cartuja which, for 9.50€, is one of the main tourist attractions and includes a museum 'cell' dedicated to them.
Sunday is market day with stalls selling local produce, as well as flowers, clothes and shoes. There are charming shops, galleries and cafés along the pretty flagstone streets and it's small enough to wander without getting lost. For a trial of local liqueur, head into the old souvenir shop with the large arched entrance on Via Blanquerna.
If you're driving and time is on your side, the nearby villages of Deià and Fornalutx are also very beautiful.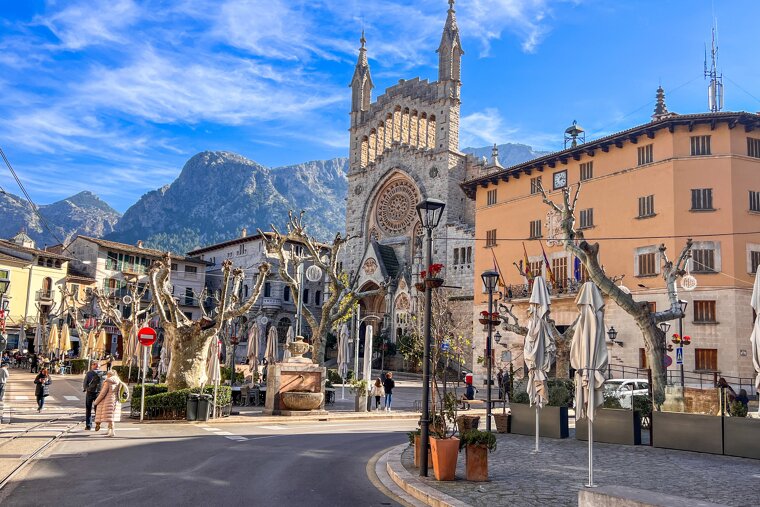 Sóller, unique architecture & shopping
Ask a local for their opinion on the best villages in Mallorca and Sóller will always be in their top three. It's popular with day trippers as you can catch a vintage train from Palma (opt for the round trip including the tram to from Sóller to Port de Sóller) which gives you a chance to enjoy the spectacular Serra de Tramuntana landscape.
Sóller's cobblestoned streets are lined with historic houses from as far back as the 16th century and offer visitors some really exciting architecture. Don't miss the Catalan modernist building of the Banco de Sóller (now Santander), or Saint Bartolomeu church with its Neogothic bell tower and Baroque interior. Both are located in Plaça Constitució, where you can sit outside in one of the many cafés and restaurants whilst admiring them. The narrow, pedestrianised street of Sa Luna is the principal street for shopping, while Plaça Mercat and nearby streets fill with stalls every Saturday. If looking for a spot for lunch we recommend Ca´n Pintxo for some tasty tapas and other treats.
The train ticket also includes a tram ride from the town centre to Port de Sóller, where you can swim in the sea.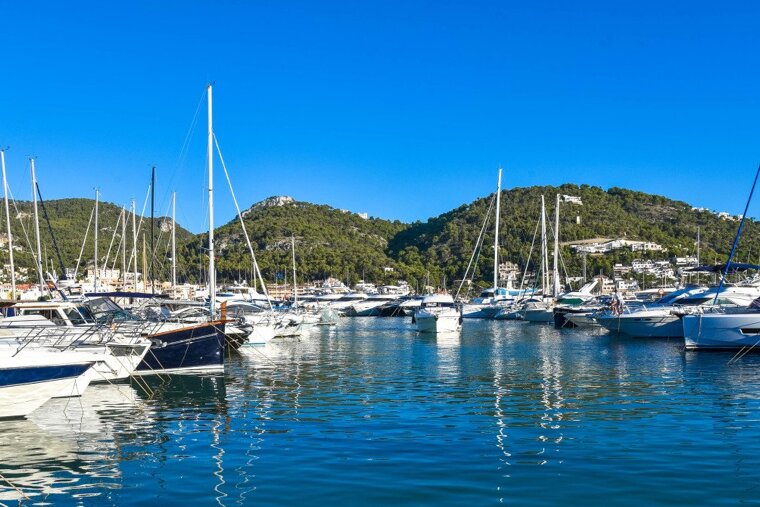 Port d'Andratx, a paradise for outdoor sports
A working fishermen's harbour and also where some of the rich and famous have built their holiday homes in the surrounding hillside, Port d'Andratx is both charming and has a sophisticated feel. It's just over 30 kilometres west of Palma and is easiest to reach by car. If time is on your side, the 102 bus takes 1hr 20 from Palma and gives you a bit of a tour around the south-west of the island.
This is a popular place for divers since it's close to the fish-filled clear waters of the islet Sa Dragonera, a nature reserve. If you've ever fancied learning to scuba dive, head to the Balear Divers centre which caters for all levels. The small island offers some great walks too, and hikers can access it by ferry from the port.
As well as stylish boutiques and cafés, Port Andratx boasts some delicious fish and seafood restaurants, including Rocamar Restaurant on the seafront. If you can stay to watch the sunset, your trip will be twice as memorable, particularly in the summer months, where the atmosphere in this port is unmatchable.
The town of Andratx is a 10-minute drive from the port, and its main attraction is the CCA centre, which has the largest contemporary art collection in Mallorca.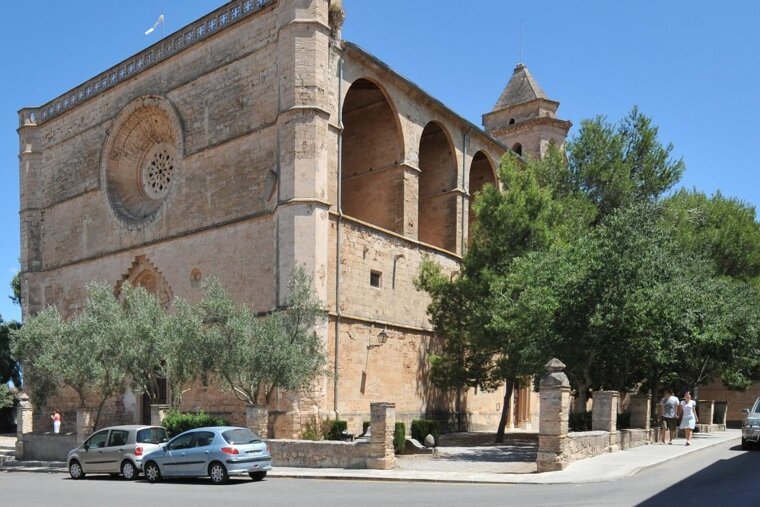 Petra, the authentic rural Mallorca
A picturesque rural town in central Mallorca, Petra is famous for being the birthplace of Friar Fray Junipero Serra who founded the first Spanish mission in California. It's located 50 kilometres east of Palma, a 45-minute drive or one-hour train journey from the central station. A tranquil spot, surrounded by agriculture and scattered windmills, this is the type of place where tourists are more likely to arrive by bike than coach.
Stroll through the flagstone streets, stopping for a leisurely coffee at pretty Plaça Petra. The main attractions are the house where the friar grew up, as well as a museum dedicated to his work and the large Gothic church of Sant Pere. There are also great views to be had from the beautiful 16th-century Hermitage of Bonany, which is a ten-minute drive or an hour's hike. For lunch, head to Es Celler de Petra on Calle Hospital, a spacious restaurant with rustic decor which serves typical Mallorcan cuisine.
Petra's weekly market is on Wednesdays. However, if you happen to be in the area on a Wednesday, take advantage and stop off at nearby Sineu for the most popular market in Mallorca.